Monday Briefing: Kristen Hadeed's Tough Dad, Child-Abuse Trial, Hurricane Make-Up Day
FlaglerLive | October 16, 2017
Today: Partly cloudy. Chance of showers and slight chance of thunderstorms in the morning, then chance of showers and thunderstorms in the afternoon. Highs in the mid 80s. Northeast winds 5 to 10 mph. Chance of rain 40 percent. Tonight: Mostly cloudy with chance of showers and slight chance of thunderstorms. Lows around 70. Northeast winds 10 to 15 mph. Chance of rain 50 percent. Details here.
Today's document from the National Archives and the Astronomy Picture of the Day.
Today's tides: at the beaches, at the Intracoastal Waterway.
Drought Index105
The OED's Word of the Day: comessation, n..
The Live Community Calendar
Today's jail bookings.
Today's Briefing: Quick Links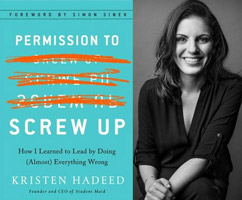 "I've never doubted for a second that my dad loves me, but, man, there were times when I could have sworn he wanted to see, me suffer. I can remember several times when I was really struggling with something-nothing serious, but to a kid, it sure seemed like it-and he refused to jump in and save the day. Once, in high school, I was completely stumped by my calculus homework. I didn't get the concept behind it at all, so I went to my dad and begged him to solve the problem for me. (He is really good at math.) "I'm not just going to give you the answer," he said. "Dad, come on," I pleaded. "If I don't get it right, it could bring down my grade in the class!" He wasn't fazed. "You've got to do this on your own, Kristen," he said. "If I solve it for you, how will you ever understand calculus? You'll thank me later. I promise." (Yeah, right.) He advised that I go back to my textbook and identify the specific areas where I was having trouble. Then he suggested I get to class early the next day and ask my teacher to review the material with me. It was the last thing I wanted to do, but I had no other choice. Turns out, sometimes father knows best: My teacher helped me grasp the concept I was struggling with and I learned how to solve the homework problem myself. By the end of the year I had one of the highest grades in the class."
–Kristen Hadeed, from "Permission To Screw Up" (Penguin, 2017). (The dad she's referring to is Flagler County Attorney Al Hadeed.)
Previously:

Note: all government meetings noticed below are free and open to the public unless otherwise indicated. Many can be heard or seen live through each agency's website.
The Sheriff's daily incident reports and jail bookings are posted here.
Yes, school is in session today as a hurricane make-up day, including all afterschool activities.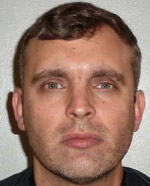 In Court: The trial of Stanley Wykretowicz, a former cop and National Guard member, begins on charges of aggravated child abuse and child neglect, first and second degree felonies, before Circuit Judge Dennis Craig in Courtroom 401 at the Flagler County Courthouse. He is accused of brutalizing a 2-year-old girl in 2014. The girl is his niece. Jury selection begins at 8:45 a.m.
The Flagler County Commission meets at 5 p.m. in board chambers at the Government Services Building, Bunnell. Commissioners are expected to approve the renewal of grant agreements with a series of social service agencies including the Boys and Girls Club, the Children's Home Society, the Early Learning Coalition, the Family Life Center, the Flagler County Free Clinic and StewartMarchman-Act Behavioral Health Services. They are also expected to approve renewing their $50,000 contract with lobbyist Lester Abberger of Florida Lobby Associates.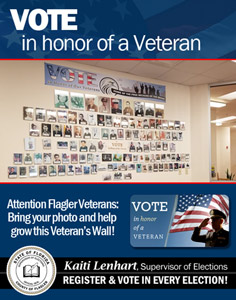 From the Flagler County Supervisor of Elections to Veterans:
"Calling all Flagler County service members, active duty or retired: We need your photo to fill this Veteran's Wall in time for Veteran's Day! Help us honor veterans of Flagler County by covering this Veteran's Wall with photos. Only one month until Veteran's Day on November 11, 2017." – Kaiti Lenhart, Flagler County Supervisor of Elections
Veteran's Day is a month away and we hope to Cover The Wall at the Supervisor's office in honor of Flagler County veterans. Any registered voter in Flagler County who has served in the US Armed Forces may provide a service photo for display on the Veteran's Wall in the Elections Office lobby. The following information will accompany the photo:
Service Member Name
Dates of Service
Branch of Service
We need your photo to fill this wall by November 11, 2017. Contact the Elections Office for more information at (386) 313-4170 or visit www.FlaglerElections.com


In Florida and in State Government:
Note: Some proceedings below can be followed live on the Florida Channel. Most legislative proceedings can be followed through the Senate or House websites.

CHILD ABUSE DEATHS AT ISSUE: The state Child Abuse Death Review Committee, which looks for ways to reduce child-abuse deaths, will meet in Hillsborough County. (Monday, 9 a.m., Embassy Suites USF, 3705 Spectrum Blvd., Tampa.)
CHILD SAFETY MEASURE PROPOSED: Orlando-area lawmakers will hold a news conference to discuss proposals aimed at preventing incidents in which children are left in day-care vehicles. Expected to take part are Sen. Linda Stewart, D-Orlando; Sen. Randolph Bracy, D-Orlando; Sen. Victor Torres, D-Orlando; and Rep. Bruce Antone, D-Orlando. (Monday, 11:45 a.m., Orange County Administration Building, 201 South Rosalind Ave., Orlando.)
LABARGA DISCUSSES HURRICANES AT HARVARD: Florida Supreme Court Chief Justice Jorge Labarga and Texas Chief Justice Nathan Hecht will take part in a forum at Harvard Law School and discuss how courts and the legal systems handled hurricanes Irma and Harvey. (Monday, 2 p.m., Harvard Law School, Wasserstein Hall, Cambridge, Mass.)
BAEZ TAKES AIM AT CHILD MARRIAGE: Rep. Daisy Baez, D-Coral Gables, will take part in an event about ending child marriage in Florida. (Monday, 2:30 p.m., Florida International University, GL 220, Miami.)


To • include your event in this section, please fill out this form.
♦
Dec. 10
: The Flagler County Land Acquisition Committee meets at 3:30 p.m. in the First Floor Conference Room at the government Services Building, 1769 E Moody Blvd., Bldg 2, Bunnell. No agenda was posted online.
♦
Dec. 11
: Wetlands restoration: The St. Johns River Water Management District Board meets starting at 9 a.m. with a Finance, Audit and Administration Committee, then at 11 a.m. with the full board, which will hear an update on the controversial
wetlands restoration project
planned for the area along the Intracoastal Waterway near Flagler Beach, with possible action on the item. See FlaglerLive's previous coverage
here
,
here
and
here
.
♦
Dec. 12
: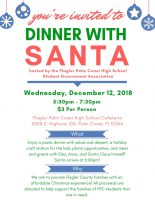 Dinner with Santa at Flagler Palm Coast High School: Now in its 10th year, and for just $3 per person, you can enjoy a pasta dinner with salad and dessert, there'll be a holiday craft station for children, and photo opportunities with Santa, Elsa and Anna. Santa arrives at 6 p.m. The event is from 5:30 p.m. to 7:30 p.m. at the FPC cafeteria, 5500 East Highway 100, Palm Coast. All proceeds go to FPC students whose families are in need. Click on the poster to see it larger.
♦
Dec. 13
: Evening at the Whitney Lecture Series: Ruth Francis-Floyd, director of the University of Florida Aquatic Animal Health Program, will be the guest speaker for the final talk in the fall Evenings at Whitney lecture series. Her talk is titled "Ecosystem Challenges in Florida: The Diadema Story (a case study…)." Lectures and parking are free and registration or reservations are not necessary. The event is at 7 p.m. at Center for Marine Studies, Lohman Auditorium, 9505 Ocean Shore Blvd., St. Augustine, Florida. For further details, call (904) 461-4000.
♦
Dec. 14-16
: Christmas Classic Radio Show: "It's a Wonderful Life," Friday and Saturday at 7:30 p.m., Sunday at 2 p.m., at The Flagler Playhouse, 301 E. Moody Blvd., Bunnell. Call the box office at 386-586-0773 or visit the website for tickets
here
. The Christmas Classic Radio Show, It's a Wonderful Life reworks the classic holiday film starring Jimmy Stewart and is set in a 1940s radio studio with a cast of five actors playing multiple roles and creating sound effects. They tell George Bailey's story of redemption, renewal and rejuvenation. This show is NOT part of our regular subscription season. Tickets for this show are $25.
♦
Dec. 15
: Grieving through the holidays: Vitas Healthcare and Calvary Christian Center in vite you to reconnect with the holiday spirit in a supportive workshop, offering creative ways to honor memories and rediscover your resilience during this time of year. All sessions are free, open to the public, and held at the International House of Pancakes, in a private dining area, 212 Palm Coast Parkway, 1030 a.m. to noon. Contact Chaplain Carmen at 386/843-8794.
♦
Dec. 15
: The Hammock Community Association hosts a holiday party from 6:30 p.m. to 10 p.m. at the Hammock Community Center, 79 Mala Compra Road, in the Hammock. Live entertainment. $5 per person. Bring pot luck finger food. Bring your own drinks. We'll have coffee and some soda. $100 raffle tickets being sold. Each $100 ticket gives you a 6 in 200 chance to win a big money prize; Call Marge Rooyakkers at (386) 246-3767 or email petmom877@gmail.com. The drawing will be held at 6:30 pm on Saturday Dec 8 at the original Hammock Wine and Cheese on A1A. You don't need to attend to win, but door prizes will be given only to attendees. Prizes Include:
Six cash prizes totaling $8250 if all tickets are sold.
♦
Dec. 15
: Free Cup of Tea and Social Saturday: Stop by A Scent to Remember to enjoy a free cup of loose leaf tea by Flagler Tea Company, 11 a.m. to 5 p.m. A different tea is featured each week. If you want to try something different, you can ask for a cup to brew the tea of your liking. 208B. S. Central Ave., Flagler Beach. 386-631-3692, oils@ascenttoremember.net
♦
Dec. 15
: The Palm Coast Annual Holiday Boat Parade, hosted by the Palm Coast Yacht Club, holds its 36th edition at 6 p.m., departing from the Cimmaron Basin south on the Intracoastal Waterway, turning at the Grand Haven gazebo back to the Club House Waterway. The Parade will be escorted by boats from the Flagler County Sheriff's Office, Tow Boat US, the Florida Fish and Wildlife Conservation Commission, and the Palm Coast Auxiliary of the U.S. Coast Guard. Mayor Milissa Holland will serve as the parade's Grand Marshall. Hundreds of spectators are expected to line the ICW cheering the boats on. Last year's parade drew some 40 boats, a record. For registration forms, boat captains are urged to contact Parade Captain Robert Ulis at 386-283-5166 or theulises@att.net. Forms are also available at the Palm Coast Yacht Club website at www.palmcoastyachtclub.com. Boats must be decorated and registered to participate. There are no entry fees. Membership in the Palm Coast Yacht Club is not required.
♦
Dec. 17
: A week-long trial is scheduled before Circuit Judge Terence Perkins in the case of Michael Bowling, the 47-year-old Palm Coast man facing charges of molestation of 15-year-old girl during a sleep-over at her Bowling's daughter's house. Bowling also faces rape charges involving his own daughter. That trial would take place next year. Jury selection begins Monday at 9 a.m. in Courtroom 401 at the Flagler County courthouse. See the
background story here
.
♦
Dec. 20
:

The Inspired Mic
, Palm Coast's most daring and unpredictable open mic event, is scheduled for its monthly edition at its new venue at the Hidden Treasures Restaurant, 820 Moody Ln, Flagler Beach. Each month some of the most creative, innovative performances a person could ever hope to experience take place at The Inspired Mic. 14 presenters each month pull out slices of talent and genius to entertain the audience. Each presenter gets 7 minutes to present on a very eclectic blend of their genius. Hidden Treasures Restaurant, 820 Moody Ln, Flagler Beach (under the bridge). Doors open at 6 p.m. and presenters begin at 6:30 p.m. Tickets are $12.50 advance, available at theinspiredmicus.com, or $15 at the door. The ticket includes one drink and entry into a drawing with a prize of $25 cash or a $50 gift certificate to The Hidden Treasures.
♦
Dec. 20
: A celebration of the life of the late artist Richard Schreiner, who died in 2012, and his wife Arlene, who died this year, is scheduled from 4 to 7 p.m. at Salvo Art Project, 802 E Moody Blvd, Bunnell, with paintings never-before seen, Schriner's sketchbooks, his dissertation and other artifacts, food, music and stories. All invited.
♦
Dec. 22
: Free Cup of Tea and Social Saturday: Stop by A Scent to Remember to enjoy a free cup of loose leaf tea by Flagler Tea Company, 11 a.m. to 5 p.m. A different tea is featured each week. If you want to try something different, you can ask for a cup to brew the tea of your liking. 208B. S. Central Ave., Flagler Beach. 386-631-3692, oils@ascenttoremember.net
For events beyond this date, see the fuller Coming Days here.
To • include your event in this section, please email the details, including date, time, a brief description of the event, contact information, and, if you wish, an image, please use this form.








Palm Coast Construction and Development Progress Reports
Updates of ongoing permitting, construction and development projects in Palm Coast usually run here, along with a link to the city's Week in Review. But the Week in Review, under the guise of being modernized, has become flashier and power-point like while becoming less substantive and dumbed down. We may or may not link to it in future. Here's a summary of the latest developments as of Oct. 6
<![if !IE]><![endif]>


Road and Interstate Construction:


Worlds Collide: Jan Vogler and Bill Murray
Previous Codas: