Tuesday Briefing: Development Worries at Matanzas Shores, Palm Coast Data's Pink Army, NRA's Guns, FPC Chorus
FlaglerLive | October 10, 2017
Today: Partly cloudy. Highs in the upper 80s. East winds 5 to 10 mph. Tonight: Partly cloudy. Lows in the lower 70s. East winds 5 to 10 mph. Details here.
Today's document from the National Archives and the Astronomy Picture of the Day.
Today's tides: at the beaches, at the Intracoastal Waterway.
Drought Index16
The OED's Word of the Day: rongorongo, n..
The Live Community Calendar
Today's jail bookings.
Today's Briefing: Quick Links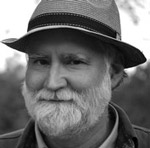 "The feeling that you are stupider than you were is what finally interests you in the really complex subjects of life: in change, in experience, in the ways other people have adjusted to disappointment and narrowed ability. You realize that you are no prodigy, your shoulders relax, and you begin to look around you, seeing local color unrivaled by blue glows of algebra and abstraction."
–Nicholson Baker, from "The Messazine" (1986).
Previously:

Note: all government meetings noticed below are free and open to the public unless otherwise indicated. Many can be heard or seen live through each agency's website.
The Sheriff's daily incident reports and jail bookings are posted here.
School Conference Week at all Flagler County elementary schools, all week.
The Flagler County Affordable Housing Committee meets at 8:30 a.m. in the Financial Services Conference Room, 1769 E. Moody Blvd., Bldg. 2, Third Floor, Bunnell.

The Palm Coast City Council meets in workshop at 9 a.m. at City Hall in Town Center. The council is discussing an $888,000 contract for stormwater drainage improvements, and approving changes to its contract with one of the city's labor unions.
Vacation rentals: The Senate Community Affairs Committee will hold a workshop about regulation of vacation rental properties, reopening the possibility of rolling back local regulation of the industry that Flagler County government spearheaded in 2014. (10 a.m., 301 Senate Office Building, the Capitol.)
The Flagler County Planning and Development Board meets at 6 p.m. in Board Chambers at the Government Services Building, 1769 E. Moody Blvd., Bldg. 2, first floor, Bunnell. The board hears a series of related, controversial development proposals for the Matanzas Shores area, that local residents largely oppose.

The St. Johns River Water Management District Governing Board is scheduled to meet after holding committee meetings. (Committees start at 9:30 a.m., Winter Springs Commission chamber, 1126 East State Road 434, Winter Springs.)
A meeting of the Flagler Sheriff's Domestic Violence task force is scheduled for 10 a.m. at the Sheriff's Office, 901 E. Moody Blvd. Bunnell. At the last meeting each committee spokesperson gave a presentation of the draft report from their respective committees. Finalized drafts are expected at this meeting.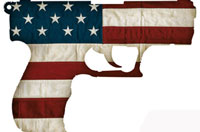 Guns and the NRA: If you think prayers are not enough, join your fellow Resistors to write postcards to Senators and members of Congress to demand better gun control legislation in the face of renewed NRA opposition to sane policies. The event is organized by Indivisible Flagler: "We have plenty of postcards and stamps so just bring yourself and lunch if you don't want to purchase lunch there. Coffee, lattes and more. Come and resist with us. We are victims of inaction. This is a political choice we make." 11:30 a.m. to 1 p.m. at Fair Trade Cafe, 160 Cypress Pt Pkwy, Bldg D, Unit 102, Palm Coast.
The Flagler Palm Coast High School Chorus Solo Ensemble holds its recital at the Flagler Auditorium, 6 p.m.
Buddy Taylor Middle School hosts its fall concert at 6:30 p.m. in the school cafeteria.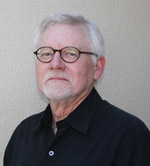 Stetson University hosts esteemed Woodrow Wilson Fellow Dwight Pitcaithley in a presentation of "The National Park Service after 100 Years: A Historian's Reflections on Mission, Challenges, and Opportunities." The free event is open to the public at 7 p.m. in the Marshall & Vera Lea Rinker Welcome Center, 529 N. Woodland Blvd., DeLand, Florida, 32723. Pitcaithley's presentation will highlight the challenges and changes in the National Park Service over more than a century, including the park's role as an educational institution and federal policies that affect its work. Pitcaithley has published numerous articles and book chapters pertaining to public memory, the role of historic sites in public education and the public interpretation of the causes of the Civil War.


None.


In Florida and in State Government:
Note: Some proceedings below can be followed live on the Florida Channel. Most legislative proceedings can be followed through the Senate or House websites.

TADDEO SWORN IN: Democrat Annette Taddeo, who won a Sept. 26 special election in a Miami-Dade County Senate district, will be sworn in. Taddeo defeated Republican Jose Felix Diaz in Senate District 40, which was vacated when former Sen. Frank Artiles, R-Miami, resigned in April. (9 a.m., Senate chamber, the Capitol.)
WORKERS' COMP CONSIDERED: The House Commerce Committee will receive an update on the workers' compensation insurance system. (9:30 a.m., 212 Knott Building, the Capitol.)
U.S. CAPITOL STATUE DISCUSSED: The House Government Accountability Committee will consider a proposal (HB 139), filed by Rep. Patrick Henry, D-Daytona Beach, and Rep. Tom Leek, R-Ormond Beach, that would replace a likeness of Confederate Gen. Edmund Kirby Smith at the U.S. Capitol with a statue of civil-rights leader Mary McLeod Bethune. Each state is allowed two representatives at the National Statuary Hall at the U.S. Capitol, with Florida long represented by Smith and John Gorrie, widely considered the father of air conditioning. State lawmakers in 2016 voted to replace the statue of Smith but have not decided on who should represent Florida. (9:30 a.m., Morris Hall, House Office Building, the Capitol.)
PANEL PROBES BAEZ RESIDENCY: The House Select Subcommittee on Member Conduct will delve into allegations that Rep. Daisy Baez, D-Coral Gables, has lived outside her district. (9:30 a.m., 216 Capitol, the Capitol.)
DIRECT PRIMARY CARE DEBATED: The Senate Banking and Insurance Committee will consider a bill (SB 80), filed by Sen. Tom Lee, R-Thonotosassa, that would clear the way for doctors and patients to enter into "direct primary care" agreements. Under direct primary-care agreements, patients would make regular payments to physicians to cover routine care, cutting out the role of insurers. The bill would make clear that the agreements are not insurance and are not subject to regulation under insurance laws. (10 a.m., 110 Senate Office Building, the Capitol.)
STATE WORKER INSURANCE DISCUSSED: The Senate Governmental Oversight and Accountability Committee will receive a presentation from Tami Fillyaw, director of state group insurance, about employee health insurance. (10 a.m., 401 Senate Office Building, the Capitol.)
OPIOID ADDICTION AT ISSUE: The Senate Health Policy Committee will hold a workshop about opioid addiction. (10 a.m., 412 Knott Building, the Capitol.)
DEMOCRATS RELEASE HURRICANE PLAN: House and Senate Democrats will hold a news conference to discuss a package of proposals dealing with hurricane preparation and recovery from Hurricane Irma. (Noon, fourth floor, the Capitol.)
SCHOOL IMPROVEMENT ON AGENDA: The House Education Committee will receive an update from the Department of Education about implementation of rules and policies related to school improvement. (12:30 p.m., 212 Knott Building, the Capitol.)
MEDICAID MANAGED CARE CONSIDERED: The House Health & Human Services Committee will receive an update from the Agency for Health Care Administration about contracting for health plans in the Medicaid managed-care program. (12:30 p.m., Morris Hall, House Office Building, the Capitol.)
PANEL HEARS ABOUT JUVENILE JUSTICE: The House Judiciary Committee will receive an update about juvenile-justice reform. (12:30 p.m., 404 House Office Building, the Capitol.)
UTILITIES DISCUSS HURRICANE IRMA: The Senate Communications, Energy and Public Utilities Committee will hear a presentation from electric utilities about Hurricane Irma. (2 p.m., 301 Senate Office Building, the Capitol.)
RESIGN TO RUN DEBATED: The Senate Ethics and Elections Committee will take up a bill (SB 186), filed by Sen. Travis Hutson, R-St. Augustine, that would require state and local officeholders to resign if they qualify to run for federal offices. (2 p.m., 412 Knott Building, the Capitol.)
RED LIGHT CAMERA REPEAL WEIGHED: The House Appropriations Committee will take up a bill (HB 6001), filed by Rep. Bryan Avila, R-Hialeah, and Rep. Blaise Ingoglia, R-Spring Hill, that would repeal state laws allowing local governments to use red-light cameras in traffic enforcement. (3 p.m., 212 Knott Building, the Capitol.)
LOCAL GOVERNMENT DISCLOSURE TARGETED: The House Ways & Means Committee will take up a proposal (HB 7), filed by Rep. Colleen Burton, R-Lakeland, that would place more disclosure requirements on local governments about economic-development incentives and tax increases. (3 p.m., Morris Hall, House Office Building, the Capitol.)
SPECIAL ELECTIONS IN HD 44, HD 58: A special general election will be held in Orange County's House District 44 and a special Republican primary election will be held in Hillsborough County's House District 58. Former Rep. Eric Eisnaugle, R-Orlando, left the District 44 seat this spring after being appointed as a judge on the 5th District Court of Appeal. The candidates in the special general election are Republican Bobby Olszewski and Democrat Eddy Dominguez. Former Rep. Dan Raulerson, R-Plant City, resigned from the District 58 seat because of health issues. Republicans Yvonne Fry and Lawrence McClure are battling in the GOP primary, with the winner advancing to a Dec. 19 special general election.
TADDEO, PEREZ VICTORIES CERTIFIED: The state Elections Canvassing Commission will certify the results of Sept. 26 elections in which Democrat Annette Taddeo was elected in Miami-Dade County's Senate District 40 and Republican Daniel Perez was elected in Miami-Dade's House District 116. (9 a.m., Cabinet meeting room, the Capitol.)
HISPANIC CHAMBER BACKS PUERTO RICAN EVACUEES: The Florida State Hispanic Chamber of Commerce will hold a news conference to discuss the need for the state to welcome evacuees from Puerto Rico after Hurricane Maria. Participants in the news conference are expected to include Rep. Rene Plasencia, R-Orlando. (10 a.m., fourth floor, the Capitol.)
PUTNAM SERVES LUNCH: Agriculture Commissioner Adam Putnam will help serve lunch at a Broward County school to mark National School Lunch Week and to discuss support available to students who evacuated from Puerto Rico. (10:30 a.m., Discovery Elementary School, 8800 N.W. 54th Court, Sunrise.)
JACKSONVILLE COLLEGE TRUSTEES MEET: The Florida State College at Jacksonville Board of Trustees is scheduled to meet. (1 p.m., Florida State College at Jacksonville, North Campus, 4501 Capper Road, Jacksonville.)
OUTPATIENT CARE AT ISSUE: The Agency for Health Care Administration is scheduled to hold a workshop about outpatient hospital services. (2 p.m., Agency for Health Care Administration, 2727 Mahan Dr., Tallahassee.)
CAMPAIGN FINANCE REPORTS DUE: State candidates, political committees and parties face a Tuesday deadline for filing reports showing finance activity through Sept. 30.


To • include your event in this section, please fill out this form.
♦
May 23
: The Flagler Chamber's Common Ground Breakfast features a 2019 Legislative Update with Sen. Travis Hutson and Rep. Paul Renner at the Hilton Garden Inn, 55 Town Center Dr., Palm Coast, Checkin begins at 7:30, breakfast starts promptly at 8.
♦
May 23
: Flagler Lifeline, a volunteer committee and Flagler Cares affiliate established to broaden conversation and awareness of suicide, will host a public town hall event at 6 p.m. at the Flagler County Association of Realtors building, 4101 East Moody Blvd. in Bunnell. The Town Hall will feature presentations by mental health experts, suicide survivors and others who have been touched by suicide, and will be facilitated by Colleen Conklin, the long-time school board member and one of Flagler Lifeline's founders. For the past several years Conklin has hosted periodic events, including electronic town halls, to bring awareness to bullying and suicide prevention. The May 23 town hall, like Flagler Lifeline's emergence, is partly a result of Flagler County's place in 2017 as the county with the leading suicide rate in the state, proportional to its population.
See the background story here
.
♦
May 23
: The Flagler Beach City Commission meets at 5:30 p.m. at City Hall, 105 South Second Street. Commissioners will consider making the city a member of the American Flood Coalition.
♦
May 23
: The Palm Coast Beautification and Environmental Advisory Committee meets at 5 p.m. at City Hall in Town Center. An agenda had not been posted online as of May 18.
♦
May 23
: The Wadsworth Elementary School Advisory Council and PTO meet at 6 p.m. in the school's media center.
♦
May 23
: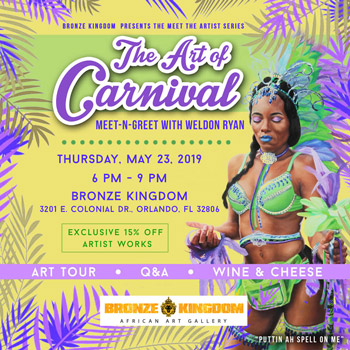 Palm Coast Artist and
2011 Flagler County Artist of the Year Weldon Ryan
hosts a meet and great at the Bronze Kingdom African Art Gallery, 3201 East Colonial Drive, Orlando, from 6 to 9 p.m. Wine and cheese, 15 percent off on all of Weldon's works.
♦
May 23-26
: "Southern Fried Funeral," a play at the Daytona Playhouse, Thursday, Friday and Saturday at 7:30 p.m., Sunday at 2 p.m., Adults $20, Seniors 55 and up, $18, Youths 18 and under $8. Address: 100 Jessamine Blvd., Daytona Beach, or see
directions here
. Buy tickets online
here
. Box office: 386-255-2431.
♦
May 24
: Flagler County Emergency Management chief Jonathan Lord hosts a media roundtable at noon on the upcoming hurricane season, at the
Emergency Operations Center
, 1769 E. Moody Blvd, Bldg. 3 (behind the Government Services Building), Bunnell.
♦
May 24
: Butterfly Walk at Washington Oaks Gardens State Park, 6400 North Oceanshore Blvd., 10 a.m. Join a ranger at 2 p.m. for a walk through our historical gardens. Learn about the history of our park while exploring the beauty of the formal gardens, with an emphasis on butterflies. The walk is approximately 1 hour. Please bring water and wear comfortable walking shoes. Meet in the garden parking lot. Garden walk included with park entry. No registration required.
♦
May 25
: Pool Safety Day at Palm Coast's Freeda Zamba pool, 339 Parkview Drive, open to all ages, from 1 to 4 p.m. The event is designed to teach the importance and seriousness of safety, but while having fun and participating in activities that children will remember. Florida is one of two states that lead the nation with at least 21 fatal child drownings last summer, according to a report from the Consumer Product Safety Commission and USA Swimming Foundation. About ten people die every day from unintentional drowning and of these, two will be children age 14 or younger, according to the Centers for Disease Control and Prevention. The fee is $1 for seniors and youth age 17 and under. It is $2 for adults.
♦
May 27
: Memorial Day, 8 a.m. start time at Heroes Memorial Park, 2860 Palm Coast Pkwy. The City of Palm Coast welcomes the community to share a meaningful Memorial Day tribute to those who have lost their lives while serving their country. U.S. Rep. Michael Waltz, who represents District 6, will speak. Rain Location: Fire Station 21 at 9 Corporate Drive Free and no registration required. More info: 386-986-2300.
♦
May 28
: The Flagler County Opioid Task Force meets at 6 p.m. in the first-floor conference room at the Government Services Building
♦
May 29
: The Blue Power 2020 forum, hosted by Mike Cocchiola, who heads the Flagler County Democratic Party, meets at 12:30 p.m. at the Democrats' office, 2 Office Park Drive, Suite D, all welcome. The weekly forum is intended to discuss local, state and national issues and to develop action plans to influence policy.
♦
May 30
: Flagler Palm Coast High School and Matanzas High School hold graduation ceremonies at the Daytona Beach Ocean Center. Matanzas High School's ceremony begins at 4 p.m. and Flagler Palm Coast High School's starts at 7. Doors to the Ocean Center open one hour before the start of each ceremony. The student procession begins approximately 15 minutes prior to the start of the ceremony. Tickets for the ceremonies are free. However, both schools have a 10-ticket limit per student. There may be opportunities for additional tickets. Students will be notified and information is located on each school's website. Parking passes are also available for pre-purchase. Parking is $5. security measures instituted last year will be in place this year. Please take note and be prepared before you head to the Ocean Center. There will be security checks before ticket holders are allowed entry into the ceremony. Watch livestreams of the ceremonies: Matanzas
here
, and FPC
here
.
♦
May 31-June 1, 2 and 8
: American Red Cross Lifeguard Certification Class – May 31-June 2 and June 8, Friday 5-6:30 p.m.; Saturdays and Sunday 8 a.m.-4 p.m. at Palm Coast Aquatics Center, 339 Parkview Drive. The American Red Cross Lifeguarding course provides entry-level knowledge and skills to prevent, recognize and respond to aquatic emergencies and to provide care for breathing and cardiac emergencies, injuries, and sudden illnesses until emergency medical services (EMS) personnel take over. For ages 15 and up. Cost is $200 (includes CPR mask and certification fee). Registration required at www.parksandrec.fun/aquatics. More info: 386-986-4741.
♦
June 1
: The Palm Coast Arts Foundation hosts its First Saturday Creative Bazaar, an arts and crafts flea market. at 1500 Central Avenue in Town center. Arts foundation members and other vendors will have booths of goods for sale. 8 a.m. to 2 p.m.
♦
June 1
: 2nd Annual Neighbors Helping Neighbors Golf Benefit for Homeless Animals: Neighbors Helping Neighbors is a local group of business professionals coming together to raise money for the Halifax Humane Society. Join us for 18-holes of premiere golf at the legendary LPGA International Golf Club. Shot gun start at 8 a.m. Registration at 7. 1000 Champions Drive Daytona Beach. To download entry form, visit https://www.halifaxhumanesociety.org/events/index and then scroll down to the golf outing listing. Hole Sponsorship $100. Single Player $125. Lunch Provided. For more information contact Gus Schutt (386) 233-5302.
♦
June 4
: Daytona Tortugas Youth Baseball Clinic, 8:30 a.m-12 p.m. at Indian Trails Sports Complex, 5455 Belle Terre Pkwy., Palm Coast. The Daytona Tortugas will be teaching kids, ages 7-13, skills to improve their ball game in this coed baseball clinic. Grab your glove and bat and learn from the pros! Participants will receive a free ticket to a Daytona Tortugas game. $37/person. Registration required at www.parksandrec.fun/camps. More info: 386-986-2323.
♦
June 4
: The Hammock Community Association meets at 7:30 p.m. at the Hammock Community Center on MalaCompra Road, with County Attorney Al Hadeed as speaker, who will present a History of the Hammock Part II.
♦
June 5
:

The Blue Power 2020 Action Forum, 12:30 p.m. at the Democrats' office, 2 Office Park Drive, Suite D. Come and join other progressive Democrats to discuss local, state and national issues, and propose actions to influence elected leaders. The Forum is open and informal and all opinions and ideas are welcomed. This is your opportunity to meet and lend your voice and knowledge to people who share your values. For more information, contact Mike Cocchiola, palmcoastdemocraticclub@gmail.com. The Blue Power forum meets every Wednesday.
For events beyond this date, see the fuller Coming Days here.
To • include your event in this section, please email the details, including date, time, a brief description of the event, contact information, and, if you wish, an image, please use this form.








Palm Coast Construction and Development Progress Reports
Updates of ongoing permitting, construction and development projects in Palm Coast usually run here, along with a link to the city's Week in Review. But the Week in Review, under the guise of being modernized, has become flashier and power-point like while becoming less substantive and dumbed down. We may or may not link to it in future.


Road and Interstate Construction:


Today's Playlist


Eleanor Rigby, performed by Sirius Quartet
Previous Codas: