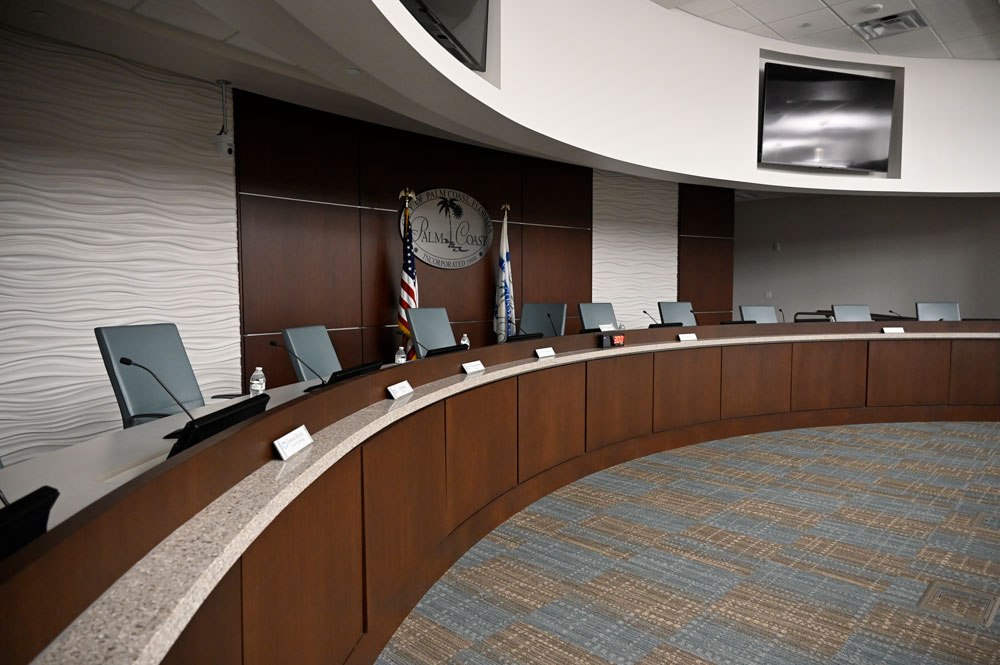 There's no question among a majority of Palm Coast City Council members, including Mayor David Alfin, that the pool of 90 candidates who applied to be city manager was largely a disappointment. Too many candidates seemed to be applying for a different kind of "manager"'s job–certainly not city manager. Only a fifth have any kind of city or county manager experience, and even then, fewer still have managed a government anywhere close to Palm Coast's size. Barely 40 percent of them have any government experience at all.
Council member Eddie Branquinho, never at a loss for blunt words, put it this way: "You have some people that are very decent, very good. And you have some people that should never ever, ever, ever apply for a job like this. That's how bad it was."
Alfin is raising the possibility of starting over.
"I'm just wondering to myself if the best of the best have been reached or have been romanced to apply. I don't know that," Alfin said in an interview. "So is it possible that through deliberation at city council that we may or may not actually come to a decision on a shortlist or then after that to a single candidate? I'm not willing to assume that we will, just because we have a process."
Council meetings had not been going well. Alfin has managed to corral some of the hostilities between Council members Ed Danko, Victor Barbosa and Eddie Branquinho, and has kept what had become Danko's routine insults of Councilman Nick Klufas to a minimum. But tensions still mottle every meeting. The council had dispensed with hiring a search firm for its next city manager, agreeing to let the city's human resources department handle the initial steps.
Alfin had wanted a search firm to "put corners on a box that city council can't easily manipulate or change," he said, a reflection of his weariness at the unexpected that one or another council member could spring at any moment. "So you work through a rigorous process which is policed by a third party, which helps you get to a conclusion. Number two, the third party search firm has the ability–because they already have a list, if you're somebody that focuses or specializes in municipalities–they know who's out there and who might be available. They can go speak to those people directly, and give them a reason to want to apply. Things have changed. The future looks bright. There's great opportunity in the city of Palm Coast. You won't see that as a headline on their own internet search probably. But the search firm people I think carry a little more leverage because they kind may know each other in those circles, or they know how to present that properly. So my question is, do we settle?"




The question appears to answer itself.
"If you have 91 applicants and let's assume that a relatively small percentage of the 91 are truly qualified for the job," and here Alfin cited the applicant who submitted a poem, lovely in itself but not a qualification for the job, "does that in fact mean–and this is a future story and it's okay–that we have harvested the best fruit out there?" Alfin said the city has a PR issue.
It's no mystery why: In his early months Barbosa was on a tear against then-Manager Matt Morton, slandering him on baseless allegations at a public meeting, when he called for his firing, and acting like a code enforcement vigilante around town, publicly humiliating some property owners. His grasp of council issues seemed tenuous, his commitment to the council even more so: he's already declared a sun for the county commission next year. His sniping with fellow-Councilman Eddie Branquinho has flared from time to time, but in recent weeks Barbosa has calmed down considerably, and his questions or comments have been somewhat more thought out.
Danko started abrasively and has gotten progressively more abrasive, displaying rudeness to other council members' faces, including the mayor, overtly and repeatedly challenging him on political grounds–politicking is usually off limits on government boards–while showing little respect for either the interim city manager or the city attorney, both of whom he said he wanted to fire if he had a third vote.
Those dynamics have carried into the manager-selection process, now poised for its first selection round at a special meeting next Wednesday. The council members have been tasked with each bringing a shortlist of five candidates. Absent overlaps, which are likely, that could potentially result in a list of 25 names. None of the council members want to interview 25 candidates. But there is no consensus between council members, either.




Danko had sought to circumvent the application process by bringing in an applicant of his own who would not necessarily have been vetted through HR (he had at one point been interested in bringing on Jerry Cameron, the former interim county manager, now in retirement, though Cameron doesn't meet the minimum qualifications for the city manager's job, having no college degree). Alfin, Branquinho and Klufas each separately said the application window has closed, and no such outside candidate would be considered.
"There was no vote, no consensus, no further discussion on that topic at that time," Alfin said. "It's my opinion, that the application process for all applicants is closed. And I think I'm safe saying that and here's why. I don't believe that there is a ghost candidate out there that somebody would bring forward at the 11th hour. I don't believe that. So I don't think it's an issue."
If that were to happen, Klufas said, his hope was that the council "would disallow that applicant."
That doesn't mean the whole process couldn't be started over. Alfin wants the best of the best. The current batch may not be producing that. "I would have liked for the number, a larger number of well qualified candidates," he said. He is not convinced that the city should be in a hurry to hire the next manager, and is convinced that simply because it has gone through the process of trying to hire one doesn't mean he or she should be drawn from the current pool. Bevan is "doing a terrific job," and has restored trust and security within the administration. She has not applied to be the next manager, but Alfin said she is not pressuring the council for an immediate decision. He is comfortable continuing with Bevan, if the council needs more time, and if it'll avoid settling for an uncertain choice.
Alfin is worried that turnover in the city manager's seat will eventually leach to a loss of institutional knowledge throughout City Hall. He wants a city manager who'll be in place at least five years, if not 10. "We have so many opportunities out there that we will lose or sacrifice or miss if we don't make a right decision," he said. "I just want to make sure that we have the best inventory of candidates to choose from."




Which brings him back to the idea of a new process with a search firm–an approach that Branquinho would support. But that also means setting in motion another six-to-nine-month timeline, pushing the process well into next year's election season, when two seats will turn over (with Barbosa's run for County Commission and Branquinho's announcement that he would likely not run again, unless extremists run for the seat.)
"City council voted against me to spend the money to hire the search from a lot actually wasn't a vote, but I lost that discussion," Alfin said. "And I couldn't bring it up. There was obviously a consensus on the days that they wanted staff to organize the search. But there's nothing preventing me from discussing the possibility that based on where we are today, and I'll have to wait till we get to our first workshop to see how it goes and make a decision, because I may well suggest that we cancel the current search process in favor of another search process."

Palm Coast City Manager Candidates, 2021
| The Candidates | Current Position | Location | City or County Manager Experience | Local Government Managerial Experience |
| --- | --- | --- | --- | --- |
| James Abeshaus | Daimler AG Corporate Counsel | Stuttgart, Germany | No | No |
| Angelia Adediran | Assistant City Manager | Deerfield Beach | Yes | Yes |
| Vince Akhimie | Not employed. Was assistant city manager in Lake City, Fla., until Aug. 2020. | Lakeland, Fla. | Yes | Yes |
| Samuel Askew | Not employed. Previously, casino manager. | Sumter, S.C. | No | No |
| Jan Bagnall | City Manager | Fort Meade, Fla. | Yes | Yes |
| Lynda Bell | Property owner, manager, former town manager, Sneads, Fla. | Tallahassee | Yes | Yes |
| Raymond Bosseret | Village administrator | Port Edwards, Wis. | Yes | Yes |
| Barry Brooks | Assistant to the city manager, Albany, Ga. | Tallahassee | No | No |
| Howard Campbell | Community Services Grant Manager | Forrest Park, Georgia | No | Yes |
| Anthony Carson | Not employed. City manager, Forney, Texas, until 2021 | Forney, Texas | Yes | Yes |
| Christopher Clemens | Operations director | Gainesville | No | No |
| David Connors | Branch Manager, Terminix | Palm Coast | No | No |
| Fernando Cordeiro | Assistant manager, Mercedes Benz, Jacksonville | Palm Coast | No | No |
| Frank Curnow | Mental health counselor | Daytona Beach | No | No |
| Michael Custer | Police chief | Middletown, Conn. | No | Yes |
| Angelo Dipierro | | | | |
| Emmanuel Donaldson | Recreation Coordinator, Polk County government | Bartow | No | No |
| James Dowdy | Pilot in military support | Williston, Fla. | No | No |
| Michael Drake | Sales and marketing VP, Gyrodata Inc. | Denver | No | No |
| Brian Druggan | Police officer | St. Augustine | No | No |
| Justin Dulgar | City commissioner, tech consultant | Mount Carmel, Ill. | No | No |
| Christopher Eck | Executive director, archivist, National Historical Publications and Records Commission | Broad Run, Va. | No | No |
| Elyse Edwards | Property manager | Palm Coast | No | No |
| Phyllis Edwards | Not employed. Former school superintendent. | Palm Coast | No | Yes |
| Kate Farmer | Utilities accountant | Gainesville | No | No |
| Sean Fisher | Military recruiter | Columbus, Ga. | No | No |
| Brian Georghegan | City manager, Howell Township | Howell Township, N.J. | Yes | Yes |
| Mark Giblin | Park manager, Anastasia State Park | Flagler Beach | No | Yes |
| Almut Godette | Online Teacher | Palm Coast | No | No |
| Brad Gotshall | Township manager | Lower Paxton, Penn. | Yes | Yes |
| Cody Haag | Not employed. Fleet manager until October 15, 2021. | Wenatchee, Wash. | No | Yes |
| Richard Haffele | Management and budget chief, Miami-Dade County Seaport | Miami | No | Yes |
| Fareed Halabi | Head of careers, teacher | Brummana, Lebanon | No | No |
| Christopher Hardee | Not employed. Was in travel sales until 2018. | Richmond, Texas | No | No |
| Kenneth Harris | Federal prison supervisory chaplain | St. Augustine | No | No |
| Leisa Haynes | Not employed. Was city manager of Rio Communities, N.M. until 2020. | Choctaw, Okla. | Yes | Yes |
| Shawn Henessee | Not employed. Was county manager, Clark County, Wash., until 2020. | Vancouver, Wash. | Yes | Yes |
| Wil Hersh | Property manager | Ormond Beach | No | No |
| Terry Hicks | Not employed. Was Leader of Facilities and Security for a utility until March 2020 | St. Augustine | No | Yes |
| Thomas Hutka | Not employed. Was Broward County director of public works until 2020. | Pompano Beach, Fla. | Yes | Yes |
| Andrew Hyatt | Surfside town manager | Ponte Vedra Beach | Yes | Yes |
| Anna Kinsella | Office manager, St. Johns Family Dentistry | Palm Coast | No | No |
| Ashley Kirby | Dance instructor | Possibly in West Virginia | No | No |
| Wayne Klotzbach | National Guard "Force Integrator" | Palm Coast | No | No |
| Mark Kutney | Not employed. Was City Manager of Brooksville, Fla., until June 2021 | Wellington, Fla. | Yes | Yes |
| Brent Lemond | Adult education director, Nassau County schools | Yulee, Fla. | No | Yes |
| Carlos Leyva | Elementary school business manager | North Versailles, Penn. | No | No |
| Katherine Lopez | Economic development specialist | Pomona, N.Y. | No | No |
| Dominique Mack | Executive director, Family Connections | Brunswick, Ga. | No | Yes |
| Eric Maldonado | Not employed. Was a Census worker. | Palm Bay | No | No |
| Jim Manfre | Lawyer in private practice, former Flagler County Sheriff | Palm Coast | No | Yes |
| John Mangeri | Not employed. Was a police administrator and home inspector, Fishkill, N.Y. | Palm Coast | No | No |
| Patrick Marsh | Consultant; was city administrator, Fitchburg, Wis., until January 2021 | Rochester, Minn. | Yes | Yes |
| Steve Martelli | Foreign Service Officer, deputy chief of citizen services | Arlington, Va. | No | No |
| Evalin McClain | Not employed. Was a grant manager, Kansas City Housing Authority | Kansas City, Mo. | No | No |
| Kevin McCraney | Operations director, Koppel Building & Construction Co. | Louisville, Ky. | No | No |
| Stephanie McDonald | Park manager, Alfred B Maclay Garden State Park | Tallahassee | No | No |
| Richardo Mendez | Not employed. Was assistant city manager, West Palm Beach, from 2020 to 2021. | Miami | No | Yes |
| Brent Moran | Project manager, Accenture | Tampa | No | No |
| Scott Moye | County Manager, Ware County, Ga. | Waycross, Ga. | Yes | Yes |
| Brandon Nielsen | Deputy supervisor, Blooming Grove Town Board | Washingtonville, N.Y. | No | Yes |
| Larry Nochowicz | Sales, Cisco Systems | St. Augustine | No | No |
| Jeffrey Oris | Municipal government consultant | North Palm Beach | No | Yes |
| Mark Raley | Security Manager, Pilgrim's Pride | Ridgeley, W.Va. | No | No |
| Jennifer Roberts | Not employed. Was a baker at Island Donuts, St. Augustine | Palm Coast | No | No |
| Christian Rodriguez | Manager at Houligans, Palm Coast | Palm Coast | No | No |
| Timothy Rryter | Shopping mall operations manager | Lindenhurst, Ill. | No | No |
| Justin Shoemate | FEMA systems intergration and reports chief | Fredericksburg, Va. | No | No |
| Joseph Sinnott | Lawyer in private practice (previously served as elected mayor) | Erie, Penn. | No | No |
| Gregory Smith | Education consultant | Daytona Beach | No | No |
| Leonard Sossamon | Current employment not clear. Former Hernando County administrator and Port Richey interim manager | Myrtle Beach, S.C. | Yes | Yes |
| D.W. Stark | Community gardens plots manager, transportation specialist | Frederick, Colo. | Yes | Yes |
| Bronce Stephenson | Planning and transportation director, Winter Park | Winter Park, Fla. | No | Yes |
| Wesley Stovall | Educational assistant, food service worker | Clarksville, Tennessee | No | No |
| David Strahl | Interim village manager, Schiller Park, Ill. | Darien, Ill. | Yes | Yes |
| Ron Succarotte | Construction field supervisor, Waterside Pools, Palm Coast | Palm Coast | No | No |
| John Swan | Consultant, business and technology | Not provided (New York State) | No | No |
| Rami Sweidan | Building department head | Lathrup Village, Mich. | No | No |
| Anthony Trotta | General manager, Best Western, Palm Coast | Daytona Beach | No | No |
| Adriana Trujillo Villa | Operations Manager/Interim Public Works Director, Haines City | Davenport, Fla. | No | Yes |
| Jason Weeks | Assistant city manager | La Porte, Texas | No | Yes |
| Teresa Weinschenk | City administrator, Preston, Iowa | Bellevue, Iowa | Yes | Yes |
| Cody West | Credit analyst, United Bank | Merritt Island, Fla. | No | No |
| Paul White | Assistant Superintendent for Operations, Alachua County schools | Gainesville | No | Yes |
| Adam Wilson | Senior project manager, Plymouth, Mass. | Leesburg, Fla. | Yes | Yes |
Notes: In addition to the 85 candidates in the chart, Mark DeCola, Kimberly Dinh and Christopher Pike appeared as if they were intending to apply but submitted no documents beyond an initial form. Raymond Regaliaq submitted only a poem about veterans.


Candidates submitted their resumes, recommendation letters, salary histories and other supporting documents in the full knowledge of Florida's public record law, which makes all the documents presented here public records. These records will be archived and maintained as presented here.
Reader Interactions