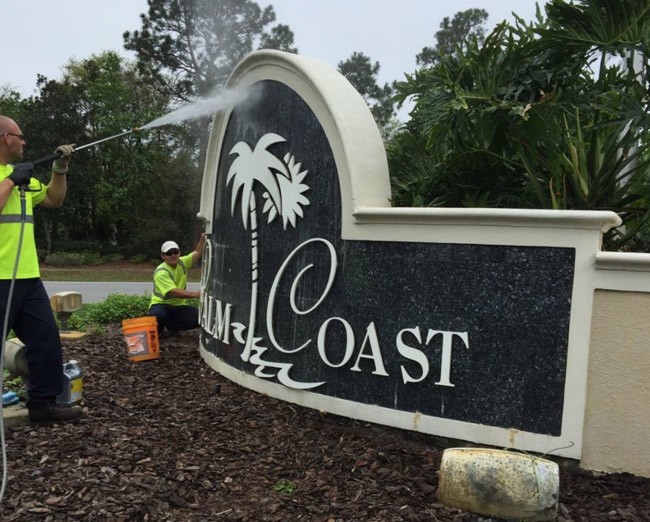 Today: Partly cloudy with a 20 percent chance of showers in the morning…then mostly sunny in the afternoon. Highs in the lower 80s. West winds 10 to 15 mph. Tonight: Mostly clear. Lows in the mid 50s. West winds 5 to 10 mph. Details here.
Today's fire danger is moderate. Flagler County's Drought Index is at 159.
Today's tides: at the beaches, at the Intracoastal Waterway.
Today's document from the National Archives.
The OED's Word of the Day: psychagogic, adj..
The Live Community Calendar
Today's jail bookings.
Today's Briefing: Quick Links

Note: all government meetings noticed below are free and open to the public unless otherwise indicated. Many can be heard or seen live through each agency's website.

State Sen. Travis Hutson and Rep. Paul Renner will be guest speakers for the Common Ground breakfast to provide a recap of the recent legislative session and answer audience questions. The breakfast will take place at Grand Haven Golf Club, 500 Riverfront Drive in Palm Coast with registration from 7:30 a.m. to 7:45 a.m. The presentation begins at 8 a.m. Cost for Chamber members is $20 with advance registration and payment or $30 the day of the event. Guests may attend for $30 with advance registration and payment or $40 the day of the event. Questions: 437.0106. Common Ground replaces its "Think Flagler First" luncheons and "Eggs & Issues" breakfasts.
In Court: Circuit Judge Matthew Foxman holds Drug Court for nearly two dozen cases starting at 10 a.m. in Courtroom 401, Flagler County Courthouse.
April 6-10: Flagler County Fair: at the county fairgrounds, 150 Sawgrass Road, Bunnell. lots of rides, games, food, fun, shows, 4H and FFA exhibits, livestock shows and auction. Enter to win in the Home and Family Division (canning, baking, sewing, quilting) Art Division and Shoe Box Floats, and the Rock 'n RibFest the last three days of the fair.
Rock'n RibFest at the Flagler County Fair, Thursday through Sunday: The annual event, sponsored by Flagler Broadcasting (owner of WNZF and Beach 92), presents a weekend of music, food and fun. County Fairgrounds, 150 Sawgrass Road, Bunnell.
Bombing Runs at Pinecastle Range in Ocala this Week: Navy training schedules indicate live and inert bombing will take place at the Pinecastle Range Complex in the Ocala National Forest every day from April 4 through April 10, as follows:
Thursday, April 7: noon to 8 p.m.
Friday, April 8: noon to midnight.
Saturday, April 9: noon to midnight.
Sunday, April 10: noon to midnight.
Saturday: Noon to midnight.
Sunday: 8 a.m. to 3 p.m.
The telephone number for noise complaints is 1-800-874-5059, Fleet Air Control and Surveillance Facility, Jacksonville. For additional information, call (904) 542-2415/5588. For more details about the bombing, go here.
Moody Boat Launch to close April 6 through May 20 for improvements. Click for details.

Updated jail bookings and day and night shift incident summary reports are available here.
Matanzas Woods Golf property 'in compliance' with city code requirements: "The city had been fining property owner the Group Golf at $500 per day, and the Code Board recommended at a March 9 hearing — by which the Group Golf had racked up $97,500 in fines — that the city start foreclosure proceedings. The Group Golf filed a suit to stop the city," The Observer reports.
Flagler County Fair 2016: Rock n' Rib Fest and Nova Rex's Metallic High Hair Among Peaks: The fair runs through Sunday April 10 at the Flagler County Fairgrounds at 150 Sawgrass Road in Bunnell. On Friday, Rock n' Rib Fest will feature the country band Restless Heart, known for such No. 1 hits as "That Rock Won't Roll," "The Bluest Eyes in Texas" and "A Tender Lie." Nova Rex plus Foreigner and Stevie Ray Vaughan tribute bands will perform on Saturday.
After Reaping 69 Awards at State Competition, Flagler's Problem Solvers Go International: Out of the 69 awards, two were grand champions: Bunnell Elementary's Project G.R.E.E.N– Sean Gilliam, Madelynn Oliva, Danny Wilcott, Jermaine Bucknor and Jackson McMillan—whose work was highlighted last December when a community garden grew out of a brownfield in Bunnell's Housing Authority grounds. And Flagler Palm Coast High School's Project Link, the renovation of the school's media center into a "learning commons," highlighted in February with a commemoration. That team consisted of Kayla Dance, Sarah Dance, Judy Colindres, Vashti Malvoisin and Ivana Moore.
Upset Over Daughter's Nude Pictures, Mother Is Charged With Aggravated Child Abuse: Virginia Jennelle, a 52-year-old resident of Pine Grove Drive in Palm Coast, was upset that her 14-year-old daughter was texting pictures of herself, unclothed. So in Jennelle's telling to police, she threw food items and containers at her daughter, poured food all over her, struck her on the face with a broom, opening a wound that bled profusely, and fled the house.
In Major Shift, County Proposes Rebuilding Beach Without Federal Dollars For Now: County Administrator Craig Coffey, in what was billed as a mere update of the beach renourishment project, pitched a radically different approach to funding renourishment—not only to go ahead with the design and permitting of the project, but to proceed on the assumption that federal dollars may not be there, and to do so with a combination of state and local dollars: from the Department of Environmental protection, the state Department of Transportation, and Flagler County's Tourist Development Council, which devotes a portion of the revenue from the local 4 percent sales tax supplement levied on hotels and other short-term rentals to beach projects.

Note: Most proceedings below can be followed live on the Florida Channel.

Death Row case: The Florida Supreme Court will take up four issues, including an appeal in the Seminole County death-penalty case of Clemente Aguirre-Jarquin. He was sentenced to death in the 2004 murders of Cheryl Williams and her mother, Carol Bareis. (9 a.m.) The court is expected to release its weekly opinions at 11 a.m.
Latino voter registration campaign: The National Council of La Raza will hold a news conference to launch a Florida voter-registration campaign. State Rep. Jose Felix Diaz, R-Miami, is expected to be among the participants at the news conference. (11 a.m. NCLR Florida Regional Office, 790 N.W. 107th Ave., Suite 115, Miami.)
–Compiled by the News Service of Florida and FlaglerLive

In Coming Days in Palm Coast and Flagler:
Click on the links for more details:

♦ April 12: The Flagler County Branch of the American Association of University Women will be observing Equal Pay Day, at 5 p.m. with an Unhappy Hour at Farley's Irish Pub, 101 Palm Harbor Parkway (European Village). Equal Pay Day symbolizes the time in 2016 when the wages paid to American women catch up to the wages paid to men from the previous year. Join AAUW members wearing red and hoping for passage of the Paycheck Fairness Act this year. For information call 386/439-5003.
♦ April 12: Anjali Anabel Tomerlin, a third grader at Imagine School at Town Center in Palm Coast who's written and illustrated her first book, will hold a book-signing at the Flagler Beach Public library from 4 to 6 p.m.
♦ April 13: Public Safety Coordinating Council meeting at 8:45 a.m., Emergency Operations Center, Bunnell.
♦ April 13: Community Alliance-Department of Children and Families meeting, 2:30 p.m., Government Services Building, Bunnell.
♦ April 15: The Florida Ethics Commission will take up an administrative law judge's recommendation in the ethics case against Flagler County Sheriff Jim Manfre. 9 a.m.
♦ April 16: Flagler Beach will hold a victims' rights memorial at sunrise. The memorial ceremony honors victims and their advocates. It will be held at the end of the iconic pier. Please contact Victim Advocate Donna Kearney with any questions about the memorial at 517-2020.
♦ April 26: Sentencing of Waldemar Rivera at 1:30 p.m. in Courtroom 401, Flagler County Courthouse, before Judge Matthew Foxman. Rivera was found guilty on March 23 after a two-day trial of raping his then-13-year-old step-daughter two years ago. He faces up to 30 years in prison. He had declined a plea that would have netted him 10 years, and declined a judge's advice, after the first day of trial, to consider taking a plea.

Seven other states are considering restricting bathrooms for transgender people: https://t.co/vMQ7obfXPL pic.twitter.com/DC28BUW3yd

— FiveThirtyEight (@FiveThirtyEight) April 6, 2016
Border patrol agents allegedly loot immigrants before deporting them back to Mexico https://t.co/YqM8jt30Yo pic.twitter.com/iUfOO2mupF

— ThinkProgress (@thinkprogress) April 6, 2016
Gov. Andrew Cuomo of New York should veto the legalization of mixed martial arts. https://t.co/7GbTmkNsPp pic.twitter.com/Bq7gPbyf4w

— NYT Opinion (@nytopinion) April 6, 2016
.@Gap Apologizes for Ad Called 'Racist' Because It Features White Girl Leaning On Black Girlhttps://t.co/EOYewgZWtT pic.twitter.com/1L8o3CVw3w

— National Review (@NRO) April 6, 2016
The model for the 2016 GOP convention? The Taft-Roosevelt 1912 convention, as James MacGregor Burns reminds us. pic.twitter.com/gzd1sY0M3G

— Pierre Tristam (@PierreTristam) April 6, 2016


Palm Coast Construction and Development Progress Reports
The following is an update of ongoing permitting, construction and development projects in Palm Coast, through March 30:
Click to access developments-april-2015.pdf

Road and Interstate Construction:
Moody Boat Launch to close April 6 through May 20 for improvements: Flagler County's Moody Boat Launch will be closed April 6 through May 20 for improvements. "The scheduled upgrade will enhance the launch's usability in a number of ways," said Heidi Petito, Director of General Services. "The new system provides for ADA (Americans with Disabilities Act) compliance, minimizes docking difficulties caused by fluctuating tides, and new lighting will promote boater safety and security." The closure includes the Moody Boat Launch– located at 825 Moody Lane in Flagler Beach– the parking area, restroom, and dockage on the Matanzas River. It does not affect Betty Steflik Preserve and boardwalk. The scope of work includes dredging 1,650 yards of silt from the launch basin, thus improving navigability. The adjacent wooden docks will be replaced with an aluminum floating dock and gangway system. Additionally, the existing restroom will be replaced with an ADA compliant facility. Moody Boat Launch provides public access to the Intracoastal on the east shore, just south of SR100. The closest alternative boat launches are located at Herschel King Park on the west side of the river at 1000 Grady Prather Jr. Cove, Palm Coast, and Bing's Landing on the east shore at 5862 N. Oceanshore Blvd. in Palm Coast.
Forest Grove Drive connection to Palm Harbor Parkway to be closed starting Dec. 18: Effective Friday, Dec. 18, the City of Palm Coast will be closing the Forest Grove Drive connection to Palm Harbor Parkway. This road closure is required as part of construction operations for the Palm Harbor Parkway extension, which is currently under construction. Palm Harbor is being realigned and extended to connect directly with Matanzas Woods Parkway where it intersects with Old Kings Road. Message boards will be placed to advise motorists and other travelers of the upcoming change, and a public meeting has already been held for residents living in that area. Both the Palm Harbor extension and a separate extension of Old Kings Road are being built in preparation for the new Interstate 95 interchange to open next June at Matanzas Woods Parkway. As part of the projects, traffic patterns around Matanzas High School will be changing. One goal is to turn Forest Grove Drive back into a residential street as it was originally intended to be. The upcoming road closure of the Forest Grove Drive connection to Palm Harbor Parkway is part of that project. Forest Grove will be turned into a cul de sac on that end. Once the separate Old Kings Road extension is completed, in June 2016, the Forest Grove Drive access to the high school will be closed because it will no longer be needed. Instead, motorists and other travelers will get to Matanzas High School via the new signalized intersection at Matanzas Woods, Palm Harbor and Old Kings. For more information, please contact Palm Coast Communications Manager Cindi Lane at 386-986-3708 or [email protected].

Anne Sophie-Mutter Performs Mendelssohn's Violin Concerto in E minor, Op.64, Kurt Masur, cond.
Previous Codas: