Tuesday Briefing: D'Marcus Boyd Plea, Stetson Guitar Ensemble, Moody-Shaw Debate, Ocala Forest Bombing
FlaglerLive | October 23, 2018
Today: Mostly cloudy. Slight chance of showers in the morning, then chance of showers in the afternoon. Highs around 80. North winds 5 to 10 mph. Chance of rain 40 percent. Tonight: Mostly cloudy. Chance of showers in the evening, then slight chance of showers after midnight. Lows in the mid 60s. North winds 5 to 10 mph. Chance of rain 30 percent. Details here.
Today's document from the National Archives and the Astronomy Picture of the Day.
Today's tides: at the beaches, at the Intracoastal Waterway.
Drought Index: 309
The OED's Word of the Day: Tom Jones, n..
The Live Community Calendar
Today's jail bookings.
Today's Briefing: Quick Links


"It struck me as rather odd, that one of the first questions raised, after our separation from the greedy, struggling, self-seeking world, should relate to the possibility of getting the advantage over the outside barbarians in their own field of labor. But, to own the truth, I very soon became sensible that, as regarded society at large, we stood in a position of new hostility, rather than new brotherhood. Nor could this fail to be the case, in some degree, until the bigger and better half of society should range itself on our side. Constituting so pitiful a minority as now, we were inevitably estranged from the rest of mankind in pretty fair proportion with the strictness of our mutual bond among ourselves."
–From Hawthorne's "The Blithedale Romance" (1852).
Previously:

Note: all government meetings noticed below are free and open to the public unless otherwise indicated. Many can be heard or seen live through each agency's website.
The Sheriff's daily incident reports and jail bookings are posted here.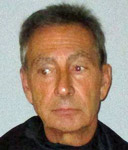 In court: A pair of hearings are scheduled in the civil case of alleged wrongful death against David Zlokas, the 64-year-old Palm Coast man accused of drunk driving and the DUI-manslaughter death of Gary St. Peter on Nov. 2, 2017, in a car crash off State Road A1A near Surf Side condominiums. Zlokas has also been charged criminally. The civil suit was filed by St. Peter's wife and seeks damages of more than $15,000 from both Zlokas and Uncaged Tasting Room, a restaurant and bar at 3214 Meridian Home Lane in the Hammock where the two men are said to have been drinking before the crash. The hearings are before Circuit Judge Terence Perkins in Courtroom 401 at the Flagler County courthouse on Oct. 23, starting at 10:30 a.m. The hearings are for arguments that the case should be stayed pending a resolution of the criminal case against Zlokas. See the background story here. (Case #2018CA000222)
In court: D'Marcus Boyd, a 24-year-old Palm Coast resident facing a second-degree felony rape charge along with burglary and grand theft charges, is scheduled for a plea before Circuit Court Judge Terence Perkins in courtroom 401 at the Flagler County Courthouse at 4 p.m. See background here.
The Flagler Beach Economic Development Task Force meets at 4 p.m. at City Hall, 105 S 2nd St.
Early voting continues for the 2018 general election for federal, state and local candidates. In Flagler, early voting is available at three locations from 10 a.m. to 6 p.m. for 13 consecutive days, weekends included, through Nov. 3: at the Flagler County Public Library, Corner of Belle Terre and Palm Coast Pkwy, 2500 Palm Coast Pkwy NW, Palm Coast, at the Palm Coast Community Center, Corner of Palm Coast Pkwy & Club House Dr., 305 Palm Coast Parkway NE, Palm Coast, and at the Flagler County Supervisor of Elections on the first floor of the Government Services Building, in back, 1769 E. Moody Blvd., Bldg. 2, Ste. 101, Bunnell. Any registered and eligible voter may choose to vote at any of the three locations. This year, live election turnout is available: Keep up with Flagler County election turnout online at: https://www.flaglerelections.com. This live data is updated automatically every 10 minutes and offers customizable views by party and vote method. The turnout information includes Vote-By-Mail totals currently and Early Voting totals beginning Monday. Updates will continue throughout the election cycle. Election Day turnout will be available beginning at 7 a.m. on November 6.
Stetson Guitar Ensemble, Stephen Robinson, director. The concert will feature students of the studio of Stephen Robinson. The program includes works by Mark Houghton and Olga Amelkina-Vera and features Roland Dyens' arrangement of the hauntingly beautiful Alfonsina y el mar for guitar quartet by Ariel Ramirez and Suite Francaise by Sébastian Vachez for 11 guitars. 7:30 p.m. Lee Chapel in Elizabeth Hall 421 N. Woodland Blvd., DeLand. 386-822-8950.
Navy Bombing in the Ocala National Forest
: Navy training schedules indicate that inert and live bombing will take place at the Pinecastle Range Complex located in the Ocala National Forest this week. Bombings at times can be heard in Flagler-Palm Coast. The bombings are scheduled as follows:
Tuesday: 11 a.m. to 11 p.m., Inert and Live.
Wednesday: 11 a.m. to 11 p.m., Inert and Live.
Thursday: 11 a.m. to 11 p.m., Inert and Live.
During bombing periods wildlife may be temporarily displaced. Use extra caution when driving through the Ocala National forest and surrounding areas. Secure any items around your residence that could attract wildlife. Always be mindful of larger animals including black bears and practice bearwise measures. The telephone number for noise complaints is 1-800-874-5059, Fleet Area Control and Surveillance Facility, Jacksonville, Fla. For additional information, call (904) 542-5588.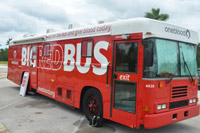 Blood Donations: The Big Red Bus will be at the following locations this week (schedule your donation by going to the website and entering a Palm Coast zip code, then locating one of the venues below):
Tuesday: Florida Hospital Flagler, 60 Memorial Medical Parkway, Palm Coast, 9 a.m. to 6 p.m.
Wednesday: Integra Woods Apartments, 1000 Integra Woods Blvd., Palm Coast, 1 to 6 p.m.


Jail Bookings and Last 24 Hours' Incidents in Flagler, Palm Coast, Flagler Beach, Bunnell
Sources: Flagler County Sheriff's Office, Flagler Beach Police Department, Bunnell Police Department. This is Flagler County's only comprehensive, one-stop compilation of all local law enforcement's daily day and night shift commanders' reports.


Florida Hospital Flagler names Julie Banker as the hospital's new director of inpatient services: In her new role, Banker will oversee all inpatient services. Her role will also include providing direction and leadership to nursing and ancillary staff, as well as supporting educational growth and development within the nursing team. With nearly 30 years of nursing experience, Banker is passionate about leading as a mentor and supporting nurses in their efforts to provide safe, high-quality care to patients. Banker most recently served as the director of nursing for the physician office practices at Healthcare Network of Southwest Florida on Florida's west coast. A resident of Palm Coast, Banker is a registered nurse and earned a Bachelor of Science in Nursing from the University of Rhode Island and a Master of Science degree in Nursing, with a nursing leadership focus, from Regis University in Denver, Colorado. Additionally, she is certified in Lean Six Sigma. Lean Six Sigma is a team-focused managerial approach that seeks to improve performance by eliminating waste and defects. She is also a member of the American Organization of Nurse Executives (AONE). A subsidiary of the American Hospital Association, AONE provides leadership, professional development, advocacy and research to advance nursing practice and patient care, promote nursing leadership excellence and shape public policy for health care nationwide.


In Florida and in State Government:
Note: Some proceedings below can be followed live on the Florida Channel. Most legislative proceedings can be followed through the Senate or House websites.

DRUG POLICY AT ISSUE: The Statewide Drug Policy Advisory Council will meet and discuss issues such as the implementation of a new law (HB 21) aimed at curbing the opioid epidemic. (Tuesday, 8:30 a.m., Florida Department of Health, 4025 Esplanade Way, Tallahassee.)
APPEALS COURT CANDIDATES INTERVIEWED: The 3rd District Court of Appeal Judicial Nominating Commission will continue two days of interviews of candidates to replace Chief Judge Leslie Rothenberg and Judge Richard Suarez, who are leaving the South Florida court. Candidates expected to be interviewed Tuesday are Fleur J. Lobree, Bronwyn C. Miller, Ann M. St. Peter-Griffith, Thomas J. Rebull, Oren Rosenthal, George A.R. Sarduy, Melissa Damian Visconti, Lisa S. Walsh and Angelica D. Zayas. (Tuesday, 8:30 a.m., DLA Piper LLP, 200 South Biscayne Blvd., 25th floor, Miami.)
BIDEN CAMPAIGNS WITH NELSON, MURPHY: Former Vice President Joe Biden will appear at an Orlando rally for the re-election campaigns of U.S. Sen. Bill Nelson, D-Fla., and U.S. Rep. Stephanie Murphy, D-Fla. Also expected to take part in the event is Orlando Mayor Buddy Dyer. (Tuesday, 3:45 p.m., Cheyenne Saloon, 128 West Church St., Orlando.)
TRAIL PROJECT ON TABLE: The Florida Department of Transportation will hold a meeting about a development and environment study for the South Sumter Connector Trail Project, which would link trails in Hernando and Sumter counties. The project is part of the Coast to Coast Trail, which is expected to extend nearly 250 miles from St. Petersburg to the Canaveral National Seashore. (Tuesday, 5:30 p.m., Webster Community Hall, Southeast First Street, Webster.)
MOODY, SHAW DEBATE: Republican Ashley Moody and Democrat Sean Shaw, who are running for attorney general, will participate in a one-hour debate that will be shown live on Bay News 9 in Tampa and Spectrum News 13 in Orlando. (Tuesday, 7 p.m., Bay News 9. Tampa.)
—-Compiled by the News Service of Florida and FlaglerLive


To • include your event in this section, please fill out this form.
♦
April 22
:

The Flagler County Stamp and Coin Club meets at 4:30 p.m. at the VFW Post 8696 47 N. Old Kings Road. From 4:30 - 6 p.m. the time is used for buying, selling and trading stamps and coins. The club meeting starts at 6 p.m. and ends at 7:30. There is a live auction of stamps and coins at the end of the meeting. The club is open for members, the general public, and all who are interested in stamp and coin collecting and investing. Free stamps and coin evaluations at all our meetings. The club is the only non-profit Stamp and Coin Club in Flagler County. For more information please visit
the club's web site
.
♦
April 22-28
: The 16th annual Jeep Beach in Daytona Beach's beach. Over the years, the event has steadily grown in size and scope. Since 2012, Jeep Beach has donated over $1.5 million to local charities. Past recipients include, Boys & Girls Club of Volusia & Flagler County, Childhood Cancer Foundation, NASCAR Foundation, Mission 22 and over 100 other local charities.
♦
April 23
: Stetson Choral Union, Sandra Peter, conductor. The Choral Union's program is entitled "Embracing Beauty: Envisioning the Future." Stetson's largest choral group, comprised of both students and community members, perform an evening of works by living composers: Cecilia McDowall, Jocelyn Hagen, Joan Szymko Paul Basler, Daniel Kallman, Wayland Rogers, Mack Wilberg and Carly Simon. School of music professors Boyd Jones and Hannah Sun collaborate on organ and piano, respectively. The Young Singers of Stetson's Community School of Music, conducted by Amanda Sali, are also featured. Lee Chapel in Elizabeth Hall Note: The venue has changed from the original 2018-2019 concert series calendar. 421 N. Woodland Blvd., DeLand, 386-822-8950. Admission: $10 adults, $5 youth and students and free for ages 12 and under. Tickets are available at the door or at www.stetson.edu/music-tickets.
♦
April 24
: The Flagler County school district's Education Foundation and Matanzas High School mark the opening of the Matanzas Law and Justice Flagship program, with the unveiling of a mock courtroom b uilt by the school's construction flagship, at 10:30 a.m. at Matanzas, 3535 Pirate Nation Way, Palm Coast.
♦
April 24
: A meeting of the Compassionate Friends is scheduled at the Vitas Office at 4 North Old Kings Road (across from Kentucky Fried Chicken) in Palm Coast. The meeting begins at 5:30 p.m. The Compassionate Friends, a nonprofit self-help bereavement support organization for families that have experienced the death of a child. The meeting is open to all parents, grandparents, and siblings over age 18 who has suffered the loss of a child of any age. For more information, call John Brady at 610-428-3139. To learn more about The Compassionate Friends, visit their national website at www.compassionatefriends.org.
♦
April 24
: Stetson Jazz Ensemble, Patrick Hennessey, director. The Stetson University Jazz Ensemble is back on the Athens Theatre's stage with a concert focusing on the creative talent of several of our musicians, especially our graduating seniors. Selections for this eclectic evening of jazz range from the traditional big band stylings of Count Basie to the ever-exciting swing of The Tonight Show Orchestra with Doc Severinsen, with some fresh takes on classic songs thrown in. The journey also includes works that push the boundaries of big band jazz from some of today's best contemporary jazz composers. Athens Theatre, DeLand, 124 N. Florida Ave., DeLand. 386-822-8950. Admission: $10 adults, $5 youth and students and free for ages 12 and under. Tickets are available at the door or at www.stetson.edu/music-tickets.
♦
April 24
: The Flagler Chamber hosts a Common Ground Breakfast featuring journalism and media, with panelists David Ayres of WNZF/Flagler Broadcasting, Brian McMillan of the Palm Coast Observer, Pierre Tristam of FlaglerLive, and a representative, yet to be named, from the News-Journal. Check in at 7:30 a.m., event at 8 a.m., Hilton Garden Inn Palm Coast, 55 Town Center Dr. Members can preregister for $25, Guests & future members can attend for $35. Walk-ups are no longer accepted. To book a seat, contact Heather Edwards at the Chamber,
heather@flaglerchamber.org
.
♦
April 26-27
:
Flagler Sportfishing Club hosts its 23rd Annual Spring Classic Tournament
. Over 120 anglers will be vying for over $8,000 in cash prizes and merchandise to catch Redfish, Trout and Flounder. Proceeds from the Annual Tournament benefit the local chapter of the Disabled American Veterans (DAV), Chapter 86. The event kicks off on Friday with a silent auction and registration opening at 5:30 p.m. at Beach Front Grille, at 2444 S. Ocean Shore Blvd., in Flagler Beach. There is a mandatory captain's meeting that night at 7 p.m. The weigh-in will be held at Hidden Treasure, 820 Moody Lane in Flagler Beach on April 27, 3 p.m. until 4:30 p.m.
♦
April 26
: Stetson University Symphony Orchestra, Anthony Hose, conductor. Mozart's late concert aria "Per questa bella mano" written in March 1791 brings two faculty bass professors to the stage of Lee Chapel. Chadley Ballantyne sings the part written for Franz Gerl, the first Sarastro in "Die Zauberflöte" and Michael Hill plays the virtuoso solo string bass part. The program opens with Wagner's stirring Overture to "Die Meistersinger von Nürnberg," an opera set in the beautiful medieval town in central Germany and closes with Shostakovich's fifth Symphony, composed in 1937 and seen by some as an autobiographical work. The composer described its theme as "the making of a man." Having come under criticism of his fourth symphony, which in Stalin's Soviet Union could be a death sentence, he described it as a step forward in his symphonic development and the powerful last movement as an answer to questions posed by the first three movements. Lee Chapel in Elizabeth Hall, 421 N. Woodland Blvd., DeLand. 386-822-8950. Admission: $10 adults, $5 youth and students and free for ages 12 and under. Tickets are available at the door or at www.stetson.edu/music-tickets.
♦
April 27
: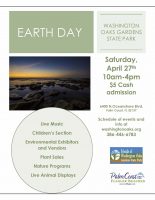 The Friends of Washington Oaks Gardens State Park is hosting an Earth Day celebration and festival at Washington Oaks Gardens State Park, 6400 N Oceanshore Blvd., Palm Coast, from 10 a.m. to 4 p.m. Celebrate Earth Day by enjoying nature. Experience beautiful gardens, live music, and children's performances at Washington Oaks Gardens State Park. Environmentally oriented exhibitors will be on hand as well as various vendors. The extensive park plant bench will be selling a wide variety of Florida friendly plants for you to plant in your garden. Several nature programs will help inform you about Florida fauna including a presentation on how to use native plants in your garden. A kids section with live animals will be featured. Local musicians Remedy Tree and Sam Pacetti will perform, as well as Flagler County school singers and dancers. Refreshments will be available. Park admission fees apply. Fees are as follows: $5 per carload. Click on the image to the right to see the larger poster.
♦
April 27
: The Palm Coast Fire Department hosts Touch-a-Truck, a free community event at Wadsworth Elementary School from 9 a.m. to 1 p.m. Saturday, April 27. The event will take place in the parking lot at the school, 4550 Belle Terre Pkwy., Palm Coast, immediately following the Wadsworth Elementary Panther 5K. The theme of the event is: See, Touch, Explore and Honk. There will be a static display of emergency vehicles, construction trucks and more. Participating partners include: the Palm Coast Fire Department, Flagler County Fire Rescue, Florida Forestry Service, Bunnell District, Flagler County Sheriff's Office, Florida Highway Patrol Palm Coast Public Works, Cline Construction, Rogers Towing, and others.
♦
April 27-28
: Community Cats of Palm Coast holds its annual spring yard sale. Donations are needed, and can be dropped off at any time without prior arrangement at the yard sale site, 17 Fernham Lane in Palm Coast, just off Florida Park Drive. Items can be left safely on the cement porch. Or for a pickup, email us or call/text 386-237-7690. Anything but heavy furniture. The yard sale is from 8 a.m. to 3 p.m. each day.
♦
April 27
: Stetson Percussion Ensemble, Dan Johnson, director. This semester's percussion concert features chamber ensemble pieces comprised exclusively of duets, trios and quartets. The program contains mostly new compositions with a wide variety of instrumentation and intensity. 3 p.m. Lee Chapel in Elizabeth Hall, 421 N. Woodland Blvd., DeLand. All concerts are free and open to the public. Call 386/822-8950.
♦
April 27
: Stetson University Concert Band, Douglas Phillips, conductor. Please join us for another evening of musical variety as the newly established Concert Band presents its final performance this academic year. The concert includes well known works by Anton Bruckner, Edwin Franko Goldman, Robert Jager and William Latham as well as a few surprises. The performance concludes with David Maslanka's short symphony for wind band, "Give Us This Day." 7:30 p.m., Lee Chapel in Elizabeth Hall, 421 N. Woodland Blvd., DeLand. 386-822-8950. Admission: $10 adults, $5 youth and students and free for ages 12 and under. Tickets are available at the door or at www.stetson.edu/music-tickets.
♦
April 28
: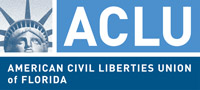 The ACLU's Volusia/Flagler Chapter's 2019 Annual Meeting and Awards Dinner will honor recipients of the Bob Stevenson Award for Outstanding Service: Kaiti Lenhart, Flagler County Supervisor of Elections and Lisa Lewis, Volusia County Supervisor of Election, for their work helping returning citizens register to vote after Voting Restoration Amendment 4 went into effect in Florida. Micah Kubic, ACLU of Florida Executive Director, will speak on how you can get involved with the ACLU in our local community. Reception at 6 p.m., dinner and awards at 6:45 p.m., Halifax River Yacht Club, 331 S. Beach St., Daytona Beach.
♦
April 28
:
Oh. . .That Little Black Dress Fundraising Event: The GAL7 Foundation, Inc. invites you to grab that Little Black Dress and join us as we mix and mingle for a great cause. Watch your Little Black Dress transformed with accessories from Chez Jacqueline, participate in silent auctions, raffles and enjoy the wine bar and champagne raffle. We will also have vendor tables with make-up, nail art, a hair stylist and much more. Join us for an evening of fun! The GAL7 Foundation is a non-profit organization which exists to meet the needs (basic, emergency and enrichment/inclusion) of children in foster care in Florida's Judicial Circuit Court Seven. This includes Flagler, Putnam, St. Johns and Volusia Counties. The benefit will be held from 4 to 6:30 p.m. in the Atlantic Ballroom at Hammock Beach Resort, 200 Ocean Crest Dr. Palm Coast. Tickets are $50 and include free valet parking, a chance to win 5 elegant door prizes and a buffet of heavy Hors d'oeuvres.
Get your tickets here
.
♦
April 28
: Stetson Brass Ensembles. The Brass Ensemble, directed by David Schmidt, performs Introduction to Act III of "Die Meistersinger" by Richard Wagner and "Ecce Sacerdos Magnus" by Anton Bruckner. The Horn Ensemble, directed by Kathy Thomas, presents Steven Mahpar's arrangement of "Shenandoah." The Tuba/Euphonium Ensemble, directed by Ryan Sorenson, plays an arrangement from "The Barber of Seville" by Gioachino Rossini. The Trombone Ensemble, directed by David Schmidt, features 2003 Stetson alumnus, Jason Robins on several selections for solo trombone and trombone ensemble. Robins serves as the second trombonist of the Atlanta Symphony Orchestra. The Trumpet Ensemble, directed by Tom Macklin, also performs several works during the performance. 3 p.m. Lee Chapel in Elizabeth Hall, 421 N. Woodland Blvd., DeLand. All concerts are free and open to the public. Call 386/822-8950.
♦
April 29
: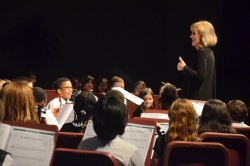 Flagler Youth Orchestra's year-end Take a Bow Concert, 7 p.m. at the Flagler Auditorium, 5500 East Hwy 100, Palm Coast, call 386-437-7547. The Flagler Youth Orchestra performs its final concert of the 2018-19 season on Monday, April 29th, at 7 p.m. at the Flagler Auditorium in Palm Coast. Conductor Sue Cryan and fellow teachers of the FYO will lead five orchestras with 375 string musicians — a cross-section of public, private and homeschooled students. The program includes music by Mozart, Freddie Mercury and much more. Adult tickets are $8 with $1 from each ticket going to the Auditorium's Arts in Education Fund, and children 17 and under are $3. The orchestra's proceeds help underwrite instrument scholarships and repairs, teaching staff and concert productions. The Flagler Youth Orchestra is made possible by the Flagler County School District, with the support of the Friends of the Youth Orchestra, whose sole mission is to provide free music education after school to all Flagler children with a desire to play an instrument.
Book here
.
For events beyond this date, see the fuller Coming Days here.
To • include your event in this section, please email the details, including date, time, a brief description of the event, contact information, and, if you wish, an image, please use this form.


Keep Up with Donald Trump's attacks on the press through the ACLU's running tab here.
Keep Up with mass shootings in a running database here.


Palm Coast Construction and Development Progress Reports
Here's a summary of the latest city developments as of Oct. 11, 2018, with a link to the full week in review here.
<![if !IE]><![endif]>


Road and Interstate Construction:


Cultural Coda
Beethoven: Piano Concerto Nr. 5, "Emperor," Op. 73, Daniele and Maurizio Pollini, Sinfónica de Galicia
Previous Codas: