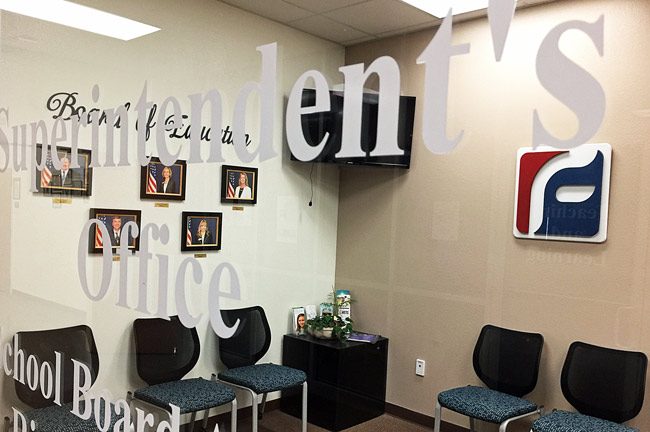 Last Updated: March 21
The applicants' pool for Flagler County School Superintendent totaled 41 by the time the application window closed at midnight Friday. As often happens with applications for jobs of this nature, some of the strongest candidates waited until the last minute to apply.
When the school board and its advisory committee meet for the first time Tuesday to examine the batch, they will not be faced with an embarrassment of dazzles. But they won;t lack for good candidates, wither.
Based on an examination of the 41 applications the school district made available by Tuesday morning (see below), the council will see few applicants with experience as superintendents. Out of four current public school superintendents who did apply, the combined enrollment in all four of their districts is less than 8,000 students, and three of the four applicants are in districts of fewer than 2,000 students. The Flagler school district's enrollment is around 13,000, and is expected to grow.
Scott Woolstenhulme, an assistant superintendent, applied from the Bonneville Joint School District 93 in Idaho, which on paper looks similar to the Flagler school district, with 12,000 students and similar goals.
There are a few additional former superintendents, though one, Constance Jones, resigned under jarring circumstances and questions about students' academic achievements in a Colorado school district a bit larger than Flagler's. Another, Michael Dodge, now a resident of Port Orange, retired from a 1,700-student district in Michigan. Steve Benton of Cottondale, Fla., retired from the 7,500-student Jackson County school system as superintendent in 2012.
Applicant Charlie Van Zant Jr. was the elected superintendent of schools in Clay County for one term, between 2012 and 2016, but his term was jarred by controversy after he was openly accused by a former principal in the district of ignoring warnings that some special-education students had been deliberately mis-categorized (special education students command a greater share of state funding). He denied the accusations and accused the former principal of being a disgruntled employee. The Clay County School Board in December asked state education officials to review the findings of an investigation into the matter.
Fourteen of the applicants are from Florida, several of them living in the state in retirement, and only two applicants from Flagler: Vernon Orndorff, whom former Superintendent Bill Delbrugge hired as principal at Indian Trails Middle School before former Superintendent Janet Valentine elevated him to the district administration; and Phyllis Edwards, who rose through the ranks in Flagler County schools from teacher to director of elementary education to assistant superintendent before her departure in 2003 to become the superintendent of the city schools of Decatur, Ga., a position she held for more than a dozen years before returning to Palm Coast.
Orndorff is the executive director of leadership development under Superintendent Jacob Oliva, and essentially a deputy superintendent. He's also a heavy favorite, with at least two school board members (Trevor Tucker and Andy Dance) having already pronounced themselves ready to hire from within, and Dance once citing Orndorff by name. Three board members–Janet McDonald, Colleen Conklin and Maria Barbosa–favored conducting a national search.
Orndorff will face competition after all: until late last week, that competition appeared less than fierce. But by the time all the names were in, he was facing at least two names that are almost as certain as his to be among the finalists–Edwards and, in a late surprise, Todd Sprager, who since 2010 has been the principal of Spruce Creek High School in Volusia County, a school that year after year ranks among the best in the nation. (There was talk of Delbrugge possibly applying, but so far his name is not on the list.)
The search was necessitated by Oliva's decision to take a job at the state Department of Education by June. Just as it was with Oliva's hiring, it's been a hurried process, this time helped by the involvement of consultants from the Florida School Board Association, who coordinated the advertising campaign. The position was advertised much more broadly than it was three years ago before Oliva's hiring, but only for eight weeks: the ad was published on Feb. 13.
Several principals and teachers have applied, as have several mid-level administrators and at least two executives with for-profit school networks or charter school networks, a reflection of the more varied education landscape.
The list of applicants and their full application packets appears below. Click on the bolded names to see the application. The list will be updated as the district makes additional applications available.


Applicants for Flagler County School Superintendent, 2017
Applicant

Current Location

Current Title

Employer

Martha Adams
Miami, Fla.
Exceptional Education Teacher.
Devon Aire K-8 Center, Fla.
Wayne Alexander
Old Lyme, Conn.
Director of Alternative Education
/Asst. Director of Adult Education
Bridgeport, Conn., Public Schools
Audie Ash
Perry, Fla.
High School Principal
Taylor County Schools, Fla.
Steve Benton

Cottondale, Fla.
Not employed. Retired as Superintendent of Jackson County Schools, 2012
Not employed.
George Bohatch
Fort Myers, Fla.
Director of Student Services
Lee County Schools, Fla.
Jon Bonneville
Lakeville, Minn.
Elementary school principal
Burnsville Eagan Savage School
District, Minn.
Kim Braham
[Did not qualify]
Dublin, Ga.
Assistant Superintendent
Twiggs County Public Schools (1,500 students).
Nick Campagna
Old Lyme, Conn.
Administrative Internship
Bloomfield Public
Schools, Conn.
Amanda Cerda
Port Orange, Fla.
Elementary School Teacher
Volusia County Schools.
Vincent Cotter
Bradenton, Fla.
Education Consultant.
Exemplary Schools Organization
(self-founded).
Michael Dodge
Port Orange, Fla.
Not employed. Retired Superintendent from Dundee Community Schools, Mich. in 2016 (1,700 students)
Not employed.
Ronnie Dotson
Grayson, Ky.
Superintendent
Carter County Schools (4,900 students)
Phyllis Edwards
Palm Coast, Fla.
Not employed.
Not employed.
Kim Eger
[Did not qualify]
Peoria, Ariz.
Special Ed. Teacher, Exceptional Student Services
Dysart Unified School District
, Ariz.
Eric Ely
[Did not qualify]
Concord, N.C.
High School Math Teacher
Not specified.
Kara Gann
Alpharetta, Ga.
Manager
Schoology
Thomas Gay
Port St. Lucie, Fla.

Senior Education Manager
GEMS Education, Dubai, United Arab Emirates (for-profit network).
Daniel Gilbertson
Dryden, Mich.
Director of Innovative Education and Strategic Partnerships
Madison District Public Schools, Mich.
Kenneth Green
Antioch, Tenn.
Self-employed consultant (former Assistant Commissioner, Tennessee Dept. of Education)
None.
Christopher Hammill
Fort Gratiot, Mich.
Senior Vice President of Operations.
Accel Schools (for-profit charter school network).
Yolanda Heidelberg
Arlington, Tenn.
Elementary School Principal
Shelby County Schools, Tenn.

Hannah Jaber
[Did not qualify]
Dearborn Heights, Mich.
Director
Widening Advancements for Youth, Detroit.
Noelle Jacquelin
Cape May Court House, N.J.

Adjunct Professor
Rowan University.
Constance Jones
Pueblo, Colo.
Not employed.
Resigned as superintendent of an 18,000-student district in 2016.
Timothy Kuehl
North Liberty, Iowa
Superintendent
Clear Creek-Amana School District, Iowa (1,900 students).
Jeffrey McCartney
Beecher, Ill.
Superintendent
Beecher School District
, Ill. (1,000 students)
Ray Mondragon
San Francisco, Calif.
Deputy Chief of Early Learning
Oakland Unified School District, Calif.
Mary Murray
Tampa
Course Mentor
Western Governors University.
Vernon Orndorff [Withdrawn]
Palm Coast, Fla.
Executive Director of Leadership
Development

Flagler County Schools.
Ryan Place
New Bedford, Mass.
Director of Special Education
Global Learning Charter Public School.
Linda Roeske
[Did not qualify]
Pueblo, Colo.
Secondary Mathematics and Digital Specialist
District 60 Pueblo City Schools.

Jason Spencer
Oxford, Fla.
High School Principal
The Villages Charter School.
Todd Sprager
[Did not qualify]
Port Orange, Fla.
Spruce Creek High School Principal.
Volusia County Schools
Geneva A. Stark
Mt. Washington, Ky.
District Human Resouce
Administrator.
Jefferson County Public Schools, Ky.
James Stroder
Emigrant, Mont.
Superintendent
Gardiner School District, Mont. (200 students).

James Tager
Port Orange, Fla.
High School Principal, Atlantic High School
Volusia County Schools.
Andrea Townsend
[Withdrew]
New Bremen, Ohio
Superintendent
New Bremen Local Schools, Ohio (800 students).
Jeffrey Umbaugh
Middleburg, Fla.
Assistant Superintendent for Instruction.
Clay County Schools.
Charlie Van Zant Jr.
Keystone Heights

Deputy Commander.
Florida Army National Guard.

Gerald Wilson
Berlin, Md.
Not employed.
None.
Scott Woolstenhulme
Idaho Falls, Idaho
Assistant Superintendent
Bonneville Joint School District 93, Idaho. (12,000 students)

Note: the application packages were provided by the Flagler County school district, which illegally redacted the contact information for most of the candidates' references. We have asked the district to provide compliant copies of the shortlisted candidates' applications.