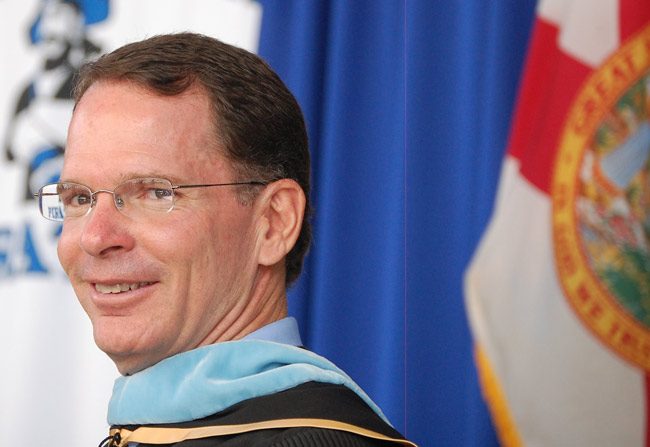 Vernon Orndorff, the only internal applicant to replace Jacob Oliva as school superintendent, has withdrawn his application and accepted a job in Texas. He will lead the 250-student Milford Independent School District, in a town halfway between Dallas and Waco, as its website describes it. Orndorff is expected to start his job there May 1. (On March 31, he acknowledged that he wasn't going o be a superintendent immediately, but would first have to fulfill a couple of steps, including getting his principal's certification in Texas.)
Orndorff has been one of the quieter, unassuming forces of the school district, rising over the past 12 years from the faculty and coaching ranks at Matanzas High School to his current title as executive director of leadership development–and, essentially, as Oliva's right hand. His departure ensures that for the first time in 13 years, a period when three successive superintendents were hired from within, the board will be forced to hire someone who hasn't worked in the Flagler district–at least not recently: one applicant, Phyllis Edwards, spent much of her career in Flagler schools, including as assistant superintendent, before taking a job in Georgia 14 years ago.
School Board members Trevor Tucker and Andy Dance made a play to hire Orndorff without a national search on Feb. 1, but were overruled by the other three board members, who preferred a national search. That search drew 41 applicants. The relatively low number likely reflects the sense among some would-be applicants that the district may have been leaning inward all along, so several people may not have applied for that reason. The application window has closed, however, and when the citizen's advisory committee the board appointed to draw up a short list meets this evening at 5:30 p.m., it will be limited to the remaining 40 applicants, several of whom were disqualified for not providing all the necessary information, or not meeting minimum requirements of the job.
For Orndorff, Texas has been pulling at his strings for years: it's where he had taught and coached for 12 years before Florida–and where, just four years ago, he 'd made the final five after applying for a job as head basketball coach at Silsbee High School, east of Houston. He has family in Texas.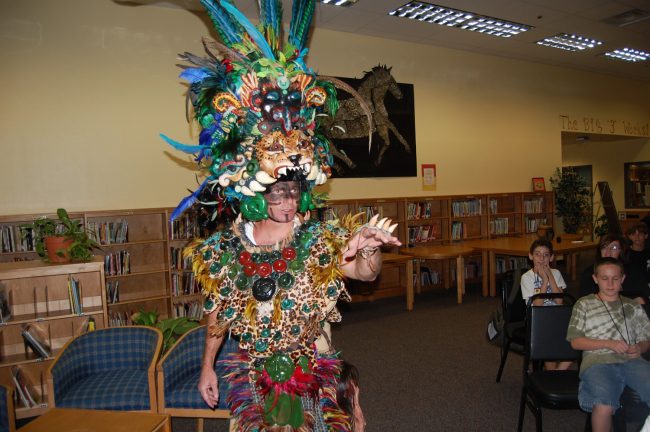 "I've got a great opportunity to get connected with my family," Orndorff said, "a great opportunity to lead a district, a school district, and this has been a very tough decision for the family. My children know Flagler schools, they know no others school district, and my wife and I, we've embraced Flagler as our heme for the past 12 years. But in these 12 years I've had a great opportunity and been very blessed with different positions, positions in leadership." It's that trajectory, he said, that has prepared him for his next step, which he said he cannot turn down. "I just cannot do that at this time."
Orndorff, who has a son at Matanzas and a son at Palm Coast High School, and a daughter at Bunnell Elementary, was all but assured of making the shortlist of candidates to be interviewed for the superintendent position in Flagler. He just made the final five for the Alachua County superintendent job, which had opened in January: so Orndorff had been applying even then.
He started in the district 12 years ago as a teacher and boys' basketball coach at Matanzas, and assistant coach where needed, then became assistant principal at Matanzas for four years, principal at Indian trails Middle School, and in April 2014, was promoted to the central office, at the time as principal on assignment to oversee the final year of the Race to the Top grant. He was then named to his current position.
"I believe he was a great candidate, I believe he would have done the job," a disappointed Tucker, who also chairs the school board, said this afternoon. "Now we have a smaller pool of candidates to choose from." But, he noted, "as an individual if you have a job offer that was a good job offer somewhere else, would you wait around?"
The school board will get the advisory committee's short list of candidates at a meeting on April 4. "We were hoping it'd be five or less," Tucker said, though the committee has no strict directive on the number of candidates.
Oliva took Orndorff's decision in stride. "It's not a surprise," Oliva said. "Vernon is very capable of leading a school district, and we're really excited for him, this is a great opportunity for him and his family."
As for Orndorff's and Oliva's departure adding up to a one-two punch against continuity in the district, Oliva said: "I like to think that our vision our framework, the initiatives that we put in place, are embedded with the culture of the district. Obviously our board supports the direction that the district is heading in. I have faith the board is going to find somebody that's going to be a good fit," and will build on the same foundation.


Applicants for Flagler County School Superintendent, 2017
Applicant

Current Location

Current Title

Employer

Martha Adams
Miami, Fla.
Exceptional Education Teacher.
Devon Aire K-8 Center, Fla.
Wayne Alexander
Old Lyme, Conn.
Director of Alternative Education
/Asst. Director of Adult Education
Bridgeport, Conn., Public Schools
Audie Ash
Perry, Fla.
High School Principal
Taylor County Schools, Fla.
Steve Benton

Cottondale, Fla.
Not employed. Retired as Superintendent of Jackson County Schools, 2012
Not employed.
George Bohatch
Fort Myers, Fla.
Director of Student Services
Lee County Schools, Fla.
Jon Bonneville
Lakeville, Minn.
Elementary school principal
Burnsville Eagan Savage School
District, Minn.
Kim Braham
[Did not qualify]
Dublin, Ga.
Assistant Superintendent
Twiggs County Public Schools (1,500 students).
Nick Campagna
Old Lyme, Conn.
Administrative Internship
Bloomfield Public
Schools, Conn.
Amanda Cerda
Port Orange, Fla.
Elementary School Teacher
Volusia County Schools.
Vincent Cotter
Bradenton, Fla.
Education Consultant.
Exemplary Schools Organization
(self-founded).
Michael Dodge
Port Orange, Fla.
Not employed. Retired Superintendent from Dundee Community Schools, Mich. in 2016 (1,700 students)
Not employed.
Ronnie Dotson
Grayson, Ky.
Superintendent
Carter County Schools (4,900 students)
Phyllis Edwards
Palm Coast, Fla.
Not employed.
Not employed.
Kim Eger
[Did not qualify]
Peoria, Ariz.
Special Ed. Teacher, Exceptional Student Services
Dysart Unified School District
, Ariz.
Eric Ely
[Did not qualify]
Concord, N.C.
High School Math Teacher
Not specified.
Kara Gann
Alpharetta, Ga.
Manager
Schoology
Thomas Gay
Port St. Lucie, Fla.

Senior Education Manager
GEMS Education, Dubai, United Arab Emirates (for-profit network).
Daniel Gilbertson
Dryden, Mich.
Director of Innovative Education and Strategic Partnerships
Madison District Public Schools, Mich.
Kenneth Green
Antioch, Tenn.
Self-employed consultant (former Assistant Commissioner, Tennessee Dept. of Education)
None.
Christopher Hammill
Fort Gratiot, Mich.
Senior Vice President of Operations.
Accel Schools (for-profit charter school network).
Yolanda Heidelberg
Arlington, Tenn.
Elementary School Principal
Shelby County Schools, Tenn.

Hannah Jaber
[Did not qualify]
Dearborn Heights, Mich.
Director
Widening Advancements for Youth, Detroit.
Noelle Jacquelin
Cape May Court House, N.J.

Adjunct Professor
Rowan University.
Constance Jones
Pueblo, Colo.
Not employed.
Resigned as superintendent of an 18,000-student district in 2016.
Timothy Kuehl
North Liberty, Iowa
Superintendent
Clear Creek-Amana School District, Iowa (1,900 students).
Jeffrey McCartney
Beecher, Ill.
Superintendent
Beecher School District
, Ill. (1,000 students)
Ray Mondragon
San Francisco, Calif.
Deputy Chief of Early Learning
Oakland Unified School District, Calif.
Mary Murray
Tampa
Course Mentor
Western Governors University.
Vernon Orndorff [Withdrawn]
Palm Coast, Fla.
Executive Director of Leadership
Development

Flagler County Schools.
Ryan Place
New Bedford, Mass.
Director of Special Education
Global Learning Charter Public School.
Linda Roeske
[Did not qualify]
Pueblo, Colo.
Secondary Mathematics and Digital Specialist
District 60 Pueblo City Schools.

Jason Spencer
Oxford, Fla.
High School Principal
The Villages Charter School.
Todd Sprager
[Did not qualify]
Port Orange, Fla.
Spruce Creek High School Principal.
Volusia County Schools
Geneva A. Stark
Mt. Washington, Ky.
District Human Resouce
Administrator.
Jefferson County Public Schools, Ky.
James Stroder
Emigrant, Mont.
Superintendent
Gardiner School District, Mont. (200 students).

James Tager
Port Orange, Fla.
High School Principal, Atlantic High School
Volusia County Schools.
Andrea Townsend
[Withdrew]
New Bremen, Ohio
Superintendent
New Bremen Local Schools, Ohio (800 students).
Jeffrey Umbaugh
Middleburg, Fla.
Assistant Superintendent for Instruction.
Clay County Schools.
Charlie Van Zant Jr.
Keystone Heights

Deputy Commander.
Florida Army National Guard.

Gerald Wilson
Berlin, Md.
Not employed.
None.
Scott Woolstenhulme
Idaho Falls, Idaho
Assistant Superintendent
Bonneville Joint School District 93, Idaho. (12,000 students)

Note: the application packages were provided by the Flagler County school district, which illegally redacted the contact information for most of the candidates' references. We have asked the district to provide compliant copies of the shortlisted candidates' applications.