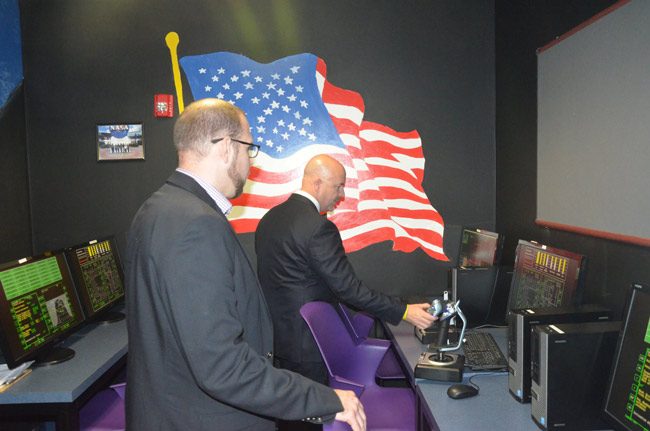 Despite a timeline that will require an expedited process, the Flagler County School Board this evening declined to appoint a new superintendent either from within the district or an interim, opting instead to hire an independent firm or association to conduct a rapid search and appoint a candidate by June 1. The likely choice will be the Florida School Board Association. The board will also appoint a 15-member community advisory committee to solicit input.
The board was meeting for the first time to discuss replacing Superintendent Jacob Oliva, who announced his resignation by the end of May to take a job at the state Department of Education. That gives the board 16 weeks to find a replacement—a very short timeline, Andrea Messina of the Florida School Board Association told the board.
No one wanted an interim superintendent. But because of the brief timeline, the board split on whether to replace Oliva with an internal candidate or not. Board Chairman Trevor Tucker and board member Andy Dance favored hiring a candidate from within relatively soon and skip the broader search, for two reasons: to carry on Oliva's vision through a deputy who's worked with him and has bought into his vision, and to avoid rushing through a broader search.
"I don't want to do an expedited search that we fumble through again," Dance said. "Even with the school board association in charge of an expedited search, there are going to be stumbles along the way."
But board members Janet McDonald, Colleen Conklin and Maria Barbosa opposed an immediate hiring, preferring an accelerated search that still leaves it open to internal candidates to apply.
---
"The mere fact that your superintendent is leaving has many people unsettled."
---
At one point in her presentation to the board, Messina said some boards set as a pre-condition that the decision to hire a given superintendent must be unanimous. "We don't recommend that you do that," she told the Flagler board. "Ideally the board will have a very clear vision of what it is they want in a candidate and there will be clear consensus between board members."
But this evening's process exposed a clear if not necessarily deep division in the process ahead: the board is not interested in being in lockstep, which, in fact, reflects public opinion at large, judging from board members' input: they've been receiving input from residents, but that input appears as divided as the board was this evening on key issues. And with two board members who were not on the board when Oliva was hired—Barbosa and McDonald—and a third who had initially opposed Oliva's hiring (Conklin), nothing says that the Oliva vision will prevail when the job description is written and approved.
"The mere fact that your superintendent is leaving has many people unsettled," Messina had cautioned the board. "What they need is to know that the board is going to do what's best for the district, what's best for the kids." Seeing a fractured board "sends additional concerns into the community."
But disagreement isn't fracture: the board's congenial cohesiveness was also apparent, signaling that disagreements are not seeds of grudges but are quickly set aside to move consensus forward, something this board has been particularly good at for years despite the at-times passionate differences of its individual members. They showed that again this evening. Tucker and Dance were disappointed that their approach didn't win out, but they immediately moved on, proposing ways to make the majority's approach work efficiently. (If they want to rush through the process, they couldn't have chosen a more qualified chairman: Tucker this evening was almost bustling through his checklists, giving board members who sometimes like to craft their ideas as they speak no time to do so.)
Board members asked Messina how they might conduct the search in an abbreviated timeline. Messina suggested the first place to start is not to have an advisory committee, and to advertise the position for four weeks instead of six, as well as to increase board members' meetings. The board agreed to one of those three options: there will be weekly board meetings devoted to the search (the next one is on Feb. 10 at 8 a.m., when the board will ratify today's decision and define who will serve on the advisory committee). The advertisement for the position will likely be up from March 1 through April 15. But an advisory committee will be appointed, and will be used to help craft the job description.
"I do remember hearing very clearly from the community that they wanted to be involved," Conklin said.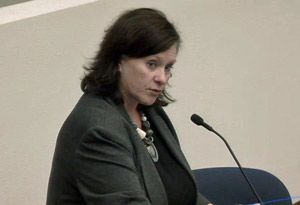 If the school board association ends up conducting the search on the Flagler board's behalf, Messina cautioned that association doesn't poach superintendents from other districts. It doesn't make a distinction between national or statewide searches, as the Internet has eliminated those borders: applicants will apply from anywhere, though chances are the winning choice will be from Florida: While the association has vetted out of state candidates, applicants who have been appointed after its involvement have all been Florida-based superintendents. In five such searches, two have been internal candidates, Messina said.
Four potential candidates who have been in the Flagler district through both the last two superintendents' administrations are Vernon Orndorff, the former principal at Indian Trails Middle School who has often been seen as Oliva's deputy; Diane Dyer, long in charge of curriculum; Lynette Shott, elevated from Flagler Palm Coast High School to the district office last year to create a new division, school outreach, reflecting Oliva's interest in further drafting community involvement in district initiatives. FPC has produced two of the last three superintendents. There's also Kevin McCarthy, an outlier because he's in charge of adult education rather than core K-12 departments, though last year he essentially brought that division back from the dead. The two leading candidates from that list would be Orndorff and Shott, who are direct reflections of Oliva's management and vision.
When the board opened the floor to views about the choices ahead, it heard two running themes from community leaders, including two recent candidates for school board: concern about the abbreviated timeline, and favorability for choosing an internal candidate who was trained by Oliva and reflects his leadership style or vision.
Garry Lubi, the banker and former president of the Flagler Education Foundation (the district's influential non-profit arm) urged the board to consider "how rapidly we have attracted attention and respect" in the last few years under Oliva's leadership. "In the business community, the buzz around here is incredible." Oliva, Lubi said, "muscle-built the organization" in such a way that his bench now can produce the next leader. Appointing him or her would save money and time and preserve the Oliva legacy.
Ralph Lightfoot, chairman of the local Democratic Executive Committee, suggested an interim superintendent but also pointed to "very successful" homegrown talent (no one mentioned names.)
Sharon Demers and Myra Middleton-Valentine, who both lost in the last school board race to Barbosa, echoed Lubi's approach. Middleton-Valentine had served on the last advisory committee (and had initially opposed Oliva), and noted that the timeline then was abbreviated. It is shorter now.
The speakers, while few, reflected what is likely to be intense interest from the business and political communities in the board's decision, though the make-up of the advisory committee will be significantly more diverse, and this time, unlike three years ago, may even include district staff.