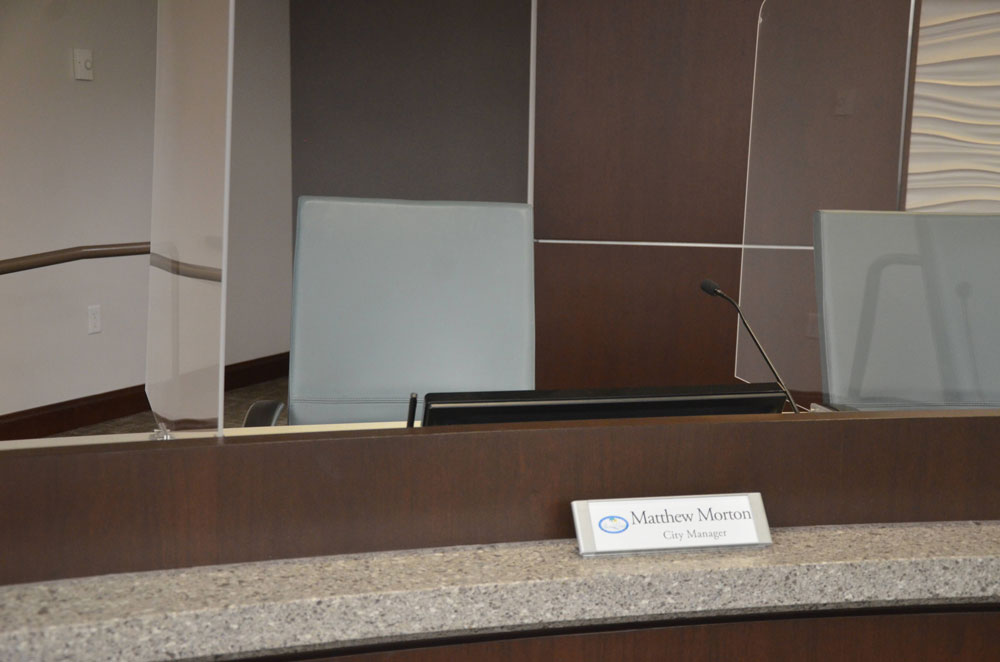 The four-week window for applications for Palm Coast city manager drew some 91 candidate by the time it closed on Monday. The number is deceiving. Only 20 applicants have served as either city or county managers, most of them in governments smaller than Palm Coast. Many of the applicants appear to have mistaken the Palm Coast job posting for something else: a baker, a dancer, a few teachers, a counselor, a food worker, a police officer, a military recruiter, a couple of attorneys and a few office managers are among the applicants.
There's an explanation for the misfire. When the job posting initially went up, it was disseminated–among other sites–through Indeed.com, the job-posting website, and mistakenly key-worded the word "manager" rather than "city manager." That appeared to have drawn many applications from people who thought they were applying for a mere manager's job in numerous fields. "They did receive quite a few applications that had the key word 'manager,'" a city spokesperson said this evening. That key word stayed up for the first 24 to 48 hours. "They figured out what was happening and they fixed it."
Missing from the applicants' pool: Denise Bevan, the interim Palm Coast city manager since early June, Jerry Forte, the Palm Coast fire chief and interim assistant city manager since June, or a single other candidate from within the city's ranks. The absence of those names is as telling as the largely–but not entirely–middling quality of candidates the opening did attract. It suggests that those who have some familiarity with the City Council as currently constituted may be steering away from an environment that has repeatedly proved toxic for the last city manager and interim and continues to be an unpredictable, at times bullying and uncivil environment.
Councilman Victor Barbosa attempted to fire Matt Morton, the previous city manager, in an overt display of slanders and unsupported accusations. Morton soon resigned, accusing Councilman Ed Danko of pressuring him to make false statements against ex-Mayor Milissa Holland. Danko soon threatened to fire Bevan and the city attorney, and continued to make false statements about the ex-mayor, and would fired Bevan if a different mayor had been elected in the special election in July. The council's temperature has not necessarily ebbed and it remains a deeply divided panel, its balance again in jeopardy as the 2022 election approaches: Barbosa and Council member Eddie Branquinho, one member from each side, will not be running for re-election (Barbosa is aiming for a county commission seat). Unless the next manager is hired with a unanimous vote, that manager will in less than a year answer to a council with a majority of members who would not have voted for her or him.




There were two local candidates of note: Phyllis Edwards, a Palm Coast resident and highly regarded former superintendent of schools in Georgia and assistant superintendent in Flagler, and a previous applicant for that job. But she has no experience in county or city management. And Jim Manfre, a lawyer in private practice and two-time Flagler County sheriff, who's applied for the Palm Coast and Flagler Beacjh city manager's jobs previously, never making it to the short-list stage.
The number of candidates who are currently employed as city or county managers is a reflection of the pull, or desirability, of a job opening, since these candidates are willing to have their current employment be jeopardized by the publicity of job-seeking elsewhere. But only six such candidates have applied for the Palm Coast job, and not a single one from a local government anywhere near Palm Coast's population.
Jan Bagnall, for example, is the city manager of Fort Meade, a city with a population of less than 10,000, but she's been so only since April, and has no previous city or county managing or assistant manager experience. Raymond Bossert Jr. is the village administrator of Port Edwards, Wis., but Port Edwards has just 37 village employees and a $5 million budget. (Palm Coast's recently adopted budget, including utilities, is $249 million.) Brian J. Geoghegan, manager of Howell Township, N.J., and Bradley Gotshall, township manager in Lower Paxton, Penn., each are in towns with populations of just over 50,000. Scott Moye has been the Ware County manager in Georgia since 2016; the county has a population of 35,000. Two other candidates still employed as town managers oversee populations of 12,000 and 1,000.




Shawn Henessee was the county manager of Clark County, Washington, a county the size of Seminole County in Florida (480,000 inhabitants). He has an impressive resume. But aside from the irony of his state of origin–the same as that of Morton–Henessee resigned, much as Morton did, "amid recent doubts about his future with the county," as a local paper reported, much as Morton did. He has not worked since.
So Palm Coast's fix of the Indeed.com glitch was not necessarily a significant improvement. Only 36 of the 85 candidates have at least some managerial government experience, though that experience varies widely from small departments to departments far afield of the city administration they'd be taking over.
The initial stages of the application process were handled by Renina Fuller, head of human resources at the city. She briefed the city council this morning on the results of the search, saying it had drawn 91 candidates, though not all of them seemed to have submitted actual, complete applications (one candidate submitted a poem).
Fuller's staff will provide complete binders–with hard copies–of all the applicants to the council members individually on November 9, along with suggested interview questions. The council will hold a special meeting on Nov. 17 at 6 p.m., where the council members will each have weeded down his choices to the top five. So there would be a maximum of 25 candidates. But the council will at that meeting attempt to narrow down those short lists to five. Given the council's rift, the process is expected to be more contentious than it was, say, in Flagler Beach, whose commission recently hired William Whitson, or in Bunnell, where Alvin Jackson was hired–two choices that were the consensus choices of each commission, and that have proved to be solid fits.




Alfin, the Palm Coast mayor, today tried to set the stage for a more collegial process. "I've been wanting to say this, and whether you all agree or not I'm going to say it anyway," he said–a preface that spoke as loud, if not louder, than what followed: "It would be a perfect situation if at the end of this process, we were all able to unanimously choose a city manager. I have no person in mind, but I'd just like to instill that thought, if it's possible, if we could have unanimity in our choice. It would be a great pat on the back for the future of the city of Palm Coast. I just wanted to get that out and say it as well."
Alfin then immediately summed up the process ahead, not giving his colleagues a chance immediately to react to what he'd said–or perhaps not wanting to risk the silence that might have greeted his statement. At any rate, in what amounted to silence deferred, none of the four other council members referred to the statement when they had a chance moments later.
The table below lists 85 candidates, each name linked to the candidate's resume and other submitted documents, with a brief overview of each candidate's origin, current position, and government experience. While Fuller said there were 91 actual submissions, not all included all required papers, and any missing candidates from the list below will be provided by Wednesday.

Palm Coast City Manager Candidates, 2021
| The Candidates | Current Position | Location | City or County Manager Experience | Local Government Managerial Experience |
| --- | --- | --- | --- | --- |
| James Abeshaus | Daimler AG Corporate Counsel | Stuttgart, Germany | No | No |
| Angelia Adediran | Assistant City Manager | Deerfield Beach | Yes | Yes |
| Vince Akhimie | Not employed. Was assistant city manager in Lake City, Fla., until Aug. 2020. | Lakeland, Fla. | Yes | Yes |
| Samuel Askew | Not employed. Previously, casino manager. | Sumter, S.C. | No | No |
| Jan Bagnall | City Manager | Fort Meade, Fla. | Yes | Yes |
| Lynda Bell | Property owner, manager, former town manager, Sneads, Fla. | Tallahassee | Yes | Yes |
| Raymond Bosseret | Village administrator | Port Edwards, Wis. | Yes | Yes |
| Barry Brooks | Assistant to the city manager, Albany, Ga. | Tallahassee | No | No |
| Howard Campbell | Community Services Grant Manager | Forrest Park, Georgia | No | Yes |
| Anthony Carson | Not employed. City manager, Forney, Texas, until 2021 | Forney, Texas | Yes | Yes |
| Christopher Clemens | Operations director | Gainesville | No | No |
| David Connors | Branch Manager, Terminix | Palm Coast | No | No |
| Fernando Cordeiro | Assistant manager, Mercedes Benz, Jacksonville | Palm Coast | No | No |
| Frank Curnow | Mental health counselor | Daytona Beach | No | No |
| Michael Custer | Police chief | Middletown, Conn. | No | Yes |
| Angelo Dipierro | | | | |
| Emmanuel Donaldson | Recreation Coordinator, Polk County government | Bartow | No | No |
| James Dowdy | Pilot in military support | Williston, Fla. | No | No |
| Michael Drake | Sales and marketing VP, Gyrodata Inc. | Denver | No | No |
| Brian Druggan | Police officer | St. Augustine | No | No |
| Justin Dulgar | City commissioner, tech consultant | Mount Carmel, Ill. | No | No |
| Christopher Eck | Executive director, archivist, National Historical Publications and Records Commission | Broad Run, Va. | No | No |
| Elyse Edwards | Property manager | Palm Coast | No | No |
| Phyllis Edwards | Not employed. Former school superintendent. | Palm Coast | No | Yes |
| Kate Farmer | Utilities accountant | Gainesville | No | No |
| Sean Fisher | Military recruiter | Columbus, Ga. | No | No |
| Brian Georghegan | City manager, Howell Township | Howell Township, N.J. | Yes | Yes |
| Mark Giblin | Park manager, Anastasia State Park | Flagler Beach | No | Yes |
| Almut Godette | Online Teacher | Palm Coast | No | No |
| Brad Gotshall | Township manager | Lower Paxton, Penn. | Yes | Yes |
| Cody Haag | Not employed. Fleet manager until October 15, 2021. | Wenatchee, Wash. | No | Yes |
| Richard Haffele | Management and budget chief, Miami-Dade County Seaport | Miami | No | Yes |
| Fareed Halabi | Head of careers, teacher | Brummana, Lebanon | No | No |
| Christopher Hardee | Not employed. Was in travel sales until 2018. | Richmond, Texas | No | No |
| Kenneth Harris | Federal prison supervisory chaplain | St. Augustine | No | No |
| Leisa Haynes | Not employed. Was city manager of Rio Communities, N.M. until 2020. | Choctaw, Okla. | Yes | Yes |
| Shawn Henessee | Not employed. Was county manager, Clark County, Wash., until 2020. | Vancouver, Wash. | Yes | Yes |
| Wil Hersh | Property manager | Ormond Beach | No | No |
| Terry Hicks | Not employed. Was Leader of Facilities and Security for a utility until March 2020 | St. Augustine | No | Yes |
| Thomas Hutka | Not employed. Was Broward County director of public works until 2020. | Pompano Beach, Fla. | Yes | Yes |
| Andrew Hyatt | Surfside town manager | Ponte Vedra Beach | Yes | Yes |
| Anna Kinsella | Office manager, St. Johns Family Dentistry | Palm Coast | No | No |
| Ashley Kirby | Dance instructor | Possibly in West Virginia | No | No |
| Wayne Klotzbach | National Guard "Force Integrator" | Palm Coast | No | No |
| Mark Kutney | Not employed. Was City Manager of Brooksville, Fla., until June 2021 | Wellington, Fla. | Yes | Yes |
| Brent Lemond | Adult education director, Nassau County schools | Yulee, Fla. | No | Yes |
| Carlos Leyva | Elementary school business manager | North Versailles, Penn. | No | No |
| Katherine Lopez | Economic development specialist | Pomona, N.Y. | No | No |
| Dominique Mack | Executive director, Family Connections | Brunswick, Ga. | No | Yes |
| Eric Maldonado | Not employed. Was a Census worker. | Palm Bay | No | No |
| Jim Manfre | Lawyer in private practice, former Flagler County Sheriff | Palm Coast | No | Yes |
| John Mangeri | Not employed. Was a police administrator and home inspector, Fishkill, N.Y. | Palm Coast | No | No |
| Patrick Marsh | Consultant; was city administrator, Fitchburg, Wis., until January 2021 | Rochester, Minn. | Yes | Yes |
| Steve Martelli | Foreign Service Officer, deputy chief of citizen services | Arlington, Va. | No | No |
| Evalin McClain | Not employed. Was a grant manager, Kansas City Housing Authority | Kansas City, Mo. | No | No |
| Kevin McCraney | Operations director, Koppel Building & Construction Co. | Louisville, Ky. | No | No |
| Stephanie McDonald | Park manager, Alfred B Maclay Garden State Park | Tallahassee | No | No |
| Richardo Mendez | Not employed. Was assistant city manager, West Palm Beach, from 2020 to 2021. | Miami | No | Yes |
| Brent Moran | Project manager, Accenture | Tampa | No | No |
| Scott Moye | County Manager, Ware County, Ga. | Waycross, Ga. | Yes | Yes |
| Brandon Nielsen | Deputy supervisor, Blooming Grove Town Board | Washingtonville, N.Y. | No | Yes |
| Larry Nochowicz | Sales, Cisco Systems | St. Augustine | No | No |
| Jeffrey Oris | Municipal government consultant | North Palm Beach | No | Yes |
| Mark Raley | Security Manager, Pilgrim's Pride | Ridgeley, W.Va. | No | No |
| Jennifer Roberts | Not employed. Was a baker at Island Donuts, St. Augustine | Palm Coast | No | No |
| Christian Rodriguez | Manager at Houligans, Palm Coast | Palm Coast | No | No |
| Timothy Rryter | Shopping mall operations manager | Lindenhurst, Ill. | No | No |
| Justin Shoemate | FEMA systems intergration and reports chief | Fredericksburg, Va. | No | No |
| Joseph Sinnott | Lawyer in private practice (previously served as elected mayor) | Erie, Penn. | No | No |
| Gregory Smith | Education consultant | Daytona Beach | No | No |
| Leonard Sossamon | Current employment not clear. Former Hernando County administrator and Port Richey interim manager | Myrtle Beach, S.C. | Yes | Yes |
| D.W. Stark | Community gardens plots manager, transportation specialist | Frederick, Colo. | Yes | Yes |
| Bronce Stephenson | Planning and transportation director, Winter Park | Winter Park, Fla. | No | Yes |
| Wesley Stovall | Educational assistant, food service worker | Clarksville, Tennessee | No | No |
| David Strahl | Interim village manager, Schiller Park, Ill. | Darien, Ill. | Yes | Yes |
| Ron Succarotte | Construction field supervisor, Waterside Pools, Palm Coast | Palm Coast | No | No |
| John Swan | Consultant, business and technology | Not provided (New York State) | No | No |
| Rami Sweidan | Building department head | Lathrup Village, Mich. | No | No |
| Anthony Trotta | General manager, Best Western, Palm Coast | Daytona Beach | No | No |
| Adriana Trujillo Villa | Operations Manager/Interim Public Works Director, Haines City | Davenport, Fla. | No | Yes |
| Jason Weeks | Assistant city manager | La Porte, Texas | No | Yes |
| Teresa Weinschenk | City administrator, Preston, Iowa | Bellevue, Iowa | Yes | Yes |
| Cody West | Credit analyst, United Bank | Merritt Island, Fla. | No | No |
| Paul White | Assistant Superintendent for Operations, Alachua County schools | Gainesville | No | Yes |
| Adam Wilson | Senior project manager, Plymouth, Mass. | Leesburg, Fla. | Yes | Yes |
Notes: In addition to the 85 candidates in the chart, Mark DeCola, Kimberly Dinh and Christopher Pike appeared as if they were intending to apply but submitted no documents beyond an initial form. Raymond Regaliaq submitted only a poem about veterans.


Candidates submitted their resumes, recommendation letters, salary histories and other supporting documents in the full knowledge of Florida's public record law, which makes all the documents presented here public records. These records will be archived and maintained as presented here.
Reader Interactions