Monday Briefing: Palmer Talks Union Power at Caucus, Commissioners Talk Complaints and Bypass, Trump Obscenities
FlaglerLive | April 4, 2016
Today: Mostly sunny. Highs in the upper 70s inland…in the mid 70s coast. Northwest winds 5 mph shifting to the northeast in the afternoon. Tonight: Clear. Lows in the mid 50s. South winds 5 mph shifting to the west after midnight. Details here.
Today's fire danger is moderate. Flagler County's Drought Index is at 134.
Today's tides: at the beaches, at the Intracoastal Waterway.
Today's document from the National Archives.
The OED's Word of the Day: white night, n..
The Live Community Calendar
Today's jail bookings.
Today's Briefing: Quick Links


Note: all government meetings noticed below are free and open to the public unless otherwise indicated. Many can be heard or seen live through each agency's website.
The Flagler County Commission meets at 9 a.m. and 1 p.m. The 9 a.m. meeting is in board chambers at the Government Services Building, the 1 p.m. meeting is at the Emergency Operations Center behind the GSB. At the 9 a.m. meeting, commissioners will be told what most of them already know: that an ethics commission complaint was filed by Mark Richter–the former county commission candidate–against County Administrator Craig Coffey, while three Elections Commission complaints were filed against the county attorney, Coffey and the county commission as a whole, bringing to around 28 the number of complaints and lawsuits filed against county elected or top administrative staff, mostly by individuals associated with the Ronald Reagan Republican Assemblies of Flagler County. In other business, the commission is expected to approve a joint $459,000 project with the state transportation department for the relocation and extension of a runway at the county airport. Commissioners are also expected to approve a right-of-way agreement with Bunnell that brings back to the fore a matter last heard of publicly in 2010: the bypass around Bunnell, from its turn-off from State Road 100 onto Commerce Parkway to U.S. 1. The 1 p.m. workshop focuses on beach restoration and energy efficiency projects.
The Democratic Progressive Caucus of Florida, Team Flagler/Volusia, meets at 1 p.m. at the African-American Cultural Society, 4422 US 1 North, in Palm Coast, with guest speaker Stephen Palmer, leader of the new Unified Political Arm of Flagler County's 6 Public-Sector Unions. Palmer is president of the Flagler County Professional Firefighters Association. The meeting is open to the public, including Republicans and Independents.
Flagler Palm Coast High School's School Advisory Council (SAC) meets at 5:30 p.m. in the school's media center.
Bombing Runs at Pinecastle Range in Ocala this Week: Navy training schedules indicate live and inert bombing will take place at the Pinecastle Range Complex in the Ocala National Forest every day from April 4 through April 10, as follows:
Monday, April 4: noon to 8 p.m.
Tuesday, April 5: noon to 8 p.m.
Wednesday, April 6: noon to 8 p.m.
Thursday, April 7: noon to 8 p.m.
Friday, April 8: noon to midnight.
Saturday, April 9: noon to midnight.
Sunday, April 10: noon to midnight.
Saturday: Noon to midnight.
Sunday: 8 a.m. to 3 p.m.
The telephone number for noise complaints is 1-800-874-5059, Fleet Air Control and Surveillance Facility, Jacksonville. For additional information, call (904) 542-2415/5588. For more details about the bombing, go here.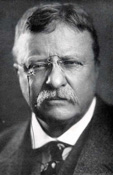 "In the hands of [racist Darwinian missionary Josiah] Strong, [Theodore] Roosevelt, and other expansionists, Manifest Destiny became practically indistinguishable, as a concept, from the imperialism being practiced by the nations of Europe. The contrast with the dominant ideas of a century earlier was striking. In the early days of the American republic, with France setting all Europe aflame with revolution, men like Thomas Paine and Thomas Jefferson could well hope that democracy was destined to spread throughout the world. Theirs was a belief in the power of ideas—particularly in the idea of liberty. Theodore Roosevelt, President in an era when Europeans were using force to subjugate much of the globe, was wedded instead to the idea of power."
–James MacGregor Burns in "The Workshop of Democracy"(Knopf, 1985)


Updated jail bookings and day and night shift incident summary reports are available here.
A Bunnell Man Is Falsely Arrested Over Name Error, and Case Proceeds Despite Corrections: Dakota Ward, a 19-year-old Bunnell resident, was wrongly arrested because his name was confused with that of the alleged assailant in a battery case dating back to December.
Man Arrested Over Cocking AK-47 Outside Metro Diner After Words With Manager: Joseph Eberhardinger, a 24-year-old resident of 80 Upshire Path in Palm Coast, was arrested and charged with the improper exhibition of a dangerous weapon, a first-degree misdemeanor, and booked at the Flagler County jail on $1,000 bond, which he posted.
Flagler's 6 Public-Sector Unions Launch Unified Political Arm as Palm Coast Workers Bargain After several years of efforts, Flagler County's public-sector unions representing workers in a half dozen agencies—including police, firefighters, school employees and municipal workers—have joined forces in a new organization called the United Public Employees of Flagler.
28 Year Old Man Charged With Drunk Driving Manslaughter Death of 2 Women on SR100: Jody Alan Hyde, if convicted, faces a minimum of four years–the minimum allowed by law–but sentences vary widely across the state.
Hoax Call of Home Invasion and Shooting Draws Out SWAT and Anger on Ziegler Place: The term for that sort of costly, potentially deadly hoax is "swatting," designed intentionally to send a SWAT team to an unsuspecting address, with unpredictable results. The hoax achieved its aim on Ziegler Place–in damages to the house, in angering its residents and, not least, turning the man into a suspect.
Declaring 2008 Amendment Unconstitutional, Judge Closes Book on Gay-Marriage Ban in Florida: In a harshly worded ruling, U.S. District Judge Robert Hinkle rejected state officials' arguments that a final order in the Florida case was unnecessary due to a seminal U.S. Supreme Court decision last year that struck down state bans on same-sex marriages nationwide.
Flagler County Royalty: The Trouble With Uncontested Elections: Jay Gardner is the property appraiser, Suzanne Johnston is the tax collector, and Tom Bexley is clerk of court Gail Wadsworth's crown prince. They should be reelected. That doesn't mean they shouldn't be challenged. There's something bigger at stake: when elected positions go unchallenged, we all lose.


Note: Most proceedings below can be followed live on the Florida Channel.

Attorneys for U.S. Rep. Corrine Brown face a Monday deadline to file additional information in her federal lawsuit challenging the constitutionality of a redrawn congressional map. A three-judge panel heard arguments March 25 in the case, which centers on Brown's argument that the redrawn Congressional District 5 violates the federal Voting Rights Act.
–Compiled by the News Service of Florida and FlaglerLive


In Coming Days in Palm Coast and Flagler:
Click on the links for more details:
♦ April 6: Moody Boat Launch to close April 6 through May 20 for improvements. Click for details.


♦ April 6: The Flagler County Republican Club hosts three speakers: U.S. Rep. Ron DeSantis, running for U.S. Senate (to replace Marco Rubio), State Sen. Travis Hutson and Rep. Representative Paul Renner, who are running for re-election. The meeting is scheduled for 6 p.m. at the Palm Coast Community Center, 305 Palm Coast Pkwy NE, Palm Coast. Registered Republicans, club members and their guests are invited to attend. A Q&A session will follow providing an opportunity for in-depth discussion. For more information, email Flagler County Republican Club President, Wes Priest, wes.priest@flaglergop.org or call 386-986-0317.
♦ April 6-10: Flagler County Fair, at the county fairgrounds, 150 Sawgrass Road, Bunnell. lots of rides, games, food, fun, shows, 4H and FFA exhibits, livestock shows and auction. Enter to win in the Home and Family Division (canning, baking, sewing, quilting) Art Division and Shoe Box Floats, and the Rock 'n RibFest the last three days of the fair.


♦ April 7: State Sen. Travis Hutson and Rep. Paul Renner will be guest speakers for the Common Ground breakfast to provide a recap of the recent legislative session and answer audience questions. The breakfast will take place at Grand Haven Golf Club, 500 Riverfront Drive in Palm Coast with registration from 7:30 a.m. to 7:45 a.m. The presentation begins at 8 a.m. Cost for Chamber members is $20 with advance registration and payment or $30 the day of the event. Guests may attend for $30 with advance registration and payment or $40 the day of the event. Questions: 437.0106. Common Ground replaces its "Think Flagler First" luncheons and "Eggs & Issues" breakfasts.
♦ April 7: Tea At Tiffany's is the theme this year for an afternoon tea benefiting Arts In Education at the Flagler Auditorium from 3 to 5:30 p.m. This event will take place center stage for all to experience what it's like to look out at the auditorium from a performer's vantage point. The food will be prepared by Palm Coast High School's culinary students. Arts in Education helps support children in our community with scholarships, band camps, instruments needed, as well as other vital business skills. Ticket are $50 and can be purchased by clicking here. High tea attire is recommended.
♦ April 7-10: Rock'n RibFest at the Flagler County Fair: The annual event, sponsored by Flagler Broadcasting (owner of WNZF and Beach 92), presents a weekend of music, food and fun. County Fairgrounds, 150 Sawgrass Road, Bunnell.


♦ April 12: The Flagler County Branch of the American Association of University Women will be observing Equal Pay Day, at 5 p.m. with an Unhappy Hour at Farley's Irish Pub, 101 Palm Harbor Parkway (European Village). Equal Pay Day symbolizes the time in 2016 when the wages paid to American women catch up to the wages paid to men from the previous year. Join AAUW members wearing red and hoping for passage of the Paycheck Fairness Act this year. For information call 386/439-5003.
♦ April 12: Anjali Anabel Tomerlin, a third grader at Imagine School at Town Center in Palm Coast who's written and illustrated her first book, will hold a book-signing at the Flagler Beach Public library from 4 to 6 p.m.
♦ April 13: Public Safety Coordinating Council meeting at 8:45 a.m., Emergency Operations Center, Bunnell.
♦ April 13: Community Alliance-Department of Children and Families meeting, 2:30 p.m., Government Services Building, Bunnell.
♦ April 14: Collective bargaining contract negotiations between the Flagler County Professional Firefighters Association union and Flagler County Commission management representatives, 9 a.m., Government Services Building, Administrative Conference Room. The meeting is open to the public.
♦ April 15: The Florida Ethics Commission will take up an administrative law judge's recommendation in the ethics case against Flagler County Sheriff Jim Manfre. 9 a.m.
♦ April 16: Flagler Beach will hold a victims' rights memorial at sunrise. The memorial ceremony honors victims and their advocates. It will be held at the end of the iconic pier. Please contact Victim Advocate Donna Kearney with any questions about the memorial at 517-2020.
♦ April 26: Sentencing of Waldemar Rivera at 1:30 p.m. in Courtroom 401, Flagler County Courthouse, before Judge Matthew Foxman. Rivera was found guilty on March 23 after a two-day trial of raping his then-13-year-old step-daughter two years ago. He faces up to 30 years in prison. He had declined a plea that would have netted him 10 years, and declined a judge's advice, after the first day of trial, to consider taking a plea.


If there were ever a place most at risk for homegrown Zika, it's Florida https://t.co/hYShTnlQ1y pic.twitter.com/8WM6OsxQ8l

— The New York Times (@nytimes) April 4, 2016
Genius wants to let readers annotate any news article. What could possibly go wrong? https://t.co/KoMrVYtR7Y pic.twitter.com/yvnNgIffSv

— ThinkProgress (@thinkprogress) April 3, 2016
QUIZ: Test your criminal justice smarts: https://t.co/grhO0TiREE pic.twitter.com/9r4hG4QiT4

— Innocence Project (@innocence) April 4, 2016
Massive document leak reveals the hidden offshore wealth of the world's elite: https://t.co/nqsXj5lO5j pic.twitter.com/jcwTU4rg7X

— New York Magazine (@NYMag) April 4, 2016
On Donald Trump's latest obscenities https://t.co/BCZiyGugVh pic.twitter.com/LW19LwpL9G

— The Economist (@TheEconomist) April 4, 2016




Palm Coast Construction and Development Progress Reports
The following is an update of ongoing permitting, construction and development projects in Palm Coast, through March 9:
<![if !IE]><![endif]>


Road and Interstate Construction:
Moody Boat Launch to close April 6 through May 20 for improvements: Flagler County's Moody Boat Launch will be closed April 6 through May 20 for improvements. "The scheduled upgrade will enhance the launch's usability in a number of ways," said Heidi Petito, Director of General Services. "The new system provides for ADA (Americans with Disabilities Act) compliance, minimizes docking difficulties caused by fluctuating tides, and new lighting will promote boater safety and security." The closure includes the Moody Boat Launch– located at 825 Moody Lane in Flagler Beach– the parking area, restroom, and dockage on the Matanzas River. It does not affect Betty Steflik Preserve and boardwalk. The scope of work includes dredging 1,650 yards of silt from the launch basin, thus improving navigability. The adjacent wooden docks will be replaced with an aluminum floating dock and gangway system. Additionally, the existing restroom will be replaced with an ADA compliant facility. Moody Boat Launch provides public access to the Intracoastal on the east shore, just south of SR100. The closest alternative boat launches are located at Herschel King Park on the west side of the river at 1000 Grady Prather Jr. Cove, Palm Coast, and Bing's Landing on the east shore at 5862 N. Oceanshore Blvd. in Palm Coast.
Forest Grove Drive connection to Palm Harbor Parkway to be closed starting Dec. 18: Effective Friday, Dec. 18, the City of Palm Coast will be closing the Forest Grove Drive connection to Palm Harbor Parkway. This road closure is required as part of construction operations for the Palm Harbor Parkway extension, which is currently under construction. Palm Harbor is being realigned and extended to connect directly with Matanzas Woods Parkway where it intersects with Old Kings Road. Message boards will be placed to advise motorists and other travelers of the upcoming change, and a public meeting has already been held for residents living in that area. Both the Palm Harbor extension and a separate extension of Old Kings Road are being built in preparation for the new Interstate 95 interchange to open next June at Matanzas Woods Parkway. As part of the projects, traffic patterns around Matanzas High School will be changing. One goal is to turn Forest Grove Drive back into a residential street as it was originally intended to be. The upcoming road closure of the Forest Grove Drive connection to Palm Harbor Parkway is part of that project. Forest Grove will be turned into a cul de sac on that end. Once the separate Old Kings Road extension is completed, in June 2016, the Forest Grove Drive access to the high school will be closed because it will no longer be needed. Instead, motorists and other travelers will get to Matanzas High School via the new signalized intersection at Matanzas Woods, Palm Harbor and Old Kings. For more information, please contact Palm Coast Communications Manager Cindi Lane at 386-986-3708 or clane@palmcoastgov.com.


Granados: Poetic Waltzes
Previous Codas: