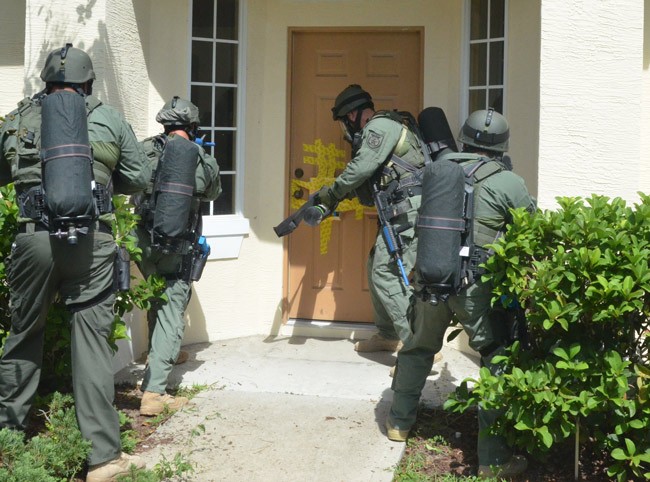 At 9:12 p.m. Tuesday the Flagler County Sheriff's Office's 911 center got a call claiming that two masked men had entered the house at 14 Ziegler Place at the south end of Palm Coast and shot "the grandson" inside. The caller claimed he was hiding in a closet.
The call didn't come in to the 911 line but to the sheriff's administrative, non-emergency line, which was the first hint to the sheriff's office that something may be amiss: someone hiding in a closet doesn't usually remember a police station's administrative line (though someone calling from out of the region as a crank call would have no choice but to use an administrative line). The voice was also muffled and changed timber several times.
Analysis would have to wait, however. Deputies were immediately dispatched to the scene, even as the caller was on the phone. First there was Cpl. Daniel Weaver. The 39-year-old renter at the house, a black man, was just then appearing to be getting out of his car and walking into his garage. It was dark. There are no street lights. According to a sheriff's spokesman, Weaver had a light shining in the man's direction. The resident may have been blinded. Weaver identified himself as a sheriff's deputy as he gave the man commands to stop, weapon drawn. The man–who was doing nothing wrong, may have been fearful and would later tell deputies that he thought the deputy was not a real cop–kept going into his house, closing the garage door after him.
"He saw an armed man with a flashlight," the man's girlfriend would later explain in an interview, "he said, 'put your hands up, police!' but he only had plain clothes. He thought it was George Zimmerman, one of those people who think they're policing the neighborhood." Zimmerman, who shot and killed Trayvon Martin, allegedly in self defense, in Sanford four years ago, was the "neighborhood watch coordinator" for the gated community where the killing took place.
An analysis of the call to the dispatch center would later reveal that, even though the time corresponded to the cop's encounter with the resident, there were no corresponding sounds on the call, further suggesting that it had been placed from somewhere else. Nor was there anyone else in the house but the man who'd just driven up.
Soon Ziegler Place was swarming with deputies, including the SWAT team, with Flagler County Fire Rescue units and the Palm Coast Fire Department standing by not far off.
Deputies called out on their PA system some 20 times for anyone inside to come out, according to an incident report: by then, it was likely evident that if the resident at Ziegler Place had doubted the identity of the cop earlier, there was no doubt about the identity of the police now. Still, his girlfriend said, "he was scared to come out. I'd be scared as hell, too."
He did not call 911. His girlfriend wasn't yet home. She would get there within the 9 o'clock hour, she said. By then the SWAT team had gone in, using a battering ram, and handcuffed the resident. A news release issued by the sheriff's office states that it was "after approximately two hours of his refusing to make contact with deputies" that the door was rammed in.
"There were no sign of any shooting," the incident report states. It was a hoax: whoever had called the sheriff's office was intentionally trying to target the residents at 14 Ziegler Place. The suspects could have been anywhere–in Palm Coast or in another state.
The term for that sort of costly, potentially deadly hoax is "swatting," designed intentionally to send a SWAT team to an unsuspecting address, with unpredictable results. The hoax achieved its aim on Ziegler Place–in damages to the house, in angering its residents and, not least, turning the man into a suspect.
"He made our job more difficult to do," a sheriff's spokesman said of the resident. But, the spokesman said, the sheriff's office will consider paying for the damage. "If they ask us for damages, that's certainly something we can look at," he said. "Nobody has asked us to."
Not true, says the victim's girlfriend, who also lives at the house. "I've asked them to and they're denying it," she said. "I called three times today. Yes I did, and I do want damages. Trust me, I'm not able to afford what they did." She added: "We're begging them to pay the damages."
The sheriff's office is not without a fund that could afford just such spending: its civil forfeiture fund, drawn from money and assets seized in drug cases, is used routinely to make charitable donations of from $500 to $2,000 or more to various organizations.
"If it was a mistake, it was a mistake," the woman said. "But at least they should pay for the damages."
As to the "swatting" call, Sheriff Jim Manfre was quoted as saying in the release: "We have quick responses with lights and sirens and deploy specially trained deputies to address what is believed to be a high-profile incident. We have the potential for an encounter with a citizen(s) who may not know a prank has been played on them. We also have to contend with the expenses generated from the incident to include fuel, overtime and materials used to properly handle the situation. This also takes away from our normal ability to serve other citizens in a timely fashion."
In fact, the call drew 16 deputies to the scene, requiring other calls to 911 to be prioritized over others, which could itself cause its own ripple of problems.
Anyone with information on this incident is asked to contact the FCSO at 386-313-4911, or remain anonymous by calling Crime Stoppers of Northeast Florida at 1-888-277-8477 (TIPS). Callers can remain anonymous and may be eligible to receive a reward of up to $1,000.