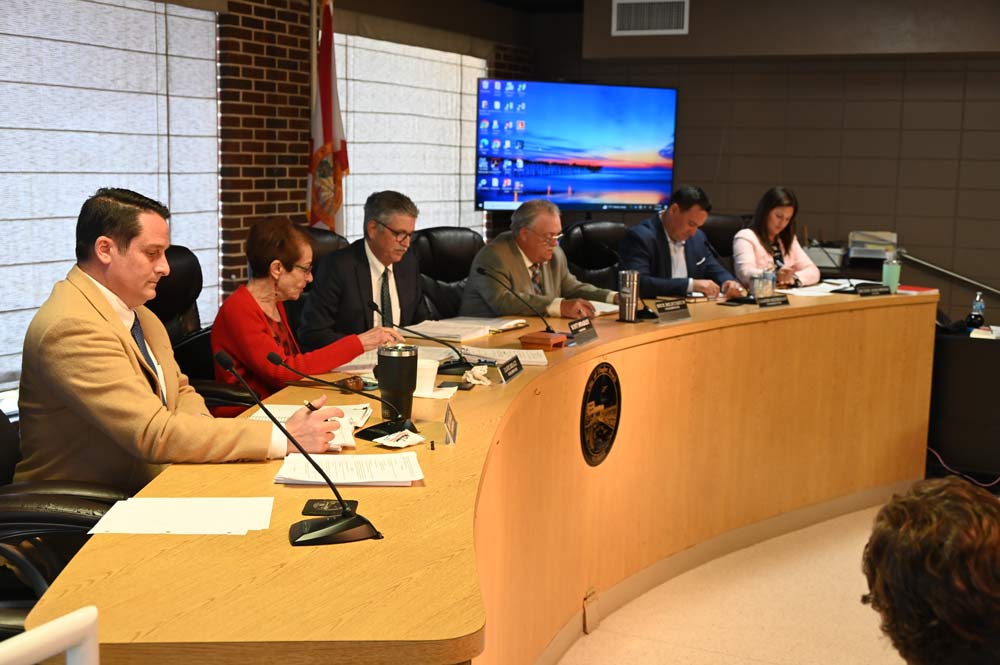 The opening for a Flagler Beach city manager has drawn 37 applicants, a relatively low number–the city drew 58 applicants in its last search in 2020–with just 10 of them from Florida, and 11 of them not currently employed. The list as a whole does not quite flirt with the extraordinary, though a few names have solid experience in small towns, varied profiles and even, on occasion, a measure of humility.
The commission meets in special session Tuesday to discuss and pare down a shortlist of nine candidates recommended by Colin Baenziger and Associates, the Daytona Beach firm the commission hired to recruit, background and analyze candidates.




Finalists will get a tour of the city early the afternoon of July 13. They will have a 3 p.m. cheese and crackers reception with city staff, and a reception with the public at City Hall at 5:30 p.m. Up to six finalists would be interviewed on July 14 in one-on-one, closed-door, 40-minute interviews with the commissioners that morning, then in 30-minute interviews before the entire commission and the public.
The commissioners are barred from sharing thoughts or information from their closed-door sessions until the public session. Tuesday will be the first time that commissioners will discuss the candidates publicly. The commission could make its decision at the end of that day. If not, an if-necessary meeting is scheduled for July 18.
Commissioners will not lack for at least a few choices, though the recruiting firm framed its recommendations with the bullish claim that "all the candidates are very strong and would do an excellent job for Flagler Beach." All nine–four of whom are not currently employed–have had prior experience managing small cities, their current or most recent salaries ranging from $92,000 a year to $193,500 (that last belonging to Mark Rooney, who was the village administrator in Round Lake Beach, a town of 27,000 north of Chicago).
Closest to home, they include Dale Martin, who managed Fernandina Beach for seven years until his abrupt firing in a split vote in February–a recurring scenario in cities, counties and school boards across Florida (Flagler Beach and the Flagler County School Board being Exhibits A and B).




Howard Brown, another recommended candidate with most-recent Florida experience, resigned "abruptly and without explanation" (according to Treasure Coast Newspapers) after leading the relatively young city of Indiantown in South Florida for two years. Brown also has the distinction of leading the city of Bell, Calif., from 2016 to 2018, well after Bell made national headlines for nearly going bankrupt on the watch of a previous city manager collecting a $1.5 million salary. Brown got his undergraduate and graduate degrees in Florida universities.
The recruiting firm's recommendations also include a candidate who might seem off the beaten path of seaside city managers. One has been managing an Illinois town of 1,300 for the past 20 years (Brenda Evans), with just eight full-time employees. Another has been a director or assistant director of airports for the past decade (Michael Giardino). There's a planning commissioner who's spent most of his career in law enforcement (Adam Kline), including two stints as police chief, before taking over a Michigan township of some 20,000 people as its manager for the past four years. And there is the village manager of a Wisconsin city for 15 years (Todd Michaels) who, once he could draw his pension, retired last July–at least from Wisconsin: he appears to be looking for more warmth and sunshine.
"Once I announced my retirement, I was approached by people who I do not know telling me how good a job I had done," he wrote in his application. "It is strange writing this introduction. I have never used the word I so much. Throughout my career I have always tried very hard to always use the word we to describe our successes. We can do the same thing in Flagler Beach."
One candidate who may have caught the commission's attention–Jan Bagnall, the city manager in Fort Meade–has been embattled there, where his tenure has been in difficulties, but he just withdrew from contention in Flagler Beach (a few months ago he withdrew his resignation from the job in Fort Meade).




Several candidates are from the private sector, including a chief of a security for a Christian social welfare organization, a hospital administrator, and a recently retired colonel who actually claims that he "Thwarted Russian activities in Ukraine and Eastern Europe, leveraging intelligence and deploying operations that supported improved readiness and force execution with NATO partners."
The City Commission wants to have a new manager in place by mid-July, ending the tenure of Interim Manager Mike Abels and replacing William Whitson, the last permanent city manager, who was fired in February after a rocky tenure. Whitson is now the Flagler County school district's intergovernmental planner.
Two of the five commissioners currently serving were not on the board at the time of the firing, but have taken part in every step of the search for the new manager. The process so far has been almost entirely devoid of drama or even delays. The city's previous search took around a year.
The list of applicants and their resumes is below. The finalists' resumes following Tuesday's meeting will be supplemented with lengthier application packages.

Applicants for Flagler Beach City Manager, 2023
The Recommended Applicants

Current job

City Manager Experience

Howard Brown
Not employed. Was village manager of Indiantown, Fla. (pop. 6,600), until January.

Yes

Brenda Evans
City Administrator, Neoga, Ill. (pop. 1,375)

Yes

Michael Giardino
Interim Airport Assistant Director, Brownsville, Texas (lives in Williamsburg, Va.)

Yes

Adam Kline
Township Manager, Oakland, Mich. (pop. 17,000)

Yes

Dale Martin
Not employed. Was City Manager of Fernandina Beach, Fla. (pop. 13,000), until March.

Yes

Douglas Maxeiner
City Administrator, East Moline, Ill. (pop. 21,000)

Yes

Todd Michaels
Not employed. Was Village Manager of Greendale, Wis. (pop. 14,600), until 2022.

Yes

Mike Rooney
Not employed. Was Village Administrator, Round Lake Beach, Il. (pop. 27,000), until May.

Yes

David Williams
Not employed. Was Town Administrator, Sherborn, Mass. (pop. 4,300) until 2022.

Yes

The Non-Recommended Applicants

Warren Achey
Fire Chief Deputy Emergency Manager, Bethlehem, Pa. (pop. 76,000).

No

Jan Bagnall
City Manager, Fort Meade, Fla. (pop. 5,100).

Yes

Carl A. Brown
Assistant Manager for Capital Programs and Grants, Jacksonville TransportationAuthority

No

Edward Dean
Not employed. Was City Manager in Haines City, Fla. (pop. 13,200), until May 2022.

Yes

Stanley Lee Elliott
City Administrator and Economic Development Director, Linden, Texas (pop. 1,825).

Yes

John Field
Land use coordinator, building inspector, Weston, Fla.

No

Eric Flohr
Director, Florida Regional Center, Bureau of Western Hemisphere Affairs, U.S. Department of State.

No

Kendal Francis
City Manager, Hutchinson, Kansas (pop. 40,000).

Yes

Jim Gleason
Town Manager, Littleton, N.H. (pop. 6,000).

Yes

Susan Goebel-Canning
Public Works Director, American Fork City, Utah (pop. 34,000).

No

Louie Goodin
County Coordinator (i.e. administrator), Hamilton County, Fla. (pop. 14,000)

Yes

Frank Grover
COO, Winn Army Community Hospital, Fort Stewart, Georgia.

No

John Hannah
Utility Director, West Jackson County Utility District, Mississippi.

No

Thomas Heck
Not employed. Was a project manager until 2016, West Sound, Wash.

Yes

Freddy Howell
Director of Emergency Services, Bryan County, Ga.

No

Chynequa King
Vice President of Operations, Elite Financial Services.

No

Don A. King
Not employed. Was chief of staff, Special Operations Command, Europe, until this year.

No

(*)
Jonathan Lynn
City Manager, Rincon, Ga. (pop. 11,000)

Yes

Patrick Marsh
Not employed. Was city manager in Fernley, Nev. (pop. 23,000) until January.

Yes

Chad McMullen
Chief of security for a Christian social welfare organization, Pecos, Texas.

No

Neil Pansey
Executive director, CMS Energy, Jackson, Mississippi.

No

Amanda Rees
Division Manager, Houston.

No

Mike Restel
Administrator, Township of Wantage, N.J. (pop. 11,200).

Yes

Rick Rudometkin
Not employed. Was deputy city manager in Huntsville, Texas (pop. 46,000) until October 2022.

Yes

Jeff Shoobridge
Town Administrator, Redington Shores, Fla. (pop. 2,100).

Yes

Jason Smith
City manager, Litchfield, Mich. (pop. 1,400).

Yes

Dave Strahl
Deputy county manager, Jefferson, Ala. (pop. 650,000).

Yes

William Taylor
Not employed. Was town administrator, Sherborn, Mass. (pop. 4,300) until 2022.

Yes
Note The recommendations were determined by the City Commission's recruiting firm. The recommendations do not preclude commissioners from shortlisting their own candidates.

(*) Don King states he's been a city manager at Fort Sill, Okla. Fort Sill is an army base.