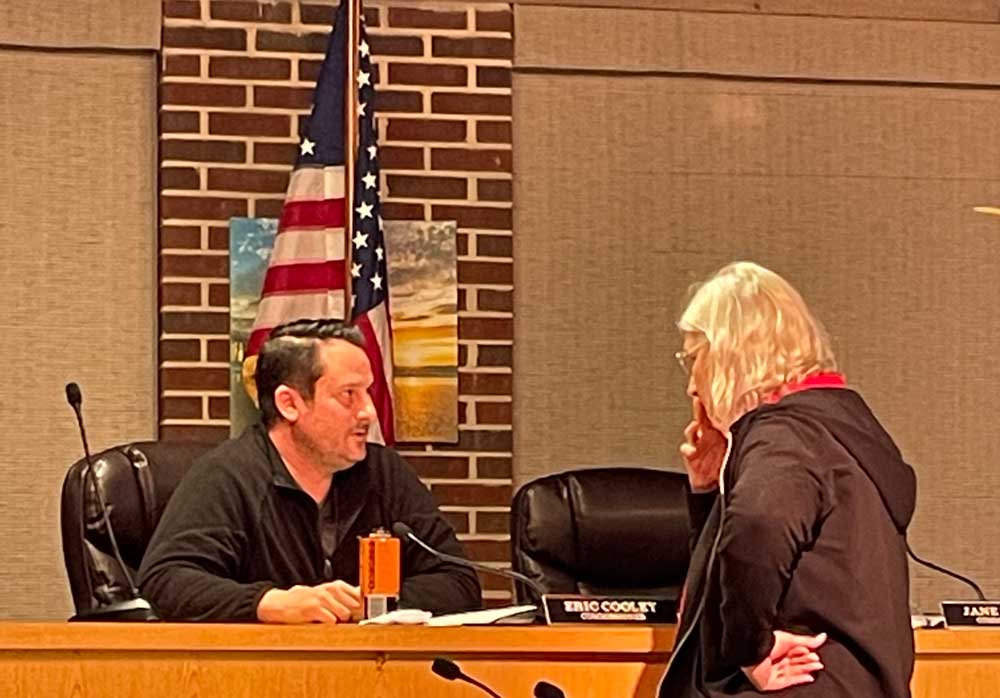 "You're killing my husband," Becky Whitson, wife to William Whitson, the Flagler Beach city manager, told the city commission Thursday evening, also accusing them of being the ones who "torment him." It was one of the most startling public comments, if not accusations, the city commission–or any local government board–has heard about its own executive in recent memory.
Other than the day a new city manager, county administrator or school superintendent is introduced to the community, a public agency chief executive's spouses locally has never attended meetings, let alone addressed or accused a spouse's bosses publicly, with the spouse sitting a few feet away.
Whitson, on the job a little over a year and a half, has been embattled on and off since last summer. Short of getting fired, he was placed on probation, got middling evaluations, and seemed to be on a reset through the late summer and early fall's storms, only to face a commission persistently divided over his fate, and further onslaughts of public criticism complaining of poor and conflicting communications from his office.
Commissioners have echoed the complaints, and scheduled tonight's workshop to address that very subject, which kept getting held over from meeting to meeting over the past month.
The workshop took on numerous issues revolving around communications, then veered to a list of 50 to 60 "priorities" Whitson has been toggling on the commission's behalf. The list has caused problems of its own, because commissioners themselves have split over their own ranking of those priorities, the public has its own, and has made them clear in barrages of public comments, demanding answers then and there. That's left Whitson whack-a-moling his way through cascading projects, not always to commissioners' satisfaction. His habit of taking things to heart, making him seem thin-skinned at times, hasn't helped.




Drew Smith, the city attorney, had himself opened the door to the unusual almost two hours and 45 minutes into the workshop when he addressed the commission–not as its attorney, but more like a family counselor, explaining to the commissioners to what extent Whitson could feel overwhelmed by the barrages of questions in real time, at meetings, when he couldn't possibly have the answer to every question every time. "There's lots of room, lots of avenues to go there, if you give him the ability and the time to do it," Smith said.
It was at that point when Becky Whitson walked up to the podium. She did not identity herself for the record. Ken Bryan, the chairman of the commission, did not ask her to identify herself, as he usually does, even when the speaker is a well-known official.
"Is it okay to talk?" she asked.
"Sure," Bryan told her.




"I've been in places where people feel like I shouldn't speak at all, and I don't know city business as well as you guys do," Becky Whitson said, in a tone of controlled fury. "But I do know my husband, and he is responding to being burned because he didn't know what your priorities were. That is why he's trying to determine what is important to you. Because you are the ones who torment him when he misses something."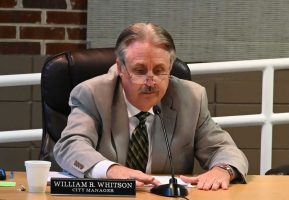 She paused. "If everything is a priority, nothing is a priority. And you are killing my husband," she said, her voice sharper as she punctuated certain words. "Please give him some direction. Allow him to not know everything and not get everything done when you want it done. Yes, a hurricane–call it a bump in the road if you want, but it consumes the time. It consumes his time. It consumes the staff's time. It puts things in a different order. And things have to wait."
Commissioner Eric Cooley–Whitson's harshest critic since summer–immediately responded from the dais. "That's why we do strategic planning," he said immediately after the manager's spouse returned to her seat. He addressed Whitson directly, but looked at his fellow-commissioners. "You are in charge of doing strategic planning, you build the framework. Then you take all of our input and you put it together and you go, okay, here's our plan. These are kind of what is important, these are our marching orders and based off that, we built a budget. That budget is also the plan. So we're not just sticking it to people."




Cooley then took on Becky Whitson's comment, without naming her: "The way it was worded is unfair to us, and I'm not okay with that." He said he was not okay with items on the commission's plan not getting done. "I think this gentleman is smart enough, and he's high-paid enough, that he can and should be able to do that." He added: "I'm not okay with comments saying that we are up here killing people and all that stuff. I mean, I'm going to be very transparent. This is a job that you signed up for. You're not stuck with it. If there's something going on at home, if it's that bad, you know, this is optional." He referred to another critic who'd accused the commission of wasting his time this evening. "If things are so bad, and what are you doing in the room?" Cooley said.
Whitson, responding to a text about Becky Whitson's comment, said in a text: "My wife spoke on her own. I was not aware that she would say anything. She was speaking from her heart."
During a recess at the two-hour-50-minute mark, Becky Whitson walked up to Cooley and told him she was "being emotional and regretted how it was worded," in Cooley's words.
Commissioners returned for another, brief segment and adjourned for the night.
Reader Interactions