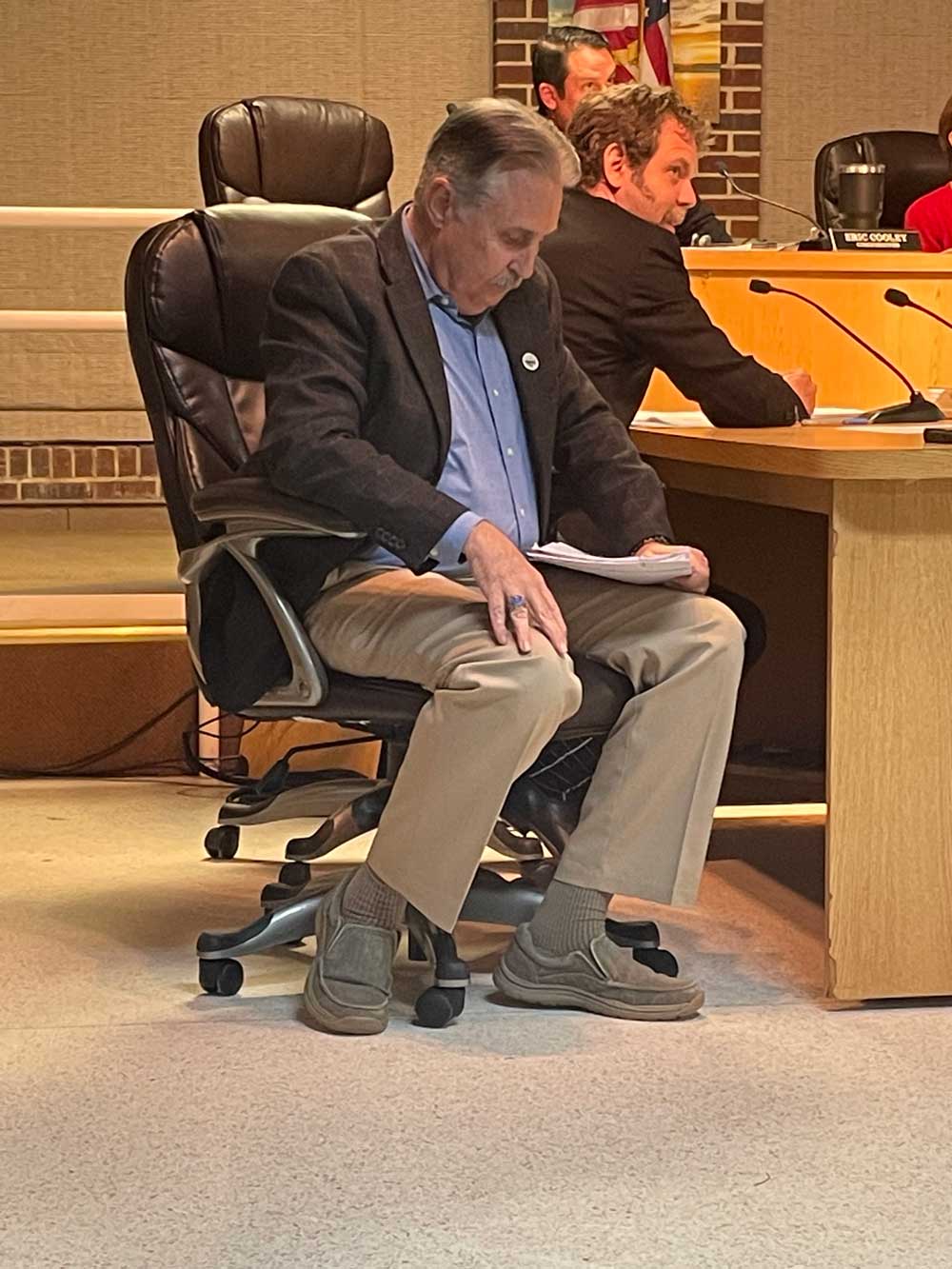 Last Updated: 9:26 p.m.
A week short of the two-year anniversary of the Flagler Beach City Commission's decision to hire him, the commission this evening fired City Manager William Whitson on a 4-1 vote following an hour of withering criticism by several commissioners, some of it tempered by what some of them, including the mayor, saw as improvements in the last few months.
The vote, with Commissioner Jane Mealy in dissent, capped a rocky year for Whitson, who also faced criticism from segments of the business community. His departure leaves the city in a lurch for leadership again, after struggling for leadership well before August 2020, when former Manager Larry Newsom died.
The decision will be seen as either reckless or overdue–reckless by those, like Mealy (who's been on the commission through more than half dozen managers and interims), who can't see how a new manager on a learning curve will steer the city just as it is embarking on the biggest public (and some private) works in its history, with pier demolition and construction and a massive beach renourishment project ahead, plus the construction of a 100-room hotel downtown.
It will be seen as overdue by those who have endured what had often turned into an administrative theater of the absurd since last summer, starting with what is now a symbolic marker of a thousand duds: the fiasco that led to the cancellation of the city's July 4 fireworks. There have been numerous stumbles since, and increasing reports of a demoralized city staff.
In a chaotic follow-up to this evening's vote, the commission again appointed Rick McFadden, its interim before Whitson was hired, to assume the manager's title at least until Monday evening at 5:30 p.m. The commission set a special meeting to decide on an interim manager. It had taken the commission a year to finally appoint Whitson.
Whitson was not terminated for cause. He will remain on the payroll until April, but on administrative leave, then will have a severance package as outlined in his current contract.
Commission Chairman Ken Bryan attempted to name one possibility for appointment possibly tonight: Jerry Cameron, the former Flagler County administrator. Bryan had worked with Cameron in St. Johns County, where Bryan was a commissioner and Cameron was an assistant administrator. But the rest of the commission did not so much dismiss the idea as it did not entertain it just then. Cameron, a shrewd backroom operator, has been angling for a job in Flagler and St. Johns since his departure from the county in June 2021.




Whitson's fate was on the agenda for tonight's meeting. But his job seemed safe after Commissioner Debbie Phillips, who's always been the swing voter on Whitson issues, spoke in favor of keeping him early in the discussion, and even Mayor Suzie Johnston, formerly a harsh critic, said she saw improvements. But the mayor wondered why it had taken threatening Whitson's job to see those improvements.
The tide turned when Bryan spoke. Bryan had been, with Mealy, a defender of Whitson until now. This evening, he spoke of him more critically than did Rick Belhumeur, the former city commissioner who's made getting rid of Whitson his principal issue in his campaign to reclaim a commission seat.
"I'm not quite sure what kind of oversight you have Mr. Whitson, because what I see are holes in reporting, and also getting the job done," Bryan said. "I see a lot of things around a city. That is not getting done. That tells me that somebody's not doing their job."
It got harsher from there. "I don't want to hear the excuse. 'I don't have people over here. I don't have people over there. They're not responding to me,'" Bryan said, apparently repeating excuses he's heard from Whitson over the months. "I don't care. That's your job. If you don't do your job, you need to be gone."
A tipping point for Bryan was a pay raise for employees that the commission approved in its last budget, and that has not been rolled out as fully as expected. ("Everybody got a certain amount,"Mealy noted, but she acknowledged that it was not the full raise). Commissioners Eric Cooley and James Sherman were equally critical on the pay issue, with Cooley saying the employees only got a cost-of-living raise, not the additional raise the commission had approved.
But he also used grim language to describe the look of the city on Whitson's watch, city facilities especially. He called the front of City Hall "disgraceful." Then he went through a list of priorities that were not getting done, hammering again and again: "That's your fault."




Bryan a few weeks ago announced that he would not run for re-election in the March 7 contest. Two seats are up–his and Phillips's. Five candidates are running.
With Bryan now no longer providing any kind of cover for Whitson, Commissioner James Sherman–who, like Eric Cooley, has long been dissatisfied with the manager–found new momentum in what may otherwise have been mere criticism on the way to retaining Whitson a while longer. Sherman struck on several of the issues Bryan had listed, including the city's "aesthetics," he said "we need to move forward and move on."
It was Mealy who made the motion that proved fatal–to keep Whitson. At that point, Phillips joined her, in a 3-2 losing vote. But that was the equivalent of a vote of no-confidence in Whitson. It still wasnot a vote to terminate. City Attorney Drew Smith told the commission that it would have to take an affirmative vote to fire the manager.
With Whitson sitting through it all, head hunched, the commission voted, this time with Phillips, having read the writing on all four walls, switching and voting for termination.




It was a humiliating, public dressing down unseen in the county, at any level of government, in any of the local governments, since the time then-Commissioner Milissa Holland tried to fire then-County Administrator Craig Coffey, who was in his third year as administrator. Holland preceded her motion with litany of complaints themed around what she called a performance laced in "mediocrity." Her motion to fire him ailed on a 3-2 vote. (See: "Holland Fails in Move to Fire County Administrator Coffey; He Gets 1 More Year.") Coffey went on as manager for nine more years.
One of the more cogent statements of the evening was delivered from the floor by Brenda Wotherspoon, a South Central Avenue resident, who has seen the city "trend backward" over the past seven years. "These are troubling times for our city," she said, "and more than ever, we need to have a sober evaluation of our government structure to discover who is part of a team, who's using their position to undermine for personal gain, and most importantly, who can move us toward a proactive direction and out of the self-destructive, reactive approach that has plagued our city for years."
A dejected Mealy after the scheduling of Monday's meeting asked her colleagues to adjourn the meeting and spare Whitson, who had been in the room the whole time, having to present commissioners' comments. After a few comments from the public, some of them hostile–more toward the commission than anyone else, but not necessarily over the firing of Whitson–the commission adjourned.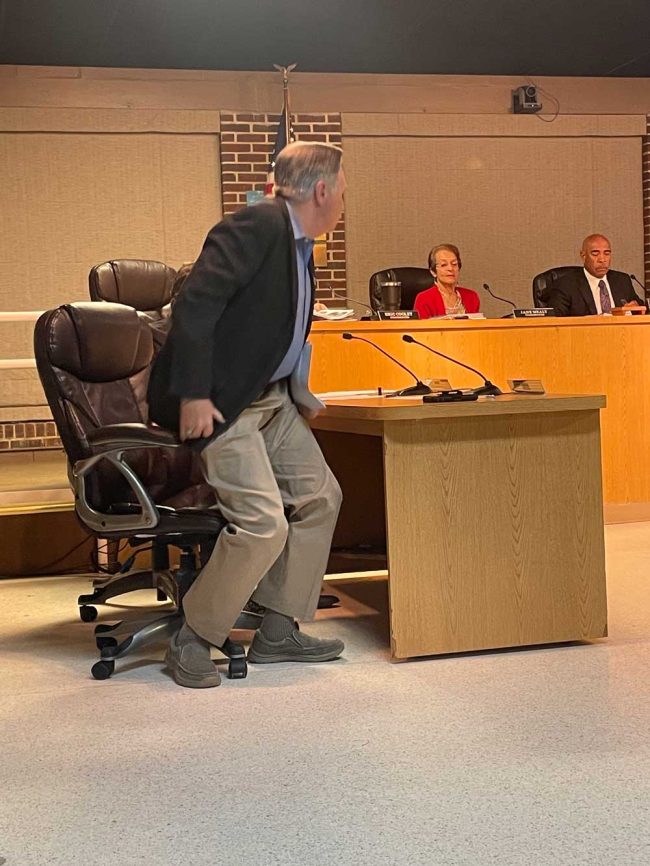 Reader Interactions