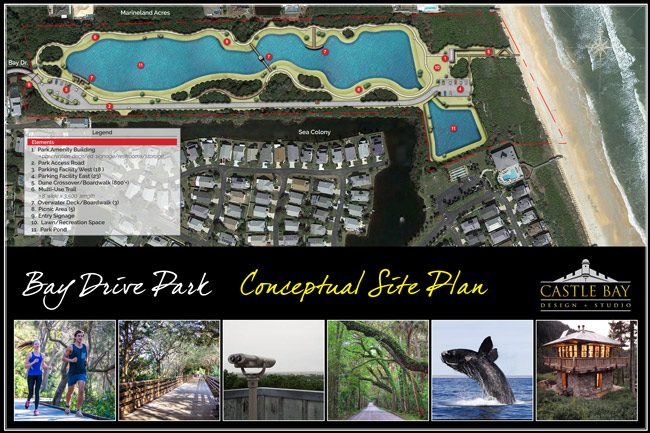 Today: Windy. Mostly cloudy. Chance of showers and slight chance of thunderstorms. Some thunderstorms may produce gusty winds in the afternoon. Highs around 80. Southwest winds 20 to 25 mph with gusts to 35 mph. Chance of rain 50 percent. Tonight: Cooler. Partly cloudy with a 20 percent chance of showers. Lows around 50. Northwest winds 10 to 15 mph. Details here.
Drought Index is at 374.
Today's tides: at the beaches, at the Intracoastal Waterway.
Today's document from the National Archives.
The OED's Word of the Day: poulet, n..
The Live Community Calendar
Today's jail bookings.
Today's Briefing: Quick Links

"Our dangers […] are not from the outrageous but from the conforming; not from those who rarely and under the lurid glare of obloquy upset our moral complaisance, or shock us with unaccustomed conduct, but from those, the mass of us, who take their virtues and their tastes, like their shirts and their furniture, from the limited patterns which the market offers."
–Judge Learned Hand, from his 1927 commencement speech at Bryn Mawr, cited in Gerald Gunther's Learned Hand: The Man and the Judge

Note: all government meetings noticed below are free and open to the public unless otherwise indicated. Many can be heard or seen live through each agency's website.
Daily incident reports and jail bookings are posted here.
Bay Drive Park in the Hammock: Flagler County government hosts a public meeting at 6 p.m. at the Hammock Community Center, 79 MalaCompra Road, to present the conceptual plan for a 15-acre public park on Bay Drive in the Hammock. The park has been talked about for decades. It would be built with a $2.342 million grant on the combined acreage purchased by Flagler County in 2009 and adjacent to the nearly 3 acres of dedicated public park property it has owned since 1985. Flagler County applied for a grant in February 2011 to develop the park, which was still called Bay Drive Park. The state awarded a $2.342 million grant to the county. Historically, beach access in this area was known as Deauville Beach or Main Street Beach. The road itself, Main Street, was referred to by locals as the "Double Brick Road" because it had been stabilized with brick to provide residents and visitors public beach access with some assurance they would not get stuck en route. The County Commission required the developer in 1985 to relocate the previously used beach access road to Bay Drive, and to provide a park on the beach to mitigate for the loss of Deauville Beach. See the full conceptual plans here.
Superintendent search: The Flagler County School Board holds a workshop on its superintendent search in Training Room 3 on the third floor of the Government Services Building, Bunnell, at 6 p.m.
The Palm Coast Planning and Land Development Board meets at 5:30 p.m. at City Hall in Town Center. It will consider an application to rezone some 50 acres currently used for equestrian and agricultural uses and located on the west side of North US Highway 1 about half a mile south of Palm Coast Parkway, from Suburban Estates, with about 8 acres being rezoned to General Commercial and about 42 acres being rezoned to Multi-Family Residential. The applicant intends to plat and develop the proposed lands for an assisted living facility, an independent living facility, and an age restricted community for persons 55 and older. See the city's staff report here.
Mostly useless information: It was in 1989 on this date that Soviet troops withdrew from their Vietnam: they had invaded Afghanistan in 1979, a decade that resulted in the death of between 1 million and 2 million Afghans, overwhelmingly civilians, and some 14,400 Soviet deaths. The United States had heavily financed a covert war against the Soviets through Pakistan and the CIA, but in so doing it built up the mujahedeens, made up not only of Afghan resistance fighters but of 35,000 Muslim radicals from 43 Islamic countries (according to Ahmed Rashid's "Taliban"). Among those Arab fighters: Osama bin Laden. American money, in other words, helped seed the rise of al-Qaeda and the Taliban. On a brighter note, this is also the birthday of Galileo Galilei, in 1564, the man who made Copernicus and heliocentrism cool. It was not until 1992 that the Vatican finally, officially caught on, ending its condemnation of Galileo, which had dated from 1633 and had forced Galileo to recant. "The dispute between the Church and Galileo has long stood as one of history's great emblems of conflict between reason and dogma, science and faith," The Times reported in 1992. "The Vatican's formal acknowledgement of an error, moreover, is a rarity in an institution built over centuries on the belief that the Church is the final arbiter in matters of faith." Paul Cardinal Poupard, who headed the more recent investigation, said: "We today know that Galileo was right in adopting the Copernican astronomical theory." A birthday a bit closer to Florida is that of Pedro Menendez de Aviles, on this date in in 1519. He was the founder of St. Augustine, or rather he built a fort there, in 1565.

In Florida and in State Government:
Note: Some proceedings below can be followed live on the Florida Channel. Most legislative proceedings can be followed through the Senate or House websites.

Invasive species: The House Agriculture & Natural Resources Appropriations Subcommittee will receive a presentation from the Fish and Wildlife Conservation Commission about invasive species. (9 a.m.)
Unanimous juries: The House Criminal Justice Subcommittee will consider a proposal (HB 527), filed by Rep. Chris Sprowls, R-Palm Harbor, that would require unanimous jury recommendations before defendants could be sentenced to death. The Florida Supreme Court last year found unconstitutional a law that would have required at least 10 of 12 jurors to recommend death. (9 a.m.)
Tax holiday for veterans: The House Local, Federal & Veterans Affairs Subcommittee will consider a bill (HB 263), filed by Rep. Mel Ponder, R-Destin, that would provide a sales-tax break to military veterans when buying clothes during the Veterans Day holiday. (9 a.m.)
Scott budget: The Senate Criminal and Civil Justice Appropriations Subcommittee, the Senate Environment and Natural Resources Appropriations Subcommittee, the Senate Higher Education Appropriations Subcommittee and the Senate Health and Human Service Appropriations Subcommittee will receive presentations about Gov. Rick Scott's proposed budget for the fiscal year that starts July 1. (Criminal and Civil Justice, 9:30 a.m., 37 Senate Office Building, the Capitol. Also, Environment and Natural Resources, 9:30 a.m., 301 Senate Office Building, the Capitol. Also, Higher Education, 2 p.m., 412 Knott Building, the Capitol. Also, Health and Human Services, 2 p.m., 401 Senate Office Building, the Capitol.)
Enterprise Florida President Chris Hart is expected to appear before the Senate Transportation, Tourism & Economic Development Appropriations Subcommittee. (9:30 a.m.)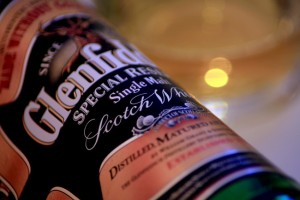 Stand-alone liquor stores: The House Careers & Competition Subcommittee will consider a proposal (HB 81), filed by Rep. Bryan Avila, R-Hialeah, that would repeal a Depression-era law requiring liquor stores and bars to be separated from groceries and other retail goods, an issue commonly referred to as the "liquor wall." (1 p.m.)
Reagan license plate: The House Transportation & Infrastructure Subcommittee will take up a bill (HB 323), filed by Rep. Rick Roth, R-Loxahatchee, that would create a Ronald Reagan specialty license plate. (1 p.m.)
Certificate of need repeal: The House Health Innovation Subcommittee will consider a series of health-care regulatory changes, including a proposal (HB 7), filed by Rep. Alex Miller, R-Sarasota, that would repeal the state's "certificate of need" laws, which help determine whether hospitals, nursing homes and hospice facilities are built. (3:30 p.m.)
–Compiled by the News Service of Florida and FlaglerLive

In Coming Days in Palm Coast, Flagler and the Occasional Beyond:
♦ Feb. 16: The Inspired Mic, Palm Coast's most daring and unpredictable open mic event, is scheduled for its monthly edition at The New Europa, European Village. 101 Palm Harbor Parkway, Unit 101, Palm Coast. Doors open at 6 p.m. and presenters begin at 6:30 p.m. Tickets are $10.50 advance, available at theinspiredmicus.com, or $15 at the door. Tickets include one drink (beer, wine, soda, tea, water). The Inspired Mic is a production of Jim Farrell. This installment of the Inspired Mic is especially relevant to those who want to lend support to Europa owner Ambroz Ferrena, whose house burned down on Feb. 12.
♦ Feb. 16: Business After Hours, sponsored by the Flagler Chamber, combined with a grand opening at CenterState Bank, 175 Cypress Point Parkway, Palm Coast, 5:30 p.m. This event is designed to bring together members of the business community in a fun filled atmosphere, to encourage networking and interaction, while enjoying delectable food and drink. Contact: Tiffany Edwards, 386-206-0955.
♦ Feb. 17: Movie Nights by the Surf at Veterans Park, 5:30 p.m.: The movie will be shown at dusk, outdoors at Flagler Beach's Veterans Park, located at the corner of Moody Blvd. and Highway A1A right across the street from the beach! Admission is free! Be sure to bring your family & friends as well as a blanket. Food and drinks will be available for purchase as well as bounce house activities and more.
♦ Feb. 18: Two performances only, at 2:30 and 7 p.m., of "Ms. Jackie's Bus," an ordiginal stage play about the challenges of adolescence–from bullying to racism to homosexuality. At the Ormond Beach Performing Arts Center, 399 North U.S. 1, Ormond Beach, Adults $15, students $12, call the box office at 386/676-3375 and click here for details about the play.
♦ Feb. 23: County Administrator Craig Coffey is the speaker at the Flagler Chamber's Common Ground Breakfast Series at the Hilton Garden Inn, in Palm Coast. Registration begins at 7:45 a.m., breakfast is at 8 a.m. $20 for members in advance. Email [email protected] or go here for more information. Details here and here.


♦ Feb. 28: Join the Flagler County Education Foundation's 14th annual Mardi Gras gala at Halifax Plantation, 3400 Clubhouse Drive, Ormond Beach, at 6 p.m. This is one of the foundation's annual fundraisers. Tickets are $100 per person. Click here to register or call today at 386/437.7526 for event details. Get a chance to talk to Joe Rizzo, the new executive director, and learn more about Flagler county schools.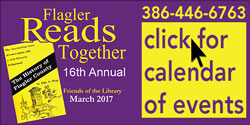 ♦ March 3: It's the kick-off of the annual Flagler Reads Together, the Friends of the Library's annual communal reading event that focuses on a single book and encourages everyone in the county to read it. This time it's as local as it gets: the book is the late Jack Klegg's "The History of Flagler County," in conjunction with Flagler County's centennial celebrations. The month-long Flagler Reads Together kicks off on March 3 at 2 p.m. at the Flagler County Public Library's main meeting room with a presentation by the Flagler County Historical Society's Sisco Deen. It's free.
♦ March 3: Fourth annual Flagler County Job Fair, from 11 a.m. to 3 p.m. at the Palm Coast Campus of Daytona State College, 3000 Palm Coast Pkwy SE, Building 3. There are more than 40 businesses registered, with more signing up daily, offering over 360 jobs. Last year over 400 job seekers attended the event, which was hosted by the Flagler County Department of Economic Opportunity, CareerSourceFV, Daytona State College and the Flagler County Chamber of Commerce. A full listing of companies is available at www.flaglercountyjobfair.com or by accessing the mobile app by searching the app store for Flagler Volusia Job Fair Plus.
♦ March 3: Flagler Beach's 10th Annual Pinewood Derby Race, as part of Flagler Beach's First Friday. Awards will be presented for the fastest and most creative designed cars in the adult and children's categories. Get your kit and then… Design it, build it, race it. Rules are here, and your registration form is here.
♦ March 4: First of two kayaking trips organized by Flagler County's Centennial Committee, this one, the Haw Creek paddle, is scheduled for launch at 9 a.m. from Russell Landing County Park. Registrations are needed in advance and registrations for the trip close on February 20th. The registration is $15 and each person registering will get a competition style tee shirt commemorating the County's Centennial. When kayakers arrive at Bull Creek Park a special lunch will be offered for participants who opt for the $11 lunch. Registration for both trips, instructions and detailed directions can be found on the www.flaglercounty.org website or on facebook at www.facebook.com/FlaglerCountyCentennial. Interested kayakers can contact the committee at [email protected]. The second trip is planned for a 9 a.m. launch Saturday April 22 from Longs Landing City Park.
♦ March 7: Bunnell and Flagler Beach hold their municipal elections.
♦ March 10: Flagler Reads Together event (the Friends of the Library's annual communal reading event that focuses on a single book and encourages everyone in the county to read it: the late Jack Klegg's "The History of Flagler County," in conjunction with Flagler County's centennial celebrations). The March 10 event, at 2 p.m. in the Doug Cisney Room at the Flagler County Public Library on Palm Coast Parkway, is a presentation by Bob Stone addressing the Cattle industry in Florida. Folklorist and media producer Bob Stone's multi-media presentation explores and celebrates the history and culture of the nation's oldest cattle ranching state from the colonial period to the 21st century. You will see and hear all aspects of Florida cattle ranching traditions including material culture such as Cracker cow-whips and unique ranch gate designs, swamp cabbage and other foodways, cowboy church and Cracker cowboy funerals, Seminole ranching past and present, occupational skills such as roping and branding, our vibrant rodeo culture, side-splitting cowboy poetry, feisty cow-dogs, and much more.
♦ March 22: The boy Scouts Council holds its Golden Eagle Dinner at 6 p.m. at Hammock Beach Resort, honoring Bob Cuff, now a Palm coast City council member.
♦ March 28: The Flagler Forum, the discussion group organized by Ed Fuller, hosts a panel discussion featuring Flagler County's local media, including Palm Coast Observer Editor Brian McMillan and FlaglerLive Editor Pierre Tristam, at the Hilton Garden Inn, Palm Coast, at 6:30 p.m.



Palm Coast Construction and Development Progress Reports
The following is an update of ongoing permitting, construction and development projects in Palm Coast, through Jan. 13 (the city administration's full week in review is here):
Click to access developments-feb-3-2017.pdf

Road and Interstate Construction:

Isaac Albéniz, Suite Iberia, Félix Ardanaz, piano
Previous Codas: