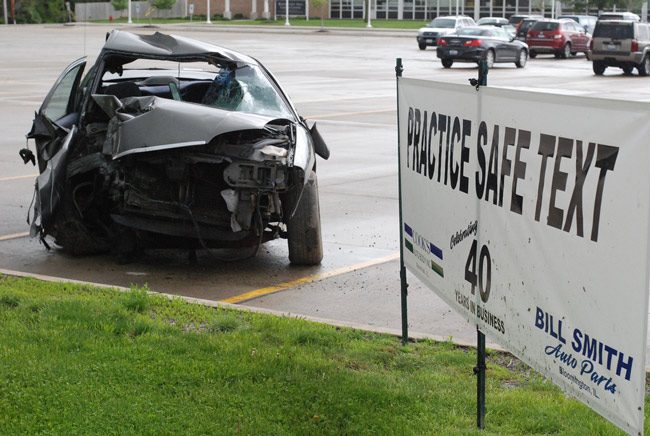 Today: Partly cloudy. Patchy fog in the morning. Chance of showers and slight chance of thunderstorms in the afternoon. Highs around 80. South winds 5 to 10 mph. Chance of rain 30 percent. Tonight: Partly cloudy. Chance of showers and slight chance of thunderstorms in the evening. Patchy fog after midnight. Lows in the upper 50s. Southwest winds 5 mph. Chance of rain 30 percent. Details here.
Drought Index is at 402.
Today's tides: at the beaches, at the Intracoastal Waterway.
Today's document from the National Archives.
The OED's Word of the Day: ice worm, n..
The Live Community Calendar
Today's jail bookings.
Today's Briefing: Quick Links

"Think of old age this way: it's just an everyday fact that one's life is at stake. One cannot evade knowing what shortly awaits one. The silence that will surround one forever. Otherwise it's all the same. Otherwise one is immortal for as long as one lives."
–Philip Roth, from "The Dying Animal" (2001), in Novels 2001-2007
.

Note: all government meetings noticed below are free and open to the public unless otherwise indicated. Many can be heard or seen live through each agency's website.
Daily incident reports and jail bookings are posted here.
The Flagler County School Board holds a workshop at 5 p.m. in Training Room 3B, third floor, at the Government Services Building. This is the board's new meetings format: there will be no regular meeting afterward, but the workshop will run as long as necessary. The meetings in Training Room 3B are generally not accessible by audio or video.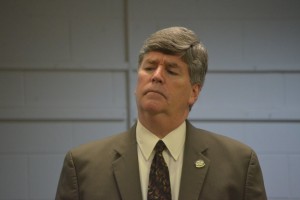 The Palm Coast City Council meets at 6:30 p.m. at City Hall in Town Center. The council will consider awarding City Manager Jim Landon a raise, possibly of 4 percent, or around $6,500, to $175,600, and an automatic annual 2 percent raise in subsequent years. The majority of the council has never evaluated Landon.
Travis Hutson and Redistricting: The Senate Judiciary Committee is scheduled to take up a proposal (SB 352), filed by Sen. Travis Hutson, whose district includes all of Flagler County, that could speed up redistricting court cases and set new guidelines for determining which districts would be used when disputes are pending. (2 p.m., 110 Senate Office Building, the Capitol.)
Flagler County Centennial Committee meeting, 1:30 p.m., Emergency Operations Center, Executive Conference Room
Lunch and Learn: How to get your web page on the first search Google page: In this one-hour, hands-on class, we will cover the most important dimensions of SEO so you can learn what it takes to get a website or a particular webpage in the first page results of google search. Noon to 1 p.m., $39, at Office Divvy, 20 Airport Road Ste B2, Palm Coast.
Mostly useless information: "America's Most Wanted," the television series and homage to America's prosecutorial vigilantism, premiers on television on this date in 1988. It would run for 25 years and lead to the arrest of 1,203 fugitives, but was cancelled in 2013, to the chagrin of host John Walsh. More interestingly, the great Eubie Blake, piano composer of some 1,000 songs, among them "I'm Just Mad About Harry," was born on this date in 1883. He would live to be 100 before his death shortly thereafter, in Brooklyn. (See the video below). Two years later, in 1885, Sinclair Lewis, best known for "Main Street," "Babbitt" and "Elmer Gantry," is born in Sauk Center, Minn., which would revile him for much of his life, because of "Main Street," a merciless indictment of provincial, small-minded America (otherwise known as "the heartland"). These days Lewis, who won the Nobel Prize in 1930 without entirely deserving it–his novels can be formulaic and lack art–is enjoying a revival for his 1935 novel, "It Can't Happen Here," an imagining of a fascist becoming president of the United States in 1936.

In Florida and in State Government:
Note: Some proceedings below can be followed live on the Florida Channel. Most legislative proceedings can be followed through the Senate or House websites.

The Volusia County legislative delegation, made up of Sen. Dorothy Hukill, R-Port Orange, Sen. Travis Hutson, R-Elkton, Sen. David Simmons, R-Altamonte Springs, Rep. Patrick Henry, D-Daytona Beach, Rep. Tom Leek, R-Ormond Beach, Rep. Paul Renner, R-Palm Coast, and Rep. David Santiago, R-Deltona, is scheduled to meet. (8 a.m., Reed Hall, House Office Building, the Capitol.)
Attorneys' fees: The Senate Governmental Oversight and Accountability Committee will take up a bill (SB 80), filed by Sen. Greg Steube, R-Sarasota, that would give judges discretion in deciding whether to award attorney fees in public-records lawsuits. Under current law, government agencies are required to pay attorney fees when they are found to have improperly withheld public records. (10 a.m.)
Domestic security: The Senate Military and Veteran Affairs, Space and Domestic Security Committee will receive a presentation by the Florida Department of Law Enforcement and the Division of Emergency Management about federal domestic-security funding. (10 a.m.)
Texting while driving: The Senate Communications, Energy and Public Utilities Committee will take up a proposal (SB 144), filed by Sen. Rene Garcia, R-Hialeah, that would make texting while driving a "primary" offense for motorists age 18 or younger. Under current law, texting while driving is a "secondary" offense, meaning motorists can only be cited if they are pulled over for other reasons. Under Garcia's bill, police could pull over young drivers for texting while driving. (Tuesday, 2 p.m., 301 Senate Office Building, the Capitol.)
Red-light cameras: The Senate Transportation Committee and the House Appropriations Committee will consider bills (SB 178 and HB 6007), filed by Sen. Frank Artiles, R-Miami, Rep. Bryan Avila, R-Hialeah, and Rep. Blaise Ingoglia, R-Spring Hill, that would prevent the use of red-light traffic cameras. (Senate committee at 2 p.m., 401 Senate Office Building, the Capitol. Also, House committee at 3 p.m., 212 Knott Building, the Capitol.)
Gov. Rick Scott and the Florida Cabinet will take up a series of issues, including receiving a presentation from Insurance Commissioner David Altmaier on a controversial insurance practice known as "assignment of benefits." (9 a.m.)
Baker Act Hearings: The Florida Supreme Court will take up three cases, including a dispute about "Baker Act" involuntary commitment hearings in Lee County. Public defenders have challenged a practice of judges holding the hearings through videoconference technology rather than appearing in person at mental-health facilities. (9 a.m., Florida Supreme Court, 500 South Duval St., Tallahassee.)
FPL storm costs: The state Public Service Commission will consider a request by Florida Power & Light to collect $318.5 million from customers to recoup costs from Hurricane Matthew and to replenish a storm reserve. The FPL issue will be taken up during a regular commission meeting that will follow an internal-affairs meeting and a hearing about a proposed settlement agreement involving Peoples Gas System. (Internal affairs at 9:30 a.m., Peoples Gas hearing at 11 a.m., immediately followed by the regular meeting, Betty Easley Conference Center, 4075 Esplanade Way, Tallahassee.)
Medical pot: The Florida Department of Health's Office of Compassionate Use will continue a series of workshops about carrying out a November constitutional amendment that broadly legalized medical marijuana in the state. (10 a.m., Broward County Health Department, 780 S.W. 24th St., Fort Lauderdale.)
–Compiled by the News Service of Florida and FlaglerLive

In Coming Days in Palm Coast, Flagler and the Occasional Beyond:
♦ Feb. 8: Jonathan Canales, the man accused of shooting his girlfriend in the neck and leaving her to bleed in a bathtub for hours in their Mondex trailer in Nov. 2014, is scheduled for a pre-trial at 1:30 p.m. in Courtroom 401 at the Flagler County Courthouse. Canales had been judged incompetent to stand trial previously.
♦ Feb. 8: Superwash Express, the car wash on 110 Cypress Point Parkway, marks its grand opening with a ribbon-cutting at 4 p.m. at the new business. The public is invited.
♦ Feb. 8: The National Marathon to Finish Breast Cancer is scheduled in St. Johns County.
♦ Feb. 10: The Flagler County School Board holds a special meeting to discuss the selection process of the next superintendent, 8 a.m. in Board Chambers at the Government Services Building in Bunnell.
♦ Feb. 16: Business After Hours, sponsored by the Flagler Chamber, combined with a grand opening at CenterState Bank, 175 Cypress Point Parkway, Palm Coast, 5:30 p.m. This event is designed to bring together members of the business community in a fun filled atmosphere, to encourage networking and interaction, while enjoying delectable food and drink. Contact: Tiffany Edwards, 386-206-0955.
♦ Feb. 23: County Administrator Craig Coffey is the speaker at the Flagler Chamber's Common Ground Breakfast Series at the Hilton Garden Inn, in Palm Coast. Registration begins at 7:45 a.m., breakfast is at 8 a.m. $20 for members in advance. Email [email protected] or go here for more information. Details here and here.
♦ March 4: First of two kayaking trips organized by Flagler County's Centennial Committee, this one, the Haw Creek paddle, is scheduled for launch at 9 a.m. from Russell Landing County Park. Registrations are needed in advance and registrations for the trip close on February 20th. The registration is $15 and each person registering will get a competition style tee shirt commemorating the County's Centennial. When kayakers arrive at Bull Creek Park a special lunch will be offered for participants who opt for the $11 lunch. Registration for both trips, instructions and detailed directions can be found on the www.flaglercounty.org website or on facebook at www.facebook.com/FlaglerCountyCentennial. Interested kayakers can contact the committee at [email protected]. The second trip is planned for a 9 a.m. launch Saturday April 22 from Longs Landing City Park.
♦ March 7: Bunnell and Flagler Beach hold their municipal elections.
♦ March 22: The boy Scouts Council holds its Golden Eagle Dinner at 6 p.m. at Hammock Beach Resort, honoring Bob Cuff, now a Palm coast City council member.



Palm Coast Construction and Development Progress Reports
The following is an update of ongoing permitting, construction and development projects in Palm Coast, through Jan. 13 (the city administration's full week in review is here):
Click to access developments-jan-2017.pdf

Road and Interstate Construction:

Eubie Blake in Berlin, 1972, Plays Charleston Rag
Previous Codas: