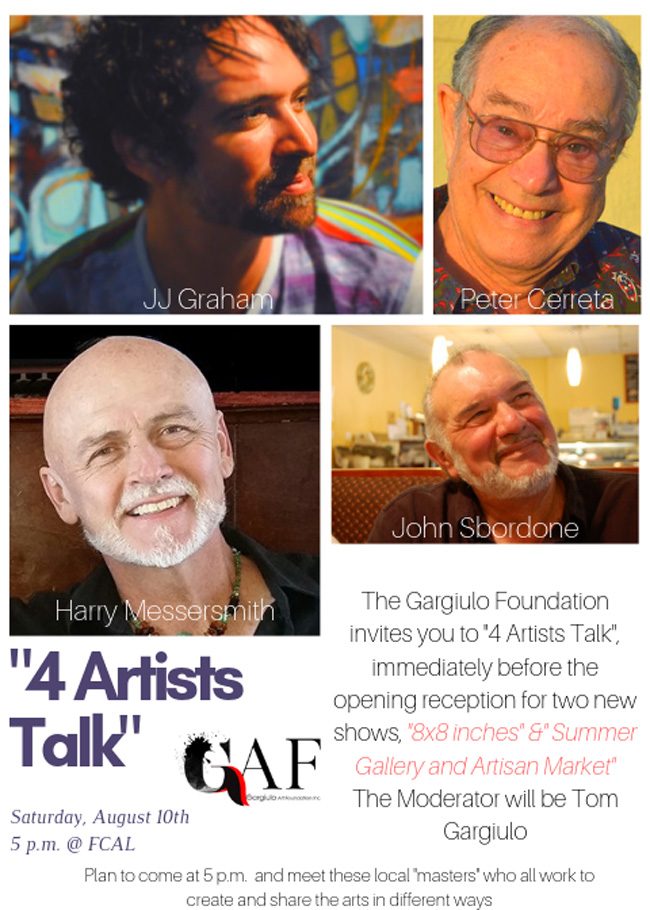 Weekend: Friday: Mostly sunny with slight chance of showers and thunderstorms in the morning, then partly cloudy with chance of showers and thunderstorms in the afternoon. Highs in the mid 90s. Southwest winds 5 to 10 mph. Chance of rain 30 percent. Heat index readings 103 to 107. Friday Night: Partly cloudy. A 20 percent chance of showers and thunderstorms in the evening. Lows in the mid 70s. Southwest winds 5 to 10 mph. Saturday: Partly cloudy in the morning then becoming mostly cloudy. Chance of showers and slight chance of thunderstorms. Highs in the mid 90s. Southwest winds 5 to 10 mph. Chance of rain 40 percent. Saturday Night: Partly cloudy with a 20 percent chance of showers and thunderstorms. Lows in the mid 70s. Sunday: Showers likely and chance of thunderstorms. Highs in the lower 90s. Chance of rain 70 percent. Sunday Night: Partly cloudy with a 20 percent chance of showers and thunderstorms. Lows in the mid 70s.
Today's document from the National Archives and the Astronomy Picture of the Day.
Today's tides: at the beaches, at the Intracoastal Waterway.
Drought Index: 123
Merriam-Webster's Word of the Day: aggregate.
The Live Community Calendar
Today's jail bookings.
Today's Briefing: Quick Links


"No matter how hard you tried you made mistakes and couldn't get past them. You could never see the sky outside or the ocean because you were in a prison, except nobody called it a prison, and if you did they didn't know what you were talking about, or they said they didn't."
–Bernard Malamud, "The Prison," a story from "The Magic Barrel" (1958)
Previously:

Note: all government meetings noticed below are free and open to the public unless otherwise indicated. Many can be heard or seen live through each agency's website.
The Sheriff's daily incident reports and jail bookings are posted here.
Free For All Fridays on WNZF: Host David Ayres welcomes Wynn Newingham, head of innovation and economic growth in Palm Coast, and developer Walker Douglas, starting a little after 9 a.m. with a commentary by FlaglerLive Editor Pierre Tristam on guns.
In Schools: Pre-planning days for Flagler County school district teachers.
Friday: Open House at Buddy Taylor Middle School, 10 a.m.
Friday: Meet the Teachers at Bunnell Elementary School, 11 a.m.
Friday: Meet the Teachers at Wadsworth Elementary, 1 p.m.
Friday: Discover Trip to Jacksonville Museum of Science & History, 9:30 a.m.-4 p.m. to and from Palm Coast Community Center, 305 Palm Coast Pkwy. NE to Jacksonville Museum of Science & History. Cost is $50. Lunch at Murray Bro. Caddyshack is NOT included in the ticket price. Pre-registration is required by Aug. 1 at www.parksandrec.fun/adults. More info: 386-986-2323.
Friday: Movies in the Park, 8:30 p.m. in Central Park at Town Center, 975 Central Ave., Palm Coast. Families will enjoy a family friendly movie on the park's giant outdoor movie screen. Bring your blanket, lawn chairs and snacks and invite your friends and neighbors to join you at this free, monthly family activity offered by Palm Coast Parks & Recreation and Flagler Schools. This month features "A Wrinkle in Time" (PG). More info: 386-986-2323 and www.palmcoastgov.com/movies.
Saturday: Enrollment Day at Daytona State College: It's time for students to lock in their fall schedule at Daytona State College! Join us for Enrollment Day on Saturday, August 10, from 9 a.m. to 1 p.m. on the College's Daytona Beach Campus in the Wetherell Center (bldg. 100). Enrollment Day provides the opportunity to complete everything from admission to registration and financial aid – walk out with your schedule for classes that start August 21. How it works: Students start by completing a Daytona State application, then meet with an Admissions Advisor and Financial Aid Counselor, take an assessment test (if applicable), meet with an Academic Advisor, and then lock in their schedule. Plus, join us for Scholarship 101 at 11 a.m. in room 219 where we'll assist students with tips and tricks to applying for additional resources both through the DSC Foundation and external resources. For more information about the Enrollment Day event, e-mail [email protected] or call (386) 506-4DSC.
Saturday: First Aid and CPR/AED, 9 a.m.-4 p.m. at Fire Station 25, 1250 Belle Terre Pkwy., Palm Coast. This class is a seven-hour course (one hour for lunch) designed to meet OSHA regulations and teach administering CPR to children and adults, using an Automated External Defibrillator (AED), using a mask or barrier device, assisting with bleeding, broken bones. $50/person. Registration required by 9 a.m. Aug. 8 at www.parksandrec.fun/adults. More info: 386-986-2300 and [email protected]
Saturday: Second Saturday Plant Sale, join the Friends of Washington Oaks from 10 a.m. to 2 p.m. at the Greenhouse area. With Master Gardeners on hand, you are sure to get the personal attention and advice you are looking for. Specializing in Florida friendly and natives, with some unique and hard to find plants for your home and yard. Washington Oaks Gardens State Park, 6400 North Oceanshore Blvd.
Saturday: Teens-In-Flight Inc. hosts its second annual Hangar Party fund-raiser from 6 to 10 p.m. at the Palm Coast Elks Lodge 2709, located at 53 Old Kings Road North, Palm Coast. "The event includes dinner, dancing, and some amazing auction items," said Ret, Col. Jack Howell, the program's founder. "Our flight program benefits children of our military, first responders, and at risk teens – we've had 100% of our program graduates go to college, so it's a great investment in our community," he added. Last year's event drew 146 people and raised $27,525. This year, the organization is hoping for 165 people and has a goal of $35,000. Some of the auction items include a trip to South Africa for a photo safari and several Caribbean Island trips. The cost to attend is $59 per person, or $99 per couple. Tickets and information on sponsorships can be obtained by calling Ric Lehman at 904-814-3803, or emailing [email protected] Dress is resort casual. The Teens-In-Flight program allows teenagers to earn a private pilots license at no cost. Students have been placed at Stetson University, Embry Riddle Aeronautical University, the U.S. Air Force Academy, United States Naval Academy, West Point, the U.S. Military Academy and more. The office is located at 120 Airport Rd., Palm Coast, Florida. Read more about Teens-In-Flight at www.teens-in-flight.com, or on Facebook at https://www.facebook.com/teensinflight.
Saturday: The Gargiulo Art Foundation invites you to "4 Artists Talk" in the Flagler County Art League Gallery from 5 to 5:45 p.m., immediately before the opening reception for two new shows, "8×8 Inches" and the "Summer Gallery & Artisan Market." The four artists will be Peter Cerreta, J. J. Graham, Harry Messersmith, and John Sbordone. They will share their work and exhibiting experiences with us. The moderator will be Tom Gargiulo. Plan to come at 5 p.m. and meet these local "Masters" who all work to create and share the arts in different ways. At 6 p.m., stay for the Summer Gallery Sale and Artisan Market show: This is a special event where artists have rented gallery space and set up displays, transforming the gallery into a mini marketplace where the artists sell their artwork and handmade fine crafts. There will be a wide variety of drawings & paintings, both original and prints, collage, handmade wreaths and fine jewelry.
Saturday: Midnight Fishing Frenzy, 12:01 a.m. to 6 a.m. at the Flagler Beach Pier, as on every second Saturday of every month. For any questions, please contact the Pier bait shop at 386-517-2436.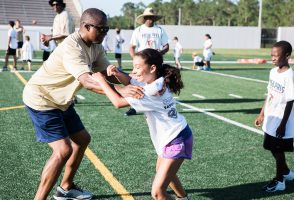 AdventHealth hosts Kids & Pros, a free one-day youth football safety clinic from 8 a.m. to noon. NFL alumni will teach young athletes ages 7-13 safe tackling techniques and position fundamentals, as well as important life skills lessons at the Daytona International Speedway, 1801 W. International Speedway Blvd., Daytona Beach. The participating former Atlanta Falcons NFL players include Buddy Curry, a University of North Carolina linebacker, Bobby Butler, Florida State University defensive back, and Robert Moore, a Northwestern State University of Louisiana safety. Additional NFL Alumni will be added to the agenda. Parents are encouraged to attend a special information session on football safety, proper equipment fitting, and concussion awareness at 9 a.m. The Kids & Pros football clinic is free, but space is limited and registration by a parent or legal guardian is required. No equipment is necessary. To learn more or to RSVP, visit KidsAndPros.com. Kids & Pros, a nonprofit organization founded in 2002 by former Atlanta Falcons players Buddy Curry and Bobby Butler, conducts youth camps and clinics that incorporate football skills and drills, proper techniques and "gamechanger principals" (character lessons), as well as parent information sessions to convey the latest football safety information for young athletes and their families. Kids & Pros has trained over 50,000 athletes through camps, clinics, and gamechanger presentations since 2002. To learn more about Kids & Pros, visit www.kidsandpros.com.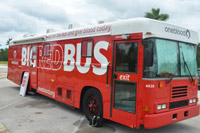 Blood Donations: The Big Red Bus will be at the following locations this week (schedule your donation by going to the website and entering a Palm Coast zip code, then locating one of the venues below):
Friday: Badcock Furniture, 2501 Old Moody Boulevard (State Road 100), Flagler Beach, 11 a.m. to 4 p.m.
Saturday: Walmart, 174 Cypress Point Parkway, Palm Coast, 11 a.m. to 5 p.m.


Jail Bookings and Last 24 Hours' Incidents in Flagler, Palm Coast, Flagler Beach, Bunnell
Sources: Flagler County Sheriff's Office, Flagler Beach Police Department, Bunnell Police Department. This is Flagler County's only comprehensive, one-stop compilation of all local law enforcement's daily day and night shift commanders' reports.


Download your 2019 Hurricane Preparedness Guide here, or see below:
Sign-up for our ALERTFlagler emergency notification system at www.FlaglerCounty.org/ALERTFlagler.
Click to access 2019-Hurricane-Preparedness-Guide.pdf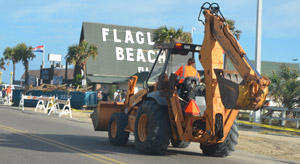 Flagler Beach Is Open For Business: A1A Construction Update:
FlaglerLive is providing weekly updates to year-long construction on and near State Road A1A in Flagler Beach as the Florida Department of Transportation rebuilds a 1.5-mile segment from South 9th Street to South 22nd Street, and builds a sea wall at the north end of town. These updates are provided through DOT or local officials. If you have any relevant information or images, you're welcome to email them to the editor here.
IMPORTANT: Safety in the Work Zone: Drivers are reminded to obey all posted speed limits, and to be alert to vehicles turning onto northbound S.R. A1A from side streets or businesses. Pedestrians and bicyclists are asked to remain aware as construction activities continue and designated pathways are moved. Please use extra caution walking, bicycling or driving through the area. Remember, safety is everyone's responsibility.
Last Updated: July 29
Protecting Turtles
Now that turtle nesting season has started in the Flagler Beach area, local Turtle Patrol volunteers are checking the beach within the project limits every day to locate any new nests. In Segment 3, north of North 18th Street, work cannot begin until the beach is checked. If a nest is discovered, the nest will be marked, and work will not be allowed within 10 feet of the nest, as specified in the environmental permits issued for this project.
The Turtle Patrol also is monitoring the beach in the project limits of Segment 1, from South 25th Street to South 22nd Street, where plans call for dune revetment involving additional sand and plants.
Segment 1 South 25th Street to South 22nd Street):
Work is completed on Segment 1 from South 25th Street to South 23rd Street.
Segment 2 (South 22nd Street to South 9th Street):
The contractor has brought in a second crew to work on installing the new French drain system and expects to have the drain completed within a month. The contractor has finished installing the new water main and is finishing up the required testing and certification for transferring service to the new line. On the southern end of the segment, the contractor has been constructing the curb that will form the center median, and is building the foundation for the new southbound lanes. Sidewalk installation is nearly complete. Remaining sections will be poured once utility work is complete.
Segment 3 (North 18th Street to Osprey Drive) Project Update:
Wall construction is expected to finish late this week or early next week as crews pour the final concrete for the cap. The contractor continues to place some additional sand over the wall, form the dune and install plants. According to the local Turtle Patrol volunteers, there are about 80 turtle nests on the north side of Flagler Beach. Some of the nests fall within the project and require the contractor to work around those areas until the nests hatch.
See this week's full Interstate Construction Report for Flagler, Volusia and St. Johns here.


Flagler County receives 'Distinguished Budget Presentation Award': Flagler County is being praised for the 10th consecutive year for its annual budget presentation by the Government Finance Officers Association–on the very week when it lost its Finance Director, Lorie Bailey-Brown, who's taken a job elsewhere. Flagler County's 2018-2019 fiscal year budget was rated in four categories: as a policy document, as a financial plan; as an operations guide; and, as a communications device. "This award is the highest form of recognition in governmental budgeting and represents a significant achievement by your organization," said Michele Mark Levine, in a correspondence with County Administration. Bailey-Brown has worked on award-winning budgets for the county going back to the first budget that received the award – the 2009-2010 budget under Tom Klinker, the former director of the department. She and her staff – Kelly Freshcorn, Brian Eichinger, and Lauren Shank, budget analysts, as well as Lacy Martin, administrative assistant – are in the midst of pulling together the 2019-2020 budget. "There is some very detailed information the GFOA asks for, and they are looking for a document that stands out above the rest," County Administrator Jerry Cameron said. A news release issued by the GFOA states: "Award recipients have pioneered efforts to improve quality of budgeting and provide an excellent example for other governments throughout North America."


In Florida and in State Government:
Note: Some proceedings below can be followed live on the Florida Channel. Most legislative proceedings can be followed through the Senate or House websites.

MEDICAID EXPANSION WEIGHED: State analysts will hold a meeting to consider the financial impacts of a proposed constitutional amendment that would expand Medicaid coverage. The proposal would offer Medicaid coverage to low-income adults who currently are not eligible. Florida lawmakers have repeatedly rejected such an expansion, which is optional for states as part of the federal Affordable Care Act. The proposed constitutional amendment would expand eligibility to people whose incomes are up to 138 percent of the federal poverty level, an amount that varies depending on the number of people in a family. Under state law, analysts, meeting as the Financial Impact Estimating Conference, are required to look at how such initiatives would affect revenues and costs for state and local governments. A new state law (HB 5) also requires the analysts to evaluate impacts to the economy and the state budget. Backers of the proposed constitutional amendment hope to put the issue on the 2020 ballot but acknowledge it might get pushed back to 2022. (Friday, 8:30 a.m., 117 Knott Building, the Capitol.)
CANCER CONTRACT FIGHT IN COURT: Chief U.S. District Judge Mark Walker will hold a hearing in a dispute over a new state law that sparked a bitter feud between one of Florida's largest cancer-care companies and physicians who formerly worked for the firm. Part of the law retroactively negates no-compete clauses in contracts 21st Century Oncology had with the doctors. (Friday, 9 a.m., U.S. Courthouse, 111 North Adams St., Tallahassee.)
HEALTHY KIDS BOARD MEETS: The Florida Healthy Kids Corp. Board of Directors is scheduled to meet in Orange County. (Friday, 9 a.m., Hyatt Regency Orlando International Airport, 9300 Jeff Fuqua Blvd., Orlando.)
FORMER SURGEON GENERAL AT TIGER BAY: Former Florida Surgeon General Frank Farmer is scheduled to speak to the Tiger Bay Club of Volusia County. (Friday, 11:30 a.m., LPGA Clubhouse, 1000 Champions Dr., Daytona Beach.)
LONGTIME LOBBYIST REMEMBERED: A memorial service will be held for Paul Sanford, a longtime lobbyist who died July 17 at age 78. Sanford was a prominent insurance lobbyist and continued to represent clients during this spring's legislative session. Among those clients were the American Council of Life Insurers, Florida Blue and the Florida Insurance Council. (Saturday, 2 p.m., St. Paul Catholic Church, 2609 Park St., Jacksonville.)
—-Compiled by the News Service of Florida and FlaglerLive


To • include your event in this section, please email the details, including date, time, a brief description of the event, contact information, and, if you wish, an image, please use this form.


Keep Up with Donald Trump's attacks on the press through the ACLU's running tab here.
Keep Up with mass shootings in a running database here.


Palm Coast Construction and Development Progress Reports
Here's a summary of the latest city developments as of Aug. 2, 2019, with a link to the full week in review here.
Click to access week-in-review-aug-2-2019-development.pdf


Cultural Coda
Hélène Grimaud, Beethoven's Piano Concerto No. 5, Paavo Järvi and the Frankfort Symphony
And be sure to check out the latest performances at the Netherlands Bach Society.
Previous Codas: