Thursday Briefing: Aviation Days at Flagler Beach Museum, Canales Sentencing, Charlie Brown Christmas
FlaglerLive | November 29, 2018
Today: Mostly sunny in the morning then becoming partly cloudy. Highs in the lower 60s. North winds 5 to 10 mph. Tonight: Partly cloudy. Lows in the mid 40s. North winds 5 mph in the evening becoming light. Details here.
Today's document from the National Archives and the Astronomy Picture of the Day.
Today's tides: at the beaches, at the Intracoastal Waterway.
Drought Index: 252
The OED's Word of the day: quagswagging, n.
The Live Community Calendar
Today's jail bookings.
Today's Briefing: Quick Links


"Then she ran her finger up to the edge of the bandage and looked at his eyes again, and seeing that they saw nothing, her finger leapt from the bandage's edge onto the bare skin of his chest. It was burnt and smoked, bloodless, but not lifeless. This surprised her. The little piece of flesh she touched had more struggle in it than her whole body. Beneath her finger was survival, it was what a body could and would be when battered just to the edge. It was man suffering into the anlage of whatever came next, the amphibian crawling onto land, the first primate standing upright. It was that grotesque and purest form of adaptation: life."
–From Elliot Ackerman's "Waiting for Eden" (2018).
Previously:

Note: all government meetings noticed below are free and open to the public unless otherwise indicated. Many can be heard or seen live through each agency's website.
The Sheriff's daily incident reports and jail bookings are posted here.
Thursday, Friday: Flagler Beach Aviation Days at the Flagler Beach Museum, 207 S. Central Ave, Flagler Beach, three days of free aviation-related events: November 28th is the anniversary date of Charles Lindbergh's forced landing at the Flagler Beach Airport in 1931. This momentous event, along with the story of Okey & Martha Bevins, famous aviators who operated the beach airport flying school, and the importance of the Civil Air Patrol (CAP) Coastal Patrol Base 5 in Flagler Beach during 1942-43, will be celebrated during the three-day event. Displays will be set up at the museum and the free events will include: November 28, Charles Lindbergh Day. There will be a walking tour to the site of the airport beacon, now the south lot of the Flagler Beach Community Church, and to Betty Steflick Preserve to view the remains of the runways. November 29, Okey and Martha Bevin's Day. Becky Moses, cousin of Okey, has offered to share memorabilia for display, and will be available to share some family history and talk with attendees. November 30, CAP Day. Tom Duncan will present and discuss a power point presentation of his book, "Forgotten Flyers and Airfields" in the Commission Chambers at City Hall.
In Court: Sentencing: Jonathan Canales, who was found guilty of attempted first degree murder by a Flagler County jury in October, is sentenced at 1:30 p.m. by Circuit Judge Terence Perkins in Courtroom 401 at the Flagler County courthouse. The judge has no discretion: Canales is to be sentenced to mandatory life without parole.
Common Ground Breakfast: Jerry Parrish, Chief Economist and director for research for the Florida Chamber Foundation, is the Common Grounds breakfast speaker at 8 a.m. He will be providing an update on the Florida 2030 research project of the Florida Chamber Foundation, including how the demographics of Florida are changing the state and how that will affect Florida and Flagler County, and on the state's business climate and how to keep the positive momentum. Hilton Garden Inn, 55 Town Center Dr., Palm Coast. Registration required by Nov. 26. Members can preregister for $25, Guests and future members can attend for $35.
Thursday, Friday, Saturday: Matanzas High School Fall Play: "A Charlie Brown Christmas," 7 p.m. at Pirates Theater, with an additional 2 p.m. performance on Saturday, Dec. 1.
2018 Sunshine Seminar Series presented by the First Amendment Foundation, with overviews on the Sunshine Law, discussions of open government and First Amendment and media law, 8:30 a.m. to 2:30 p.m., $20 for foundation members, $35 for non-members, click here to register, at the The Florida Times-Union, 1 Riverside Avenue, Jacksonville.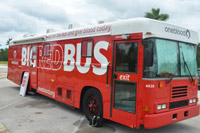 Blood Donations: The Big Red Bus will be at the following locations this week (schedule your donation by going to the website and entering a Palm Coast zip code, then locating one of the venues below):
Friday: Walmart, 174 Cypress Point Parkway, Palm Coast, 11 a.m. to 5 p.m.
Saturday: Walmart, 174 Cypress Point Parkway, Palm Coast, 10 a.m. to 6 p.m.


Jail Bookings and Last 24 Hours' Incidents in Flagler, Palm Coast, Flagler Beach, Bunnell
Sources: Flagler County Sheriff's Office, Flagler Beach Police Department, Bunnell Police Department. This is Flagler County's only comprehensive, one-stop compilation of all local law enforcement's daily day and night shift commanders' reports.


The City of Flagler Beach needs volunteers to serve on the following government advisory boards:
Investment Committee 1 Vacancy for an Attorney
This Committee meets quarterly, is required by Statutes, and provides recommendations to the City Commission regrading the investment policies and strategies.
Personnel Advisory Review Board 1 Vacancy
This Committee rarely meets but is required by our Code of Ordinance in the event an employee has a grievance and wishes to appeal disciplinary action.
Economic Development Task Force 1 Vacancy
This Committee meets monthly and provides recommendations to the Commission related to goals and assignments established by the City Commission.
If you're interested, contact City Clerk Penny Overstreet, (386)-517-2000 EXT 233.
The Rotary Club of Flagler County is looking for bands and musical groups to perform seasonal music at the Fantasy Lights in Central Park, Palm Coast. The free event featuring lighted displays around the lake, Santa's Village, Train rides for the kids also has a nightly live performance of seasonal music at 7 p.m. each night for the month of December. The music is carried throughout the park and Rotary provides some sound equipment and lights. If your band is interested in performing please contact Carl Laundrie at claundrie@yahoo.com or call 386-283-8386.


In Florida and in State Government:
Note: Some proceedings below can be followed live on the Florida Channel. Most legislative proceedings can be followed through the Senate or House websites.

JUDICIAL CANDIDATES INTERVIEWED: The 7th Circuit Judicial Nominating Commission will interview applicants to fill a vacancy caused by the death of Circuit Judge Clyde Wolfe. The 7th Judicial Circuit is made up of St. Johns, Putnam, Flagler and Volusia counties. The applicants expected to be interviewed are Joan Anthony, Milan (Bo) Samargya, Mark Johnson, Mitchell Novas, P.D. Sabourin Goldstein, Suzanne Green, Thomas Pycraft, Bryan Robert Rendzio, Alicia Washington, Garry Wood, Sabrina Slack, Susan Giacoletto, Zachary Miller, MaryEllen Osterndorf, Bernard Tebo, Daniel Hilbert, Ryan Will and Alexander Alvarez. (Thursday, 9 a.m., St. Johns County Courthouse Annex, 4010 Lewis Speedway, St. Augustine.)
SUPREME COURT RELEASES OPINIONS: The Florida Supreme Court is scheduled to release its regular weekly opinions. (Thursday, 11 a.m.)
COMMUNICATIONS TAX ON TABLE: The state Revenue Estimating Conference will analyze issues related to the communications-services tax and the gross-receipts tax. (Thursday, 1:30 p.m., 117 Knott Building, the Capitol.)
BUSH AT INSURANCE EVENT: Former Gov. Jeb Bush is slated to give the keynote address at the Florida Association for Insurance Reform's annual awards gala and benefit. (Thursday, 5:30 p.m., JW Marriott Miami, 1109 Brickell Ave., Miami.)
—-Compiled by the News Service of Florida and FlaglerLive


To • include your event in this section, please fill out this form.
♦
Dec. 12
: The Bunnell Code Enforcement Board meets at 7 p.m. at City Hall, 201 West Moody Boulevard, Bunnell.
♦
Dec. 12
: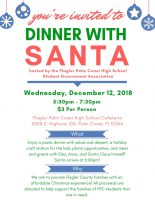 Dinner with Santa at Flagler Palm Coast High School: Now in its 10th year, and for just $3 per person, you can enjoy a pasta dinner with salad and dessert, there'll be a holiday craft station for children, and photo opportunities with Santa, Elsa and Anna. Santa arrives at 6 p.m. The event is from 5:30 p.m. to 7:30 p.m. at the FPC cafeteria, 5500 East Highway 100, Palm Coast. All proceeds go to FPC students whose families are in need. Click on the poster to see it larger.
♦
Dec. 12
: Holiday Giving Tea, 3 to 5 p.m. at the Flagler Auditorium, tickets are $30/person or tables of 10 can be sponsored for $300. Tea, water, finger sandwiches and desserts. There will be an "Ugly Sweater" contest, Silent Auction, and entertainment. The Holiday Giving Tea is part of our Holiday Extravaganza which supports Arts in Education.
♦
Dec. 13
: The Flagler Beach City Commission meets at 5:30 p.m. at City Hall with an opening susprise from Flagler Beach attorney Scott Spradley, the swearing out of Sgt. William Shamp, and a presentation from Walker Consultants regarding a parking study.
♦
Dec. 13
: Evening at the Whitney Lecture Series: Ruth Francis-Floyd, director of the University of Florida Aquatic Animal Health Program, will be the guest speaker for the final talk in the fall Evenings at Whitney lecture series. Her talk is titled "Ecosystem Challenges in Florida: The Diadema Story (a case study…)." Lectures and parking are free and registration or reservations are not necessary. The event is at 7 p.m. at Center for Marine Studies, Lohman Auditorium, 9505 Ocean Shore Blvd., St. Augustine, Florida. For further details, call (904) 461-4000.
♦
Dec. 13
: The Indian Trails Middle School Advisory Council meets at 5:30 p.m. at the school.
♦
Dec. 13
: The Indian Trails Middle School band is in concert at the school's gym at 6:30 p.m.
♦
Dec. 14-16
: Christmas Classic Radio Show: "It's a Wonderful Life," Friday and Saturday at 7:30 p.m., Sunday at 2 p.m., at The Flagler Playhouse, 301 E. Moody Blvd., Bunnell. Call the box office at 386-586-0773 or visit the website for tickets
here
. The Christmas Classic Radio Show, It's a Wonderful Life reworks the classic holiday film starring Jimmy Stewart and is set in a 1940s radio studio with a cast of five actors playing multiple roles and creating sound effects. They tell George Bailey's story of redemption, renewal and rejuvenation. This show is NOT part of our regular subscription season. Tickets for this show are $25.
♦
Dec. 14
: The New York Tenors are in concert at the Flagler Auditorium, 7:30 p.m. 5500 East Hwy 100, Palm Coast, call 386-437-7547.
♦
Dec. 15
: The Matanzas High School Key Club hosts Breakfast With Santa at 9 a.m. at the school, 3535 Pirate Nation Way, Palm Coast.
♦
Dec. 15
: The Palm Coast Holiday Boat Parade takes over the Intracoastal Water way from 6 to 9 p.m.
♦
Dec. 15
: Grieving through the holidays: Vitas Healthcare and Calvary Christian Center in vite you to reconnect with the holiday spirit in a supportive workshop, offering creative ways to honor memories and rediscover your resilience during this time of year. All sessions are free, open to the public, and held at the International House of Pancakes, in a private dining area, 212 Palm Coast Parkway, 1030 a.m. to noon. Contact Chaplain Carmen at 386/843-8794.
♦
Dec. 15
: The Hammock Community Association hosts a holiday party from 6:30 p.m. to 10 p.m. at the Hammock Community Center, 79 Mala Compra Road, in the Hammock. Live entertainment. $5 per person. Bring pot luck finger food. Bring your own drinks. We'll have coffee and some soda. $100 raffle tickets being sold. Each $100 ticket gives you a 6 in 200 chance to win a big money prize; Call Marge Rooyakkers at (386) 246-3767 or email petmom877@gmail.com. The drawing will be held at 6:30 pm on Saturday Dec 8 at the original Hammock Wine and Cheese on A1A. You don't need to attend to win, but door prizes will be given only to attendees. Prizes Include:
Six cash prizes totaling $8250 if all tickets are sold.
♦
Dec. 15
: Free Cup of Tea and Social Saturday: Stop by A Scent to Remember to enjoy a free cup of loose leaf tea by Flagler Tea Company, 11 a.m. to 5 p.m. A different tea is featured each week. If you want to try something different, you can ask for a cup to brew the tea of your liking. 208B. S. Central Ave., Flagler Beach. 386-631-3692, oils@ascenttoremember.net
♦
Dec. 15
: The Palm Coast Annual Holiday Boat Parade, hosted by the Palm Coast Yacht Club, holds its 36th edition at 6 p.m., departing from the Cimmaron Basin south on the Intracoastal Waterway, turning at the Grand Haven gazebo back to the Club House Waterway. The Parade will be escorted by boats from the Flagler County Sheriff's Office, Tow Boat US, the Florida Fish and Wildlife Conservation Commission, and the Palm Coast Auxiliary of the U.S. Coast Guard. Mayor Milissa Holland will serve as the parade's Grand Marshall. Hundreds of spectators are expected to line the ICW cheering the boats on. Last year's parade drew some 40 boats, a record. For registration forms, boat captains are urged to contact Parade Captain Robert Ulis at 386-283-5166 or theulises@att.net. Forms are also available at the Palm Coast Yacht Club website at www.palmcoastyachtclub.com. Boats must be decorated and registered to participate. There are no entry fees. Membership in the Palm Coast Yacht Club is not required.
♦
Dec. 16
: Navy Band Southeast Holiday Concert at 4 and 7 p.m. at the Flagler Auditorium, 5500 East Hwy 100, Palm Coast, call 386-437-7547.
♦
Dec. 17
: A week-long trial is scheduled before Circuit Judge Terence Perkins in the case of Michael Bowling, the 47-year-old Palm Coast man facing charges of molestation of 15-year-old girl during a sleep-over at her Bowling's daughter's house. Bowling also faces rape charges involving a girl in his charge, starting when she was 8 and going on for several years. That trial would take place next year. Jury selection begins Monday at 9 a.m. in Courtroom 401 at the Flagler County courthouse. See the
background story here
.
♦
Dec. 20
:

The Inspired Mic
, Palm Coast's most daring and unpredictable open mic event, is scheduled for its monthly edition at its new venue at the Hidden Treasures Restaurant, 820 Moody Ln, Flagler Beach. Each month some of the most creative, innovative performances a person could ever hope to experience take place at The Inspired Mic. 14 presenters each month pull out slices of talent and genius to entertain the audience. Each presenter gets 7 minutes to present on a very eclectic blend of their genius. Hidden Treasures Restaurant, 820 Moody Ln, Flagler Beach (under the bridge). Doors open at 6 p.m. and presenters begin at 6:30 p.m. Tickets are $12.50 advance, available at theinspiredmicus.com, or $15 at the door. The ticket includes one drink and entry into a drawing with a prize of $25 cash or a $50 gift certificate to The Hidden Treasures.
♦
Dec. 20
: A celebration of the life of the late artist Richard Schreiner, who died in 2012, and his wife Arlene, who died this year, is scheduled from 4 to 7 p.m. at Salvo Art Project, 802 E Moody Blvd, Bunnell, with paintings never-before seen, Schriner's sketchbooks, his dissertation and other artifacts, food, music and stories. All invited.
♦
Dec. 22
: Free Cup of Tea and Social Saturday: Stop by A Scent to Remember to enjoy a free cup of loose leaf tea by Flagler Tea Company, 11 a.m. to 5 p.m. A different tea is featured each week. If you want to try something different, you can ask for a cup to brew the tea of your liking. 208B. S. Central Ave., Flagler Beach. 386-631-3692, oils@ascenttoremember.net
For events beyond this date, see the fuller Coming Days here.
To • include your event in this section, please email the details, including date, time, a brief description of the event, contact information, and, if you wish, an image, please use this form.


Keep Up with Donald Trump's attacks on the press through the ACLU's running tab here.
Keep Up with mass shootings in a running database here.


Palm Coast Construction and Development Progress Reports
Here's a summary of the latest city developments as of Nov. 11, 2018, with a link to the full week in review here.
<![if !IE]><![endif]>


Road and Interstate Construction:


Cultural Coda
Ferdinand Ries: Quartet in D minor
Previous Codas: