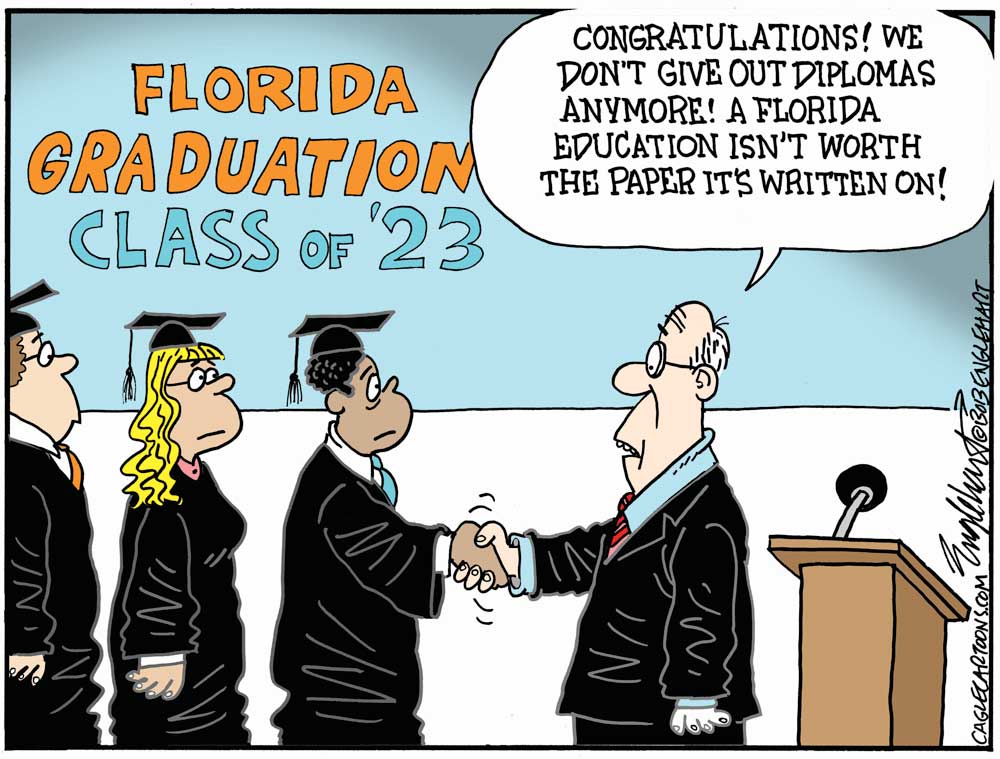 To include your event in the Briefing and Live Calendar, please fill out this form.
Weather: Patchy fog in the morning. Mostly sunny. Highs in the upper 80s. West winds 5 to 10 mph. Tuesday Night: Mostly clear. Lows in the mid 60s. Northwest winds 5 to 10 mph.
Today at the Editor's Glance: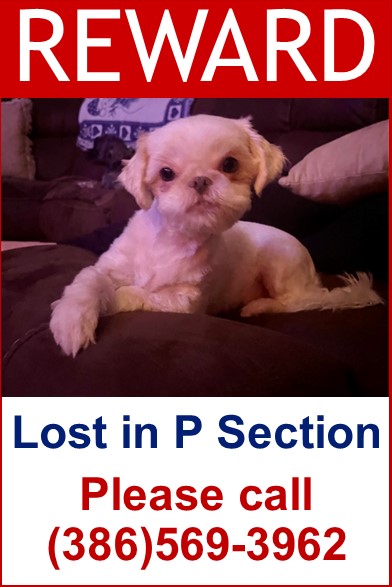 Flagler Beach Election: In-person voting begins at 7 a.m. and ends at 7 p.m. in the Flagler Beach municipal election for two commission seats. Voting is at Flagler Beach City Hall, 105 South 2nd Street. There was no early voting, but there was mail-in voting. As of Tuesday morning, 584 voters had cast ballots by mail, or 13 percent of eligible voters. Five candidates are vying for two seats: Rick Belhumeur,  Bob Cunningham, Doug Bruno O'Connor, Deborah Phillips, and Scott Spradley. The top two vote-getters will be seated Thursday. Results are expected shortly after 7 a.m.  The election is non-partisan. (See: "In Flagler Beach, 5 Commission Candidates Play Forum Softball Ahead of March 5 Election.")
The Flagler County School Board meets at 3 p.m. in workshop to go over the items on its upcoming school board meeting two weeks hence. The board meets in the training room on the third floor of the Government Services Building, 1769 East Moody Boulevard, Bunnell. Board meeting documents are available here.
A joint Flagler Palm Coast High and Matanzas High committee meets to discuss a book challenge, at 3 p.m., at Matanzas High School. A Flagler County group is seeking to ban Last Night at the Telegraph Club, the 2021 historical novel by Malinda Lo and a National Book Award winner. Book bans in Flagler have been the unoriginal work of a vigilante group called "moms for liberty," except when it comes to the liberty to read. See:




The Palm Coast City Council meets at 6 p.m. at City Hall. For agendas, minutes, and audio access to the meetings, go here. For meeting agendas, audio and video, go here.
Women's Self-Defense Class provided by the Flagler County Sheriff's Office, free, at Hidden Trails Community Center, 6108 Mahogany Blvd Bunnell, from 6 to 8 p.m. Contact Pamela Andrews to register, 386/295-0611. The class is open to all those ages 12 and up, but children 12 to 18 need parental consent.
The Bunnell Planning, Zoning and Appeals Board meets at 6 p.m. at the Government Services Building, 1769 East Moody Boulevard, Bunnell. The board consists of Carl Lilavois, Chair; Manuel Madaleno, Nealon Joseph, Gary Masten and Lyn Lafferty.
Notably: It is the 150th anniversary plus one of the great Piet Mondrian, who gave us this "New York City I" (1942):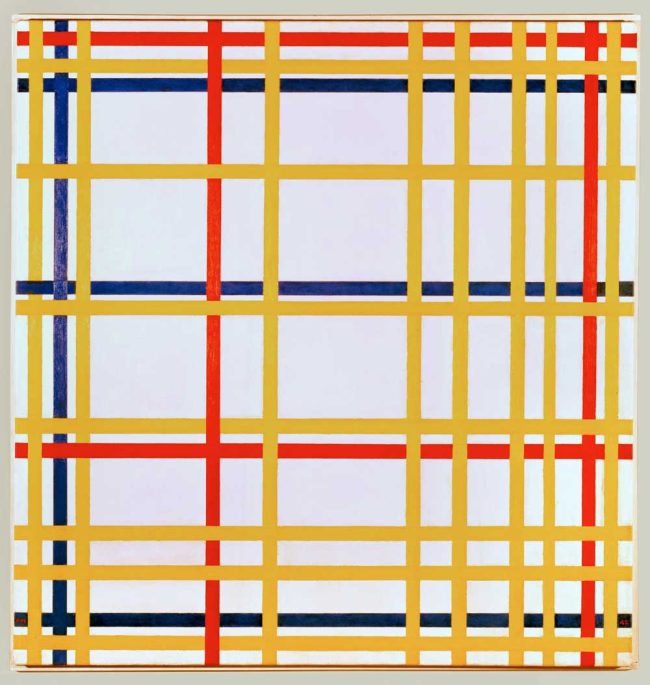 Which greatly inspired the wonderful Metropolitan Transit Authority's subway map of the 1970s by Massimo Vignelli: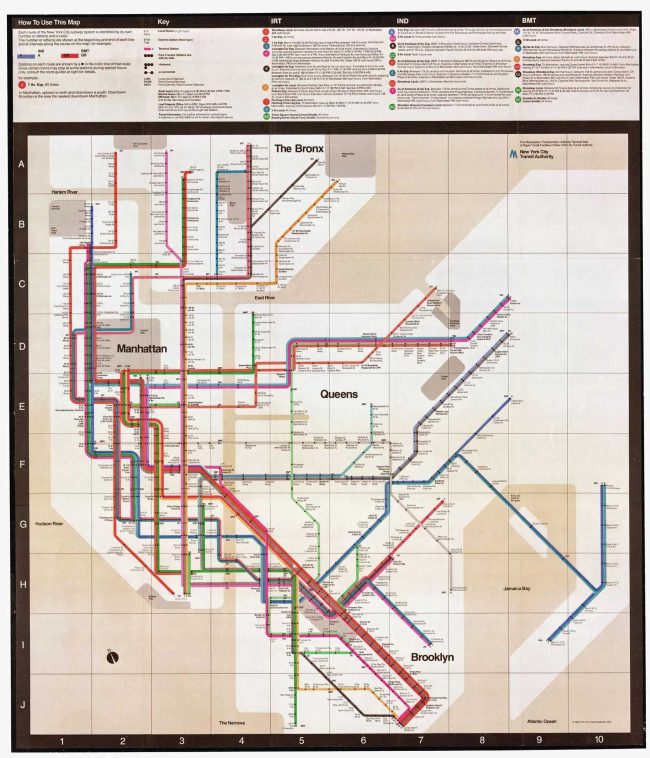 The Times wrote in 2012: "The map was, indeed, riddled with anomalies, but that was the point. Its designer, Massimo Vignelli, had sacrificed geographical accuracy for clarity by reinterpreting New York's tangled labyrinth of subway lines as a neat diagram. Each station was shown as a dot and linked to its neighbors by color-coded routes running at 45- or 90-degree angles. Mr. Vignelli had used his design skills to tidy up reality. Design buffs have always loved his map for its rigor and ingenuity. When the future graphic designer Michael Bierut made his first trip to New York in 1976, he took one home to Ohio as a souvenir. But many New Yorkers were outraged by what they saw as the misrepresentation of their city, while tourists struggled to relate Mr. Vignelli's design to what they found above ground. In 1979, the M.T.A. bowed to public pressure by replacing his diagrammatic map with a geographical one." Domage.
Now this:

The Live Calendar is a compendium of local and regional political, civic and cultural events. You can input your own calendar events directly onto the site as you wish them to appear (pending approval of course). To include your event in the Live Calendar, please fill out this form.
For the full calendar, go here.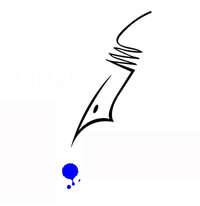 During the week before I flew down to El Salvador a Salvadoran woman who works for my husband and me in Los Angeles gave me repeated instructions about what we must and must not do. We must not go out at night. We must stay off the street whenever possible. We must never ride in buses or taxis, never leave the capital, never imagine that our passports would protect us. We must not even consider the hotel a safe place: people were killed in hotels. She spoke with considerable vehemence, because two of her brothers had been killed in Salvador in August of 1981, in their beds. The throats of both brothers had been slashed. Her father had been cut but stayed alive. Her mother had been beaten. Twelve of her other relatives, aunts and uncles and cousins, had been taken from their houses one night the same August, and their bodies had been found some time later, in a ditch. I assured her that we would remember, we would be careful, we would in fact be so careful that we would probably (trying for a light touch) spend all our time in church.
–From Joan Didion's Salvador (1982).