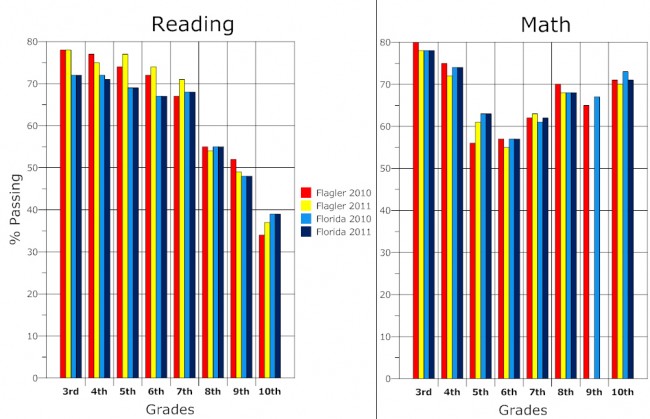 The Florida Department of Education released the largest batch of FCAT scores on Monday–the high-stakes Florida Comprehensive Assessment Test that determines the reputation and some of the bonuses school may earn, and that will next year begin to factor into teachers' merit raises.
Following on last month's release of 3rd grade reading and math scores, Monday's release was for reading, math and science for all remaining grades that are tested, up to grade 11.
Overall, the district showed gains in reading in early grades, mostly exceeding last year's results and the state's average. But reading scores in the upper grades remain somewhere between poor and atrocious, with less than half of 9th graders reading at grade level, and barely 37 percent of 10th graders doing so. High school students may not graduate without reading at grade level. The district's upper-level reading scores are below the state's.
In math, too, the district's overall average for 10th graders was a point below the state average, and below the state average for 4th, 5th and 6th graders, tying the state average for 3rd and 8th graders.
Science scores are now part of FCAT testing. Flagler students would have been better off had that not been the case. The test was administered to 5th, 8th and 11th graders. For all the technological advances in the district–advances the district touts at every opportunity–science scores came below state averages: just 49 percent of 5th graders are at grade level or better. Just 45 percent of 8th graders are. And 36 percent of 11th graders are.
Below is a chart linking to FCAT scores in reading and math by school, with comparative scores going back to 2006 for each school. Links to charter schools will be added soon.
FCAT Report Cards By School
FlaglerLive thanks Flagler County Schools' Jim Devine, without whose help these reports would not have been possible.