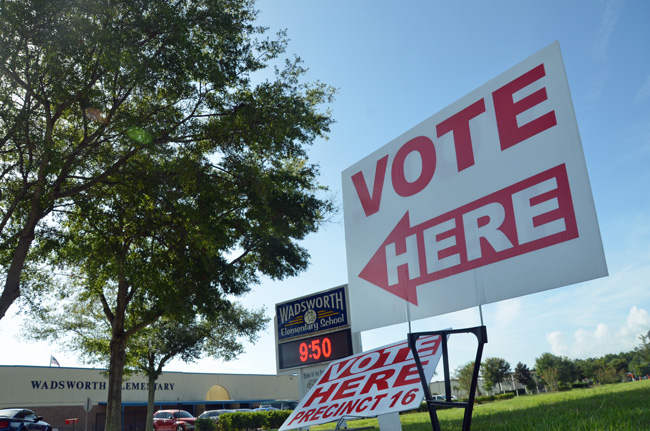 It's finally Election Day. Polls are open until 7 p.m. this evening. Results will begin to spill out between 7 and 8 p.m. Meanwhile, it's time to vote.
Here's where you can immediately find your precinct. Unlike the 13 days of early voting, when you could cast your ballot at any of three locations, you must go to your own precinct on Election Day. They're everywhere: voting will not take more than 20 minutes out of your day. That's less time than it takes to make one of your daily runs at Walmart or Target.
Nevertheless, since the United States is not among the 10 nations that enforce mandatory voting laws (in Australia, not voting costs you an $18 fine), it is still your right not to vote. And this summer's slate of candidates is not by most measures a salve to voter apathy.
It's a primary election. Democrats and Independents don't have as many races to vote on as Republicans: Democrats fielded no candidates in Flagler's two County Commission races, and Independents–or so-called "No Party Affiliation" registrants–don't get to vote in any contested, partisan primaries, Florida being a closed primary state.
That still leaves key races in which all registered voters, regardless of party affiliation, get to cast a ballot: the three races for Flagler County School Board, the two races for Palm Coast City Council, and the three races for circuit judge in the 7th Judicial Circuit, which includes Flagler.
Two of the three  school board races and two of the three judicial races will be decided today, with no run-offs in November, including the school board races between Andy Dance and Maria Barbosa, and Trevor Tucker and Michael McElroy. But in the school board race for District 2, incumbent John Fischer is facing three challengers. Unless one of these four garners more than 50 percent of the vote, the top two vote-getters will move on to a run-off in November.
That's also the case in the two races for city council, which have three and four candidates. In the county commission races, the winners will each face an independent in November, in which all voters get to cast a ballot.
You can see a sample ballot here. Make sure you look at your ballot as soon as you receive it and verify that it is the sort of ballot you should be voting on. There have been several documented cases of poll-worker errors where voters are given the wrong ballot (a Bunnell voter getting a Palm Coast ballot, a Palm Coast voter getting a county ballot). Supervisor of Elections Kimberle Weeks is not taking responsibility for the errors: she places the responsibility for accurate voting on voters.
If the voter fills out the wrong ballot and sends it through the machine, there's nothing the elections office can do to retrieve or correct the error. And the votes will be counted, or undercounted. If you get the wrong ballot, inform the poll worker immediately, and ask for a proper ballot, which must then be provided.
Here are a few key stories from the election season: