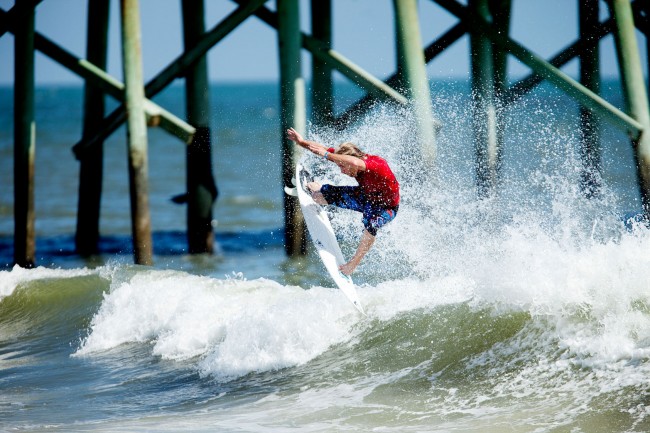 Tommy Tant was 24 years old, an all-or-nothing surfer of waves and lives, a native of the Barrier Island and an emissary of compassion. In 1998, he paid his parents a visit in their Flagler Beach Beach home. (His father, Tom, is the Flagler school district's finance director.) Tommy was sleeping in his bedroom, the same bedroom he slept in while growing up. He had an aortic aneurysm. He died: he might as well have been surfing one moment and gone under the next, though he hasn't.
To honor his memory, friends held a contest the following year in Flagler Beach. Zoee Forehand, owner of Flagler Beach's Z-Wave Surf Shop, took note and directed the contest for the next three years. What began as an intimate tribute to a young man who barely got to know the world has turned into an annual event that draws a world of surfers, visitors and national television attention to Flagler Beach for a weekend every fall, in his enduring name.
The Tommy Tant Memorial Surf Classic is back this weekend: three days this time—three days of opening and closing ceremonies, amateur and professional surfing competitions (Saturday and Sunday), a food festival, a concert, booths, auctions and art scattered over the weekend, and what amounts to free access to the Flagler Beach pier, courtesy of the event's organizers (who'll be paying the city for every individual who walks onto the pier).
(A full schedule of the three days is available here.)
Some 14 restaurants led by Blue at the Topaz and Flagler Fish Company will fill the city's Veterans Park from 5:30 to 7:30 p.m. that evening, giving visitors a tasting of the city's restaurants and entry to the concert featuring Braddigan for $15 ($10 for students) . All the event's profits, incidentally, are donated to scholarships and the Flagler Resource Center food pantry.
Professional surfer Bruce Irons ("some people call me BI"), the 2004 World Championship Tour's Rookie of the Year, was scheduled to compete in Saturday evening's Night Riders event—a first in the classic: six surfers will compete in night conditions, but with stadium lights flooding the pier, and a few other surprises thrown in. (The classic has been held in October in previous years, but was moved to November this year because of the nighttime event, which couldn't have been held in October because turtle nesting season was still in full swing. The floodlights on the pier would have disoriented the turtles.)
Whether Irons participates is uncertain: On Tuesday his brother, Andy, a three-time world surfing champion, died in Dallas. He was 32. A medical examiner there said there was no foul play or indications of trauma. Toxicology tests are being conducted. Authorities won't know the exact cause of death for weeks, the Dallas Morning News reported Thursday, "but his family said he was suffering from dengue fever, and police say an anti-anxiety drug and a bottle for the prescription drug Ambien were found in his hotel room." Irons was in Dallas on a lay-over while returning home to Kauai from Puerto Rico, where he'd pulled out of the 2010 Rip Curl Pro Search.
Meanwhile, the city of Palm Coast (along with Beach FM), which is making it a specialty to muscle in on Flagler Beach's special events, decided to hold its first "Seafood Festival" at Town Center—inland, away from any beach—over the same two days that the Tommy Tant Classic is being held, and with pretty much the same fare: music, seafood, art.
There's something to be said for multiplying festivals, even simultaneous ones that offer different experiences. Copying them outright—though no one will be surfing on the grass of Town Center—might defeat the purpose of enriching weekenders' schedules rather than competing for them.
"They have not contacted the city," Flagler Beach Acting Manager Caryn Miller said. "They don't call us to see if we have anything going on."
The Tommy Tant Classic organizers, including Tom Tant, appeared before the Flagler Beach City Commission on June 24 to schedule the event on Nov. 6-7, and to ask the city to give $500 in sponsorship. The city agreed to both items. Palm Coast announced its seafood festival nine weeks later, on Aug. 31; the letter inviting vendors to apply to be at the festival was mailed in mid-August.
It's expected to be cold and perhaps not too wavy this weekend in Flagler Beach. But as Jordan Kahn, the notable outdoors writer and surfer wrote in the News-Journal last year, "When the Tommy Tant Memorial Surf Classic comes to this beach town's boardwalk each year, things change. Last year, a red tide that hung on for weeks suddenly died off the night before the event. This year, overnight, the waves jumped from flat to waist high. And by morning, the boardwalk and beach transformed into a city of tents and sponsor booths like the madhouses that descend on big-money pro contests."