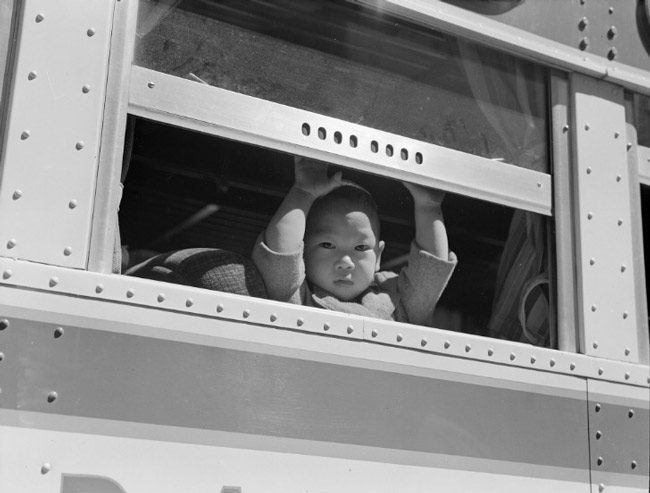 : Mostly sunny. Areas of fog in the morning. Highs in the mid 70s. Northeast winds 5 to 10 mph. Tonight: Partly cloudy. Lows in the upper 50s. Northeast winds 5 to 10 mph.Details here.
Drought Index is at 386.
Today's tides: at the beaches, at the Intracoastal Waterway.
Today's document from the National Archives.
The OED's Word of the Day: comédie humaine, n..
The Live Community Calendar
Today's jail bookings.
Today's Briefing: Quick Links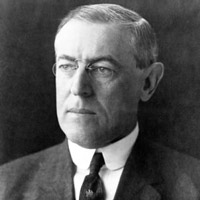 "And in other parts of Europe the poison spread—the poison of disorder, the poison of revolt, the poison of chaos. And do you honestly think, my fellow citizens, that none of that poison has got in the veins of this free people? Do you not know that the world is all now one single whispering gallery? Those antennae of the wireless telegraph are the symbols of our age. All the impulses of mankind are thrown out upon the air and reach to the ends of the earth; quietly upon steamships, silently under the cover of the Postal Service, with the tongue of the wireless and the tongue of the telegraph, all the suggestions of disorder are spread through the world. Money coming from nobody knows where is deposited by the millions in capitals like Stockholm, to be used for the propaganda of disorder and discontent and dissolution throughout the world, and men look you calmly in the face in America and say they are for that sort of revolution, when that sort of revolution means government by terror, government by force, not government by vote. It is the negation of everything that is American; but it is spreading, and so long as disorder continues, so long as the world is kept waiting for the answer to the question, What kind of peace are we going to have and what kind of guaranties are there to be behind that peace? that poison will steadily spread more and more rapidly, spread until it may be that even this beloved land of ours will be distracted and distorted by it."
–President Woodrow Wilson, from an address in Des Moines, Iowa, Sept. 6, 1919.

Note: all government meetings noticed below are free and open to the public unless otherwise indicated. Many can be heard or seen live through each agency's website.
The Sheriff's daily incident reports and jail bookings are posted here.

Take the Flagler County School Superintendent Survey: The school district is inviting residents, including students and faculty, to fill out this survey, letting school board members know what kind of superintendent you want to replace Jacob Oliva, who is leaving in June. This survey will be live until early March. It takes about 10 minutes. It's anonymous. Fill it out here.
Note: Schools are closed today in observance of Presidents' Day.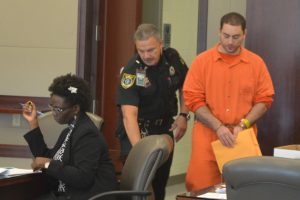 The trial of John Schenone is scheduled to begin with jury selection before Circuit Judge Dennis Craig, at 9 a.m. in Courtroom 401 at the Flagler County Courthouse. Schenone faces a child-rape charge. He was to be tried earlier this year but he asked for a new lawyer after accusing his court-appointed public defender of being "incompetent."
The Flagler County Commission holds a joint workshop with the Tourist Development Council to discuss the proposed addition of a 5th cent to the local sales surtax on hotel, motel and short-term rental accommodations. The bed tax funds tourism initiatives, and a portion is devoted to beach protection or restoration. In this case, the discussion is focusing on the proportion of the bed tax revenue to be devoted to beach restoration in the aftermath of Hurricane Matthew. 1 p.m. at the Emergency Operations Center in Bunnell, behind the Government Services Building.
The Flagler County Commission holds a regular business meeting at 5 p.m. in board chambers at the Government Services Building. It will mark the 2017 edition of Flagler Reads Together, the countywide initiative devoted to good books, this year focusing on the history of Flagler County by Jack Clegg, in commemoration of the county's centennial. The commission will also recognize the Flagler Auditorium's 25th anniversary and see a presentation from a Future Problem Solvers team on "Project Hope." The commission is expected to once again extend the state of emergency enacted with Hurricane Matthew, even though the event is nearing the half-year-old mark. And the commission will hold hearings on land-use issues in the Hunter's Ridge development, at the south end of the county. The full agenda is available here.
Mostly useless information: Seventy-five years ago Sunday, in 1942, marks one of the darkest moments in American history: President Roosevelt's Executive Order 9066 was enforced, starting the internment in concentration camps of 110,000 Japanese Americans living on the West Coast. Two-thirds of them were American citizens. "It was a long time ago in our beloved Seattle that my mother and father and Yoshi and I stood quietly in line to board the buses," Robert Hokosawa recollected in a column for the New York Times in 1982, when he was living in orlando and teaching journalism at the University of Central Florida. (He died in 2014). "Our white, numbered ID tags dangled from our coats. We carried a few belongings. There was little to say as our uncertain journey to internment began." Fred Korematsu was convicted for evading internment. He sued. The Supreme Court, in a 6-3 ruling that has never been overturned, upheld his conviction. The six judges in the majority had all been Roosevelt appointees. "The Feminine Mystique," Betty Friedan's book that powered the women's movement of that generation, is published on Feb. 19, 1963. "I don't think there's anything wrong in celebrating women's bodies, but if that's all you're interested in, you're missing an awful lot," she told David Sheff in a Playboy Interview in September 1992. "I definitely don;t think feminism needs to be equated with puritanism and the denial of sexuality. At the same time, I don;t approve of anything that reduces women to sex objects, and I really disapprove of anything that degrades women or depicts them as the object of violence. The fact is, there are things far worse than the centerfolds." Friedan died in 2006.

In Florida and in State Government:
Note: Some proceedings below can be followed live on the Florida Channel. Most legislative proceedings can be followed through the Senate or House websites.

U.S. Sen. Bill Nelson, D-Fla., will speak to students at Florida A&M University and talk with state House and Senate Democrats. (1 p.m., Florida A&M University, Frederick S. Humphries Science Research Center, 151 South Martin Luther King Blvd., Tallahassee. Also, 3:30 p.m., Senate Democratic caucus, 200 Senate Office Building, the Capitol. Also, 4 p.m., House Democratic caucus, Room 316, the Capitol.)
FPL solar: Florida Power & Light will hold an event in Manatee County to commission three recently completed solar power plants. Agriculture Commissioner Adam Putnam and FPL President and CEO Eric Silagy are expected to take part, and students will participate in a science competition co-sponsored by the Florida Solar Energy Center. (10 a.m., FPL Manatee Solar Energy Center, near FPL Manatee Power Plant, Parrish.)
–Compiled by the News Service of Florida and FlaglerLive

In Coming Days in Palm Coast, Flagler and the Occasional Beyond:
♦ Feb. 23: County Administrator Craig Coffey is the speaker at the Flagler Chamber's Common Ground Breakfast Series at the Hilton Garden Inn, in Palm Coast. Registration begins at 7:45 a.m., breakfast is at 8 a.m. $20 for members in advance. Email [email protected] or go here for more information. Details here and here.
♦ Feb. 27: Flagler County Stamp and Coin Club holds its monthly meeting at the VFW Post 8696 47 N. Old Kings Road. Doors open at 4:30 p.m., the meeting starts at 6. The 90 minutes before the meeting is for anyone wishing to buy, sell or trade stamps and coins. The club's meeting is from 6 to 7:30 p.m. There is a live auction of coins and stamps at the end of the meeting. The club is open for members and the general public who are interested in stamp and coin collecting and investing. Free stamp and coin evaluations at all our meetings. For more information visit the web site here.


♦ Feb. 28: Join the Flagler County Education Foundation's 14th annual Mardi Gras gala at Halifax Plantation, 3400 Clubhouse Drive, Ormond Beach, at 6 p.m. This is one of the foundation's annual fundraisers. Tickets are $100 per person. Click here to register or call today at 386/437.7526 for event details. Get a chance to talk to Joe Rizzo, the new executive director, and learn more about Flagler county schools.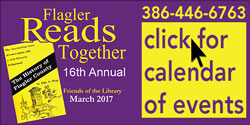 ♦ March 3: It's the kick-off of the annual Flagler Reads Together, the Friends of the Library's annual communal reading event that focuses on a single book and encourages everyone in the county to read it. This time it's as local as it gets: the book is the late Jack Clegg's "The History of Flagler County," in conjunction with Flagler County's centennial celebrations. The month-long Flagler Reads Together kicks off on March 3 at 2 p.m. at the Flagler County Public Library's main meeting room with a presentation by the Flagler County Historical Society's Sisco Deen. It's free.
♦ March 3: Fourth annual Flagler County Job Fair, from 11 a.m. to 3 p.m. at the Palm Coast Campus of Daytona State College, 3000 Palm Coast Pkwy SE, Building 3. There are more than 40 businesses registered, with more signing up daily, offering over 360 jobs. Last year over 400 job seekers attended the event, which was hosted by the Flagler County Department of Economic Opportunity, CareerSourceFV, Daytona State College and the Flagler County Chamber of Commerce. A full listing of companies is available at www.flaglercountyjobfair.com or by accessing the mobile app by searching the app store for Flagler Volusia Job Fair Plus.
♦ March 3: Flagler Beach's 10th Annual Pinewood Derby Race, as part of Flagler Beach's First Friday. Awards will be presented for the fastest and most creative designed cars in the adult and children's categories. Get your kit and then… Design it, build it, race it. Rules are here, and your registration form is here.
♦ March 4: 13th Annual Stamp and Coin Show and Chinese Auction, 10 a.m. to 3 p.m., Elk's Lodge #2709 53 N. Old Kings Road, Palm Coast. Flagler County Stamp and Coin Club, Inc. will hold its 13th Annual Stamp and Coin show This show is open to the general public and everyone interested in stamps and coins. There will be dealers to give free evaluations of your stamp collections and silver and gold coins. Come early and bring your friends. Door prizes every 30 minutes, beginning at 10:30 a.,m. and ending at 2:30 p.m. All proceeds from the Chinese Auction support the FCS&CC youth programs. Hugh variety of items to submit bids. The club is a 501(c)(3) non profit and is the only non profit stamp and coin club in Flagler County. Free parking and admission. Visit the web site for more information and contact.
♦ March 4: First of two kayaking trips organized by Flagler County's Centennial Committee, this one, the Haw Creek paddle, is scheduled for launch at 9 a.m. from Russell Landing County Park. Registrations are needed in advance and registrations for the trip close on February 20th. The registration is $15 and each person registering will get a competition style tee shirt commemorating the County's Centennial. When kayakers arrive at Bull Creek Park a special lunch will be offered for participants who opt for the $11 lunch. Registration for both trips, instructions and detailed directions can be found on the www.flaglercounty.org website or on facebook at www.facebook.com/FlaglerCountyCentennial. Interested kayakers can contact the committee at [email protected]. The second trip is planned for a 9 a.m. launch Saturday April 22 from Longs Landing City Park.
♦ March 7: Bunnell and Flagler Beach hold their municipal elections.
♦ March 10: Flagler Reads Together event (the Friends of the Library's annual communal reading event that focuses on a single book and encourages everyone in the county to read it: the late Jack Clegg's "The History of Flagler County," in conjunction with Flagler County's centennial celebrations). The March 10 event, at 2 p.m. in the Doug Cisney Room at the Flagler County Public Library on Palm Coast Parkway, is a presentation by Bob Stone addressing the Cattle industry in Florida. Folklorist and media producer Bob Stone's multi-media presentation explores and celebrates the history and culture of the nation's oldest cattle ranching state from the colonial period to the 21st century. You will see and hear all aspects of Florida cattle ranching traditions including material culture such as Cracker cow-whips and unique ranch gate designs, swamp cabbage and other foodways, cowboy church and Cracker cowboy funerals, Seminole ranching past and present, occupational skills such as roping and branding, our vibrant rodeo culture, side-splitting cowboy poetry, feisty cow-dogs, and much more.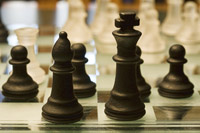 ♦ March 10-12: 2017 Florida State Scholastic Chess Championship, at the Wyndham Hotel on International Drive in Orlando. This is also the qualifier for the Denker, Barber and National Girls Tournament Champions. This year each of these 3 events are awarding a $5,000 scholarship good for any university or college in the Country to the top finisher in each event. The top finishers will also get qualifying spots in the World Youth Tournament. Online entry and more information are available at www.floridachess.org.
♦ March 22: The boy Scouts Council holds its Golden Eagle Dinner at 6 p.m. at Hammock Beach Resort, honoring Bob Cuff, now a Palm coast City council member.
♦ March 28: The Flagler Forum, the discussion group organized by Ed Fuller, hosts a panel discussion featuring Flagler County's local media, including Palm Coast Observer Editor Brian McMillan and FlaglerLive Editor Pierre Tristam, at the Hilton Garden Inn, Palm Coast, at 6:30 p.m.



Palm Coast Construction and Development Progress Reports
The following is an update of ongoing permitting, construction and development projects in Palm Coast, through Jan. 13 (the city administration's full week in review is here):
Click to access developments-feb-3-2017.pdf

Road and Interstate Construction:

Sheku Kanneh-Mason Performs Leonard Cohen's "Hallelujah," Arranged By Tom Hodge
[With thanks to Anita Moeder]
Previous Codas: