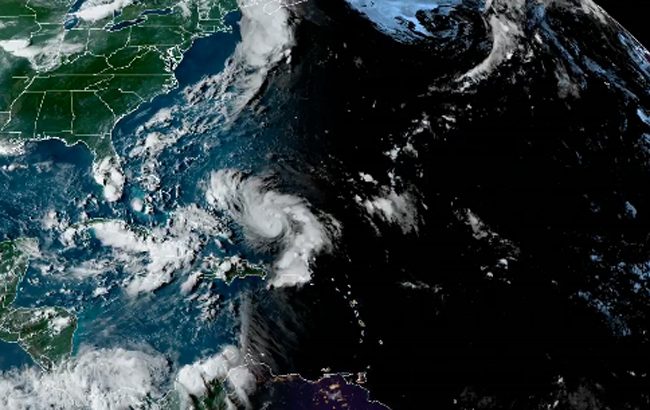 For the latest on Hurricane Dorian, go here. The following are previous days' stories and National Hurricane Center tracking and cone maps on Hurricane Dorian, maintained here as a one-stop record.
Dorian Moving Up Near Coast at a Crawl; Curfew in Effect in Parts of Flagler-Palm Coast
Tuesday, 8:08 p.m.–Hurricane Dorian picked up speed and began its approach to the Florida peninsula this evening, about halfway up the state, moving at 6 mph with Category 3 winds of 110 mph. The hurricane is still expected to remain offshore, barely out of hurricane-speed winds for the coastline.
Dorian's more significant outer rain bands were about to reach Flagler Beach and Palm Coast between 8 and 9 p.m.
Dorian will be moving very slowly, so it won't be parallel with the Flagler coast until midday or so Wednesday. But the storm's slowness and width, extending as far as 175 miles west, means its tropical storm force winds will linger hour after hour. The barrier island is at a small risk of hurricane force winds, but at a near-certain risk of tropical storm-force winds, which will be strongest on the island and up to around I-95.
For now however, reports from Ormond Beach and various parts of Flagler Beach indicate only some wind pick-up, in the 20 mph range, an elevated Intracoastal and waves reaching the rock revetments at the south end of town and the Department of Transportation's buried sea wall's dunes at the north end of town.
The storm was also creating eerie images, as with this one, taken by Flagler Beach Commissioner Eric Cooley outside his store this evening: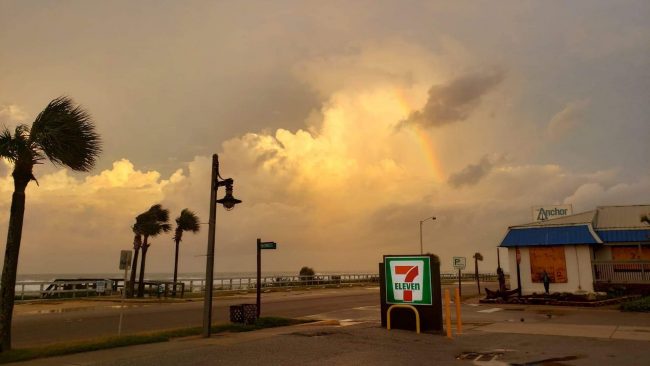 County and city officials in Palm Coast and Flagler Beach are in full emergency mode but don't expect much activity for the remaining evening and early morning hours–and in fact may not be back on the roads until the storm passes, either Wednesday night or early Thursday morning. County and city officials, including public works workers and first responders, will not be responding to any emergencies–whether downed trees, power lines or even grave illnesses–until wind speeds are below 45 mph.
Tuesday, 7:15 p.m.–Shortly after 7 p.m., Sheriff Rick Staly issued a caution: "The 7PM curfew is now in effect for Hurricane Evacuation Zones A, B, and F in Flagler County and remains in effect until County Emergency Management advises all is clear. This means that if you failed to follow the evacuation orders, you are now to stay indoors for the duration of the storm," he said in a video message.
"No one should be on the roads, whether that be in vehicles or walking around. The weather is picking up and it is in the best interest of everyone as well as our first responders that you stay indoors in a safe shelter. If you are moving around in an evacuation zone, expect to be stopped by a deputy sheriff or police officer." Those stopped are subject to arrest and detention at the county jail. Since first appearances before a judge have been cancelled on Wednesday, those arrested over the next 24 hours will not see a judge until Thursday.
The Flagler Beach bridge and the Hammock Dunes Bridge are not closed, however, and for now first responders will continue to assist those in need across the county. That ends when winds reach 45 mph.
The curfew is in effect until further notice in evacuation zones A (the entire barrier island from Flagler Beach to Marineland), B (including portions of Palm Coast's F and C sections), and F in western Flagler.
High winds haven't yet arrived, but if and when you see downed power lines report them here.
Here's the sheriff's full statement, delivered next to one of the sheriff's favorite self-initiated landmarks:
Tuesday, 5:40 p.m.–Hurricane Dorian is in motion again after being stationary for 18 hours than crawling at 1 to 2 mph since this morning. It is now moving northwest at 6 mph, with sustained winds at 110 mph, some 105 miles east of Vero Beach. Its tropical force winds are expected locally late tonight.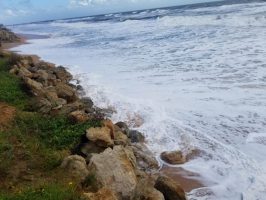 Dorian's path has edged back west to a degree, but not significantly so (in accord with the European forecasting model, which has tended to be more accurate than the American model. The European model still has Dorian hugging the shore a bit more intimately than does the projection of the National Hurricane Center). The National Weather Service in Jacksonville projects the storm to remain some 65 to 90 miles east of the Northeast Florida coast, down from the 75 to 100 miles projected this morning.
The storm itself has widened, with hurricane force winds extending 65 miles from the center and tropical storm force winds extending 175 miles. So regardless of the current track of the storm, Flagler County, and Flagler Beach and the barrier island in particular, have no room for error: should the storm move a few miles west, it could bring hurricane force winds to the island. What is also almost certain at this point is that both the barrier island and sections inland, including large swaths of Palm Coast, will see tropical storm force winds, causing both bridges to the barrier island to shut down. The bridges close when winds reach 45 mph.
First responders in the county, Palm Coast and Flagler Beach are preparing to weather out the storm in their respective locations, from where they will not respond to 911 calls as long as winds exceed 45 mph.
Flagler Beach officials are becoming concerned about already high water levels along the Intracoastal. Flagler Beach Commissioner Rick Belhumeur is reporting on partially flooded yards at the moment, coinciding with high tide, at the south end of Flagler Beach by the Intracoastal, though those yards don't normally flood. Oceanside, the surf has been striking the rock revetments put down by the state Transportation Department three years ago, after Hurricane Matthew. The National Hurricane Center is warning of a significant storm surge coupled with a high surf that could top 20 feet, or enough to again threaten State Road A1A in Flagler Beach.

Tuesday, 1:31 p.m.–After an 18-hour stall, Hurricane Dorian resumed its slow crawl, turning north along Florida's east coast, with an estimated arrival time parallel to the Flagler region sometime Wednesday, preceded by tropical storm force winds starting late Tuesday night.
The consensus of forecasters, projected by the National Hurricane Center at 11 a.m., remains that the storm will stay off shore, but that its width, its storm surge and its tropical storm force winds can still be very damaging to coastal communities and those immediately inland, and that the storm's unpredictability remains a wild and dangerous factor. A move of even a few miles could mean the difference between tropical and hurricane force winds for those coastal communities.
The sea's churn is already causing damage, auguring an unhappy prospect for Flagler County's just-rebuilt wall of dunes along 11 miles of coast: First Coast News is reporting that in St. Johns County, "The ocean broke through newly placed sand dunes in Summer Haven just weeks after St. Johns County completed the multi-million dollar project. Watch the video to the right.
The local consensus, discussed this morning in a conference of the county's and cities' executive team, is that Flagler Beach and the rest of the barrier island will bear the brunt of the damage from a storm surge and waves topping 20 feet. There is an anticipation of breaches in Flagler's dunes, but no one knows where. The county has positioned heavy equipment along the dunes to be ready to close breaches as soon as it is safe to do so.
Yet today, well past noon, surfers were still in the water near Flagler Beach, with a large crowd gathering to watch either the surfers or the waves, or both. A curfew goes in effect on the island, which is under evacuation orders. The request from emergency officials and law enforcement is that the evacuation should be completed by 3 p.m. It is termed a mandatory evacuation, but residents are not forced to leave. But they will be subject to arrest should they violate the curfew, which goes in effect at 7 this evening.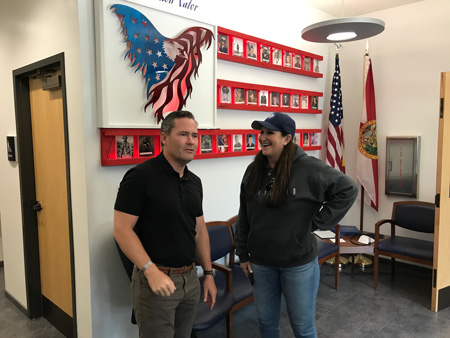 Flagler Beach City Manager Larry Newsom is considering staying on the island for the storm. "I might," he said this afternoon. "I have an option, which is the wastewater plant, but potentially I'll look at maybe staying at city hall, because city hall is a very firm building, but it's all up in the air." But he doesn't want people interpreting that as license to defy the evacuation: he's staying to be near his responsibilities, and because the government building is as sturdy as it is. "This is my fifth hurricane, so unfortunately I'm an expert. I'm an expert at also realizing you have good staff." At least two city commissioners are opting to leave. Two are certain to stay on the island.
"The thing about this storm is, it's been moving like a snail, I don't think between the cities and the county, we can't be more prepared. As a matter of fact we're overprepared," Newsom said. He was near the city's boardwalk at the time, watching its packed crowd watching the sea. The pier was closed today.
Palm Coast's emergency operation at Fire Station 25 on Belle Terre Parkway went on full alert today, with 56 people at work in there and ready for lock-down when the storm hits, City Manager Matt Morton said. "It's full scale, started at 7 this morning, customer service is on 24 hours," Morton said. The operation got a visit from U.S. Rep. Mike Waltz, who has been shuttling between counties in his district for the last few days.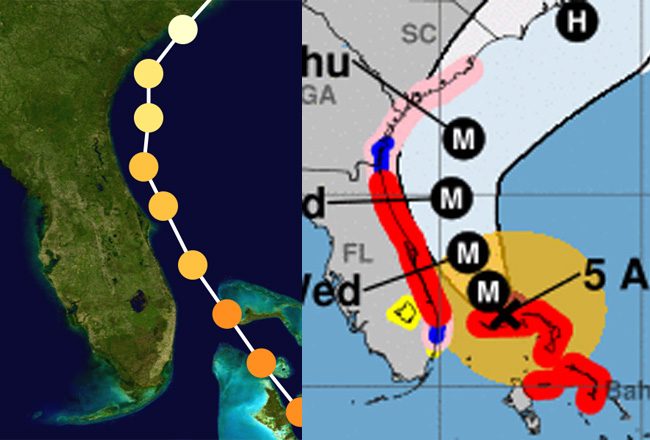 "He's here, he's on it, he wants to be here for the whole county," Morton said, while working behind the scenes to make sure the recovery goes well. It's the first time Flagler County's congressman has ever visited a local emergency operation during an emergency.
The local hospital is not closing.
"We are here we're open to serve the community with any of their health care needs," Wally deAquino, Chief Operating Officer at AdventHealth, said this morning on WNZF, with the emergency room remaining open. But outpatient services and physician services are closed. "If patients need to be admitted, obviously they will be, if not they'll be treated and sent back to be with their families."
Hurricane Dorian was moving at 2 miles per hour at midday, with winds of 110 mph, some 105 miles east of Ft. Pierce. It was heading north-northwest, with a turn north expected by Wednesday evening. Meanwhile, National Hurricane Center forecasters warn, Dorian will move "dangerously close to the Florida east coast late today through Wednesday evening." And it is growing in size: the latest data shows the storm's hurricane force winds extend outward up to 60 miles from the center and tropical-storm-force winds extend outward up to 175 miles, which means that all of Flagler's densest-populated areas, including much of Palm Coast, are vulnerable to a very high probability of tropical storm force winds and the power cuts that usually follow.
Earlier updates are below.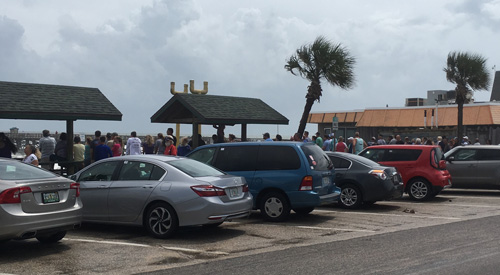 NWS Says 'Growing Confidence' Dorian Will Remain 75-100 Miles East, Further Out Than Matthew
Tuesday, 8:55 a.m.–The National Weather Service-Jacksonville's Pete Wolf's morning briefing Tuesday is strikingly optimistic: "Growing confidence in track of Major Hurricane Dorian well east (75-100 miles) east of the northeast FL coast," it states, repeating the word east like a wish. "Nearly all of our guidance shows such a track well to our east," with most substantial impacts "along the immediate coast and coastal waters, with lesser impacts inland."
Keep in mind: those impacts can be substantial.
That forecast projects a Hurricane Dorian path similar to that of Hurricane Matthew in October 2016, though Matthew came within 30 to 50 miles of the Flagler coast, damaging carving out dunes, demolishing State Road A1A in several stretches, flooding neighborhoods, and knocking power out for most county residents and the entirety of the barrier island.
Wolf's was a strikingly different forecast from 24 hours earlier, when the Jacksonville office of the weather service was warning that "Major Hurricane Dorian threatens coastal areas of northeast Florida Tuesday Wednesday." The analysis is not entirely consistent with the National Hurricane Center's 5 a.m. advisory: "On this track, the core of extremely dangerous Hurricane Dorian will continue to pound Grand Bahama Island today. The hurricane will then move dangerously close to the Florida east coast late today through Wednesday evening."
Dorian has remained all but stationary since that time: it hasn't moved in 18 hours. What has changed is its wind speed, now down to 120 mph from a peak of 185 (for a hurricane, remaining stationary is like a car idling for hours: the fuel tank drains, because the waters beneath the hurricane are cooling), an eye that has become less defined, its surroundings fragmented, while a developing "troth" along the east coast will carve out the storm's path for the next two days. Dorian is expected to maintain its current intensity as it begins moving north this morning as a Category 3 hurricane, just as Matthew was when it made its pass along the Florida coast three years ago. Like Dorian, Matthew had previously grown to a Cat 5.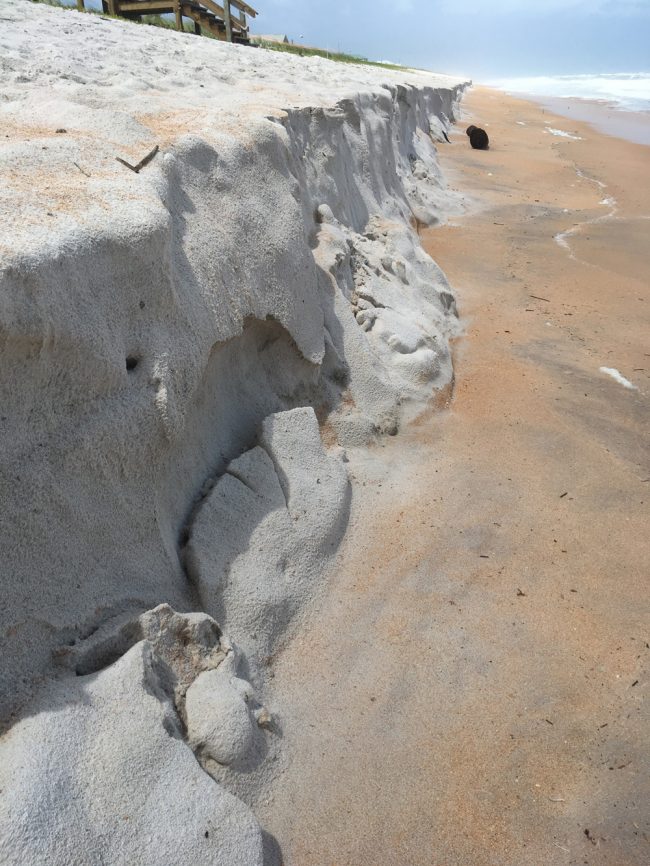 At its closest, Matthew's eye came within 30 miles of the Florida coast, clipping NASA's launch facility at Cape Canaveral, which juts into the ocean, " likely producing sustained category 2 winds at the extreme northeastern portion of the launch complex." It produced a storm surge of nearly 7 feet at San Fernandina Beach, not much lower in Flagler's northern portion, where dunes breached in three places, allowing ocean waters to flood vast zones and subdivisions in and around the Hammock.
Again, the National Hurricane Center warned: "Although the official forecast does not show Dorian making landfall along the Florida east coast, users are reminded not to forecast on the exact forecast track. A relatively small deviation to the left of this track could bring the core of the hurricane near or over the coastline." Hurricane-force winds extend outward up to 45 miles from the center, and tropical-storm-force winds extend outward up to 160 miles. So ever if the storm remains 100 miles offshore, tropical winds would sweep over Flagler's most densest-populated areas, including large swaths of Palm Coast and the entirety of the barrier island.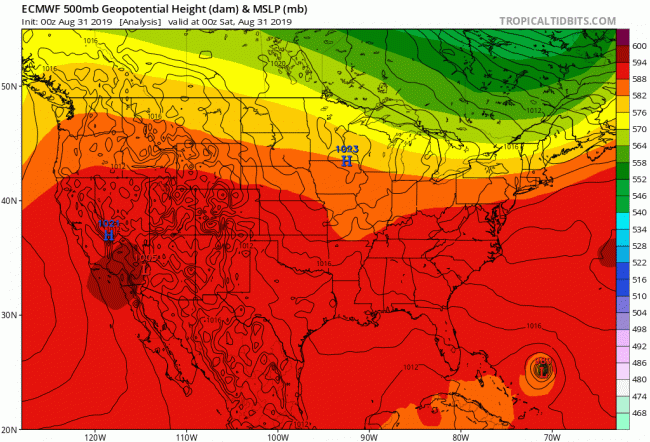 And Wolf himself was cautioning of still-severe impacts on the coast: "We're still looking at the biggest impact from Dorian to be storm surge along the coastline, with large battering waves," he wrote," area beaches should be avoided until after the storm has passed by. Best chance for gusts near hurricane force would be over area beaches and over coastal waters, with tropical storm force gusts possible over our eastern counties. Could see scattered power outages, especially near the coast."
The storm's strength, even at a distance of more than 250 miles, could be seen in the erosion already visible along the newly rebuilt dunes in north Flagler Beach. Waves have carved out a significant portion of that new sand, dumped there as a cover for the newly built seawall beneath. The coming storm surge will be testing that sea wall–and the sand will have to be replaced. But Flagler County is looking at similar possibilities for the 11 miles of dunes it rebuilt, at a cost of $20 million, in the last 12 months.
Flagler County Emergency Management Weather Specialist Bob Pickering's 5 a.m. briefing today is predicting that "Large 15-20 ft breakers will impact the beaches Tuesday and Wednesday causing significant beach erosion which is already occurring," with significant storm surge inundation of 4 to 7 feet likely along the Atlantic Coast and Intracoastal Waterway. Additional surge is likely along lakes and rivers connected to the St. Johns River including Haw Creek and Dead Lake.
The Tuesday morning forecast doesn't alter the fact that Flagler remains under a hurricane warning, and that the barrier island and portions of Palm Coast east of I-95, as well as portions of western Flagler County, remain under a mandatory evacuation order. Residents are required to comply with the order by 3 p.m. today. The first tropical storm force winds are expected in Flagler Tuesday night into Wednesday. Hurricane-force winds may yet skirt the Flagler coast.
Here's Pickering's 5 a.m. briefing:
Previous updates are below

Flagler Under Hurricane Warning as Dorian Expected Dangerously Close; Curfew Set for Barrier Island Tuesday at 7 PM
Monday, 7:26 p.m.–Hurricane Dorian's relative track and arrival time is becoming slightly more certain, but not more reassuring. The Category 4 storm was literally stalled about 105 miles east of West Palm Beach, its sustained winds at 145 mph, and was expected to begin its move north on Tuesday, dangerously close to the Florida Coast as it parallels it over the next two days.
It was expected to be as close to Flagler County's coast as was Hurricane Matthew, which demolished the county's dunes and almost wiped out the entirety of the county's power grid for several days. But the coast remains extremely vulnerable to so much as a wobble west by Dorian, which would then bring hurricane force winds onshore.
Flagler County is now all under a hurricane warning. The storm surge is a major concern for Flagler officials and residents of the barrier island, who are under a mandatory evacuation order. The evacuation must be over by 3 p.m. Tuesday. A curfew will be in effect on the barrier Island, from Flagler Beach to Marineland, including Beveraly Beach and the Hammock, starting at 7 p.m. Violators are subject to arrest.
But it did not appear as if Flagler Beach was responding much–at least not yet. Capt. Stephen Cox of the Flagler Beach Department was not seeing an exodus from the island this evening. "I think people are going to take it for what it's worth, I feel not everyone is going to evacuate. We can only can make people aware of the situation at hand," Cox said at 6 this evening. "The beach right now, there's cars parked all along the beach."
The beaches themselves were almost deserted this afternoon, but sightseers were thronging the boardwalk and other areas along the dunes, watching the churn of the storm echoing in the surf.
Sheriff Rick Staly had been to the barrier island earlier in the day, and seen an evacuation order not yet quite heeded. "I noticed that this afternoon when I was checking things," Staly said this evening, "traffic really picked up going east, people wanting to see the ocean," an ocean he described as "angry." Unlike on Sunday, few, if any, surfers were braving the churn of breakers. Staly said if people had to sight-see, this was the time, even though the preference was that the evacuation order be heeded.
"It's going to have to change by 7 p.m. tomorrow because they're not going to be allowed over," the sheriff said, with an anticipation of tropical storm force winds starting at 8 p.m.
There were roughly 150 calls for service for sheriff's deputies during today's day shift, Staly said, with an uptick in disturbance calls. "People are drinking and enclosed together, that could be a recipe for disaster," he said, "but overall I'd say it's going pretty well." There was just one arrest today, two Baker Acts, a couple of thefts, and one significant crash, involving an all-terrain vehicle in Bunnell, on Old Haw Creek Road. A woman had a broken nose and broken wrist and was transported to AdventHealth. A man was also injured but declined transport. Traffic on Flagler's roads was down.
This evening, Staly said, 60 deputies were on duty. He'd also visited the two shelters that have opened.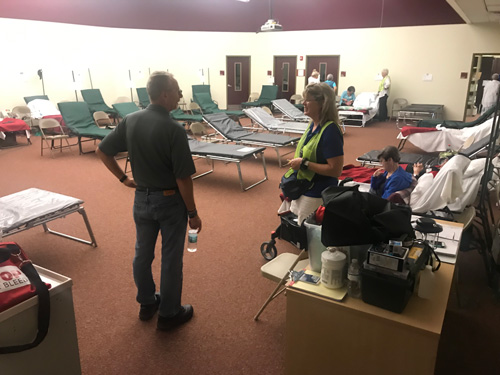 By this evening, there were 93 residents at the special needs shelter at Rymfire Elementary, according to the Health Department's Gretchen Smith (the shelter is run by the health department), along with 47 caregivers. School district Spokesman Jason Wheeler said there were 111 people at the general-population shelter at Bunnell Elementary, which also accepts pets. The two shlters opened earlier today.
Once the emergency begins, the barrier island will not be without its first responders: a large contingent will be at the Flagler Beach Fire Department station.
The department is fully staffed, with a total of 16 firefighter paramedics at the station. "We have to make ourselves readily available for when the winds subside and we're able to respond," Cox said. "We're planning for an increased call load due to this event. We want to make sure that we can give the quickest response to the citizens as well as ensure we have enough staffing to handle the call load. We've learned from past events like Matthew and Irma what they can bring, from wind to surge. We're prepared on both ends with that."
That includes preparation for water rescues, which became necessary–and often carried out by civilians at the south end of town–during Irma.
"We're fully prepared with marine capabilities, we've brought in enough assets to cover the north end of town, the south end of town and the west side," Cox said. The rescue, or ambulance, will remain at the Flagler Beach station, with a crew of three Flagler County Fire Rescue personnel among that total of 16 paramedics.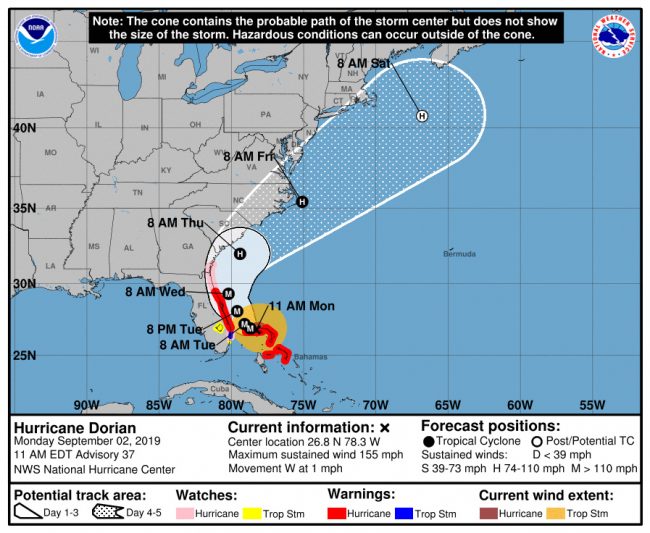 There was not a hint of anxiety in Cox's voice: he was approaching the coming emergency as he would any other on his watch, the prospect of staying on the island not fazing him at all (his wife, like many firefighters' families, will be much further west, out of harm's way).
In Palm Coast, City Manager Matt Morton said city staff and crews were "definitely ramped up" with the "awareness and the impending nature that it's coming," with images from Bahamas a stark wake up call that "the storm can do anything it wants to do."
The County's Emergency Operations Center will be at Level 1, meaning it'll be fully staffed, Tuesday morning, just as the city's own emergency operations center at Fire Station 25 on Belle Terre Parkway will be similarly operational, with a customer service staff of six to eight working in 12-hour shifts, 24 hours a day for the duration of the emergency. All city staffers are on duty from line workers to mid-level and top directors, with some 60 of them at Station 25, including Morton, Mayor Milissa Holland and Fire Chief Jerry Forte, the city's incident commander for the emergency.
The city plans on pulling its employees and assets off the streets sometime late Tuesday. One of the many changes it implemented as a result of hurricanes Matthew and Irma was the installation of wind sensors around the city. When the five sensors show a consensus of around 45 mph winds, the assets will be pulled, and no employees or first responders will venture out until the emergency is over.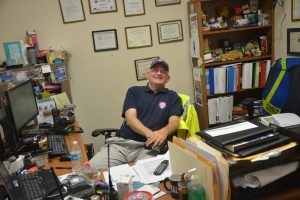 "Even if The Palm Coast operation has its own food-preparation unit, with Virginia Smith, usually the city clerk, in charge, an example of the way reassignments are made during such emergencies. "People have to be healthy, they've got to be fed, they've got to be rested" and prepared to go back out when the storm clears, Morton said, "so it's really a crucial function."
Meanwhile, the city handed out no less than 75,000 sandbags to residents, including a few thousands to Flagler Beach and some to the county. That was also a lesson learned from Matthew and Irma–to have a large stash of those bags on hand. "It paid off," Morton said.
"We're all kind of holding our breath until morning," Morton said, referring to the morning forecast, as Dorian, fickle as it has insisted on being for a week, could still have surprises in store.
"The exact track remains uncertain, and small changes in the forecast track could have large influences on the threat of damaging winds and life-threatening storm surge," the National Weather Service in Jacksonville said. "Regardless, as the storm slowly draws closer, the risk has increased with the latest forecast. Should Dorian approach even closer, it would produce more serious impacts to coastal areas."
Here's Flagler Emergency Management Weather Specialist Bob Pickering's 5 p.m. Dorian update:

Flagler County Emergency Management Chief Jonathan Lord, Sheriff Rick Staly, Superintendent Jim Tager and others held an 11 a.m. news conference at EOC today. Here's the full audio.

Hurricane Dorian Inches West; 67 National Guardsmen Activated in Flagler; Mandatory Evacuations East of I-95
Monday, 2:04 p.m.–With Hurricane Dorian slowly approaching, Flagler County Emergency Management declared a mandatory evacuation for residents and visitors starting at noon today for the entire barrier island, including Flagler Beach and the Hammock, portions of Palm Coast east of I-95, including areas of the C ad F Sections, and portions of west Flagler, with evacuations required to be completed by 3 p.m. Wednesday. Once completed, a curfew will be in effect on the barrier island starting at 7 p.m. Tuesday, with violators subject to arrest and detention at the Flagler County jail.
See a map of evacuation zones here.
All residents in all mobile or manufactured homes across Flagler are required to evacuate as well, whether they are in the evacuation zones or not.
"With Dorian, this is a monster that nightmares are made of," Flagler Beach Police Chief Matt Doughney said. "Please heed the warnings the warnings if you life in Flagler Beach and evacuate." He said that waves on top of the storm surge could reach 20 feet.
Late this morning 67 members of the Army and Air National Guard arrived in Flagler and were activated for duty in the county, based out of the Flagler County Airport.
Florida Power and Light was staging equipment, including communications gear, replacement light poles, transformers and a command center at both the county airport and its relatively new, Category-5 resistant facility near AdventHospital, in contrast with its near absence during Hurricane Irma. Numerous FPL personnel, including security contracted with G4S Security, were at the airport today, suggesting that the company will not repeat its abandonment of Flagler as it did two years ago following Irma. That means power restoration could be swifter in case of widespread power outages.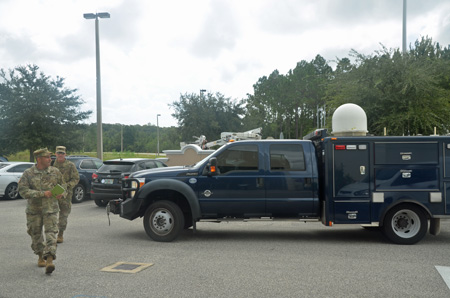 County Airport Director Roy Sieger said today a lot of contracted equipment has gone through the airport on down south, but more was likely to arrive here. Emergency Management Chief Jonathan Lord said FPL should have many assets in place to address outages.
Hurricane Dorian's latest track continues to mystify forecasters to a degree, but for now they see the storm almost hugging the Florida coastline as it moves north, which bodes ill for coastal communities, including fragile and flood-prone Flagler Beach and the Hammock, along with Beverly beach's mobile home communities, which have been battered by Irma and Matthew. There also remains enough uncertainty in the storm's track that even minor moves east or west can have huge consequences–catastrophic if it inches west, fortunate if it moves east. The storm is expected to make a definite move west as it churns up the coast, but when it does so remains an unknown, critically so as far as Flagler is concerned.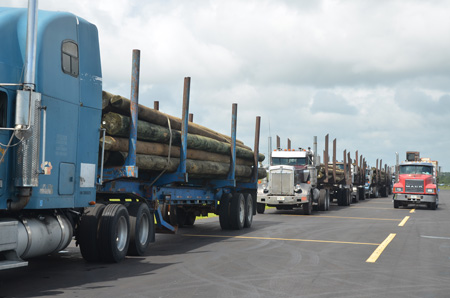 Hurricane Dorian at midday today was still moving west at 1 mph, as it has since before dawn, some 250 miles southwest of Flagler, with winds of 150 mph, making it a Category 4 hurricane (it would be Category 5 at winds of 157 mph). Lord said the storm's winds can already be felt in the county, but Flagler now has a 40 percent likelihood of experiencing hurricane force winds, and an 80 to 90 percent likelihood of experiencing tropical storm force winds.
Rainfall is expected to range between 6 to 10 inches along the coast, 4 to 6 inches inland. Significant Storm Surge of 4 to 7 feet is likely but this can change, for better or worse, if the storm changes course.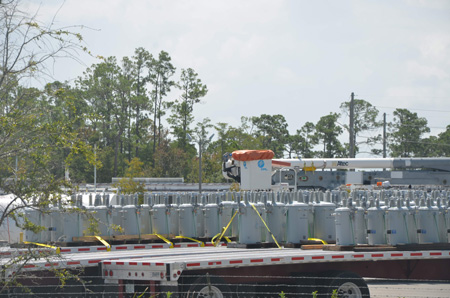 Bunnell Elementary at 305 N. Palmetto, is now open as a shelter for the general population and pets. Rymfire Elementary at 1425 Rymfire Drive, is open for those with special medical needs who live in zones A, B, F, flood prone areas, and mobile homes, or require electricity for medical needs regardless of zone.
"We've had a lot of questions about why we hadn't ordered evacuations at the same time as some of our neighboring counties to the north and to the south," Lord said, "and the main reason for that is, St. Johns County and Duvall as well as Volusia County and Brevard to the south have a significantly higher population than us, and need additional evacuation time that we don't need here in Flagler County. What we do here, we do phased evacuations and focus on the most vulnerable populations first, such as those with special medical needs that go to our special needs shelter, as well as nursing homes, assisted living facilities and group homes."
---
"Heed these warnings, evacuate. All your properties, those kind of things can be replaced. Your life cannot."
---
Sheriff Rick Staly addressed matters related to the curfew in evacuation zones. "I want to make it very clear to any criminal element that thinks they can prey [on] our community during this emergency," he said. "You will ride out this storm at the county jail. Law enforcement is united, the curfew gives us some additional powers and authority to determine why you're out moving about in these evacuated areas, and you're very likely to end up in jail. Flagler Beach Police Department, Bunnell Department, Florida Highway Patrol are here with me, so take this warming. Now is not the time to try to prey on this community."
Some 180 deputy sheriffs will be on duty in alternating shifts starting tonight, in what's called Alpha Bravo squads, "which basically means all hands on deck will be in full force starting at 6 p.m. tonight," Staly said. "So don't test our will on this." But Staly was equally complimentary of the community heeding the warnings to be prepared, to stay off the roads, and to act responsibly. He said in a brief interview that car crashes are down, signaling the decrease in driving activity, and policing incidents have been limited.
Nevertheless, it is not illegal for people to decide to stay in their homes rather than evacuate, as long as they don't violate the curfew and don't expect service if they call 911 during the emergency. "You can;t drive around, you can't walk around," Staly said. "Keep in mind that most fatalities and serious injuries occur after the storm, it's not during the storm, it's because people get out, walk around, there's live wires, power lines that have fallen down or tree branches, trees that have been uprooted and maybe haven;t fallen yet, then fall. That's why we don't want you out walking around and driving around."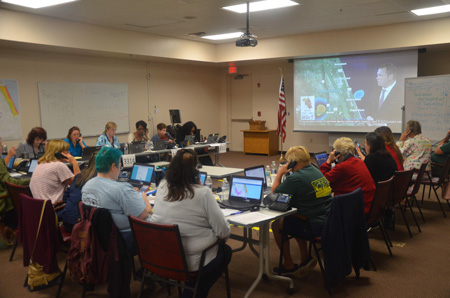 Both the county's bridges will close once wind speeds reach 45mph. "If you haven't left the barrier island at that point, you're stuck. And if you get in trouble at that point and you call 911, at some point we have to return first responders to their safe zone, and we will come and try to assist you after the storm," Staly said. "So don't put yourself int hat position. Heed these warnings, evacuate. All your properties, those kind of things can be replaced. Your life cannot."
If you go to a the pet-friendly shelter at Bunnell Elementary, you can take up to four pets, if those are cats, dogs, birds, rabbits, rodents and turtles. You may not bring snakes, reptiles or farm animals or livestock. Animals should be crated. You may not drop off animals there and yourself go elsewhere.
You are required to have identification to register at any of the shelters. Registered sexual offenders are not allowed at the shelters. They may report to the county jail off Justice Lane, where they will not be incarcerated, of course, Staly said, but allowed to stay in a protected area, from where they may leave at any time. The same accommodations were offered during Hurricane Irma. Only one offender reported to the jail shelter.
Flagler County schools are closed through Thursday. A district official said that does not mean the Thanksgiving week off will be affected–at least not so far–since hurricane days were built into the schedule already.
Lord said the county's government staffers and sheriff's units have a week's worth of fuel in their topped off reserve tankers.
Major Derek Barrs of the Florida Highway Patrol said evacuations have not caused a run on Florida's roads. If anything, there has been normal traffic on Sunday, and less traffic than usual today. Evacuees are going north at this point. It's not clear to what extent some are going west.
"Now it's crunch time," Staly said. "It's coming. Question is how bad are we going to take it."
Watch a briefing by Staly, Doughney and Barrs released at 2 this afternoon:

Hurricane Watch Issued for Flagler, Mandatory Evacuation for Barrier Island and Parts of Palm Coast Today
Monday, 10:31 a.m.–All of Flagler County is now under a hurricane watch and storm surge watch as Hurricane Dorian began its turn north. A tropical storm watch is in effect for areas inland of the hurricane watch. Evacuation orders go in effect at 8 a.m. today for the barrier island, parts of Palm Coast's C and F sections, and large swaths of western Flagler.
Late Sunday night Flagler Emergency Management Director Jonathan Lord signed an order requiring all nursing homes and assisted living facilities east of I-95 to evacuate. See the order here.
Flagler County schools announced they will be closed through Thursday. And attention shoppers: Walmart will close at 5 p.m. today, Monday.
Hurricane Dorian has slowed again almost to a stop, the brunt of its impacts in Flagler now expected after midnight Wednesday. Its latest tracks, as of 5 and 8 a.m. Monday, also show it again edging back west as it moves north, but not before coming very close to landfall around Cape Canaveral. The size, or impact width, of the storm has also grown. That "expected expanding storm size could bring tropical storm or hurricane force winds or wind gusts to the coastline," the National Weather Service in Jacksonville warns. Those winds are expected in Flagler late Tuesday night, early Wednesday morning.
Evacuation zones are identified by letters of the alphabet. They do not correspond with Palm Coast's section neighborhoods.
As county emergency officials delineate them, Evacuation Zone A includes everything east of the Intracoastal including Marineland, Hammock, Flagler Beach along State Road A1A. Evacuation Zone B includes the neighborhoods off of Colbert Lane, all of the C section and the F section east of Florida Park Drive and the F section east of Palm Harbor Parkway. This zone also includes the area east of Old Kings Road, south of State Road 100 including Bulow, Plantation Oaks, and their adjacent neighborhoods. Also included is western Flagler Beach and residences off John Anderson Highway. Evacuation Zone F is in western Flagler County and includes areas near Dead Lake – St. Johns Park and the Haw Creek basin – as the St. Johns River, which feeds Dead Lake is tidal. (See a full evacuation map here.)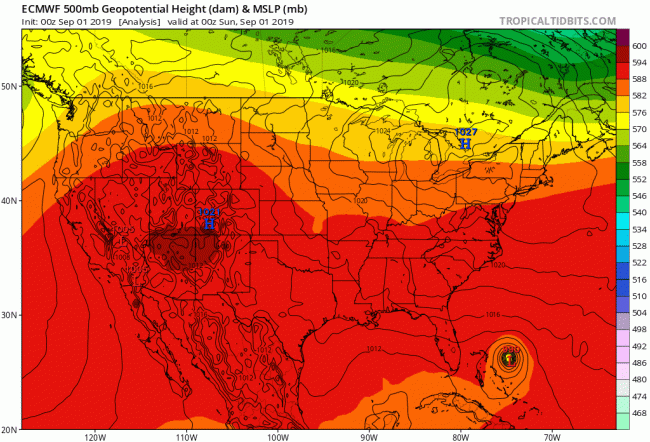 "Given the current track and intensity of Hurricane Dorian, we will begin to provide sheltering options, starting with our Special Medical Needs Shelter on Monday morning," Lord said in a release issued late Sunday. "The shelter at Rymfire Elementary is not a general population shelter; it is specifically for those whose special medical needs require daily assistance and prevent or hinder their ability to care for themselves. Additional sheltering options will be provided soon."
The shelter is in the Rymfire Elementary gym. Rymfire opens today at 8 a.m. The school is at 1425 Rymfire Dr, Palm Coast, next to Ralh Carter Park. The shelter is, of course, free. But accommodations, which include air conditioning, free food and a cot, are very spartan. No drinking, no smoking, no pot, no pets allowed, no playing music or other audio and video devices without earphones.
If you have special medical needs (requiring daily assistance, or that prevent or hinder your ability to care for yourself) and you live in evacuation zones: A, B, F, flood-prone areas, or mobile homes, or if you live anywhere in the county but don;t want toi run the risk of losing electricity because of your medical needs, then you are encouraged to seek shelter at the Special Medical Needs Shelter on Monday.
you have not registered ahead of time, or need assistance with transportation to get there," urged Lord, "we want you to know that you can utilize the Special Medical Needs Shelter. The shelter is ready to keep all of our most vulnerable residents safe." A family member or caregiver is strongly encouraged to stay at the shelter with the Special Medical Needs individual. If you need to arrange transportation to the shelter please contact the Flagler County Call Center at 386-586-5111.
Dorian overnight slowed so much that early Monday morning it was moving at 1 mph, less than walking pace, about 120 miles east of West Palm Beach as it continued to devastate Grand Bahama Island. But it had lost some force, going from 185mph at its peak Sunday to 165mph: the slower a hurricane goes, the more the waters beneath cool, reducing fuel for the storm. National Hurricane Center analysts expect Dorian to weaken further over the next few days, but it would remain a major, Category 3 hurricane as it parallels the Flagler coast, with winds of between 115 and 125 mph.
A high surf advisory along coast is in effect, with 7 to 10-foot waves today. That may be good news for surfers. It's a warning to swimmers and people inexperienced with ocean currents. In Flagler Beach, officials are urging people with little experience not to venture into the waters.
But there is "increasing confidence in a forecast track for Dorian northward 50-75 miles east" of the coast, Jacksonville's weather analysts say. "Although offshore, Dorian would still yield a threat of very strong winds and some storm surge along coastline." And as has been the case with Dorian since it formed as a tropical storm a week ago, its path remains uncertain, with most of Flagler still very much in that cone of uncertainty. The cone means that the storm could still strike anywhere within it. You can see the difference in forecasting, for example, between the European model (ECMWF) and the Global Forecast System (GFS) model. GSF actually has Dorian hugging the Florida shore more closely than ECMWF. But the European model has been consistently ore accurate over the years, and with Dorian in particular.
For now, the storm has crawled nearly to a stop because steering current to the north that had pushed it forward have collapsed, the National Hurricane Center states. The storm is expected to accelerate northwest in a day or a day and a half. "Although the official forecast does not show Dorian making landfall along the Florida east coast, it is still possible for the hurricane to deviate from this forecast, and move very near or over the coast," NHC says. "Users are reminded not to focus on the exact forecast track."
Mandatory evacuation orders are in effect for parts of Volusia, Duval, Indian River and Nassau. Voluntary evacuation orders are in effect for Nassau, Osceola, Glades, Hendry, Okeechobee and Highlands. Some 38 general population shelters have opened so far across Florida, along with 11 special needs shelters.
Here's the 5 a.m. briefing for our region from the National Weather Center in Jacksonville:
Click to access nws-jax-briefing-10.pdf

Mandatory Evacuation for Flagler Nursing Homes Begins Monday, Barrier Island, Woodlands 'Probably' Tuesday
County emergency officials held a 10:30 a.m. news conference Sunday at the Emergency Operations Center in Bunnell. You can listen again from WNZF's recording to the right.
Sunday, 8:38 p.m.–After slouching west again slightly in overnight projections, like a correction for too much optimism, Hurricane Dorian's projected path this evening has remained almost unchanged from what it has been since dawn, with the storm's hurricane winds just offshore from the Florida coast. But its tropical storm force winds are expected to wallop much of Flagler County all the same.
The storm this afternoon recorded sustained wind speeds of 185 mph, making it one of the most powerful Atlantic hurricanes on record. At 5 p.m., its sustained winds were around 180 mph, a Category 5 hurricane, but had gone back up to 185 by 8 p.m., when the storm was crawling west at 5 mph and obliterating Great Abaco and Grand Bahamas Islands. It was 155 miles east of West Palm Beach, 305 miles southeast of Flagler.
A Storm Surge Watch is in effect for the Volusia-Brevard County Line up to the Flagler-Volusia County Line. The watch is almost certain to be extended to Flagler Monday.
Tropical storm force winds in Flagler bring memories of Hurricans Matthew and Irma, neither of which impacted Flagler as hurricanes, both of which obliterated almost 100 percent of the county's electrical power. Full power was not restored after Irma for almost two weeks. A Hurricane Warning is in effect for Jupiter Inlet to the Volusia-Brevard County Line, and a hurricane watch is in effect from the Volusia/Brevard County Line to the Flagler/Volusia County Line. A Storm Surge Warning means there is a danger of life-threatening
flooding from rising water moving inland from the coastline, as was the case with both Hurricane Matthew and Irma. Mathew flooded the barrier island from the ocean. Irma did from the Intracoastal.
Flagler County Emergency Management's Bob Pickering, the weather specialist, warned in his evening update of dangerous rip currents and beach erosion as "very likely," driven by Large 15-25 foot breakers Tuesday and Wednesday. Some low-lying flooding near times of high tide in the Intracoastal (which brings back lousy memories for Flagler Beach residents along the Intracoastal during Irma), all of it possible well ahead of the storm. For Flagler, The risk of hurricane conditions has increased slightly, Pickering reports, compared to this morning: Hurricane wind risk is 25 percent inland, 33 percent at the beaches. Rain amounts are in the 4 to 6 inches range. (See Pickering's full briefing below.)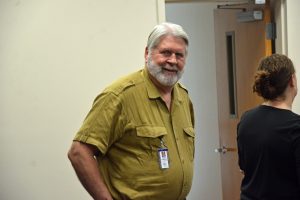 With that in mind, county emergency officials, in consultation with the county's executive team of city, county, law enforcement and health department leaders, will move ahead with a mandatory evacuation order for licensed nursing homes and assisted living facilities east of I-95 and on the west side of the county starting Monday morning, including in Palm Coast's low-lying, flood-prone Woodlands. The special needs shelter for anyone with medical conditions will open at Rymfire Elementary at 8 a.m. Monday.
The largest nursing home east of I-95 is Grand Oaks, between the two directions of Palm Coast Parkway. But the order also affects residential nursing homes with patients who have special needs. All licensed nursing homes are required by law to have an evacuation plan approved by the county's emergency management director–Jonathan Lord–a development that was underscored by the deaths of 12 patients neglected during Irma at The Rehabilitation Center at Hollywood Hills, some 20 miles north of Miami.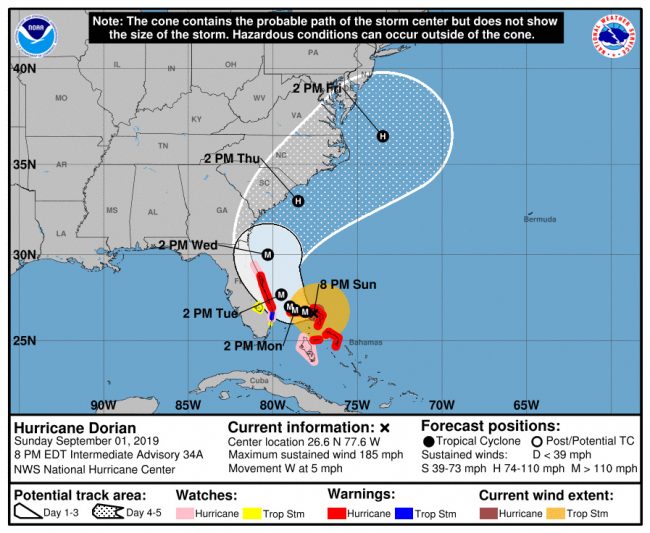 "We'd rather them be able to move with the roads unimpeded," County Administrator Jerry Cameron said of the Monday order, which goes in effect at 8 a.m. The county attorney, Al Hadeed, was drafting the order this evening. It had not yet gotten Lord's signature.
Cameron said that based on current trends and projections, it was likely that Evacuation Zones A, B, F and a part of C (that is, the Woodlands) would face a general evacuation order on Tuesday. "We'll probably be doing general evacuation zones Tuesday," Cameron confirmed. See a full map of evacuation zones here.
Lord said the general evacuation order for those zones will depend on the speed of the storm. The order would be delayed "if it slows down more," Lord said. But evacuations are more a matter of storm speed, not direction. "Undoubtedly," Lord said, evacuations will be ordered at some point for the barrier island, areas close to the intracoastal on its west side, possibly the Woodlands and the west side of the county.
That would be decided at the executive team's meetings either at noon or in mid-afternoon on Monday, when officials hope Dorian's current near-stall over the Bahamas will yield to more clarity about its path, and that much-anticipated turn north.
Where and when Dorian decides to turn north will be crucial in the extent of Flagler's evacuations and further hurricane-preparation plans.
"The storm has slowed down again so you don't want to overreact too soon," Sheriff Rick Staly said. The sheriff is set to put both Bravo and Alpha shifts on duty in a full emergency. That means 180 deputies will split day and night shifts, with all vacations and leaves cancelled. "It'll be a significantly higher number on duty at a time," Staly said.
---
Sheriff Staly's Evening Update

Combined with Flagler Beach's and Bunnell's police forces, the law enforcement presence on Flagler streets would be quite visible in the next few days, should the emergency require it.
One of the duties they may have to enforce is a curfew. Staly was asked if he expected that to be the case. "I do," he said this evening. "It'll depend on when the county does their recommendation for evacuations." If the county were to order an evacuation of the Barrier Islands and other areas, then residents would be given time to evacuate, then a curfew would be put in place in those areas, with anyone violating it facing arrest. The sheriff warns that arrests in those circumstances could mean waiting quite a while in jail for a first appearance in court, since the court system will be shut down. Since the county is in a state of emergency, first appearance doesn't have to comply with a 24-hour clock.
Also poised to help Flagler's law enforcement agencies and county emergency officials are National Guard members who will be stationed in Flagler, at the newly built but not quite finished armory on the grounds of the county airport. Lord said there are "multiple units or squads en route to be at our disposal."
The National Guard would be used on specific missions, Staly said, such as handling checkpoints to the island or carrying out high-water rescues, and it would do so at the request of county officials. National Guard members don;t have policing, or arresting, powers, but they do have detention powers, Staly said. Suspects would be detained by the Ntaional Guard and turned over to the sheriff or to other local police agencies.
"Law enforcement per se will be done by the sheriff and the two police departments" in Bunnell and Flagler Beach, Staly said. "What the National Guard does is, they'll be given a task assignment out of the state EOC and at the request of the county EOC."
Staly said the Flagler Beach pier will close Tuesday and no lifeguards will be on duty starting that day.
"I have been all over the county for the last few days," the sheriff said in his evening video message. "The cooperation, neighbors helping neighbors, is why we all love Flagler County. Traffic on our roadways has been less than normal. Thank you for taking this storm seriously. This is a very, very strong storm, and if there was a Category 6, it would qualify. Be safe, make your personal plans now, and know the men and women of the sheriff's office are ready to help our community get through this catastrophic-size hurricane. May God bless Flagler County."
Pickering's full evening weather briefing:

As Hurricane Dorian Strengthens to 185 MPH, All of Flagler Is Again In Cone of Probability; Tropical Storm Winds Monday
Sunday, 4:44 p.m.–Hurricane Dorian today has strengthened to maximum sustained winds of of 185 mph, placing it among the most powerful hurricanes ever recorded in the Atlantic. (Hurricane Irma, among others, reached that speed two years ago before making landfall as a Cat 3. Hurricane Allen in 1980 reached 190 mph before striking the U.S.-Mexico border.) The storm had reached Great Abaco Island, some 295 miles west of West Palm Beach.
See fresh video of Dorian's destructive path in Abaco, below.
Dorian had triggered the first hurricane watches for the Florida mainland: from north of Deerfield Beach to the Volusia-Brevard county line. Those watches are expected to move north. That means hurricane conditions are possible there, with tropical storm-force winds expected in the area within 48 hours. Dorian is expected to remain a catastrophic hurricane during the next few days, according to the National Hurricane Center, with hurricane force winds extending 45 miles from the center and tropical storm force winds extending up to 140 miles.
County emergency officials and the county's executive leadership team, with representatives from all local cities, law enforcement, the school board and the public health department, are conferencing again at 4 p.m. today to decide if and when evacuation orders may be issued and to update shelter information, among other issues.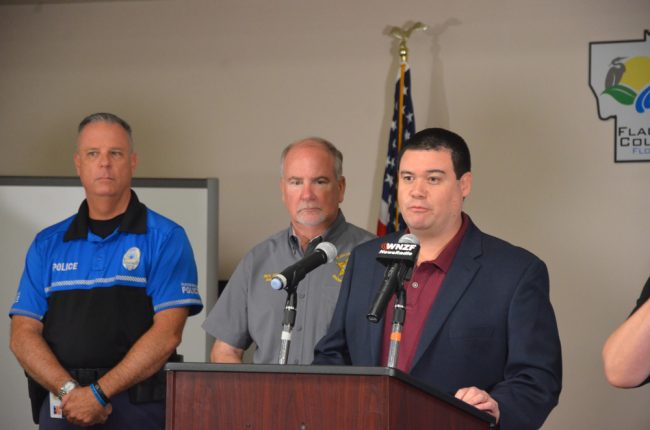 The current storm track has Hurricane Dorian's hurricane winds skirting south Florida as it makes its approach and expected turn north Tuesday morning, then just out of reach of Flagler's shoreline as the storm moves up the coast. Dorian is expected to be parallel with Flagler County at 8 a.m. Wednesday. But the first tropical storm force winds are expected in Flagler Monday night.
The European Centre for Medium-Range Weather Forecasts, which has been more accurate than American models in predicting paths (the National Hurricane Center has adapted its forecasts to ECMWF's , with a little lag), currently has Hurricane Dorian skirting the Florida Coast, but far enough to keep hurricane winds just barely away from shore. It shows a track beginning to edge a little further to the west as it approaches Flagler, which would be fortunate for the county, pulling the storm toward the Carolinas.
But catastrophic storm has been unpredictable, even at six-hour intervals. National, state and local officials have had trouble predicting its path, its strength or its width.
But they have all been in agreement on this: it is unwise for anyone living in the cone of possibilities–three days from the storm's current position–or the cone of uncertainty (up to five days out) to think that the storm does not pose an extreme danger to them. They urge residents not to focus on the location of the storm's center, but the entirety of the cone, which represents the area where the storm may shift, even within a few hours of its approach.
Flagler Emergency Management Director Jonathan Lord this morning said the storm's slow-down has given Flagler residents the opportunity to be better prepared, but he said that should not be interpreted as a reason to lessen one's guard. Officials privately speak of fears that because of the storm's unusual lifespan, its delays and its changes of track, residents may get alert fatigue and pay less attention at the most crucial times, overlooking the fact that the storm will speed up considerably as it shifts north and makes its way up the coast–and that that is when it could also veer in unexpected directions and potentially make landfall in Florida.
Area grocery stores late this morning and in early afternoon were very busy but very well stocked, including–as at the Publix in Town Center–with islands of water stacks available for purchase at the entrance, and no shortages of food. Nor were there any shortages of fuel in Palm Coast and Flagler Beach, where business was brisk, but lines were rare.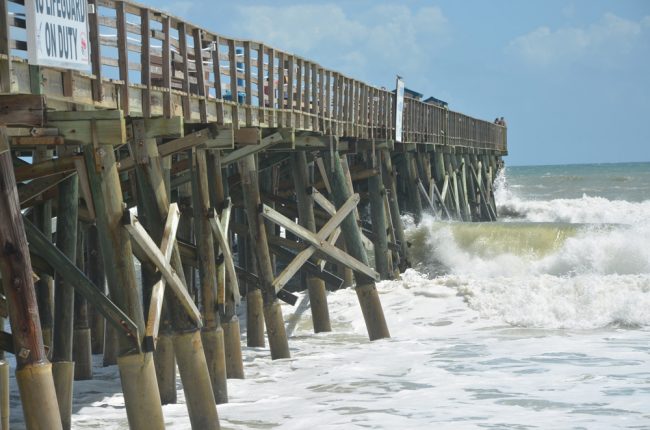 The surf was a few feet above normal in Flagler Beach and sensors on the Flagler Beach pier were going off, meaning that the structure was getting battered by waves, and was a bit shaky. But as of now officials had yet to close the pier, and surfers were aplenty north of the pier. They removed lifeguards south of the pier, putting up warnings that swimmers and surfers could go into the water only at their own risk. But there were more people watching the surf, taking pictures and video and sightseeing from the boardwalk than there were sunbathing. If swimmers were in the water (as opposed to surfers) they were difficult to spot in the churn.
Some houses and businesses, like the 7-Eleven on Oceanshore Boulevard (State Road A1A) were boarding up in Flagler Beach, but most, surprisingly were not this afternoon. Eric Cooley, the owner of the 7-Eleven, was protecting the business's large, oceanfront windows with metal panels. The store is reputed to be the last to close on the island, when evacuation orders are issued, and the first to open after a storm passes. Cooley remained on the island and was quick to reopen after Hurricanes Matthew and Irma in 2016 and 2017. He is installing a contingent of generators to ensure that the store can be operational.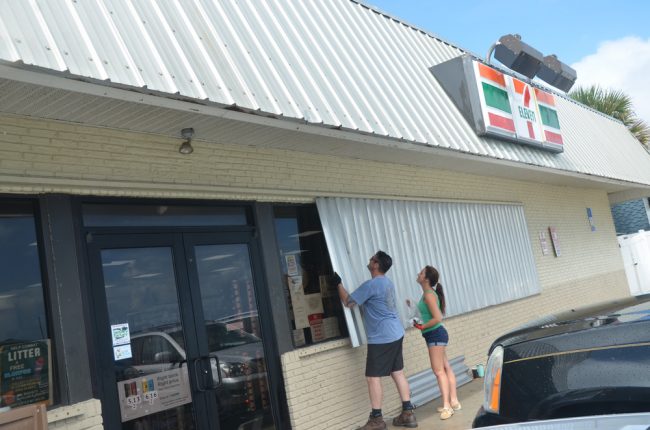 "The coffee will always be hot. There's a generator right by the coffee line,": said Suzy Johnston, who was boarding up the business with Cooley.
"So will the soft drinks," he said. (The soft drinks will be cold.) Cooley said island residents are pulling together for the storm because they now have an unfortunate amount of experience. 'It's becoming routine," he said of hurricane emergencies. But now people know where to turn when they need help he said, seeing past experience as a silver lining amid the new emergency.
Palm Coast's emergency management operation is set to gear up from Fire Station 25 on belle Terre Parkway, where the customer service staff will also be operating, and doing so 24 hours at peak storm time. To the left, watch Palm Coast Fire Chief Jerry Forte give you a tour of wPalm Coast's emergency management set up, with all assigned roles.
Palm Coast City Manager Matt Morton said canals have been drained low to make room for heavy rainfall. Preparations have continued, with the extra time used to enable double-checking equipment that's already been positioned. City Hall will be closed Tuesday as city workers are assigned to many hurricane-related tasks.
There's been if any serious incidents related to the storm in the last 24 hours, other than a bad rumor that spread on social media Saturday that made many people think that the Hammock Dunes bridge had closed to traffic. That was not the case. The bridge's tolls had been suspended, in accordance with the state order. But the bridge remained open, and both the Hammock Dunes Bridge and the Flagler Beach bridge will remain open unless wind speeds reach 45 mph, in which case the bridges will close. After Hurricane Irma, access to the island was restricted immediately after the storm, and curfews were in effect.
Christopher Goodfellow, a Hammock resident, just received the video below of a very recent scene in Abaco in the northern Bahamas as it is getting overrun by Hurricane Dorian at Category 5 strength; below that, see more video from Abaco:
https://youtu.be/-Tvl497PyBc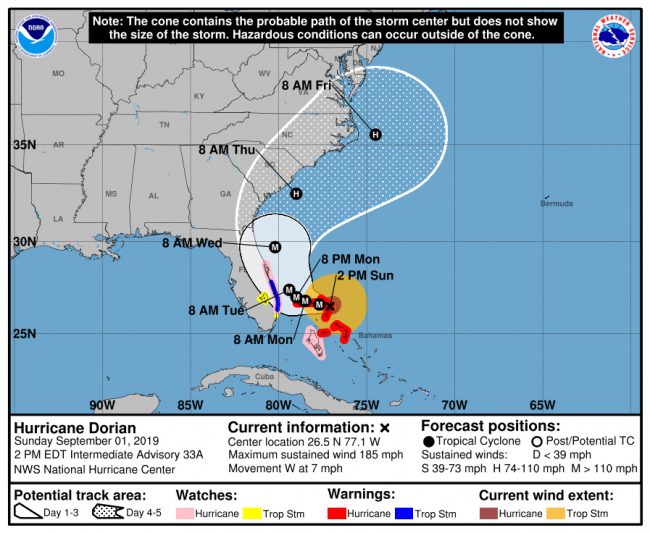 previous updates are below.

Hurricane Dorian's Track Again Shifts Slightly Closer to Flagler Coast, Blaring Cautions To Stay Prepared
Sunday, 10:50 a.m.–Hurricane Dorian's path overnight again shifted back west, if slightly, but still closer to the Flagler coast than Saturday's optimistic trend had shown. Almost all of Flagler is back into the cone of probabilities, with a 60 to 80 percent chance of tropical force storm winds locally. The first gusts of tropical storm force winds are expected late Monday or early Tuesday.
Flagler Emergency Chief Jonathan Lord at 10:30 this morning had one insistent message: "Please do not become complacent." He said the overnight changes' consequences for Flagler were relatively neutral but for a storm surge expected to be up to 6 feet.
"The hurricane may still change course, it has been doing and may continue to do so," Lord said.
At a minimum, Lord said, Flagler County will get "tropical force wind impact, tropical storm force wind conditions," similar to what the county experienced when Hurricanes Irma and Matthew passed by. "Please, please, remain prepared and remember those impacts we saw from those storms," which eliminated electric power for most for days. "We're in a 20 percent range for potential hurricane storm winds."
If there is to be a curfew during and after the storm, that would be a joint determination by Sheriff Rick Staly, Flagler Beach Chief Matt Doughney and Bunnell Chief Tom Foster.
Staly recognized the likelihood of Labor Day parties, but asked residents to "drink responsibly, have designated drivers," and be careful not to end up at the jail. "It might be secure and so forth but the accommodations would be better at the shelters."
The special needs shelter at Rymfire Elementary, run by the Flagler County Health Department, will open on Monday at 8 a.m.
"Here we go again," Flagler Beach City Manager Larry Newsom said. "The beach itself, it's already pretty rough out there." There are lifeguards on duty today and Monday, but he urged those not experienced in oceans not to go into the water so as not to overtax lifeguards. If the island is evacuated, he warned against undue visitors. "Sightseers? You're not allowed," he said.
Residents will see the first signs of Hurricane Dorian at the beach today, with a surf visibly increasing today, on the way to a 7 to 10 feet increase, according to Flagler's Emergency Operations Center. The storm's latest track must be of particular concern to barrier island residents as the smallest shift in the storm's direction could be the difference between a severe tropical storm and a catastrophic hurricane.
Dorian this morning was some 225 miles east of West Palm Beach, moving very slowly at 8 mph with maximum sustained winds of 160 mph–a catastrophic Category 5 hurricane. But the slow movement will work against the storm strengthening further. "Since it is forecast to move quite slowly over the shallow waters of the northwesternnmost Bahamas through Monday," the National Hurricane Center states, "this would likely result in less available oceanic heat content. Therefore, a very slow weakening is anticipated to commence after 12 hours or so." Nevertheless, current projections have it as a 115 mph storm on Wednesday, skirting the Flagler coast as a major Category 3.
The storm surge at that point would be of special concern, even if the hurricane doesn't make landfall.
Much of the uncertainty of Dorian's path depends on the interaction between a weather system to the north–a ridge, in meteorological terms–and Dorian itself. "So if the storm is moving a little bit faster than expected, it'll get farther west before the ridge to the north weakens, it's all about the timing," Levi Cowan, a graduate meteorology student at Florida State University, said in his Saturday night update. "Likewise if it's slower it won't get as far west before making the turn. And it's a very subtle thing. we're not done, potentially, seeing the little shifts in the track. Perhaps nothing drastic and the most likely solution still keeps the storm offshore, but especially on some of these latest runs today, we're seeing evidence that the ridge is a little stronger and the storm might get uncomfortably close to the Florida coastline." (See the full update below.)
"This is something we've got to take seriously folks," Cowan continued, "and don't assume just because that the trend has been our friend recently and that this cone is shifted farther east, that doesn't mean it's not going to shift back. We just don't know that kind of detail. It's a very subtle thing with the storm stalling like this, and moving very slowly. So please, don't invert your preparations. Keep those preparations in place, because we could be dealing with a situation with this storm close enough to cause dangerous conditions and it could parallel the entire coastline of the southeastern U.S."
Voluntary evacuations are in effect in Osceola, Palm Beach, Glades and Hendry counties.
Resident-oriented developments, according to Gov. Ron DeSantis's office:
To help residents and emergency personnel stay connected in the wake of Hurricane Dorian, Comcast has announced it is opening its network of almost 200,000 Xfinity WiFi hotspots throughout Florida to anyone who needs them, including non-Xfinity customers, free of charge.
The Department of Management Services (DMS) has set up an emergency telecommunications provider coordination group to ensure coordinated recovery efforts to aid in the emergency response and recovery after the storm has passed.
There are almost 28,000 linemen, tree crews, and support personnel staged around Florida to help quickly restore power.
Verizon is offering unlimited calling, texting and data for customers in the path of the hurricane. Verizon's prepaid, postpaid and small-business customers in the path of the hurricane will have unlimited calling, data and texting from September 2nd – September 9th.
AT&T announced it's waiving data overages in affected Florida areas from September 2 – September 8.
Florida Highway Patrol (FHP) is escorting fuel trucks to ensure fuel reaches critical areas more quickly. The State is working closely with the fuel industry to ensure there is an adequate fuel supply statewide. The State has 819,000 gallons of water and 1.8 million meals ready for distribution.
Watch Tropical Tidbits' Saturday evening briefing (9mn):
https://youtu.be/IhOmkDxmcOY
Here's Flagler Emergency Management's Bob Pickering's 5 a.m. briefing Sunday:

Guarded Sighs of Relief in Flagler as Dorian Keeps Off Florida Coast, But Officials Stress Need To Stay Prepared
Saturday, 6:15 p.m.–At a midday call with the Flagler County executive team of top city, county  and law enforcement officials, Emergency Management Chief Jonathan Lord was a different man, according to several people on the call, describing a much-changed and more favorable situation for Flagler County as the center of Hurricane Dorian was expected to be 100 miles offshore by the time it was parallel with Flagler between Tuesday and Wednesday. The National Hurricane Center's 5 p.m. forecast reinforced the better outlook: the track did not change.
Lord wasn't ready to make official pronouncements of a less dire emergency. He didn't want residents to quit preparing for the worst, because it's much safer than not being prepared or being surprised by yet another shift, which is still quite possible.
In the 6 p.m. call to the executive team, Lord told officials that while the track of the storm remained well to the east as it had been in the 11 forecast, Flagler is still facing a 20 percent chance of hurricane force winds and an 80 percent chance of tropical storm force winds. The storm surge prediction is now at 3 to 5 feet. If there are to be evacuations, they would be limited to the barrier island's flood zones and selected portions of areas west of the Intracoastal.
It was a good day for House Rep. Paul Renner to visit the Emergency Operations Center, as he did this afternoon, meeting with Lord and County Administrator Jerry Cameron–a day that contrasted with his visit on Friday, when the atmosphere was more tense, reflective of the heightened concerns at the time.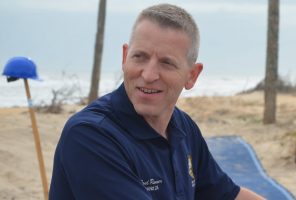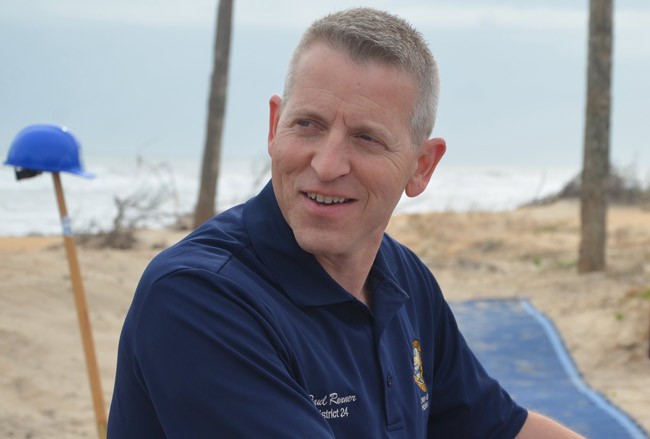 "Twenty-four hours makes a big difference, so I'm keeping my fingers crossed and staying cautiously optimistic," Renner said this afternoon, shortly after leaving the EOC. "Yesterday when I was there it was obviously professional, but there was I'd say a building tension you'd feel in the room." Today, Renner continued, it was "a little bit lighter mood and a chance to breathe a little bit knowing it could change in the next forecast. But right now it's looking much, much better than it was looking just 24, 48 hours ago." Renner, who's been to emergency operation centers in Volusia and St. Johns counties, stressed that the emergency was not over.
Tropical storm-force winds are still expected in Flagler. "That means downed trees and potentially downed trees on roads and the potential loss of power," Renner said. But he said that's an "infinitely better" outcome than a Category 4 or 5 hurricane striking Flagler, causing loss of life and "years and years to rebuild."
Cameron, who was among those on the executive call at noon and at 6 p.m., said "generally most of the counties are backing down. We are still too uncertain right here because of how close the current projections are." He added: "I'm cautiously optimistic today. Yesterday I was thinking that we were going to have some significant impacts." But he, too, stressed the need to remain on guard. "We don't want you to drop your guard until we're certain that this storm is going to continue to move on its present track or even more east. The last thing we want to do with a storm as unpredictable as this one is having people drop their guard until we're absolutely sure," Cameron said.
But confidence was growing that, as matters stood then, Flagler would be spared the worst. There was even a question as to whether school should be closed at all Tuesday, though the superintendent decided to go ahead with closure at least that day, rain or shine, so parents didn't have to be kept guessing.
Shelters that had been scheduled to open Sunday would not do so until Monday, and even then it's possible that only one shelter rather than two may be opened, though at this point both will be, at Bunnell and Rymfire. Shelter openings play a key role in how school school may resume once shelters close. So if shelters close on Tuesday, there's a chance the district could reopen schools on Wednesday.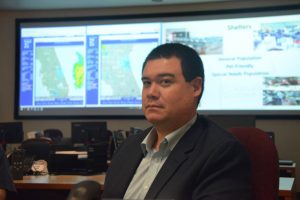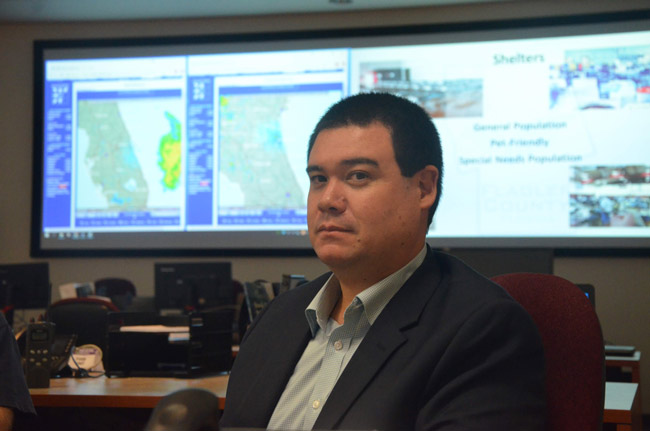 Evacuations had been discussed as late as this morning, with residents on the Barrier Island and in sections east of I-95 told to be ready to evacuate. But that changed after the noon call with the executive team, and evacuations are no longer planned for Sunday.
Palm Coast Mayor Milissa Holland appeared with Sheriff Rick Staly and County Commissioner Joe Mullins at services at Parkview Baptist Church this evening, where pastors asked them to appear to reassure congregants. "I know there's a lot of anxiety," Holland told the assembly. "I can't tell you how much of a coordinated effort is going ion each and every day around the clock. So we're hopeful that hopefully it keeps continuing to go, we're praying likewise, but you don;t know. These forms are very unpredictable." Holland said residents should still be prepared and stay off the road if need be. "Stay updated, stay prepared, and stay informed."
"The storm moved east more," Palm Coast Fire Chief Jerry Forte said in an update this morning, "but we're still anticipating that this storm is going to have a significant effect on the state of Florida. We're anticipating tropical storm force winds in Flagler County, in the city of Palm Coast, and there's an eight out of 10 chance it's a possibility that we're going to experience these types of winds. With those winds we're going to get squall lines and bands of rain that are going to come in not in one or two but up to 6 to 10 inches, and that's over a two-day period."
At 5 p.m. today, the National Hurricane Center announced its latest update, confirming earlier trends and showing Hurricane Dorian well out to sea from the Florida Coast, its cone of probability barely skirting the coast. Of course, barely skirting means there's still a considerable risk for places like Flagler Beach. But the trend for the storm is a push eastward and northward, not westward: that's the general consensus among most models, American or European. The European Centre for Medium-Range Weather Forecasts, or ECMWF, which has been the most accurate regarding Hurricane Dorian and shown the track the National Hurricane Center has adopted, with some lag, time after time, is showing hurricane-force winds remaining offshore of Florida, with still wind and rain affecting places like Flagler, but not violently so. The rain forecast is now in the 6 to 8 inches for Flagler.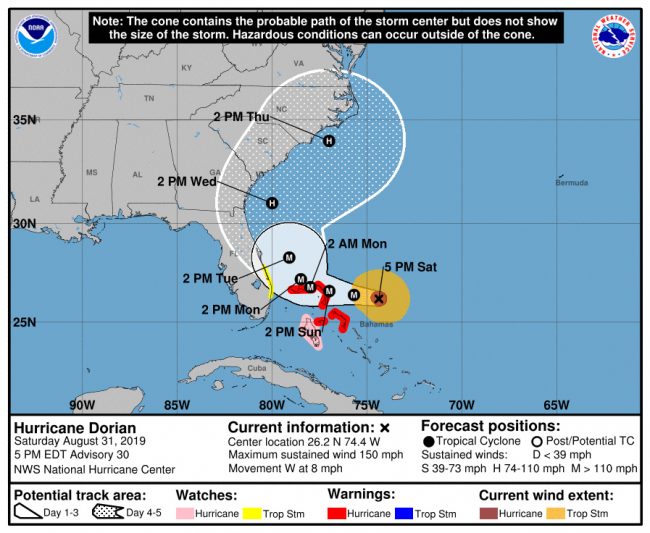 "Heavy rainfall and increasing onshore winds may begin in Flagler County as soon as Monday evening as Dorian begins a slow northward turn," National Weather Service Meteorologist Ben Nelson, who was at the Flagler County Emergency Operations Center today, said in a release. Based on the latest official forecast, 4 to 8 inches of rainfall will be possible during this event in Flagler County."
The National Hurricane Center is also underlining the uncertainty in the path of a storm that has been fickle. "The uncertainty in the track is high while the hurricane is moving slowly across the northwestern Bahamas and near the east coast of Florida," the center said. "Any deviation of Dorian's core to the left would result in an increase in the winds along the east coast of Florida. Given that the area of tropical storm force winds could expand, and
taking into account the uncertainty in the track forecast, a tropical storm watch was issued for the east of Florida from Deerfield Beach to Sebastian Inlet."
That's why state and local officials are not letting up just yet.
"There's only a few area in the state that can say honestly they're out of the woods, and we're not one of them," Renner said. Renner complimented local EOC staff but also noted a pronounced improvement in communications with state emergency officials, describing it as "stellar" this time around. "Hats off to the men and women that are working at the EOC," he said of Lord and the Flagler operation. "This is a no-fail operation and they're coming through with flying colors."
See Flagler County Emergency's Bob Pickering's full evening briefing on the storm:
The previous updates are below.

Saturday, 2:45 p.m.–The National Hurricane Center at 11 this morning projects a Hurricane Dorian path now significantly further east of the Florida coast than even three hours earlier as a weather system over the Midwest appears to be pushing Dorian away from Florida. Flagler is cautiously pulling back from the more dire predictions of the past few days.
Flagler County remains in the cone of uncertainty and the storm, which hasn't stopped shifting course, may shift again. But for now the expected conditions in Flagler hew closer to those of a tropical storm than a hurricane, with rainfall amounts cut in half since Friday's forecast: Flagler is now expected to get 6 inches instead of 15 to 20. The tidal surge is now expected to be around 6 feet. But all those predictions remain very fluid.
"We're hoping it continues to move east," Palm Coast City Manager Matt Morton said shortly after 11 a.m.
In a reflection of county officials stepping back from a heightened state of emergency, shelters that had been scheduled to open first on Saturday, then on Sunday, will now open not before Monday, according to the Flagler Healtgh Department. The Special Needs Shelter will open at Rymfiore Elementary Monday at 8 a.m. The general population and pet-friendly shelter will open the same day at Bunnell Elementary School. The health department itself, which is running the special needs shelter, will remain closed in Bunnell on Tuesday.
"Some uncertainty still exists in the track the storm takes, but we remain at risk for severe impacts for our area," Flagler County Emergency Management Chief Jonathan Lord said, though in a release issued shortly after 9 this morning. "We need everyone to be prepared, but especially those in the coastal area, near the Intracoastal, and out west near Crescent and Dead lakes. Evacuations always include people in mobile homes, and low areas that are flood prone."
Lord this morning was urging residents who live in evacuation zones A, B, C, F, as well as those living in mobile homes and low-lying areas to be ready to leave Sunday morning. (See the evacuation map below.) But by 3 p.m., the county was switching tracks on that and was postponing any evacuation plans until Monday.
"The picture is looking better, but we don't want people to let down their guard," Lord said. "We are continuing to prepare as though we are going to need to call for evacuations at some point but we don't know exactly what that window is."
Flagler County schools announced today that schools will be closed on Tuesday. No determination about Wednesday yet.
Meanwhile the city of Palm Coast has distributed 25,000 empty sandbags, with 25,000 left, with thousands of sandbags getting filled at various locations in the city and the county. (See the locations here.)
All top local officials expect that Sunday's 9 a.m. emergency operations briefing will be key in determining how Flagler County may be impacted, and to what extent it will implement further emergency responses. Another key meeting is scheduled around noon today.
Hurricane Dorian this morning had maximum sustained winds of 150 mpg, a Category 4 storm, with still more strengthening expected. It was just over 400 miles east of West Palm Beach, moving west slowly, at 8 mph, "over a deep layer of very warm waters, which is like high octane-fuel for hurricanes," hurricane center forecasters say.
"Life-threatening storm surge and dangerous hurricane-force winds are still possible along portions of the Florida east coast by the early to middle part of next week," the center warns, "but since Dorian is forecast to slow down and turn northward near or just offshore of the coast, it is too soon to determine when or where the highest surge and winds could occur. Residents should have their hurricane plan in place, know if they are in a hurricane evacuation zone, and listen to advice given by local emergency officials."
In anticipation of the storm surge and its potential damage to Flagler County's just-completed, rebuilt dunes (a $20 million project), which had been shredded by Hurricanes Matthew and Irma, Christopher Goodfellow, a Hammock resident who's documented numerous shoreline conditions over the years publicly and for the county, issued the following video as a baseline record of dune conditions as of Aug. 31.
"This morning I commenced filming of the shoreline Washington Oaks to Malacompra sand station and the Bay Park dune and lake," Goodfellow said in an email. "I will try and work my way down the coast as much as possible in the next 48 hours. This is for my own reference but could serve as a valuable resource after the hurricane to note coastal changes."
https://www.youtube.com/watch?v=oTSqvW_ANqs

Dorian's Center Just East of Coast Raises Flagler's Probability of Hurricane Force Winds and Storm Surge
Saturday, 8:40 a.m.–Hurricane Dorian's path is shifting slightly east, the National Hurricane Center placing its eye just offshore from the Florida East coast as it approaches it Tuesday morning and Flagler County in early morning Wednesday. But unless the storm continues moving east–a possibility according to some models–the eye's shift to sea remains deceptive in many regards.
The storm still has most of the Florida East Coast and Flagler well within its cone of probabilities, which means any wobble could bring the storm onshore. The storm's size would be such that even if it remained at sea, it is a major hurricane whose force extends east and west and would do severe damage to the coast, with a probability of hurricane force winds now between 70 and 80 percent for large swaths of Flagler and tropical storm force winds for the rest. By remaining at sea, it would provoke a more severe storm surge, coinciding with high tides, and would endanger Flagler's fragile dunes system.
The storm would need to keep shifting east further to lessen destructive impacts on Flagler. The European forecasting model does show that shift further east, and had been showing it since early Friday. The American model, and the projection by the National Hurricane Center, has tended to follow the European model with Dorian, but generally with about 24 hours' lag. But the hurricane center warned at 8 a.m. Saturday: "The track forecast becomes much more problematic after 48 h," referring to that projected shift east. "However, the UKMET ensemble mean still brings the hurricane over the Florida peninsula, as do several GFS and ECMWF ensemble members," the center states, citing various standard models by their acronyms. "It should be noted that the new forecast track does not preclude Dorian making landfall on the Florida coast, as large portions of the coast remain in the track cone of uncertainty. Also,
significant impacts could occur even if the center stays offshore."
In 2016, for example, Hurricane Matthew was feared to strike Flagler as it moved up the coast and was projected to do so until just a few hours before its arrival, it shifted east, sparing the county of catastrophic destruction. It was still destructive: evidence of that destruction remains in Flagler Beach, where the Department of Transportation is still rebuilding the south portion of State Road A1A, and m any homes around Painters Hill nearly, and literally, fell into the sea as the dunes beneath them were washed away. But the damage stopped just short of catastrophic. Dorian is following a path now similar to Matthew's, but it could just as probably shift west, rather than east, and slam into Flagler as a Category 3 or 4 storm. Flagler Beach would largely not survive such a strike.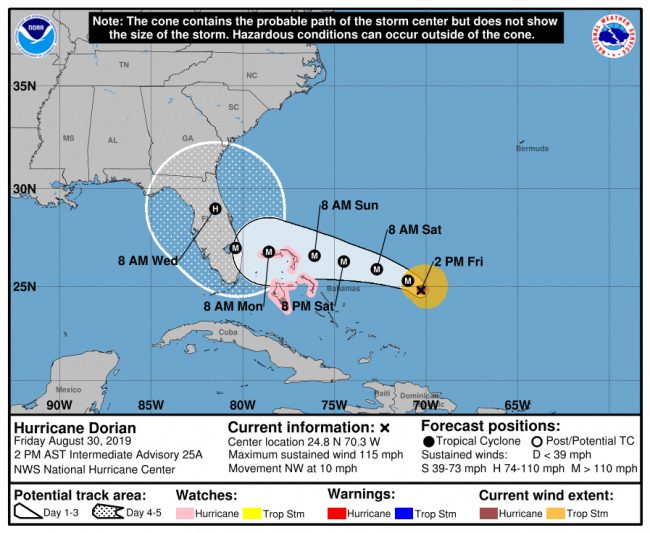 So Flagler officials are expected to remain on full alert and continue preparations and the opening of shelters–at Rymfire Elementary and Bunnell Elementary–on Sunday, absent dramatic changes in the storm's path.
Flagler County is now expected to get its first waves of tropical storm force winds around midnight Sunday and going into Labor Day. Today and Sunday the weather will remain mostly summer-like, with an uncomfortable combination of heat and humidity pushing the heat index up to 102, with a few chances of thunderstorms. Tropical storm conditions possibly develop Monday, with winds in the 15 to 20 mph range, gusting to 30 mph, and a rising chance of rain. The forecast currently calls for possible hurricane conditions Tuesday, Tuesday night and Wednesday.
"Dorian should remain in a generally favorable environment for the next 3-4 days," the National Hurricane Center states at 8 a.m. Saturday, "and the intensity guidance indicates it will remain a powerful hurricane during this time. The new intensity forecast calls for a little more strengthening today, then it shows a slow weakening that follows the trend of the intensity guidance."
"It is imperative that all Floridians and their families take Hurricane Dorian seriously," Gov. Ron DeSantis said Friday, when he visited the Emergency Operations Centers in Palm Beach and Orange counties. "The time to prepare diminishes by the hour, particularly because we are still uncertain of where it will make landfall. Everyone should have seven days of food, water and medicine in preparation for this storm. Additionally, all residents need to be prepared to evacuate, should that be required."
The governor on Thursday requested from President Trump a declaration of pre-landfall disaster for all 67 counties in Florida. Florida was approved for direct federal assistance. On Friday, the Department of Children and Families (DCF) was approved to issue Supplemental Nutrition Assistance Program (SNAP, or food stamps) benefits. Food stamps recipients who were scheduled to receive their benefits between September 1 and September 14 will now be able to access benefits through their Electronic Benefit Transfer (EBT) cards starting August 31 at noon. This is an early release of regular benefits, not a distribution of additional funds.


Hurricane Dorian's Catastrophic Force Is Certain, Its Path Less So as It Continues to Target Most of East Coast
Friday, 7 p.m.–Two days ago the european-model consensus for Hurricane Dorian's path was that it would strike south Florida, make a sharp turn north, and shear across the Florida coast, through Flagler County and onto St. Johns and Georgia. The American forecast at 5 p.m. today caught up and is now projecting the path–a worst-case scenario that has Hurricane Dorian making landfall as a Category 4 hurricane around 2 p.m. Tuesday, then making its way as a hurricane up the coast, churning over the Flagler coast, and Flagler Beach, around noon Wednesday.
The National Hurricane Center's current projected landfall is in the Port St. Lucie region, but forecasters warn that almost the entire east coast of Florida remains within the cone of a possible landfall–including Flagler. Dorian has been unpredictable. It is not expected to be less so as it approaches Florida. And some models have the storm remaining at sea before making a turn north. The European consensus, for example, now has Dorian remaining just east of the Florida coast before swinging north.
With that in mind, the hurricane center cautions that there are key variables ahead as a weather system builds north of Dorian, then weakens, so "any small deviation in the track could bring the core of the powerful hurricane well inland over the Florida, keep it near the coast, or offshore."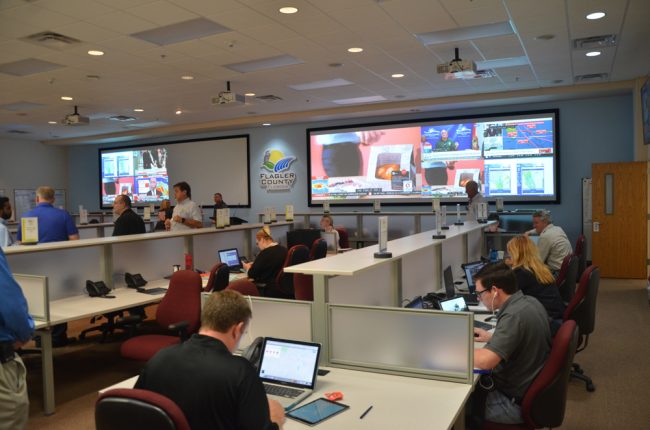 The storm is also much better organized than it was 24 hours ago, its eye now distinct, its maximum sustained winds at 115 mph.
"The models have not been very consistent from run to run in terms of the timing of the northward turn," the NHC's forecaster said, "but there are more models now indicating that the turn could occur near the east coast of Florida instead of well inland. Given this latest change, the NHC forecast has been shifted just a little to the right at this time, but users should be prepared for additional [adjustments] to the left or right depending on future model trends."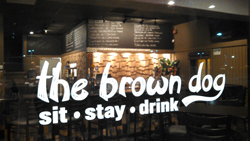 National Hurricane Center forecasters routinely caution residents not to focus on the center of the storm, but on the width and force of the storm, where all the damage occurs. In those regards, the current path of the storm would combine the catastrophic power of hurricane-force winds with the equally catastrophic power of a storm surge that could overwhelm Flagler's recently rebuilt dune system, and flood the properties that fledgling ridge is protecting.
"Assuming #HurricaneDorian makes landfall in Florida, this will be the 4th consecutive year with a Florida #hurricane landfall — the most consecutive years with a Florida landfall since they were hit by hurricanes in a whopping 7 consecutive years from 1944-1950," Philip Klotzbach, a hurricane researcher affiliated with Colorado State University, tweeted.
Flagler County's Emergency Operations Center was ramping up today with an "all hands on deck" edict from the county administration. The center is expected to be at Level 1, or full capacity, with all agencies working from the center, Saturday evening.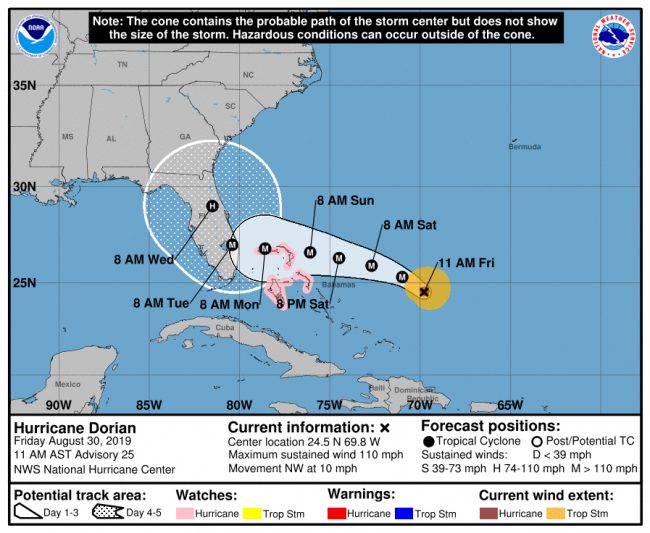 Palm Coast government was ramping up its own operations, with Fire Station 25 serving as its emergency operations center. Customer service staff is moving into the station Saturday to begin 24-hour shifts in teams of six, City Manager Matt Morton said this afternoon. That staff will be handling all phone inquiries and residents' reports of problems, which would then be addressed by a similar all-hands-on-deck approach. Morton said the city is preparing for a rain event that could dump as much as 20 inches on parts of the city.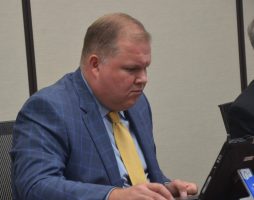 "Be calm, be prepared, be informed," Morton said, echoing Mayor Milissa Holland's advice. "We're doing everything we can to get ahead of challenges. At the end of the day, nobody controls the power of this storm or its impacts." But, Morton said, the city hasn't been preparing for such a storm merely over the past week, but over the past year, with more back-up generators in place to address pep-tank (or septic) issues and "more miles of ditches and swales prepared than ever before."
Contingency plans are also in place in case the barrier island is evacuated and the bridge closed, such as the shutting off the two valves that allow water to flow to the Hammock. That will be done only in case of a mandatory evacuation and a bridge shut down. The reason, Morton said, is that if a water main breaks during the emergency on the barrier island, and there's no way to repair it immediately, the city can't afford to have its entire water supply drain off, as it would if the valves weren't shut off: that would impact health and safety on the mainland. Morton said the city has shut off both valves in a previous emergency. But even if the city does so, the Hammock will still have supply from the 400,000-gallon water tower there, which has been topped off.
There are no mandatory evacuations in effect at the moment. But county officials are asking residents to re-familiarize themselves with Flagler's evacuation zones, which are identified as Zones A, B, C, D, E and F. The zone's identifications do not correspond with Palm Coast's section names. In other words, Evacuation Zone B is not Palm Coast's B Section, but is the entire swath of land just west of the Intracoastal. Evacuation Zone A is the Barrier Island, including Flagler Beach, Beverly Beach, Marineland and the Hammock. See the map here or below.
Previous updates are below.

Dorian Could Threaten Flagler After Shredding Path Through South-Central Florida. 'Do Not Wait One More Day,' Emergency Chief Warns of Preparations
https://flaglerlive.com/wp-content/uploads/wnzf-hurricane-dorian-special.mp3
Note: WNZF's David Ayres discussed hurricane preparation with numerous local officials, including school, law enforcement and Emergency Management Chief Jonathan Lord, Friday morning. You can hear the full broadcast to the right.
Friday, 12:45 p.m.–State and local officials have been hoping for any sign of relief from Hurricane Dorian's path with each release of the National Hurricane Center's advisories. They haven't been getting those signs. Instead, advisories keep worsening the picture.
Forecasters have high confidence that Dorian will strike south Florida, parallel with the Lake Okeechobee area, and do so as a Category 4 hurricane. They are equally confident that the storm will then turn sharply north, but less confident about where it will make that turn, and what area of Florida it will take next, if at all: there is still a possibility that the storm may turn so sharply as to remain on the coast as it moves north. Other models show the storm moving inland and up the spine of Florida, in a north-northeast direction.
Regardless of the track Dorian does take, Flagler is expected to suffer severe impacts, especially from rain, now projected to be in the 10 to 15 inches, with spots at 20 inches, Jonathan Lord, the county's emergency management chief, said shortly after noon today.
Lord said there's still a chance that Dorian could approach Flagler from the east–it's still within that cone of uncertainty–but there's more and more chance that it'll be moving up the spine or close to the coast of the state. "We've got to be cautious," Lord said, referring to making predictions this far out. He had two key cautions for residents: first, they must have all their hurricane preparations completed today. Second, residents must not be fooled by the storm's projected slower path, and deceived into thinking they have more time. The storm's speed, like its path a few days from now, is not predictable, and it could make sudden turns or shifts in speed.
"Do not wait one more day," Lord said. "People cannot keep looking at the slowing down of the storm." He added: "I don't want folks gambling with their lives, keep listening to us, follow the national hurricane center forecast."
If the storm were to move up the coast it could maintain its strength in the Category-3 zone, much like Hurricane Matthew did in 2016. Matthew did not make landfall in the state. If the storm stays further out at sea, it could maintain as Category 4, and the storm surge would be more severe. Lord said tides are expected to be up to 2 feet higher than normal, on top of whatever storm surge is produced. That could threaten Flagler's just-rebuilt dunes and the subdivisions they're protecting.
Sunday there will be a call for evacuations of Zones A, B and F, meaning the Barrier Island, including all of Flagler Beach, Beverly Beach and the Hammock, and the swath just across from the Intracoastal, along with areas of West Flagler, around Dead Lake, which are expected to flood because Dead Lake is a tidal lake. For now, Lord said, he remains comfortable with a Sunday evacuation, not sooner. "I'm very comfortable that Saturday does not have to happen. We may move from Sunday to Monday at some point," he said.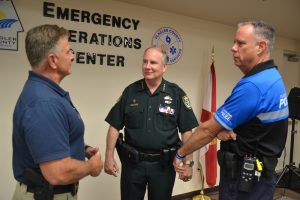 From the law enforcement perspective, Sheriff Rick Staly said in an interview this afternoon that the county has been generally calm but for a number of vehicle crashes, the result of people in a hurry to prepare. "Slow down, pay attention to your surroundings," the sheriff cautioned, pointing at the storm's slower pace as an opportunity to get things done calmly.
There was one incident in Daytona North, where a 32-year-old woman who had been helping her father with hurricane preparation got into an altercation with her sister and allegedly pulled a screw driver on her. She was arrested for aggravated assault.
Staly said inmates have been helping ersidents fill sandbags at two locations and will continue to do so Saturday. See all sandbag availability here. The sheriff said inmate crews filled some 10,000 bags at the Malacompra Road location in the Hammock, and 4,000 bags have been filled at the water tower location in Bunnell so far.
Shelters are now expected to open Sunday instead of Saturday. The Library will close at noon on Saturday, and programs will be cancelled. Flagler County Parks and Recreation Department is closing campsites and community centers on Sunday to make the facilities available for emergency uses if necessary. The Wickline Senior Center will be closed until further notice for the same reason.
As for curfews: Staly said there have been preliminary discussions, but the likelihood of a curfew will ramp up when a mandatory evacuation order is issued, and would affect the barrier island, where access may be restricted. But that's still a few days away. Meanwhile, Staly said, "we're trying to balance the needs of the community" and those of businesses, with the Labor Day weekend unfolding ahead of the storm. (Watch the sheriff's afternoon video update below.)
The current National Hurricane Center forecast has Dorian in central Florida early Wednesday morning, moving north-northeast.
Lord said he was "proud of our community," seeing store shelves emptied then restocked overnight, as that means people are heeding the message to prepare.
Previous updates are below.

Hurricane Dorian Grows, Slows and Threatens Worst-Case Scenario Up Florida Coast
Friday, Aug. 30, 8 a.m.–Hurricane Dorian seems determined to find the path of most damage as it carves a slowing churn through Florida starting late Monday.
Now a Category 2 hurricane, Dorian is strengthening, slowing, and still keeping forecasters guessing as to what it will do after making landfall somewhere between Port St. Lucie and Boca Raton. Landfall has been pushed back progressively, and is now expected to be around 2 a.m. on Tuesday.
The National Hurricane Center says there's solid agreement between many models about Hurricane Dorian's path over the next three days, until close landfall. Models also agree that the storm will make a sharp turn north sometime after landfall. But diverge regarding when Dorian will make the turn, with the American model now seeing Dorian moving inland, almost to central Florida as it moves north, while the European model sees the storm shearing up the entire Florida coast, where it would maintain its hurricane strength, going on to curve around the Georgia coast. That would be the worst-case scenario, since it would bring hurricane-force winds to every county along the way, including Flagler.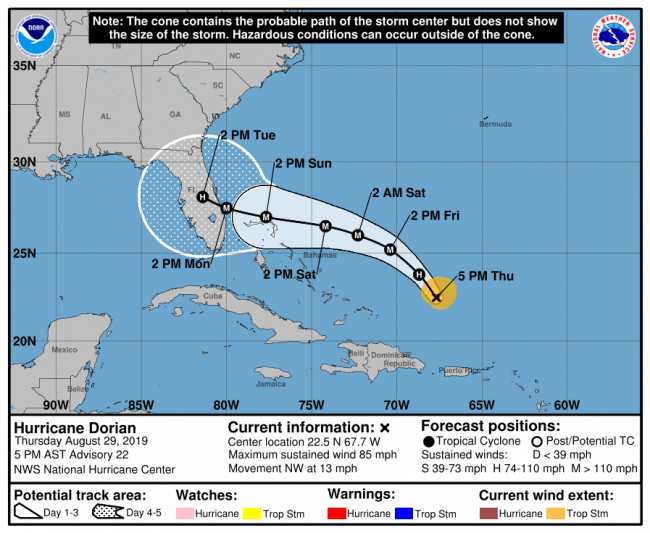 Whichever path Dorian takes however–inland or along the coast–it is expected to remain an extremely damaging storm throughout. Northeast Florida residents should not be deceived and made complacent by its landfall in south Florida, given its northerly turn afterward. The storm's slower pace is also raising concerns a catastrophic rain event for coastal communities.
"After day 3, steering currents collapse as a break develops in the ridge, and Dorian will likely slow down considerably as it approaches the Florida peninsula," the hurricane center said in its 5 a.m. update. "There is more spread among the deterministic models and their ensemble members during that time, with disagreement on exactly when and where Dorian will turn northwestward and northward on days 4 and 5…. The biggest concern will be Dorian's slow motion when it is near Florida, placing some areas of the state at an increasing risk of a prolonged, drawn-out event of strong winds, dangerous storm surge, and heavy rainfall."
https://twitter.com/BenNollWeather/status/1167331931983237121
One of the center's key messages: "There is an increasing likelihood of a prolonged period of hazardous weather conditions that could last for a couple of days in parts of Florida early next week," while the "risk of life-threatening storm surge along portions of the Florida east coast has increased, although it is too soon to determine where the highest storm surge will occur. The risk of devastating hurricane-force winds along the Florida east coast and
peninsula early next week has also increased, although it is too soon to determine where the strongest winds will occur. Residents should have their hurricane plan in place, know if they are in a hurricane evacuation zone, and listen to advice given by local emergency officials."
See Flagler County's hurricane evacuation zones here.
It will be the first time since Hurricane Andrew in 1992 that Florida's east coast is struck with a hurricane that powerful. Andrew was a Category 5. The jury is still out as to the final strength of Dorian once it makes landfall. Irma was a Category 4 when it struck the Keys in 2017 and Michael was a Category 5 even more powerful than Andrew when it made landfall in the Panhandle last year. It will also be the first time since the stretch from 1959 to 1961 that Florida is struck by a major hurricane in three successive years–after going 11 years without a hurricane making landfall.
https://twitter.com/BenNollWeather/status/1167394859969179648
Previous stories are below.

Hurricane Dorian Keeps Officials Guessing as Storm Strengthens and Emergency Declaration Goes Statewide
Thursday, Aug. 29, 7:50 p.m.–Hurricane Dorian is now expected to make landfall further south and a bit later than in previous forecasts, making landfall as a Category 4 storm Monday afternoon. But the size of the storm remains uncertain, while Flagler County is still well within its cone of probability. Further, the storm is now showing a turn to the north after it makes landfall, which could prolong the duration of tropical storm force winds in Flagler, along with precipitation.
But the National Hurricane Center stresses that at four and five days out, Hurricane Dorian's margin of error can be as vast as 155 miles to 205 miles. That places Flagler within that margin of error.
Based on the current path, Dorian's tropical storm  force winds are now expected to begin in Flagler around Sunday after 8 a.m. Earlier this afternoon, the county's emergency management chief. Jonathan Lord, placed the probability of tropical storm force winds in the county at 60 percent, and of hurricane winds at 15 percent. Those probabilities are almost certain to fluctuate, with the storm still being several days out.
"The guidance envelope has nudged southward this cycle," the National Hurricane Center said in its 5 p.m. analysis of the storm, with European models of the storm showing a more southerly path and the American model showing a more northerly path along the cone. There is also disagreement between the two models regarding the speed of the storm. The new track forecast "is essentially unchanged through the first 2 to 3 days, but has been adjusted southward and somewhat slower than the previous advisory at 96 and 120 hours," the hurricane center stated. "Users are reminded to not focus on the exact forecast track, as typical forecast errors at days 4 and 5 are around 155 and 205 miles, respectively."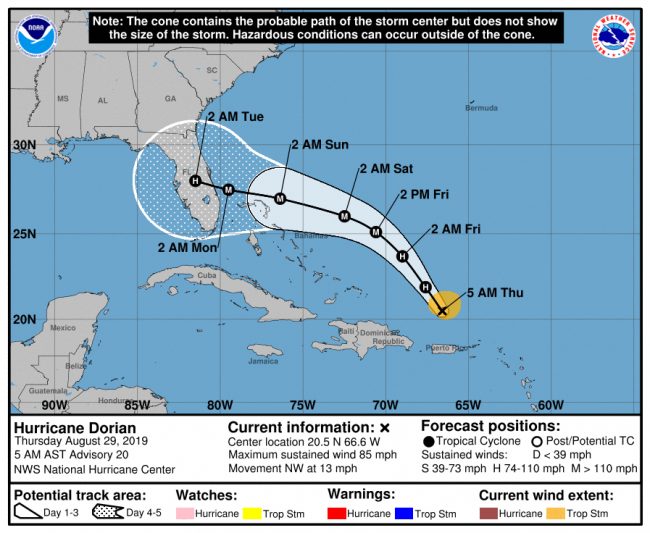 But Hurricane Dorian is expected to experience "steady intensification," according to the hurricane center. "and Dorian is forecast to become major hurricane on Friday. Dorian is predicted to remain a dangerous hurricane throughout the remainder of the forecast period."
"There is an increasing likelihood of life-threatening storm surge along portions of the Florida east coast late this weekend or early next week, although it is too soon to determine where the highest storm surge will occur," the hurricane center warns. "Residents should have their hurricane plan in place, know if they are in a hurricane evacuation zone, and listen to advice given by local emergency officials."
This evening, Dorian was a Category 1 hurricane, with winds of 85 mph moving at 15 mph some 330 miles southeast of the Bahamas.
State and local states of emergency have been declared, and county, school and health officials are moving forward with shelter preparation, with two shelters–at Bunnell Elementary and Rymfire Elementary–set to open Saturday morning. To that end, the Flagler Health Department in Bunnell will be closed Friday so it can prepare the shelter.
The county commission in a special meeting at noon signed its emergency declaration. Palm Coast Mayor Milissa Holland followed suit at 1:30 p.m. The Bunnell City Commission meets in special session at 6 tonight to pass a similar declaration.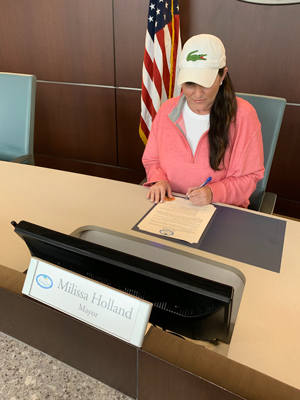 "Your city is taking the necessary steps, lowering canals, checking the stormwater systems, and ensuring everything is in order and ready to respond," Holland said in a video message to residents. "As your City gets ready, do not wait to get ready yourself. Have a plan in place and stay informed with up-to-date, reliable information about Hurricane Dorian. Most importantly, remember that none of us are alone. Your city is here for you, but be there for one another as well. Stay calm and positive. Be the helping hand your neighbor needs."
Flagler County schools will hold their regular class schedules Friday but have cancelled weekend activities on school campuses, including outside uses of their facilities, other than for sheltering. Daytona State College classes will be cancelled starting at noon Friday. Stetson University is doing likewise. Stetson classes will not resume until at least Wednesday.
Gov. Ron DeSantis today expanded the state of emergency to all 67 Florida counties because of the uncertain path of the storm.
There are no mandatory evacuations in effect at the moment, nor are they expected in the next 24 hours. But county officials are asking residents to re-familiarize themselves with Flagler's evacuation zones, which are identified as Zones A, B, C, D, E and F. The zone's identifications do not correspond with Palm Coast's section names. In other words, Evacuation Zone B is not Palm Coast's B Section, but is the entire swath of land just west of the Intracoastal. Evacuation Zone A is the Barrier Island, including Flagler Beach, Beverly Beach, Marineland and the Hammock. See the map here or below.

Hurricane Dorian Up to Cat 4 by Landfall as Flagler Declares Emergency and Prepares Shelters
Thursday, 12:24 p.m.–The Flagler County Commission met in special session at noon today to approve a state of emergency in the county. Palm Coast, Flagler Beach and Bunnell officials, along with the sheriff and police chiefs, also attended. 
Emergency Management Chief Jonathan Lord told commissioners that Hurricane Dorian  is now projected to be a "catastrophic Category 4 hurricane" by the time it makes landfall, and that "Flagler remains well near the center of the forecast cone." Lord said county residents must "remain very vigilant," even though the storm path is somewhat further south than Flagler, at least at the moment. 
Lord said Flagler has a 60 percent chance of experiencing tropical storm force winds, and just a 15 percent chance of experiencing hurricane force winds. That may change. The storm is expected to make landfall Monday morning. Lord said the county is expected to get 4 to 6 inches of rain, and will get a storm surge in areas east of I-95, where some flooding is expected.
Public shelters will be open starting Saturday morning.
Sheriff Rick Staly said inmates from the county jail have been mobilized to help residents fill sand bags. The sheriff's office itself is on an "all hands on deck" condition, with all vacations and leaves cancelled.
We don't need a lot of hurricane parties going on," Staly said, urging residents not to be deceived by the good weather at the moment. "Residents should not start to relax just because it's beginning to move a little bit south."
Superintendent Jim Tager said schools will continue on a normal schedule Friday, but Bunnell Elementary will be open as a pet-friendly shelter on Saturday, and Rymfire Elementary open as a special needs shelter. "As a school district we love the community we live in an the support from everybody in this room is beyond anything I ever expected," Tager said.
Lord cautioned against evacuating too far, saying people should think of going distances in the tens of miles, rather than in the hundreds of miles. "The idea is not to be hopping on the interstate and going three states away," he said. "I would rather folks stay as close to the community as you can, but outside of the evacuation zones."
Previous stories are below.

Hurricane Dorian's Hard Left and 'Hiccup' May Spare Flagler Worst of Storm, But Tides, Floods and Power Cuts Still Concerns 
Thursday, 8 a.m.–Flagler County residents may end up cheering Hurricane Dorian's leftist tendencies if the slouches along its its revised path, a now more southerly turn that  has it making landfall as a Cat 3 somewhere between Melbourne and Port St. Lucie before dawn Monday, according to the National Hurricane Center's 5 a.m. forecast Thursday.
Flagler residents may also hope that the European hurricane forecast models, which have proven significantly more accurate in the past than American models, have it right this time as well: the consensus among European models (known as UKMET and ECMWF) have the storm making landfall further south still.
But the storm's lashing bands still mean tropical storm force winds would begin in Flagler late Saturday night and early Sunday morning. Tides would still be a concern, as they coincide with an "astronomical" high tide. Hurricanes Michael and Irma wiped out Flagler's electrical grid even at tropical-storm levels (neither storm was actually a hurricane when effects were felt locally). And it would still be a considerable rain event–all assuming the storm, which has been temperamental and remains far enough that landfall predictions are still closer to astrology than science, doesn't again change course, as hurricanes usually do.
https://twitter.com/geofffox/status/1166778124962390016
But the National Hurricane Center was also noting another development signaling a bit of trouble with Dorian's health as a well-organized storm: "Soon after the previous advisory was issued, Dorian appeared to have a bit of a hiccup in its structure," the center reported this morning. "A dry slot was noted penetrating into the southeastern portion of the circulation, with the eye becoming cloud- and rain-filled. In fact, dropsonde data from the Air Force Reserve mission indicated that the central pressure had come back up a bit to around 991 mb." The storm was still packing winds between 80 and 85 mph and was expected to "strengthen into a major hurricane during the next couple of days."
Early this morning the storm was some 150 miles north-northwest of San Juan, Puerto Rico, moving at 13 mph. The National Hurricane Center says the path of the storm over the next two days is pretty much set, but models diverge significantly after that, with the American model a "northern outlier" (in the center's own word choice), showing a slightly weaker storm making its way to the central eastern flank of Florida, while the European model shows a steadily strong storm hitting South Florida. (The American GFS model alone still has the storm smacking Flagler: see Geoff Fox's tweet and animation above right.)
The map you see above ends up being somewhat of a middle-of-the-path consensus of all those forecasts. Previous stories are below.

Hurricane Dorian's Path Set on Florida as Cat 3; Flagler, Palm Coast, Bunnell and State All Declaring Emergency
Wednesday, Aug. 28, 7:46 p.m.—It is now Hurricane Dorian, and it is heading for landfall somewhere on the central Florida coast Sunday night as a Category 3 storm, with sustained winds of 110 miles an hour or more, according to the National Hurricane Center's latest forecast.
The Flagler County Commission meets in special session at the Emergency Operation Center in Bunnell at noon Thursday to declare a state of emergency. That means government officials will have more latitude making decisions without going through the normal procurement rules, among other measures. The commission is expected to get a briefing from Jonathan Lord, the county's emergency management chief whose role and jurisdiction will cover the county and cities once the emergency declaration is in effect, though Palm Coast will continue to have its own emergency management operation, with Fire Chief Jerry Forte as its incident commander.
Palm Coast Mayor Milissa Holland is expected to sign a state of emergency between 2:30 and 3 p.m. Thursday. Palm Coast is now holding a daily 9 a.m. and 4 p.m. briefing with its own emergency operations staff, and will open its emergency operations center likely Sunday evening, where two teams will share responsibilities in shifts, City Manager Matt Morton said this evening. The city is also already putting in place its after-storm response, which will include drones this time, and the dissemination of city vehicles across the city to survey and plan any needed emergency responses.
Palm Coast today began offering free sandbags and sand piles at various locations. See them here. Schools are not expected to be closed either Thursday or Friday.
Gov. Ron DeSantis declared a state of emergency in 26 counties, including Flagler, Wednesday afternoon, through an executive order. The order covers numerous functions of state government, while also clearing the way for agreements with other states to coordinate resources. It also ordered Adj. Gen. James Eifert to activate the Florida National Guard "as needed" to deal with the emergency.
Both state and local officials began talking of evacuations: residents who live east of Interstate 95 – or in mobile homes or low-lying areas – should be ready to evacuate, Flagler officials said this afternoon.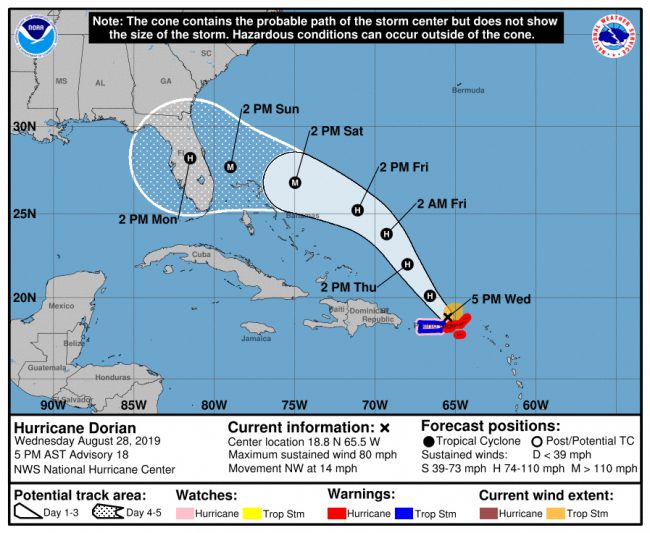 "While we don't want people to panic, Hurricane Dorian is gaining strength and is currently projected to make a direct hit to Florida's Atlantic Coast," said Emergency Management Director Jonathan Lord this afternoon. "The best way to protect yourself is to be prepared."
"Because of the uncertainty in the track of this storm, every resident along the East Coast needs to be ready," state Emergency Management Director Jared Moskowitz said in a statement. "By having an executive order in place and by activating the State Emergency Operations Center to a Level 2, we are fully prepared to support any community that might be impacted."
Hurricane shutters and generators should be in place and ready. Food, fuel, water, medication, pet supplies, critical papers, and family comfort supplies should be purchased before the weekend. Porches and patios should be cleared of items that can create a hazard.
"We do not anticipate at this time to have any school closures," Jason Wheeler, the district's chief spokesman, said Wednesday evening. "We're going to talk again tomorrow as far as Friday football and athletic stuff," but even those activities are expected to go on as scheduled. "All indications are that this will be a late weekend storm."
The Bunnell City Commission is holding a special meeting Thursday at 6 p.m. to declare a state of emergency. The city will make sand bags available at the county's Bunnell fire station.
"Now that the hurricane has developed an inner core with a 15 to 20 [nautical mile] eye," the National Hurricane Center said at 5 p.m., "strengthening is more likely. Given the favorable environment of warm waters and low shear prevailing in the western Atlantic, the NHC forecast calls for a marked intensification, and brings Dorian to category 3 intensity in 72 hours, and keeps it at that intensity until landfall."
The center continues: "All indications are that by this Labor Day weekend, a powerful hurricane will be near or over the Florida peninsula. The new NHC track forecast is a little bit to the south of the previous one, given that global models have a stronger ridge to the north and the track models show more of a westward motion. Users are reminded not to focus on the exact forecast track, as the average 5-day track error is around 200 miles."
Even if the storm doesn't make landfall in Flagler, its storm surge will be significant in the county because it is coinciding with an astronomical high tide.

Tropical Storm Dorian Set to Become Major Hurricane, Now Heading For Flagler
Wednesday, Aug. 28, 4 p.m.–Flagler County residents woke up this morning to a one-two punch in the making: Tropical Storm Dorian is set to become a Category 2 hurricane by Friday, and its path, however uncertain, is now gunning straight for Flagler.
The National Hurricane Center's 11 o'clock brought a grimmer outlook still: by the time the hurricane is offshore near Florida, it will be a major hurricane, with winds of 110 mph or higher.
"Satellite and radar images indicate that the cloud pattern has become better organized during the past several hours. This was confirmed by data from an Air Force reconnaissance plane currently investigating Dorian," the hurricane center reported.
"All indications are that by this Labor Day weekend, a
powerful hurricane will be near the Florida or southeastern coast of the United States," the center continued. People "are reminded not to focus on the exact forecast track, as the average 5-day track error is around 200 miles."
Going by the National Hurricane Center's 8 a.m. forecast, tropical storm force winds are expected in Flagler around midnight Sunday, going into Monday.
"We are looking at where we may order evacuations, probably to start on Saturday," Flagler County Emergency Management Chief Jonathan Lord said this morning, the caveat always being that the path of the storm remains very uncertain that many days out, and may, likelier than not, change.
But local authorities must go on the assumption that storm paths can also change for the worse, and so be prepared for that worst. With that in mind, the county's Emergency Operations Center will "possibly" activate to Level 2 Friday, and "definitely" activate to Level 1 Saturday. That means the EOC would be staffed at full capacity that day, with dozens of representatives from local government agencies, law enforcement, constitutional offices, the health department, Florida Power and Light, state and National Guard liaisons and others taking their seats there.

The Palm Coast government administration mobilized the entirety of its top staff this morning in a full-scale Dorian-planning meeting.
Because of what the National Weather Service is calling "astronomical" tides expected to coincide with Hurricane Dorian's arrival–the sort of coincidence seen, with catastrophic consequences, when Hurricane Sandy in 2012 flooded the New York metropolitan area–county officials are concerned about the storm's effect on the newly reconstructed dunes in Flagler.
"I would expect some impacts to our dunes, on the current forecast track," Lord said.
The dunes had to be rebuilt, at a cost of $18 million, after Hurricane Matthew carved away much of the 11-mile shoreline's dune barrier, a condition worsened when Irma struck a year later. The dunes breached in at least three spots during Hurricane Matthew, flooding large swaths of Sea Colony and other areas of northern Flagler County at the north end. Hurricane Irma flooded large swaths of Flagler Beach along the intracoastal.
Flagler County officials are encouraging residents to sign up for weather warning notifications and for those requiring additional assistance to apply for the special needs registry. Those who should register for special needs evacuation sheltering are people who require daily assistance with medical conditions that prevent or hinder their ability to care for themselves.
Residents with computer access can register for either or both online at www.flaglercounty.org/emergency.
The direct link for special needs is www.flaglercounty.org/specialneeds, where a printable application form is available as well as a link to the Special Needs Registry.
The direct link for the ALERTFlagler weather notifications is www.FlaglerCounty.org/ALERTFlagler.
"We as a county are taking this very seriously, because the current forecast from the hurricane center and the National Weather Service are indicating we will have serious effects from this storm – wind and rain at the very least," said Lord. "Signing up for these services now will help us to help you."
In a tweet Tuesday, Gov. Ron DeSantis advised East Coast residents to start preparing for Dorian.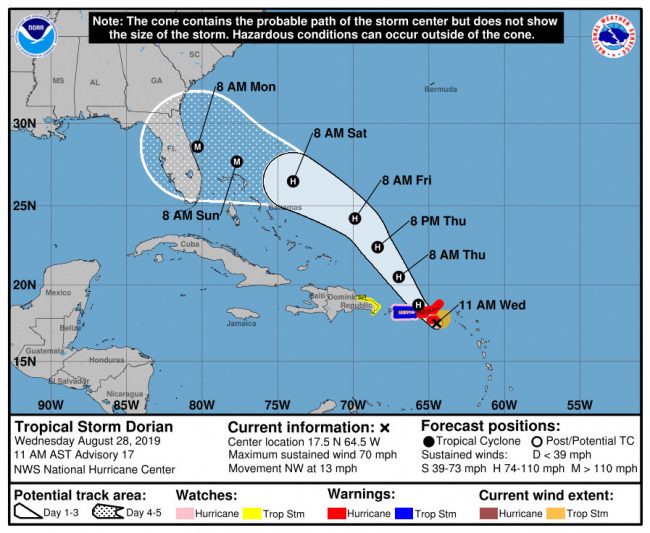 "Based on the current track of #TropicalStormDorian, all residents on the East Coast should prepare for impacts, including strong winds, heavy rain and flooding," DeSantis tweeted. "Make sure to have your supplies ready and follow @FLSERT (the Florida Division of Emergency Management) and local media for the latest updates on the forecast."
DeSantis held a conference call with Emergency Management Director Jared Moskowitz and later with the entire state emergency response team, the News Service of Florida reported.
With South Florida Water Management District meteorologists predicting rainfall of up to 8 inches in some areas over the weekend, the district announced Tuesday it has started to draw down canals to help local drainage districts and governments reduce flooding.
Forecasters remain uncertain on the track and strength of the hurricane season's fourth tropical storm.
The National Hurricane Center, which expects winds from Dorian to arrive across Florida on Saturday morning, said in its forecast the entire East Coast, from the Georgia border to just north of Key West, is in the cone of probability for landfall Sunday morning.
This story will be updated as developments warrant.
Previous stories are below.

Dorian's Path Edges Closer to Flagler, With Rising Chance of Tropical-Storm Force Winds Over Weekend
August 27–Tropical Storm Dorian was a day away from Puerto Rico this afternoon, traveling at 13 mph with sustained winds of 50 mph, its near future not immediately expected to develop into a hurricane. But Dorian's path is becoming a little more clear, and it now has the entirety of the Florida Peninsula, including all of Flagler County, in its forecast cone.
While weaker than on Monday, the National Weather Service was warning that "Dorian may re-intensify as it moves across the Bahamas" on Friday and Saturday. "Local tides will be already be astronomically elevated late this week and this weekend due to the New Moon." There is a potential for heavy rainfall because Flagler will be on the wetter side of Dorian.
As of Tuesday afternoon, the National Hurricane Center was forecasting Dorian making landfall somewhere south of Cape Canaveral Sunday morning around 8 a.m. Wind speed probabilities were very low for Flagler County on Monday, but by this afternoon had risen significantly. Flagler now has a 20 percent chance of getting tropical storm-force winds between 8 a.m. Saturday and 8 a.m. Sunday.
With such winds come power failures, which, as was the case with the 2016 and 2017 hurricanes, were the problem almost all residents experienced–and some of them suffered–for days.
And local officials, including Palm Coast Fire Chief Jerry Forte and Flagler Emergency Management Chief Jonathan Lord, were beginning to speak of sandbags this morning. Forte did so as he briefed the Palm Coast City Council on what measures would be taken later this week should Dorian prove to be more onerous than a severe summer storm.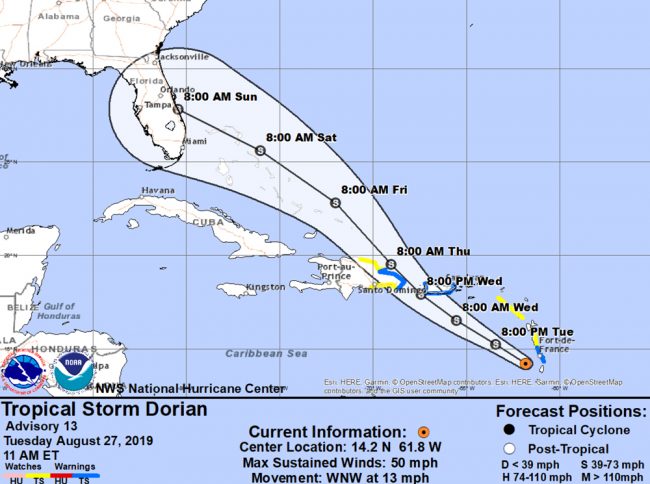 "Sandbags will be available for pick-up at City Hall and the utility department on Utility Drive. Sandbag fill sites are setup at Wellfield Grade, Indian Trails and Ralph Carter Park," Forte said (Wellfield Grade is the city's public works facility at 1 Wellfield Grade off U.S. 1, Indian Trails is the Indian Trails Sports Complex, and Ralph Carter Park is next to Rymfire Elementary.) Those are self-service sandbag stations.
But Forte later this afternoon recommended that people not jump the gun just yet. While the city is making the sandbags and the sand available, "I would probably wait a couple more days to see where the storm is going," Forte said.
The city is making preparations both as a precaution and because preparing for such storms–as Flagler's experience with Hurricanes Matthew and Irma taught governments and residents–is time-consuming and demanding on many resources.
"We are going to begin our preparation exercises," Palm Coast City Manager Matt Morton told the council, with Dorian 1,665 miles from Palm Coast at the time.
"There's still a lot of unknowns related to the path of the storm and we want everyone to take necessary precautions when assessing a personal situation," Forte said, going through the check-list of preparations residents should keep in mind, from securing insurance papers to checking on prescriptions and other immediate necessities.
"If the determination is made that the city will experience some significant effects from the storm," Forte said, "Mr. Morton will advise city council if a state of emergency needs to be enacted by mayoral order and the city manager will then get direction from the city mayor to oversee the operations in the city," with a city emergency management structure mobilized.
The county is holding off on sandbags for now. "At this time, Flagler County does not have plans to provide sandbags," Lord said. "However, the county will make sand available in multiple locations later this week. We'll announce those locations as soon as practical. For residents looking for sandbags, we have verified that stores such as Home Depot, Lowes, Ace Hardware, and Amazon currently have them available either for pick-up or shipping within the next 2 days."
Lord again stressed preparation over anxiety today, as he did yesterday. "Over the next few days, Dorian's forecast is expected to fluctuate," he said. "However residents, visitors, and businesses should remain vigilant and complete their preparedness plans and review emergency kit supplies today. Today is the day to stock up on emergency supplies, fuel your vehicles – and keep them topped off the rest of the week − and to check your hurricane shutters."
The previous story is below.

Tropical Storm Dorian's Gray Path Has Flagler Authorities Urging Preparedness, Not Fear
August 26–Tropical Storm Dorian, expected to become a hurricane by Wednesday then degrade back into a tropical storm the next day, has its indecisive eye on the Florida Peninsula, and may provoke a soggy Labor Day weekend. But local and state authorities are urging preparedness, not worry: the storm's forecast is the picture of grayness.
The storm late this afternoon was just beginning to aggravated the lesser Antilles, but as a tropical storm, with maximum winds of 60 mph. It was moving at 14 mph west northwest, and may become a hurricane by mid-week, when it grazes already battered Puerto Rico, which has still not recovered from Hurricane Maria in 2017 (in large part because bare fractions of the $20 billion Congress approved for the island, whose residents are American citizens, has made it there.)
One significant concern beyond wind and rain: tides. "Local tides will already be astronomically elevated late this week and into the weekend due to the new moon," the National Weather Service in Jacksonville said in its evening briefing Monday. That may be a problem for Flagler's newly-rebuilt beaches, which would experience some erosion from the tides.
"It is too early to know if Tropical Storm Dorian − likely to become a hurricane soon − will have an impact on Flagler County," said Emergency Management Director, Jonathan Lord, in a release the county issued this morning. "However, for residents and businesses that have not made preparations this year for a tropical storm or hurricane, now is the time to do so. Don't wait to see if Flagler County falls within a 'Cone of Uncertainty' or comes under a Tropical Storm or Hurricane Watch. Ready your home and business now."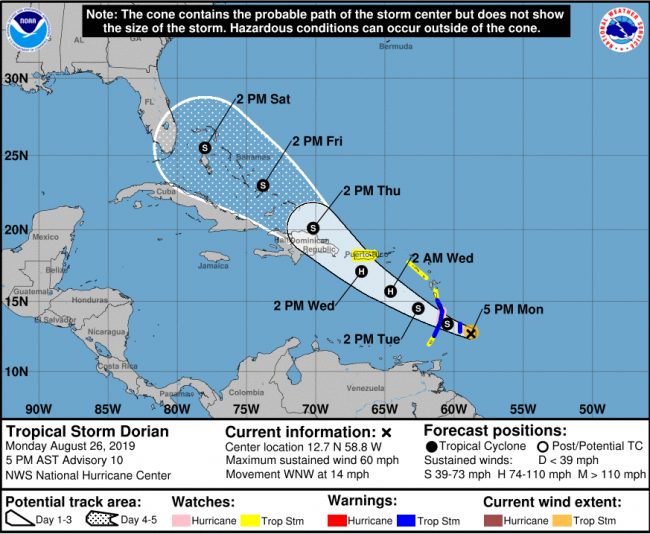 That cone doesn't yet have Florida in its five-day projection, though the trajectory has it heading this way–but as a weakened storm. On the other hand, the National Hurricane Center's wind-probability projection does have the storm's farthest wind bands reaching as far as north-central Florida, in the 5 to 20 mph range, with somewhat more intense winds arriving Saturday and Sunday. For Flagler, it would be the first time since Hurricane Irma in 2017 that the county might be lashed by tropical winds and rains. The distance from the storm in time and geography is significant enough to allow for wide disparities in the forecast, including a dissipation of the storm, as well as to allow for careful preparations–for this or any other storm over the next few weeks: Flagler and Florida are now in peak hurricane season.
"I don't like seeing residents rushing around at the last minute, trying to get food, water, and fuel, as the supplies are running out," Lord said. "If our community takes the time to be prepared now, then we can all weather the storm and return to our normal daily routines much quicker." Lord in his presentations to community groups, local governments and media has continually stressed the importance of year-round preparation not just for the hurricane season, but for any eventuality such as tornadoes, unusual rain events, wildfires, among climate change's more routinely cataclysmic flares.
Flagler residents have enough fresh, bitter memories of Hurricanes Matthew and Irma that, despite this region's relative calm in 2018 (Hurricane Michael slammed the Panhandle at Category 5), any hint of a cyclone on the horizon will trigger a measure of anxiety. The anxiety can be put to constructive uses.
For more information on how to be prepared, including what to include in your emergency supply kit, how to make a disaster plan, and finding out if you are in a Hurricane Evacuation Zone, visit www.FlaglerCounty.org/emergency. You can also sign up for ALERTFlagler emergency notifications and access the Disaster Preparedness Guide online. Printed Guides are available for pick-up at most public government buildings within Flagler County.
If you or a household member require daily home medical care in an evacuation, or require transportation evacuation assistance, please sign-up for the Special Needs Registry at www.FlaglerCounty.org/emergency and select 'Individuals with Special Needs' from the menu.
For additional assistance or information from Flagler County Emergency Management, email [email protected] or call 386-313-4200.

Download your 2019 Hurricane Preparedness Guide here, or see below:
Reader Interactions