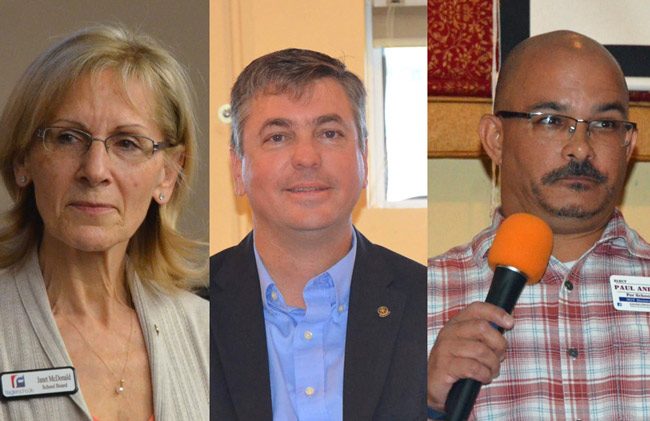 Five candidates are running for two seats on the Flagler County School Board in the ongoing primary election, which ends Aug. 28: Incumbent Trevor Tucker and Paul Anderson in District 4, and incumbent Janet McDonald, John Fischer and Carl Jones in District 2.
School board races are non-partisan and at large. That means all registered voters anywhere in Flagler County may cast a ballot in the primary election for school board, regardless of party affiliation (or non-affiliation) and regardless of geography.
The Tucker-Anderson race will be decided by Aug. 28 whatever the result. The McDonald-Fischer-Jones race will be decided by Aug. 28 only if one of the three candidates polls more than 50 percent of the vote. Otherwise, the top two vote-getters go on to the general election in November.
You can read the detailed Live Interviews with each candidate through links in the box below.
The Flagler ESE Support Group conducted video interviews of its own, focusing on issues more general interviews overlook or neglect. The 1,900-some exceptional education students represent 15 percent of the district's population of about 13,000. We asked Stephen Furnari, the founder and administrator of the county's 150-member special-education support group, to provide an introduction to the interviews and allow us to publish the results below.

By Stephen Furnari
Whether or not you have a child in exceptional student education (ESE), if you want Flagler Schools to be an "A" district, then you have a vested interest in ESE being successful.
For the seventh year in a row, the Florida Department of Education gave Flagler Schools a "B" grade. Experts agree that the district can get an "A" grade if it improves graduation outcomes for the lowest quartile of students, of which, approximately 60 percent receive ESE services.
The bottom line: if you want a high performing school district, you've got to improve ESE.
ESE in Flagler Schools has some major challenges. But over the past year, newly appointed Superintendent James Tager has instituted many changes to improve it. Several pilot programs are being tested throughout the district, and effort has been made to improve tense relations with ESE parents.
These are positive but fragile changes that can easily be undermined with the wrong School Board leadership.
This year, the Flagler ESE Support Group invited every School Board candidate to interview with us to discuss their positions on ESE. All of the candidates were asked the same nine questions on topics relating to parent/district relations, adequacy of supports, the inclusion teaching model, and attitudes towards students with disabilities.
Every candidate was invited to speak with us. Trevor Tucker, Paul Anderson and Janet McDonald completed interviews. Carl Jones and John Fischer did not.
Here are their interviews:
Janet McDonald:
Trevor Tucker::
Paul Anderson:


Stephen Furnari is the founder and administrator of the county's 150-member special-education support group. Reach him by email here.