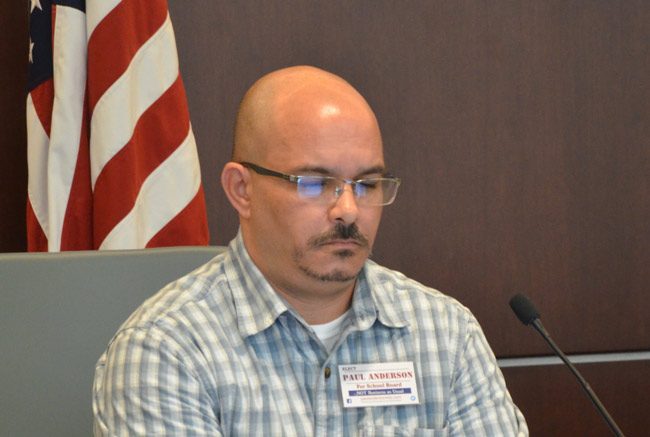 Paul Anderson is one of five candidates in two races for Flagler County School Board in the Aug. 28 primary election.
The two school board elections–for District 2 and 4–are non-partisan races: all registered voters in Flagler County are eligible to cast a ballot in the two races–whether registered Democratic, Republican, Independent or from a minor party. (The District 1 seat was also up this year, but incumbent Andy Dance was re-elected without opposition.)
You may cast a vote in both races regardless of the district, the town or the subdivision you live in. The election on Aug. 28 will decide the winner in District 4 between incumbent Trevor Tucker and Paul Anderson because that race has just two candidates. District 2 is a three-way race between incumbent Janet McDonald, John Fischer and Carl Jones. The race in this case would be decided only if a candidate wins better than 50 percent of the vote. Short of that, the top two vote-getters will go on to a run-off, to be decided in the general election on Nov. 6. 
FlaglerLive submitted 11 identical questions to the school board candidates, who replied in writing, with the understanding that some follow-up questions may be asked, and that all exchanges would be on the record. Questions appear in bold, follow-up questions, when necessary, appear in bold and italics, and may be awaiting answers. When a candidate fails to answer a question, that's noted in red. The questions and follow-ups attempt to elicit precise answers, but the candidates don't always comply.
School board members serve four-year terms and are paid $33,447 a year.
As he did two years ago, the first time he lost a race for school board, Anderson declined to answer questions.


The Questions in Summary: Quick Links


Place and Date of Birth: July 23, 1969. Place not disclosed.
Current job: Not disclosed. 
Party Affiliation: Republican
Net Worth: Not disclosed.
Resume: Not disclosed. 
Website: Not disclosed.


1.    What is your vision for public education in Flagler County and how are you uniquely qualified to help enact it within the limitations of the job? If you're an incumbent, how have you enacted it in your previous years? If you're a challenger, what have you done to prepare?
Paul Anderson did not answer the question.


2.     Tell us who you are as a person—what human qualities and shortcomings you'll bring to the board, what your temperament is like: if you're an incumbent, what do you consider may have been a mistake or a misjudgment on your part in your official capacity—something you'd do over, differently–in the past four years? If you're a challenger, apply the question to your work or civic involvement.
Paul Anderson did not answer the question.


3.     The Flagler school district earned a B for the seventh year in a row. If you're the incumbent, how do you defend your tenure from reflecting a middling performance, at least in the state's eyes and in the eyes of families or businesses looking to relocate to Flagler?
Paul Anderson did not answer the question.


4. What are the district's three brightest successes and the three failures that affect students most? What will be your chief priorities regarding student achievement, within the limits of the doable—that is, four years from now, what can we look back to and say: you were responsible?
Paul Anderson did not answer the question.


5.      In 2022, the last year of your tenure, should you win, the district's half-penny surtax on the sales tax expires. The district will all but certainly seek to renew it. Do you support its renewal? Would you alter its scope and fund different items from those funded now?
Paul Anderson did not answer the question.


6. The County Commission through the sheriff pay for half the cost of sheriff's deputies in schools but it doesn't have to: security is a district responsibility. If Amendment 1 passes and county government revenue drops next year with the expansion of the homestead exemption (which would not affect school revenue), the county may retreat from its 50-50 commitment. If it does, how do you propose making up the difference? If arming staff as opposed to contracting with the sheriff is the more affordable way to go, would you?
Paul Anderson did not answer the question.


7.      Explain Flagler County's one-to-one technology initiative and how it's paid for. Is the district spending too much on technology? Too little? By what objective measure would you say the initiative has been a success—or has fallen short?
Paul Anderson did not answer the question.


8.      Define the limits of a student's free expression in and out of school not necessarily as the district's Code of Conduct sets them out, but as you would craft them, including what a student may or may not say on social media. Evaluate the district's use of a contractor such as Social Sentinel to monitor certain social media activities on and off campus.
Paul Anderson did not answer the question.


9.    Amendment 8 stacks three proposals into one, in hopes of winning a 60 percent majority. Let's break it down as if it were separate parts: Do you support term limits for school board members? Explain your answer. Explain the potential effects on the district of that portion of the proposed constitutional amendment that would shift charter-school oversight to the state, from the local district, and analyze for us how effectively you think the board has overseen existing or potential charter schools in the past five years.
Paul Anderson did not answer the question.


10.     Evaluate the strengths and weaknesses of the district's Flagship program.
Paul Anderson did not answer the question.


11.  Have you ever been charged with a felony or a misdemeanor anywhere in Flagler, Florida or the United States (other than a speeding ticket), or faced a civil action other than a divorce, but including bankruptcies? If so, please explain, including cases where charges did not lead to conviction.
Paul Anderson did not answer the question.


2018 Election Candidates, Flagler County
Races

Candidates

County Commission District 2
Greg Hansen, Incumbent (Rep)
Abby Romaine (Rep)
Dennis McDonald (NPA)
County Commission District 4
Nate McLaughlin, Incumbent (Rep)
Joe Mullins (Rep)
Jane Gentile-Youd (NPA)
School Board District 1
Andy Dance, Incumbent
Unopposed
School Board District 2
Janet McDonald, Incumbent
John Fischer
Carl Jones
School Board District 4
Trevor Tucker, Incumbent
Paul Anderson
Palm Coast City Council Seat 2
Jack Howell
Jon Netts
Palm Coast City Council Seat 4
Jose Eduardo Branquinho
Corinne Marie Hermle
John Tipton
Florida House District 24
Paul Renner, Incumbent (Rep)
Adam Morley (Dem)
Congressional District 6, Democratic Primary
Stephen Sevigny
Nancy Soderberg
John Upchurch
Congressional District 6, GOP Primary
Fred Costello
Michael Waltz
John Ward