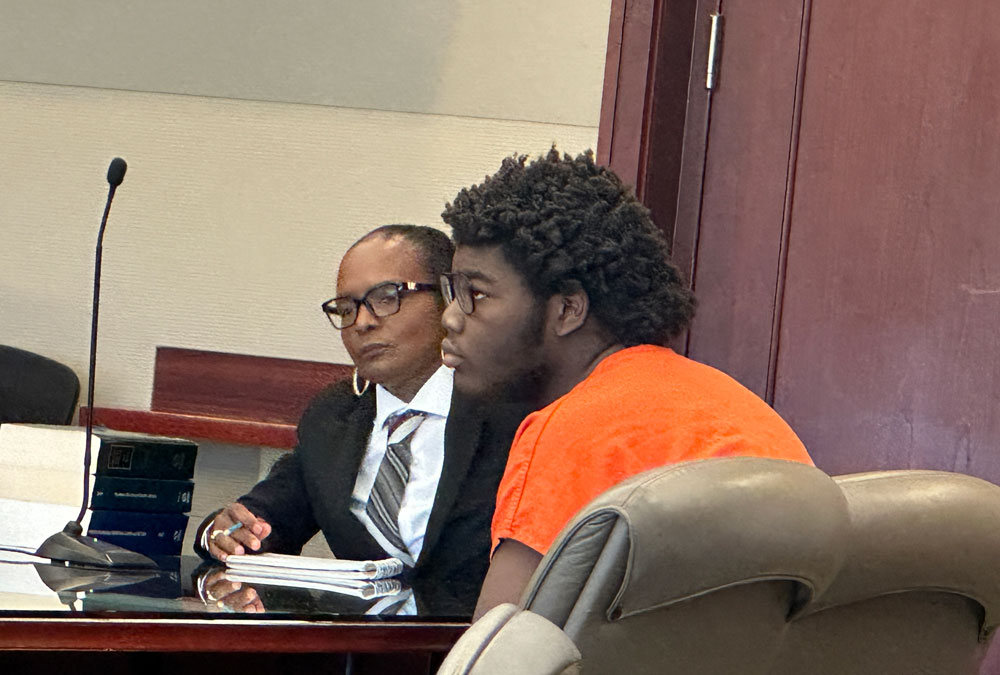 Circuit Judge Terence Perkins today found Brendan Depa, the 17-year-old former Matanzas High School student accused of assaulting a teacher aide in February, competent to stand trial.
The judge's decision at the end of a three hour hearing followed testimony by two psychologists, one of whom described Depa as severely autistic, often violent and unpredictable, requiring "extreme" assistance and suffering since early childhood from deep and numerous disorder, including psychosis. The other described him as intelligent, aware, autistic but not so impaired as to not know how to navigate through a trial.




"You really got to watch it for yourself and see that in fact, he can control himself when he wants to," Assistant State Attorney told the judge in her argument. "That's really what this is about. I think there's no doubt whatsoever that he's a bright young man. he understands what's going on, and he can control himself when he wants to and I'd ask that you find him competent."
Kurt Teifke, Depa's attorney, said he alone has spent more time with him than anyone else on that side of the bar in court today. "I have great concerns," he said. "I am not confining my opinions to diagnosis. Not at all. I'm talking about its manifestations. I'm talking about the behavior and the interactions and frankly, everything that happens." He described it as "a cocktail of mental health disorders that just waiting for something to happen" in court, undermining Depa's right to due process.
"This was one of those circumstances where actually hearing from the doctors and the experts was some great assistance," Perkins said, explaining his reasoning. Three elements drove his decision: the circumstances of Depa's life, the circumstances of the attack ("how does this happen in a rational world"), and the suggestion of incompetence.
"Having considered everything in this regard, and understanding that this is a snapshot," Perkins said, "I find that based on all of the evidence in this case, I find that Mr. Depa is competent to proceed in this case."




Depa is being held in a jail for juveniles in Jacksonville. He faces a first-degree felony charge of aggravated assault following his attack on paraprofessional Joan Naydich, whom he threw on the ground in a school corridor before pummeling and kicking her unconscious until school employees stopped him. The attack was captured on surveillance video and drew international attention.
Perkins soon ordered a psychological evaluation to determine whether Depa would be competent to stand trial.
Depa was evaluated by two psychologists, both court-appointed. Roger Davis found Depa "smarter than most people," bright, aware, and "competent to proceed," following an 84-minute evaluation in May. Yes, he's autistic. But symptoms alone aren't enough to impair competency, Davis said, especially as Depa can–and does–benefit from therapy.
Jessica Anderton sharply disagreed. "In my perspective, Brendan clearly poses a danger to himself and to others and meets criteria for hospitalization," she said.
She evaluated him on March 29 for two hours, a session that included "auditory hallucinations," such as bursts of laughter he attributed to jokes he was hearing from voices in his head. The voices can be comforting. They can also be suggestive of violence or bad advice, and a potential "problem for me in terms of his ability to manage his behavior in court," Anderton said.
If, for example, he were to burst out laughing in the middle of trial proceedings, that would reflect poorly on the jury, hurting his case. There were no such outbursts today.
He was able to recount what happened the day of the assault, but with numerous extraneous details. Anderton rated him "unacceptable" on a range of behavioral matters that would fall short of competency to stand trial, in her view.




He cannot rationally make decisions about his case, his circumstances or potential outcomes of proceedings. He is not even interested in working with his attorney.
"If he doesn't have an adequate grasp of the scope of possible penalties, how could he possibly make rational decisions about whether or not to negotiate a plea bargain, whether or not to go to trial, how to proceed with this case," Anderton said, "how to collaborate with an attorney and arranging a defense and making decisions? It cuts through every aspect of the trial process."
There is also a racial matter in play. He described the charge against him as "an aggravated assault on a white woman," Anderton said, "and this is something that he was very fixed on in his mind. that the charge is serious because of racial issues." Depa is Black. He claims the charge would not be as severe if he were not Black. And he listens more often to fellow-inmates than he does to his own lawyer.
Clark, who is prosecuting the case, said that "could be viewed as cynicism" about the justice system, attributing it to what he may have seen on television in the last few years. Anderton disagreed, up to a point.
"Would you also agree with Dr. Davis that some of his Mr. Depa's misunderstandings of the legal system could just be based on his age and lack of life experience?" Clark asked the psychologist. Anderton agreed on that score.




Depa appeared in court today and sat through the hearing. He took no part in the proceedings. He sat at the defendant's table, looking down almost the entire time, and only occasionally feigning interest in the exchanges between lawyers and witnesses. He was guarded by a Flagler County Sheriff's Office deputy rather than by a bailiff. Ninety minutes into the hearing, Depa put his head down on the table as if to go to sleep. The deputy nudged him to sit up. It happened repeatedly.
Depa's intelligence is not in question: his IQ has been determined to be between 97 (in the average range) to 116 (above average). He's been previously diagnosed with autism spectrum disorder, oppositional defiant disorder, intermittent explosive disorder, attention deficit disorder. He has also been diagnosed with anxiety disorder, disruptive mood disorder. But those aren't obstacles to competency to stand trial when put in the context of his everyday capacity to understand the circumstances of his case and its potential outcomes.
"He's a bright young man," Davis said. But he thought the maximum punishment he was facing was five years, and was fixated on that. It's 30.
Teifke didn't seem to have much left to work with–not in a state where the threshold of competency for trial is not much higher than sentience, awareness and basic intelligence.
Teifke had more to work with through the Depa evaluation he sought from Anderton, who drew a dire portrait of a young man with a "very complex combination of less obvious problems." Testifying today, Anderton listed a very long list of disorders and conditions Depa suffers from, medications he's prescribed, residential programs he was assigned to, including the one in Palm Coast, his last place of residence. That program will not take him back.
Anderton said he was assigned the one paraprofessional at Matanzas High School because he was unable to carry out his school responsibilities without an aide. He was being treated for psychosis, and has "frequent aggressive impulsive behaviors that are noted across settings," Anderton said. She described a young man prone to "explosions" resulting from any of a number of circumstances that can go awry in his surroundings.




According to Anderton, "he seemed to believe that he should just be held in jail until he gets right with God or he's learned his lesson," suggesting a clear sense of guilt. ("He realized there was a high chance of conviction," Davis said in his testimony.)
He is being held on the "mental health floor" of the jail, according to Anderton, his hygiene "mildly neglected" and his isolation pronounced, adding to his stress and making mood swings and behavioral problems more likely.
Teifke attempted to elicit testimony from Davis that would show Depa to have key misunderstandings of the case–that he didn't appreciate the severity of the charge he faces even after speaking with Teifke two or three times, that he wasn't retaining "salient" information, in Teifke's words, that he couldn't retain it for long even if he did learn it, and that he has a mental disorder.
That's not enough for incompetency. "Just by mere virtue of having mental disorder doesn't make one incompetent," Davis told Teifke, pushing back every time Teifke tried to get Davis to bend. "Competency is not a very high threshold to meet," Davis said, so while Depa did get answers to many questions wrong, he was able to correct them during the evaluation, and at times to surprise the psychologist with his accuracy.
When Davis asked him what he thought an insanity defense meant, Depa said: "You don't have a grip on the world, so you can't really be" aware of the act.
Teifke asked the psychologist whether Depa could understand some of the intricacies of his defense–how plea bargaining works, how adversarial the proceedings are, what mitigating circumstances are when evaluating penalties. Teifke was questioning whether Depa had the capacity to understand all that, just as he would of Anderton, when Anderton said Depa thinks the burden is on the defense to prove he is not guilty. (The burden is on the prosecution to prove his guilt.)
But even fully competent adults sometimes have difficulty grasping what, to them, is a completely alien system, until they become immersed in it day after day. Most never do, because attorneys simply don't have the kind of time that affords immersion for their client. And it isn't unusual even for adults to think intuitively that while the law requires the prosecution to prove a defendant's guilt, jurors have presumptions of their own, knowing which, disproving that guilt is still very much part of most defense strategies. The more so when racial elements are part of the dynamics, as may be the case in Depa's trial.
Teifke also alluded to Depa's sense that the judge will not be impartial. But that's not uncommon for defendants, either, Davis said.




"What confidence do you have in the durability of any of the knowledge that he is acquiring?" Teifke asked Davis.
"I believe he has the capacity to retain" information, the psychologist said. By then Teifke was circling back to the same questions, trying them out in different ways but getting the same result. Teifke even tried to make something of the fact that, well into Depa's 84-minute evaluation, Depa got up from his chair, which was very uncomfortable, and told the psychologist that he didn't want to sit anymore. Davis told Teifke there was nothing odd about that: the chairs were uncomfortable, and he let Depa stand.
But Teifke was onto something when he asked how Depa could possibly sit through the stresses of a multi-day trial, hour after hour, day after day, when that may be difficult for him to do even in n on-stressful circumstances. "I feel like I've answered that question," Davis said. (The line of questioning on thats core was not necessarily meant only for Davis, but for the prosecution, too, in hopes of swaying a favorable plea agreement down the line.)
Depa's responses during that evaluation were relevant to the questions posed, his hygiene was proper, he was tired from poor sleep but conversant and understanding. He did not have trouble responding or paying attention. He spoke of being frightened in jail (other inmates have called him autistic and "retarded"). "He created voices so he's not alone. And so yes, he talked about voices but he talked about them not in a way that is suggestive of psychosis, but it's more suggestive of having a companion," Davis said.
But he spoke of reading of a monster in a book, dreaming about it, then seeing it. But that's not psychotic behavior, Davis said: "You see something in a movie or read about it in the book, and you're preoccupied with it, and then you might start seeing it," Davis said. That's not a psychotic" episode. His interests are limited to computers, more so than to relating to other human beings.
"But his ability to behave appropriately based on context the situation is going to be very important here, is it not?"
"Sure," Davis said. But while that may be an issue, "in my estimation, it's not a significant enough issue to impair competency."
The psychologists' testimony today also revealed that Depa is a client established with the agency for persons with disabilities already, that he was adopted in 2007, and that his history shows "severe behavioral and emotional problems from a very young age, escalating as he grew older," according to Anderton, to the point that his parents sent him to a residential program because his parents didn't feel he could remain at home safely.