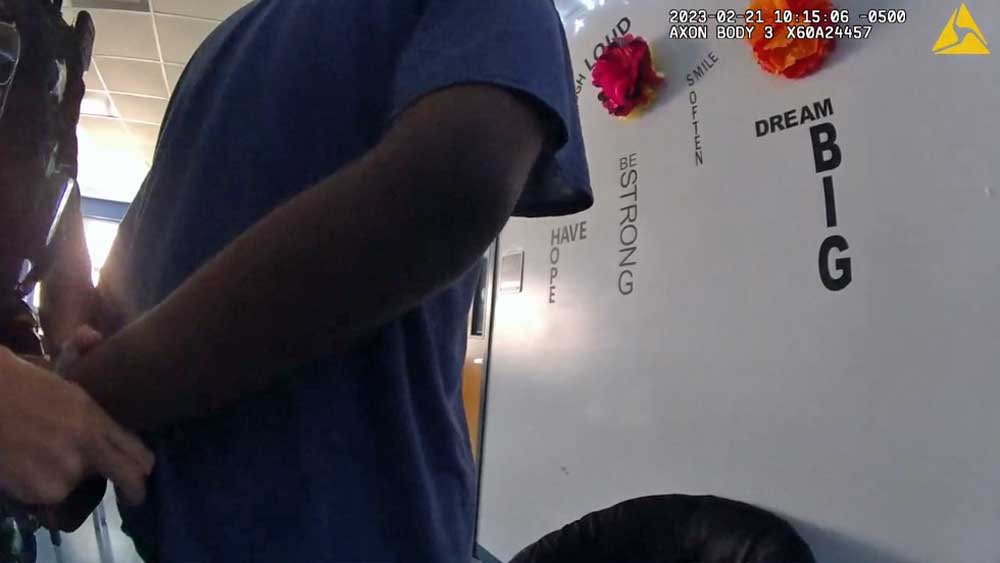 Last Updated: 7:58 p.m.
Brendan Depa, the 17-year-old Matanzas High School special education student captured in surveillance video brutally attacking Joan Naydich, a paraprofessional at the school, was charged as an adult Friday by the State Attorney's Office.
Depa had originally been charged with aggravated battery causing bodily harm after the Feb. 21 incident, but as a juvenile. He was booked at Flagler County jail then transferred to a Department of juvenile Justice jail in Daytona Beach. Such charges typically result in limited time in detention, and probationary terms. (See: "Matanzas High School Special Education Student Arrested in Attack of Teacher Aide.")
A sheriff's spokesperson said Sunday evening he was now held at the county jail, on $1 million bond.
The adult charge is a first degree felony, exposing Depa to up to 30 years in prison. But his competency to stand trial will likely be an issue.
The State Attorney's decision follows on the heels of cascading reactions in Flagler and across the country to the assault. On one hand the assault provoked outrage and revulsion at the violence of the act as depicted in the video, in a school hallway: the attack left Naydich unconscious as Depa continued to pummel her with close-fisted punches to the head and back. The mother of two was hospitalized, drawing outpourings of sympathy, and a GoFundMe account set up on her behalf had raised over $43,000 as of today.
"Please be comforted knowing she is home and recovering," her daughter posted on the public page of the account a day after the incident. "This incident has reached areas of the world I never thought possible, with love and support pouring in from all. As her daughter, it's heartwarming to see the community rally behind her recovery, near and far."




On the other hand, because Depa is a student with special needs, whose emotional and behavioral self-control are in question, mental health and special education advocates have appealed for more measured reactions against the student. Because of federal privacy laws, the school district is barred from releasing any information about the student's status, including whether he is in special education, though only special education students work with paraprofessionals at school.
Reportedly, the student is on the autism spectrum. He is also–in his own words, quoted in his arrest report–a resident at a group home, making him a ward of the state, possibly as a result of a parent losing parental rights.
Sue Urban, a mental health advocate in Flagler whose son Nicholas took his own life in 2018, soon after graduating from Matanzas High School, has spoken on behalf of Depa before the Flagler County School Board and in a video she posted on social media that has since been picked up by media outlets abroad, in tandem with accounts of the attack.
"By no means do I condone violence towards teachers in any way, shape or form, and I want to make that very, very clear," Urban says in the brief video she took in her car, sending her best wishes to the teacher and stressing her support for law enforcement. With equal force, she said she was very upset "that this is being portrayed that this child is a threat, and that this is all on him. This is not this child's fault. He is not a threat."
She had implored the Flagler County Sheriff's Office to remove a release it had posted on its Facebook page about the incident–by then the release had led to news reports about the incident in all local media–and called it not an issue with law enforcement, but "a mental health issue. This is a problem with our system. It is broken."
Stephen Furnari, a Flagler Beach attorney who chairs the district's Exceptional Student Education Parent Advisory Committee on Sunday described the State Attorney's decision as "a very harsh stance."




Qualifying his statement by noting the limited amount of information at this point, Furnari said: "If in fact the student had known behavioral issues, and if some portion of this was a situation at the school where the school district has some negligence because of some failure in their own system, then it would seem to me an overly harsh approach in terms of how to deal with this situation, from a legal perspective."
The incident was the subject of discussion both at the end of a Flagler County School Board workshop on Tuesday and again at that evening's business meeting of the board. The board has agreed, at the instigation of Board member Christy Chong, to discuss the possibility of opening–or rather re-opening–an alternative school for disruptive students. The district had just such a school for many years, but closed it a few years ago.
Charging Depa as an adult may placate a large segment of the public reaction demanding action against the student. But it comes with its own risks: an individual must be deemed competent to stand trial before proceeding. It is likely that his defense attorneys will immediately ask for a mental evaluation. Still: Absent a clear inability of the defendant to weigh the severity of the charges and understand court proceedings, Florida sets a very high bar for incompetency.

The Flagler County Sheriff's Office released these redacted videos of the attack and the arrest. Now that Brendan Depa has been charged as an adult, they are published here as released.
Reader Interactions