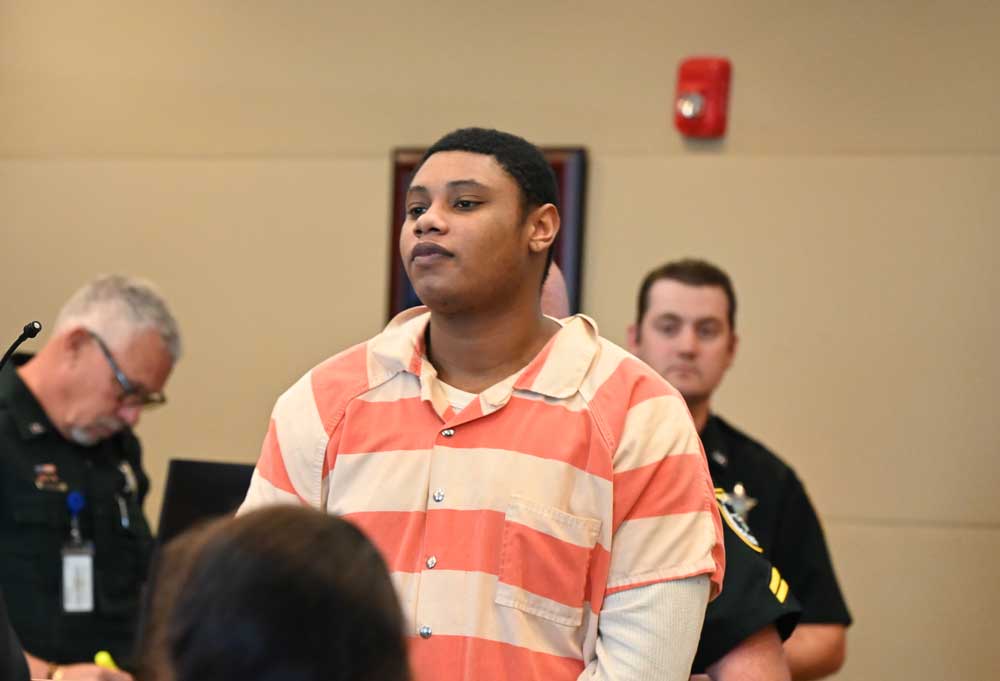 Pre-trial day in Flagler County Circuit Court was a day of delays in numerous high-profile cases, including that of Brendan Depa, the former Matanzas High School student who attacked a paraprofessional at the school, and several murder cases. All are being pushed back to late summer or early 2024.
Depa, 17, faces a first-degree felony charge of assaulting a school employee in the Feb. 21 incident captured on video and reported around the world. Depa is seen pounding on an unconscious Joan Nayditch after throwing her to the ground.




A plea in the case may be in the works, and could be resolved by May or June.
Depa is being held at a juvenile jail in Jacksonville. He did not appear in court today. Court papers indicate he'd been under mental health treatment and was on medication for psychological issues. He was in the Exceptional Student Education program at Matanzas High School. At the defense's request, the judge ordered a competency examination at the request of defense attorney Kurt Teifke: trial cannot proceed if Depa is found incompetent.
The social and developmental history parts of the evaluation are completed, Teifke told Circuit Judge Terence Perkins today. "I don't know the status of the actual competency," he said. The evaluation was conducted by Dr. Roger Davis, a Jacksonville-based clinical psychologist. The prosecution sent a lot of records to Davis. The defense attributed the delay to an "exceptionally busy" clinical office.
Perkins wants to keep the case "on a fairly close docket," not wanting any further delays than necessary. He scheduled the next hearing for May 10. Teifke told the judge today that he may bring a plea, which could again affect the timing of the resolution.




"If you're showing up for a plea, you may have to wait a while," the judge told him, since the plea docket is different from the pre-trial docket. In that case, a plea hearting could potentially be scheduled as early as April 24. For now, the next hearing is a pre-trial scheduled for May 10 at 2:30 p.m.
The delays in other high-profile cases are coincidental and not unusual, the cases having nothing to do with each other, with one exception: four individuals are being tried separately in the killings of 16-year-olds Noah Smith and Keymarion Hall in separate drive-by shootings in January and May 2022 in South Bunnell, some facing murder charges, some attempted murder charges. All four trials require some of the same voluminous discovery. Depositions are ongoing.
Today, two of the four suspects, Stephen Monroe, now 24, and Terrell Sampson, 19, had a pre-trial. Monroe is charged in the death of Smith only. He's been re-scheduled for a pre-trial on June 7, and a possible trial either later this year or early next year. No motions have been filed in the case, but some are expected. Last December, the defense requested the authority to charge up to 100 hours of private investigative work to the court. The court granted the request.
Sampson faces three attempted second degree murder charges. He's due for docket sounding, the last step before trial, on Aug. 29.
Devandre Williams, another suspect in the cases, faces an attempted second degree murder charge, a second degree murder charge, and a first degree murder charge. He's scheduled for a pre-trial on May 10. Tyrese Patterson, 21, faces a first-degree capital murder charge. He last appeared in court on March 8 and is due for another pre-trial appearance on June 7.




Damari Barnes, now 16, also a former Matanzas High School student, was charged as an adult when he was 15 following the Feb. 5, 2022 shooting death of Jamey "Juju" Bennett, 19, at a bonfire party near Matanzas High School. Barnes had never been arrested before. He was charged with manslaughter. He is being held at a the same jail where Depa is being held, and did not appear in court today.
"This case involves a number of witnesses," Steve Robinson, the attorney representing Barnes, told the judge this afternoon, with many of the juveniles and young adults at the bonfire being deposed. He needed more time. Assistant State Attorney Jennifer Dunton had no objection, though she noted the lengthening calendar: "I don't know how many times we've been here. I know it's not my oldest but it's not the newest either."
Perkins is pushing the defense to get on a potential trial docket in late summer. But Robinson wants to " see if I can at least enter into some negotiations with Mrs. Dunton's office to see if there's an opportunity to resolve it," before trial, he said, otherwise, "August will be a good time to try it."




Kwentel Moultrie and Taylor Renee Manjarres were both due in court for pre-trials in their second-degree murder case resulting from the shooting death of Zaire Roberts in Palm Coast's R-Section in December 2021. Neither pulled the trigger: Danial Marashi, an accused drug dealer, did, when Moultrie, Roberts and Manjarres were allegedly orchestrating a robbery at Marashi's home. But since Roberts died during the commission of a felony by Moultrie and Manjarres, they carry the murder charge. Assistant State Attorney Mark Johnson is trying the cases.
True to form, Moultrie, who in January was sentenced to 10 years in prison for rape, refused to show up to court, as he has on several occasions previously. Manjarres showed up. Both cases were scheduled for an Aug. 1 docket sounding, which means that their trial would take place in late summer. Dunton is trying those case as well.