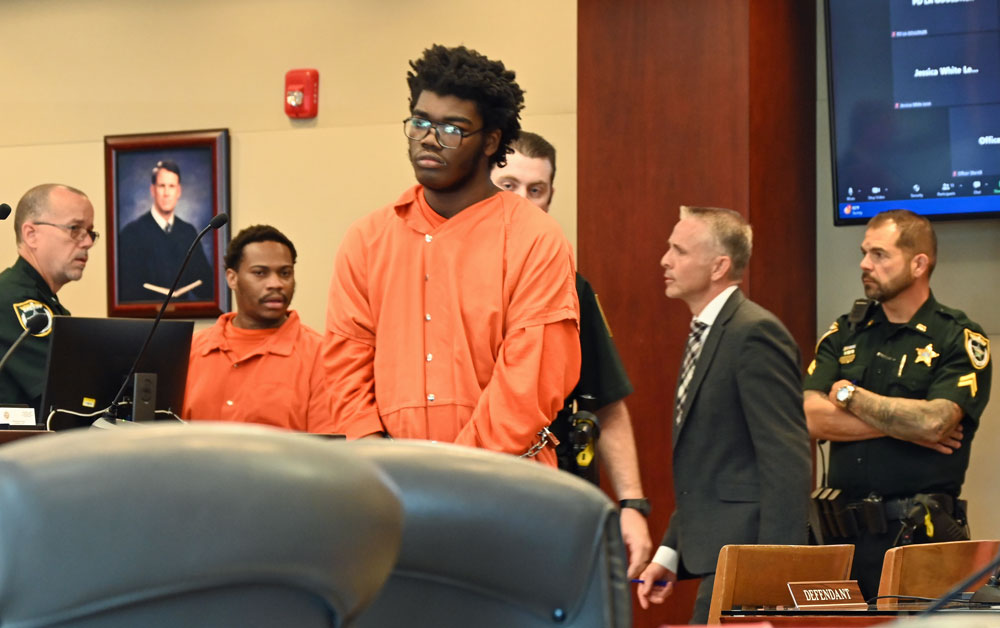 Brendan Depa, the 18-year-old special education student facing up to 30 years in prison for the merciless beating of a Matanzas High School teacher aide last February, pleaded to the first-degree felony charge today before Circuit Judge Terence Perkins. He will be sentenced in January.
The plea was no longer a surprise–if it ever was: Kurt Teifke, Depa's attorney, asked the court to schedule today's plea hearing on Oct. 11.




Even before then, it had become almost certain that Depa had little choice but to plead out. Video evidence shows Depa throwing Joan Naydich, the aide, to the ground–shoving her from behind–then pummeling her unconscious. Depa's own capability to sit through a trial is questionable. His attorney and family sought to have him declared incompetent to stand trial, because of his autism. Based on a court-appointed psychologist's finding of competence, Perkins ruled that trial would proceed.
It is an open plea. The immediate consequence is that Perkins will decide Depa's sentence in its entirety, with wide latitude. Perkins may sentence him either as an adult or as a juvenile offender. The penalty as an adult carries a minimum recommended prison sentence of just short of three years years. The maximum is 30 years.
Open pleas sometimes have negotiated components, like a sentencing range. Not this one, which points to another consequence of the plea: Teifke and Assistant State Attorney Melissa Clark, who is prosecuting the case, could not agree to a negotiated plea. Depa's family had sought to minimize or eliminate prison time, focusing on probation and treatment. The prosecution appears not to have been so willing. That left Teifke with the choice of trial, which he had already characterized as a potential spectacle, or an open plea.
There were no witnesses called today. That will be at the sentencing hearing. "There will be plenty of that," Teifke said of the witnesses ahead, asking for at least a three-hour hearing.
Perkins and Depa had the required exchange for the plea colloquy, when the judge ensures that the defendant is acting voluntarily and understands everything being signed to. But the first time Depa went through it, he told the judge he had not read his plea agreement before signing it. The judge sent him back to the defendant's table to re-read it.
Have you now re-read the plea form?" Perkins asked him the second time around.
"I have," Depa said, his voice breaking. It wasn't clear whether his voice was naturally hoarse at that moment or if he had been emotional.
"Do you understand what we are doing?" Perkins asked him.
"Yes."




"What does that mean, an open plea?"
"We haven't agreed on, like, a sentence, yet," Depa told the judge.
When Perkins asked him how that would be determined, Depa asked him whether it would be at trial.
It could be, Perkins said, but it could also be at a hearing. Perkins explained how the sentencing hearing would go, and told him that he would have the right to testify at that hearing. "I understand," Depa said
When the judge asked him how he pleads to the charge, Depa said: "no contest."
The judge told him the sentencing would be on Jan. 31 at 1:30 p.m.