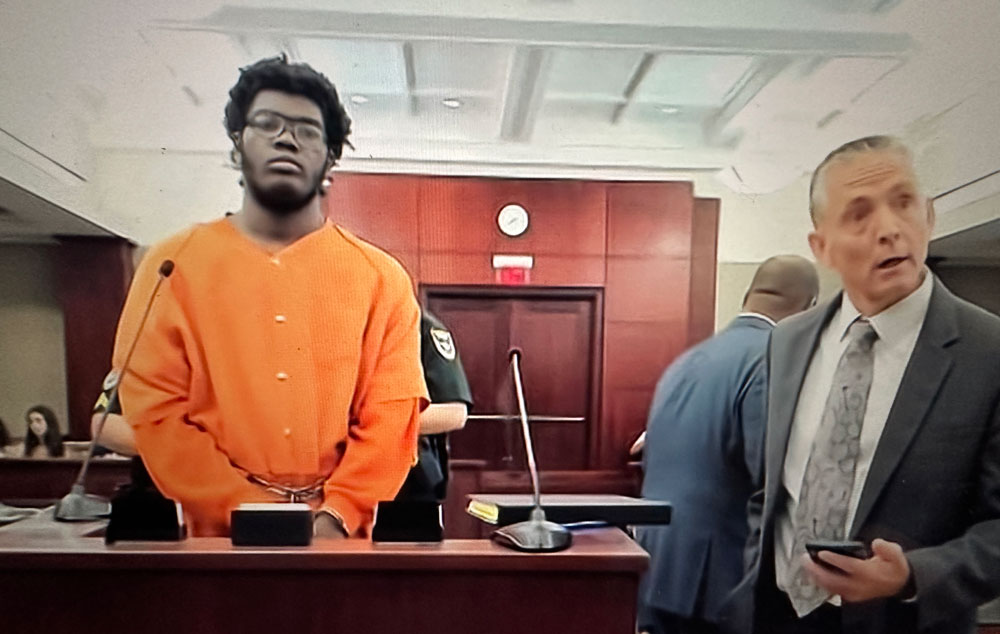 Brendan Depa, the former Matanzas High School student who drew global attention and a first-degree felony charge as an adult after a video of his assault on a paraprofessional circulated, will plead out, avoiding a trial. But he will also be taking the risk of a steep sentence.
Depa appeared in court today for a pre-trial, alongside Kurt Teifke, his attorney. Teifke asked for an Oct. 30 plea hearing, and a sentencing hearing yet to be scheduled.




Teifke did not elaborate. There is no agreed plea deal between the two sides, leaving it to what would be an open plea, meaning that Depa will leave it in Circuit Judge Terence Perkins's hands to decide what his penalty ought to be. He can face anywhere from probation to 30 years in prison. Even though he was charged as an adult, the judge can also opt to sentence him as a juvenile.
Depa was initially charged as a juvenile after assaulting Joan Naydich, a paraprofessional assigned to Depa's special education class. Depa is autistic (a detail that may have been central to the Feb. 21 incident, but that has no bearing on Florida's sentencing guidelines). There was a conflict over Depa's allowance to use an electronic game at a particular point, and there are still questions over whether school staffers appropriately handled the matter when it first arose. As Depa was ordered not to use the game toward the end of a class and staffers discussed the issue in front of him, his anger rose, and he eventually followed Naydich out of the classroom, in to a hallway.
There, in an incident captured on surveillance video (without sound), Depa is seen violently shoving Naydich to the ground, then pummeling an apparently unconscious Naydich mercilessly until school staffers pull him off of her. In bodycam video the Sheriff's Office released of his arrest, Depa is heard cussing out the paraprofessional as others were tending to her. She was hospitalized and released, but has since shown no interest in mitigating what penalties Depa may face.




When victims aren't willing to deal, the defense has a much steeper climb to convince the prosecution to plead. Assistant State Attorney Melissa Clark, who is prosecuting the case, has not made the kind of offer that Teifke could accept. Given the visceral violence of the video, there's no likelihood of a favorable outcome in a trial. So Teifke is opting for the open plea on Depa's behalf, hoping he can convince the judge of a lesser sentence.
Clark and Teifke will each make their case, the state for more a steeper penalty, the defense for a lesser one. Each side can call up witnesses. But the prosecution is also likely to bring up Depa's past criminal history: he was arrested three times as a juvenile on battery charges, and in September had a disciplinary issue at the Flagler County jail after getting in a fight with an inmate there. (Depa was arrested when he was 17. He has since turned 18.)
But Perkins will have very wide latitude to decide what his sentence will be. Depa will have a "scoresheet," literally a tally that objectively totals "points" for his past offenses, the nature of the offense against Nayditch, the fact that it involved injuries, the points translating to a recommended minimum sentence, which at this point is estimated to be somewhere between three to five years in state prison.




It is in Perkins's discretion to "downward depart," the legal term for imposing a lesser sentence than the guidelines call for, if the defense convinces him of mitigating circumstances: the law doesn't take autism into account, but the judge may. It is also no small matter for the court when a defendant opts for a plea, sparing the court, the victim and other witnesses (if not himself, in. Depa's case) the trauma or spectacle of a trial.
On the other hand a trial would have shed an unusually bright light on the school district's procedures involving special needs students–complex and at times controversial procedures that are typically kept out of the public's eye, as they have been in Depa's case, in the name of confidentiality. If staffers faltered or misapplied regulations in the lead-up to the incident, as Depa's mother suggested in a previously published piece here, those issues will not be aired.
It remains rare for Perkins to depart so far down as to take eliminate prison altogether, though Depa's age at the time of the offense will likely play a role in the decision.
In two relatively recent cases involving high school students assaulting teachers or staffers, one was sentenced to probation, the other was found incompetent to proceed. Both are autistic, and both were, like Depa, living in group homes run by the same company as Depa's. But those cases involved a considerably lesser degree of violence than did Depa's–and neither of those incidents were recorded on video, as was Depa's.