Thursday Briefing: Valentine's Mass Wedding, Anthony Fennick Vigil, Linda Cole at the Library
FlaglerLive | February 14, 2019
Today:: Mostly sunny. Highs in the lower 70s. East winds 5 to 10 mph. Tonight: Partly cloudy. Lows in the upper 40s. East winds 5 mph. Details here.
Today's document from the National Archives and the Astronomy Picture of the Day.
Today's tides: at the beaches, at the Intracoastal Waterway.
Drought Index: 63
Merriam-Webster's Word of the Day: cacophony
The Live Community Calendar
Today's jail bookings.
Today's Briefing: Quick Links

"In general, his aversion to truth-telling was fanatical–to tell the truth, at any time, on any matter, to any hearer, was, he believed, profoundly dangerous: any fact, however small, however harmless, provided it was a fact, was better concealed: facts were high explosives."
–From Mary McCarthy's "Rogue's Gallery" in "The Company She Keeps" (1942).
Previously:

Note: all government meetings noticed below are free and open to the public unless otherwise indicated. Many can be heard or seen live through each agency's website.
The Sheriff's daily incident reports and jail bookings are posted here.
Valentine's Wedding: Flagler County Clerk of Court Tom Bexley presides over the second annual Valentine's Day mass wedding on the steps of the Flagler County courthouse in Bunnell. Last year's wedding drew 16 couples and five additional couples who renewed their vows. Participation includes a waiver of some of the fees associated with marriage licensing. Prospective newlyweds may register to be part of the Valentine's Day wedding here.
The Flagler Beach City Commission meets at 5:30 p.m. at City Hall. Commissioners are expected to approve a temporary waiver to allow access to businesses from Central Avenue, solid waste/refuse service of commercial businesses from Central Avenue, and truck traffic on Central Avenue during the Florida Department of Transportation's A1A project, which will stretch through the year.
Linda Cole's traditional Valentine's Day concert is at 2 p.m. at the Flagler County Library, 2500 Palm Coast Parkway NW, Palm Coast. Light refreshments to follow provided by the Friends of the Library.
Candlelight Vigil for Anthony Fennick: Family and friends of Anthony Fennick, the 23-year-old whose health deteriorated at the Flagler County jail until he was hospitalized and became brain dead on Feb. 4, will gather at beachside across from the Golden Lion in Flagler Beach, between 5th and 6th Street North on A1A, at 5:15 p.m. Fennick died on Feb. 9.
Thursday through Sunday: On Stage: "[title of show] with Music by Jeff Bowen and Book by Hunter Bell, at Stetson's Second Stage Theatre, 600 North Woodland Boulevard, DeLand. Call 386/822-7266. Jeff and Hunter, two self-confessed nobodies in New York, make a pact: They will write an original musical and submit it to a festival. The only catch? The deadline is in three weeks! No worries though. They'll just write a musical about writing a musical. Frequently hilarious, occasionally heartbreaking, and thoroughly inspiring, [title of show] is a love story celebrating individuality and creativity. All shows 8 pm except for Sunday at 3 p.m.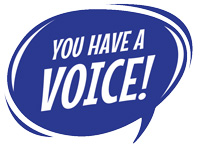 COMMUNITY INPUT SOUGHT ON HEALTH ISSUES: Flagler county residents are being asked to speak up and voice their opinion on a variety of health-related topics through an online survey. The input from the community will be used to create health improvement plans to address community concerns and improve quality of life. The survey is online here countyhealthsurvey.com and is available in English and Spanish. Results of the survey provide the foundation of Community Health Needs Assessments, which are a collection of data used to inform communities and develop goals to improve health outcomes. Once the assessments are complete, they will be used to create three-year Community Health Improvement Plans for both Volusia and Flagler counties. The assessments are being conducted in collaboration with the Florida Department of Health in Flagler and Volusia counties, Flagler Cares, local hospitals and Volusia and Flagler county government. Residents, employers and community partners are encouraged to share this link and ask others to take the survey as well. The survey will close February 28, 2019. Please take the survey here.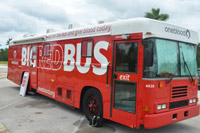 Blood Donations: The Big Red Bus will be at the following locations this week (schedule your donation by going to the website and entering a Palm Coast zip code, then locating one of the venues below):
Friday: Chick Fil A, 1000 Palm Coast Parkway, 10 a.m. to 5:30 p.m.
Friday: Gamble Rogers Memorial State Recreation Area, 3100 South Oceanshore Boulevard, Flagler Beach, 11 a.m. to 3 p.m.
Sunday: Epic Theaters, 1185 Central Avenue, Palm Coast, 1 to 6 p.m.

Jail Bookings and Last 24 Hours' Incidents in Flagler, Palm Coast, Flagler Beach, Bunnell
Sources: Flagler County Sheriff's Office, Flagler Beach Police Department, Bunnell Police Department. This is Flagler County's only comprehensive, one-stop compilation of all local law enforcement's daily day and night shift commanders' reports.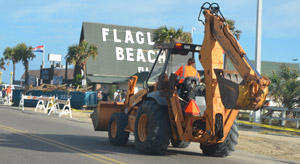 Flagler Beach Is Open For Business: A1A Construction Update:
FlaglerLive is providing weekly updates to year-long construction on and near State Road A1A in Flagler Beach as the Florida Department of Transportation rebuilds a 1.5-mile segment from South 9th Street to South 22nd Street, and builds a sea wall at the north end of town. These updates are provided through DOT or local officials. If you have any relevant information or images, you're welcome to email them to the editor here.
February 4 Update: Construction is scheduled to begin this week week on Segments 2 and 3 of the S.R. A1A project. Work on Segment 2, from S. 22nd Street to S. 9th Street will include removal of the existing low-profile barrier wall, and construction of the temporary lime rock base on the east side of the roadway to prepare for placement of temporary asphalt. This work will require single lane closures with flagging operations during the day. Work is expected to progress from south to north. Both northbound and southbound traffic will remain on S.R. A1A. The southbound S.R. A1A detour is expected to begin in late February.
Work on Segment 3, from N. 18th Street to Osprey Drive will include removing two existing beach walkovers near N.18th Street and one walkover in front of Oceanside Condominiums as noted in the plans. Work also will include importing and placing sand in preparation for installing the auger cast pilings. Traffic will be shifted slightly to the west on S.R. A1A to accommodate the work. Drivers can expect a single lane closure with flagging operations when traffic is shifted.
The contractor has 300 days to complete the work.
See Also:

U.S. 1 and Old Dixie Highway Roundabout Construction Updates:
FlaglerLive is providing weekly updates to the planned 15-month, $4.1 million construction of a roundabout at U.S. 1 and Old Dixie Highway. The project started in late January and is scheduled for completion by spring 2020.
This week southbound U.S. 1 will be reduced to one lane and be shifted slightly west onto new pavement. Southbound U.S. 1 traffic heading to Old Dixie Highway will be directed to stay on southbound U.S. 1 and make a U-turn to return to Old Dixie Highway using northbound U.S. 1. Old Dixie Highway drivers heading to southbound U.S. 1 will have to turn onto northbound U.S. 1 and make a U-turn to access southbound U.S. 1. Later this week, northbound U.S. 1 will be reduced to one lane and shifted west onto the existing southbound side of the roadway. Once this shift is made, U.S. 1 will have one lane in each direction through the project area. The speed limit will be reduced along U.S. 1 through the construction zone, and drivers are asked to be alert and use caution when traveling through the work area.
More details here.
See Also:

Scholarship Applicants Wanted: The Flagler Woman's Club will award multiple $2000 scholarships to male and female graduating seniors in all areas of study including Theatre, Art, Music, and Trade Schools. Applicants must be a U.S. Citizen; a resident of Flagler County for a minimum of one year; have a financial need and qualify for acceptance to a college or a trade school. Printed applications are now available at the Flagler Palm Coast and Matanzas High Schools' Guidance Departments; the Flagler County Library in Palm Coast and the Flagler Beach Library. The application is also available on our Face Book page at The Flagler Woman's Club. The application deadline is February 8, 2019. For more information call Kay Johnson at (386)439-3960 or (386)405-8518.

In Florida and in State Government:
Note: Some proceedings below can be followed live on the Florida Channel. Most legislative proceedings can be followed through the Senate or House websites.

AMENDMENT 4 GETS AIRING: The House Judiciary Committee and the House Criminal Justice Subcommittee will hold a joint meeting about Amendment 4, a ballot measure that passed in November to restore the voting rights of felons who have fulfilled their sentences. The meeting is expected to include representatives of the Florida Court Clerks & Comptrollers, the Florida Commission on Offender Review, the Florida Department of Corrections, the Florida Department of Law Enforcement, the Florida Department of State, prosecutors, judges and supervisors of elections. (Thursday, 9:30 a.m., 212 Knott Building, the Capitol.)
SUPREME COURT RELEASES OPINIONS: The Florida Supreme Court is scheduled to release its weekly opinions. (Thursday, 11 a.m.)
ELECTION QUALIFYING ENDS: A qualifying period will end for candidates in special elections in three House districts vacated by lawmakers who took positions heading state agencies. The special elections will be held in District 7, which was vacated by former Rep. Halsey Beshears, R-Monticello; District 38, which was vacated by former Rep. Danny Burgess, R-Zephyrhills; and District 97, which was vacated by former Rep. Jared Moskowitz, D-Coral Springs. Beshears recently became secretary of the state Department of Business and Professional Regulation, Burgess became executive director of the Florida Department of Veterans' Affairs, and Moskowitz became director of the Division of Emergency Management. (Qualifying ends at noon Thursday.)
LOBBYIST REPORTS DUE: Lobbyists face a Thursday deadline for filing reports detailing compensation for the period from Oct. 1 through Dec. 31.
—-Compiled by the News Service of Florida and FlaglerLive

To • include your event in this section, please fill out this form.
♦
March 25
:

The Flagler County Stamp and Coin Club meets at 4:30 p.m. at the VFW Post 8696 47 N. Old Kings Road. From 4:30 - 6 p.m. the time is used for buying, selling and trading stamps and coins. The club meeting starts at 6 p.m. and ends at 7:30. There is a live auction of stamps and coins at the end of the meeting. The club is open for members, the general public, and all who are interested in stamp and coin collecting and investing. Free stamps and coin evaluations at all our meetings. The club is the only non-profit Stamp and Coin Club in Flagler County. For more information please visit
the club's web site
.
♦
March 25
: The "L" Word Identity Group, 6 p.m. at UNF-Jacksonville's John A. Delaney Student Union, Building 58E Room 1111. The L Word is a peer-led discussion group that allows female/feminine and lesbian spectrum identified individuals to meet and discuss a wide range of topics on coming out, relationships, labels, family dynamics, etc. The discussion group is open to all individuals falling on the female/feminine spectrum, including but not limited to: nonbinary, gender nonconforming and trans, bisexual women, queer folks, and questioning.
♦
March 26
: The Gargiulo Art Foundation and Palm Coast government unveil the inaugural sculpture of what will be a sculpture garden in Palm Coast's Central Park in Town Center, near City Hall, at 9 a.m.
See details here
.
♦
March 26
:
FlaglerCares
, the county-wide initiative to expand the safety net for citizens in need, meets at 1 p.m. in training room 3 on the third floor of the Government Services Building, Bunnell.
♦
March 26
: Great Organists at Stetson series, Boyd Jones, Stetson University Price Professor of Organ and University Organist. 7:30 p.m. Lee Chapel in Elizabeth Hall, 421 N. Woodland Blvd., DeLand. All concerts are free and open to the public. Call 386/822-8950.
♦
March 26
: The Daytona State College Foundation's Wisdom in Senior Education (WISE) program: Advanced Technology College (ATC), 1770 Technology Blvd, Daytona Beach, Multipurpose Room (Rm. 109), All About the Embry-Riddle Research Park. Dr. Stephanie Miller is executive director of Technology Transfer and Research Park Initiatives at Embry-Riddle Aeronautical University. The research park is home to the John Mica Engineering and Aerospace Innovation Complex, (the MicaPlex), the Wind Tunnel Laboratory and coming in 2019, the Applied Aviation and Engineering Research Hanger. The MicaPlex houses Embry-Riddle's Tech Business Incubator, tenant flex space, collaborative workspaces, cutting-edge laboratories and business support services, co-located to ensure that technology-focused startups will have every advantage for success. The Foundation created the WISE program to provide continuing education and cultural enrichment activities to senior members of the community. WISE is open to anyone age 50 or older, for $30 for an individual or $50 per couple per year. Find a complete list of spring presenters at DaytonaState.edu/wise. For more information, contact Suzette Cameron (386) 506-4506, or Suzette.Cameron@DaytonaState.edu.
♦
March 26
: NuMIX Ensemble Concert, Dr. Erin Bodnar and Dr. Andrea Venet, directors. 7:30 p.m., UNF's Fine Arts Center, Building 45, Room 1200. Free admission.
♦
March 26
: Coffee and Conversation: Talking Religion with Civility. Join the Interfaith Center to discuss the challenges of talking religion with each other, and learn skills to navigate conflict and disagreement. Coffee and tea served. At UNF's Founders Hall, Building 2, Room 1400. Contact Matt Hartley m.hartley@unf.edu (904) 620-5715.
♦
March 26
: Trans Talks, 4 p.m. at
UNF's LGBT Resource Center
Building, 1 UNF Drive, 58 East, Room 1111. Trans Talks is a peer led discussion group that allows transgender, nonbinary, and gender nonconforming individuals to meet and discuss a wide range of topics associated with being transgender. This group is open to all individuals under the Transgender Spectrum including but not limited to: Transgender, Genderqueer, Genderfluid, and Agender. Please note that Trans Talks is a peer discussion group and that there is no mental health counselor or other accredited professional available at these events.
♦
March 27
: A final hearing is scheduled before a judge of workers compensation claims in the more than two dozen cases of Flagler County Sheriff's employees' claims related to what they believe to be the sick building, or Sheriff's Operations Center, evacuated last June. The 10 a.m. hearing is before Judge Wilbur Anderson at the Daytona Beach Office of the Judges of Compensations Claims, 444 Seabreeze Boulevard, Suite 450, Daytona Beach.
♦
March 27
: The Flagler Humane Society hosts a happy hour fundraiser at Uncaged on Oceanshore, 3468 Oceanshore Blvd, Flagler Beach, 5:30 to 7:30 p.m. Tickets are $10,
available here
.
♦
March 27
: A meeting of the Compassionate Friends is scheduled at the Vitas Office at 4 North Old Kings Road (across from Kentucky Fried Chicken) in Palm Coast. The meeting begins at 5:30 p.m. The Compassionate Friends, a nonprofit self-help bereavement support organization for families that have experienced the death of a child. The meeting is open to all parents, grandparents, and siblings over age 18 who has suffered the loss of a child of any age. For more information, call John Brady at 610-428-3139. To learn more about The Compassionate Friends, visit their national website at www.compassionatefriends.org.
♦
March 27
: The Cummer Family Foundation Chamber Music Series presents Hagihara Violin & Piano Duo, 7:30 p.m. at UNF's Fine Arts Center, Building 45, Room 1200. ♦
March 28
: Bunnell City Manager Alvin Jackson is the keynote speaker at the 34th Drug Court graduation ceremony at 10 a.m. in Courtroom 401 at the Flagler County Courthouse, before Circuit Judge Terence Perkins.
♦
March 29
: Rockin' Dolphin Spring Concert Series. Come out and enjoy live music at Marineland There will be live bands playing from noon to 3 p.m. Local food trucks will be onsite with great food for purchase.
♦
March 29-31
: "Man of La Mancha," at the Daytona Playhouse, a musical directed by Rip Pellaton and Musical Director Melissa Cargile. The classic tale by Miguel de Cervantes about Don Quixote and the ever faithful servant Sancho as they dream the impossible dream, tilt at windmills and champion the beautiful harlot Aldonza. Friday and Saturday at 7:30 p.m., Sunday at 2 p.m. Tickets are $14 to $23.
Book here
. Daytona Playhouse, 100 Jessamine Blvd., Daytona Beach. (386) 255-2431.
♦
March 31
:

Daytona Solisti's Concert Series features "Mozartiana," an all-Mozart program with Michael Rickman, piano, Sue Cryan, violin, and Joe Corporon, cello. On the program: Mozart's
Piano Sonata Nr. 9 in D Major K 311
, Church Sonatas K 245 and K328, and the
Piano Trio in G Major, K 496
. 3:30 p.m. At First Presbyterian Church, 620 South Grandview Avenue, Daytona Beach. A $15 contribution is requested.
♦
March 31
: Lawson Ensemble Concert featuring music by Bach and Dohnanyi, Dr. Nick Curry, cello; Clinton Dewing, violin and viola; Aurica Duca, violin with guest Ellen Olson, viola. free admission, 3 p.m. at UNF's Fine Arts Center, Building 45, Room 1200.
For events beyond this date, see the fuller Coming Days here.
To • include your event in this section, please email the details, including date, time, a brief description of the event, contact information, and, if you wish, an image, please use this form.

Keep Up with Donald Trump's attacks on the press through the ACLU's running tab here.
Keep Up with mass shootings in a running database here.

Palm Coast Construction and Development Progress Reports
Here's a summary of the latest city developments as of Feb. 8, 2019, with a link to the full week in review here.
<![if !IE]><![endif]>

Cultural Coda
Sulkhan Tsintsadze: Miniatures for String Quartet
Previous Codas: