Tuesday Briefing: Florida Park Drive Traffic, Opioid Task Force, Rickenbacker Drive Closure, Pot-Smoking Ban
FlaglerLive | February 12, 2019
Today:: Partly cloudy. Patchy fog in the morning. Slight chance of showers in the morning, then showers likely and slight chance of thunderstorms in the afternoon. Highs in the lower 80s. Southwest winds 10 to 15 mph. Chance of rain 70 percent. Tonight: Cooler. Mostly cloudy with a 40 percent chance of showers. Lows in the mid 50s. West winds 5 to 10 mph shifting to the northwest after midnight. Details here.
Today's document from the National Archives and the Astronomy Picture of the Day.
Today's tides: at the beaches, at the Intracoastal Waterway.
Drought Index: 59
Merriam-Webster's Word of the Day: bardolater.
The Live Community Calendar
Today's jail bookings.
Today's Briefing: Quick Links



Note: all government meetings noticed below are free and open to the public unless otherwise indicated. Many can be heard or seen live through each agency's website.
The Sheriff's daily incident reports and jail bookings are posted here.
The Community Traffic Safety Team meets at the Flagler Technical Institute Conference Room, next to the Flagler Palm Coast High School campus, at 9 a.m., under the leadership of School Board member Andy Dance. Discussion items include traffic safety concerns on Rymfire in front of the RES campus, the status of US1 and Old Dixie roundabout, and the nonconformity of speed limits on Old Kings Road between Hwy 100 and Old Dixie.
The Palm Coast City Council meets in workshop at City Hall at Town Center at 9 a.m. The council will discuss a traffic and environmental study focused on Florida Park Drive, the road that has bedeviled councils for several years as residents have complained of traffic that doesn't respect speed limits, or exhaust, or noise. But if the council is to further study traffic, it could cost up to $66,500, and to study air quality would cost between $35,000 and $80,000, depending on scope.See the powerpoint here.
Road Closure: A section of Rickenbacker Drive – from Royal Palms Parkway to Rippling Brook Drive – will be closed during daytime hours to allow Florida Power & Light to install two concrete power poles. There will be no through traffic during the project. A detour will be provided.
The Flagler County Opioid Task Force meets at 1 p.m. at the Emergency Operations Center, 1769 E. Moody Blvd, Bldg. 3 (behind the Government Services Building), Bunnell. The task force will hear from Ginny LaRue, project director of the Florida Alcohol and Drug Abuse Association (FADAA) in Tallahassee.
The Flagler County Planning and Development Board meets at 6 p.m. in Board Chambers at the Government Services Building, 1769 E. Moody Blvd., Bldg. 2, first floor, Bunnell.
Flagler Beach's Beach Management Plan Ad-Hoc Committee meets at 5 p.m. at City Hall.
Growth and the environment: The Daytona State College Foundation's Wisdom in Senior Education (WISE) program: Advanced Technology College (ATC), 1770 Technology Blvd, Daytona Beach, Multipurpose Room (Rm. 109): Growth and Preservation in Volusia County. Clay Ervin, director of the Volusia County Growth and Resource Management Department, will provide an overview of how Volusia County balances the economic engine of development with the need to protect valuable natural resources. The discussion will focus on the roles of the different federal, state and local governments' responsibilities and how that impacts development and conservation in Volusia County. Additionally, there will be discussion on how local governments pay for the maintenance and expansion of the infrastructure that serves existing and future residents.
The Matanzas High School Advisory Council meets at 5 p.m. at the school.
The St. Johns River Water Management District Governing Board is scheduled to hold a Finance, Audit and Administration Committee meeting and a full board meeting. Committee at 10:30 a.m., followed by full board, University of Central Florida, Wayne Densch Center, 4582 North Orion Blvd., Orlando.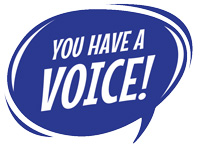 COMMUNITY INPUT SOUGHT ON HEALTH ISSUES: Flagler county residents are being asked to speak up and voice their opinion on a variety of health-related topics through an online survey. The input from the community will be used to create health improvement plans to address community concerns and improve quality of life. The survey is online here countyhealthsurvey.com and is available in English and Spanish. Results of the survey provide the foundation of Community Health Needs Assessments, which are a collection of data used to inform communities and develop goals to improve health outcomes. Once the assessments are complete, they will be used to create three-year Community Health Improvement Plans for both Volusia and Flagler counties. The assessments are being conducted in collaboration with the Florida Department of Health in Flagler and Volusia counties, Flagler Cares, local hospitals and Volusia and Flagler county government. Residents, employers and community partners are encouraged to share this link and ask others to take the survey as well. The survey will close February 28, 2019. Please take the survey here.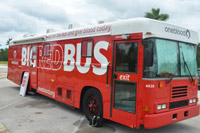 Blood Donations: The Big Red Bus will be at the following locations this week (schedule your donation by going to the website and entering a Palm Coast zip code, then locating one of the venues below):
Tuesday: AdventHealth Palm Coast, 60 Memorial Medical Parkway, Palm Coast, 9 a.m. to 6 p.m.
Tuesday: Daytona State College, 3000 Palm Coast Parkway, 9 a.m. to 2 p.m.
Wednesday: Integra Woods Apartments, 1000 Integra Woods Blvd., Palm Coast, 3 to 6 p.m.
Wednesday: Church of Jesus Christ of Latter Day Saints, 402 North Palmetto St., Bunnell, 5 to 8:30 p.m.
Friday: Chick Fil A, 1000 Palm Coast Parkway, 10 a.m. to 5:30 p.m.
Friday: Gamble Rogers Memorial State Recreation Area, 3100 South Oceanshore Boulevard, Flagler Beach, 11 a.m. to 3 p.m.
Sunday: Epic Theaters, 1185 Central Avenue, Palm Coast, 1 to 6 p.m.


Jail Bookings and Last 24 Hours' Incidents in Flagler, Palm Coast, Flagler Beach, Bunnell
Sources: Flagler County Sheriff's Office, Flagler Beach Police Department, Bunnell Police Department. This is Flagler County's only comprehensive, one-stop compilation of all local law enforcement's daily day and night shift commanders' reports.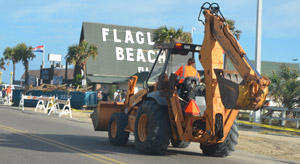 Flagler Beach Is Open For Business: A1A Construction Update:
FlaglerLive is providing weekly updates to year-long construction on and near State Road A1A in Flagler Beach as the Florida Department of Transportation rebuilds a 1.5-mile segment from South 9th Street to South 22nd Street, and builds a sea wall at the north end of town. These updates are provided through DOT or local officials. If you have any relevant information or images, you're welcome to email them to the editor here.
February 4 Update: Construction is scheduled to begin this week week on Segments 2 and 3 of the S.R. A1A project. Work on Segment 2, from S. 22nd Street to S. 9th Street will include removal of the existing low-profile barrier wall, and construction of the temporary lime rock base on the east side of the roadway to prepare for placement of temporary asphalt. This work will require single lane closures with flagging operations during the day. Work is expected to progress from south to north. Both northbound and southbound traffic will remain on S.R. A1A. The southbound S.R. A1A detour is expected to begin in late February.
Work on Segment 3, from N. 18th Street to Osprey Drive will include removing two existing beach walkovers near N.18th Street and one walkover in front of Oceanside Condominiums as noted in the plans. Work also will include importing and placing sand in preparation for installing the auger cast pilings. Traffic will be shifted slightly to the west on S.R. A1A to accommodate the work. Drivers can expect a single lane closure with flagging operations when traffic is shifted.
The contractor has 300 days to complete the work.
See Also:


U.S. 1 and Old Dixie Highway Roundabout Construction Updates:
FlaglerLive is providing weekly updates to the planned 15-month, $4.1 million construction of a roundabout at U.S. 1 and Old Dixie Highway. The project started in late January and is scheduled for completion by spring 2020.
This week southbound U.S. 1 will be reduced to one lane and be shifted slightly west onto new pavement. Southbound U.S. 1 traffic heading to Old Dixie Highway will be directed to stay on southbound U.S. 1 and make a U-turn to return to Old Dixie Highway using northbound U.S. 1. Old Dixie Highway drivers heading to southbound U.S. 1 will have to turn onto northbound U.S. 1 and make a U-turn to access southbound U.S. 1. Later this week, northbound U.S. 1 will be reduced to one lane and shifted west onto the existing southbound side of the roadway. Once this shift is made, U.S. 1 will have one lane in each direction through the project area. The speed limit will be reduced along U.S. 1 through the construction zone, and drivers are asked to be alert and use caution when traveling through the work area.
More details here.
See Also:


Scholarship Applicants Wanted: The Flagler Woman's Club will award multiple $2000 scholarships to male and female graduating seniors in all areas of study including Theatre, Art, Music, and Trade Schools. Applicants must be a U.S. Citizen; a resident of Flagler County for a minimum of one year; have a financial need and qualify for acceptance to a college or a trade school. Printed applications are now available at the Flagler Palm Coast and Matanzas High Schools' Guidance Departments; the Flagler County Library in Palm Coast and the Flagler Beach Library. The application is also available on our Face Book page at The Flagler Woman's Club. The application deadline is February 8, 2019. For more information call Kay Johnson at (386)439-3960 or (386)405-8518.
Commissioner Mullins named to national steering committee:
The National Association of Counties named Commissioner Joe Mullins to serve on its Telecommunications and Technology Policy Steering Committee. "A great deal of NACo's strength is in our committees and your active participation reflects and reinforces that strength," NACo president Greg Cox wrote to Mullins about the nomination. "The expertise and engagement of our steering committee members is a main reason why Congress and federal agencies often look to NACo for feedback on legislative policy decisions being made in Washington D.C." As a member of the steering committee, Mullins is required to participate in monthly conference calls and attend NACo's Legislative Conference and its Annual Conference. This year's initiative is "Connecting the Unconnected: Counties Linking Residents to Services." "It is a great honor to be nominated to this important committee," Mullins said. "I look forward to serving our local residents at the national level. We are trying to bring fiber to the area, which will attract high-paying jobs."


In Florida and in State Government:
Note: Some proceedings below can be followed live on the Florida Channel. Most legislative proceedings can be followed through the Senate or House websites.

BONDS, RESERVES ON AGENDA: The House Appropriations Committee will receive a presentation about debt, bonding, reserves and other issues that affect the state's bond ratings. (Tuesday, 8:30 a.m., 212 Knott Building, the Capitol.)
HOUSE WADES INTO MARIJUANA DEBATE: The House Health & Human Services Committee will take up a bill (PCB HHS 19-01) that deals with a ban on smoking medical marijuana. Gov. Ron DeSantis has made clear he wants to eliminate the ban, which was included in a 2017 law that carried out a constitutional amendment broadly legalizing medical marijuana. (Tuesday, 10:30 a.m., Morris Hall, House Office Building, the Capitol.)
ARMED TEACHERS DEBATED: The Senate Education Committee will take up a school-safety bill that would allow trained classroom teachers to carry guns as school "guardians." The bill (SPB 7030) is a follow-up to a safety law that the Legislature passed last year after the mass shooting at Broward County's Marjory Stoneman Douglas High School that killed 17 people. The law included creating the Coach Aaron Feis Guardian Program, which allowed guardians — school personnel whose primary job duties are outside the classroom — to be armed. A commission also created by the law released a report in early January that recommended allowing teachers to be armed. The Senate bill would carry out that recommendation, which has drawn controversy. (Tuesday, 4 p.m., 412 Knott Building, the Capitol.)
MARIJUANA SMOKING BAN TARGETED: The Senate Innovation, Industry and Technology Committee will take up a bill (SB 182), filed by Sen. Jeff Brandes, R-St. Petersburg, that seeks to eliminate a ban on smoking medical marijuana. Lawmakers in 2017 included a smoking ban in a law that was designed to carry out a constitutional amendment broadly legalizing medical marijuana. But the smoking ban drew a legal challenge, and a Leon County circuit judge ruled that it violated the 2016 constitutional amendment. The state, under former Gov. Rick Scott, appealed the circuit judge's ruling. Gov. Ron DeSantis, however, has been critical of the smoking ban and has indicated he will drop the appeal if lawmakers do not eliminate the ban. (Tuesday, 4 p.m., 110 Senate Office Building, the Capitol.)
ETHICS REFORM CONSIDERED: The House Public Integrity & Ethics Committee will hold a workshop on a bill (HB 1), filed by Rep. Anthony Sabatini, R-Howey-in-the-Hills, that would make a variety of changes to state ethics laws. (Tuesday, 4 p.m., 404 House Office Building, the Capitol.)
COURT HEARS MARIJUANA GROWING CASE: The 1st District Court of Appeal will hear arguments in a dispute about whether a Tampa businessman should be able to grow medical marijuana as part of his treatment for cancer. The case pits the Florida Department of Health against Joe Redner, who made his fortune as a strip-club owner. The Department of Health took the case to the appeals court after Leon County Circuit Judge Karen Gievers ruled in April that Redner can grow his own marijuana under a 2016 constitutional amendment that broadly legalized cannabis for medical purposes. Redner's doctor ordered a juicing treatment that uses live marijuana plants to prevent a relapse of stage 4 lung cancer, according to court documents. But attorneys for the state contend the constitutional amendment does not give people the right to grow their own marijuana and that only licensed businesses, known as medical marijuana treatment centers, are allowed to grow, process and sell marijuana. (Tuesday, 2 p.m., 1st District Court of Appeal, 2000 Drayton Dr., Tallahassee.)
—-Compiled by the News Service of Florida and FlaglerLive


To • include your event in this section, please fill out this form.
♦
June 26
: Flagler County Commissioner Joe Mullins hosts a "business town hall" meeting for Flagler Beach businesses to, in his words, "unify businesses to have a strong voice" and "combine marketing efforts." The meeting is at 3 p.m. at Key West Eats, 1112 South Oceanshore Boulevard, Flagler Beach.
♦
June 26
: A meeting of Facing Grief Together, formerly known as Compassionate Friends, is scheduled at the Vitas Office at 4 North Old Kings Road (across from Kentucky Fried Chicken) in Palm Coast. The meeting begins at 5:30 p.m. Facing Grief Together, a nonprofit self-help bereavement support organization for families that have experienced the death of a child. The meeting is open to all parents, grandparents, and siblings over age 18 who has suffered the loss of a child of any age. For more information, call John Brady at 610-428-3139. To learn more about Facing Grief Together, visit their national website at www.compassionatefriends.org.
♦
June 27
: The Palm Coast Beautification and Environmental Advisory Committee meets at 5 p.m. at City Hall in Town Center. The committee will discuss climat change and sea level rise.
♦
June 27
: The Flagler Beach City Commission meets at 5:30 p.m. at City Hall, 105 South Second Street. The commission will get the annual update from the Flagler County Health Department's Gretchen Smith, and will consider a resolution providing for a temporary limited exception to the prohibition against signs being placed within public rights of way within designated areas of the city uniquely impacted by the SR A1A project. The commission will also discuss amendments to its murals ordinance, and an ordinance increasing Municipal Business Tax rates by not more than five percent.
♦
June 27
: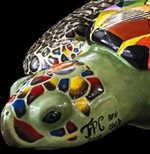 Another unveiling of the latest turtle sculpture to be added to the Turtle Trail: "PABLO" has been a work in progress this school year by the Flagler Palm Coast High School art club in collaboration with students from Old Kings Elementary School, the Marine Sciences flagship school for Flagler County. It will be unveiled at 1 p.m. at Old Kings Elementary School, 301 Old Kings Road South. Pablo's sponsor is Palm Coast Arts Foundation Trustee G. Lindsey Florence.
♦
June 28
: The Scenic A1A PRIDE Committee meets at 9 a.m. at the Hammock Community Center, 79 Mala Compra Rd. off A1A.
See the full agenda here
.
♦
June 28
: The Flagler County School Board meets in a special session to financially close out the year at 9 a.m. at the Government Services Building, Bunnell.
♦
June 28
: Urban Surf 4 Kids Surf Camp, starting at 9 a.m., South 6th Street on the Beach.
♦
June 28
: "Opry Reunion" debuts. This family style variety show features cast members of Daytona Opry, Downtown Opry and a few new entertainers. Linda Cole, Firecrackers, Michael Leone (Elvis), Eddie Davis, Kaitlyn Kent and Michele Marie will return. Each show will also feature a special guest or two. Bring your family to this high energy variety show, similar to the shows in Branson and Myrtle Beach. This show features classic standards from Gospel, Country, R&B, Motown & much more. Opry Reunion is at Oceanside Inn 1909 South Atlantic Avenue in Daytona Beach Shores. Showtime is 8 PM and doors open at 7:30 PM. Reserved tickets are $20. A VIP table (comfortably seats 8) is $150. Call (386) 307-0922 for ticket information.
♦
June 29
: First Aid and CPR/AED 9 a.m.-4 p.m. at Fire Station 25, 1250 Belle Terre Pkwy., Palm Coast. This class is a seven-hour course (one hour for lunch) designed to meet OSHA regulations and teach administering CPR to children and adults, using an Automated External Defibrillator (AED), using a mask or barrier device, assisting with bleeding, broken bones. $50/person with registration required by 9 a.m. June 27. Register at www.parksandrec.fun/adults. More info: 386-986-2300 and cprcertification@palmcoastgov.com.
♦
June 29-20
: Jr. Lifeguard Camp, 8 a.m-12p.m. at Palm Coast Aquatics Center, 339 Parkview Drive. The Junior Lifeguard Camp offers step-by-step lifeguarding skill development. Learn water safety, lifeguard rescues, and First Aid CPR/AED in a weekend camp. Class attendees will receive a CPR mask, Red Cross whistle and T-shirt. For ages 11-15 years. $70/session. Registration required at www.parksandrec.fun/camps. More info: 386-986-2323.
♦
June 29
: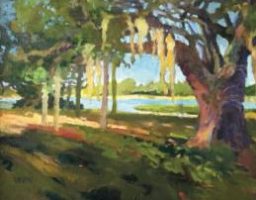 "Transitions: The Art of Trish Vevera, Past and Present," opens at Berkshire Hathaway with a free reception at 6 p.m. The show is curated by Paul Beaulieu and Thomas Anastasio. At 101 Palm Coast Parkway, European Village. Vevera is the reigning
Flagler County Artist of the Year
.
♦
July 1
: Nar-Anon offers hope and help for families and friends of addicts. Every Monday, 6 p.m., St. Mark by the Sea Lutheran Church, 303 Palm Coast Pkwy NE, Palm Coast, Fellowship Hall Entrance. See the website, www.nar-anon.org, or call (800) 477-6291.
♦
July 2
: The Flagler Beach Planning and Architecture (or PAR) Board meets at 5:30 p.m. at City Hall, 105 S 2nd St. The board will consider a new ordinance relating to the protection of gopher tortoises, with new regulations applicable during development activities.
♦
July 3
: Fireworks in the Park: Kick off your Independence Day celebration one day early July 3. Pack your picnic basket and bring your blanket and chairs to watch the free colorful display at Central Park at Town Center, 975 Central Ave, beginning at 9 p.m. Entertainment and food vendors will begin at 6 p.m. A patriotic ceremony starts at 7 p.m.
♦
July 5
: First Friday Garden and Butterfly Walk at Washington Oaks Gardens State Park, 6400 North Oceanshore Blvd., 10 a.m. Join a ranger at 10am for a walk through our historical gardens. Learn about the history of our park while exploring the beauty of the formal gardens, with an emphasis on butterflies. The walk is approximately 1 hour. Please bring water and wear comfortable walking shoes. Meet in the garden parking lot. Garden walk included with park entry. No registration required.
♦
July 5-7
: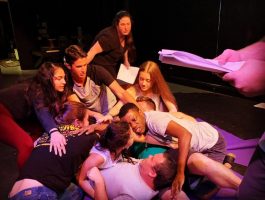 "A Midsummer Night's Madness," a summer workshop production at Palm Coast's City Repertory Theatre. Tickets are $15, Friday and Saturday at 7 p.m., Sunday at 3 p.m.
Book here
.
♦
July 6
: The Palm Coast Arts Foundation hosts its First Saturday Creative Bazaar, an arts and crafts flea market. at 1500 Central Avenue in Town center. Arts foundation members and other vendors will have booths of goods for sale. 8 a.m. to 2 p.m.
♦
July 6
: World Cup Finals Watch Party: The women's soccer World Cup is here again. Join fellow residents at the Palm Coast Community Center, 305 Palm Coast Pkwy NE, as they watch the finals match to see which country is crowned the best in the world July 7. There will be snacks, giveaways and activities for kids. The event costs $1 per person. The final's kickoff is 11 a.m.
♦
July 8
: Nar-Anon offers hope and help for families and friends of addicts. Every Monday, 6 p.m., St. Mark by the Sea Lutheran Church, 303 Palm Coast Pkwy NE, Palm Coast, Fellowship Hall Entrance. See the website, www.nar-anon.org, or call (800) 477-6291.
For events beyond this date, see the fuller Coming Days here.
To • include your event in this section, please email the details, including date, time, a brief description of the event, contact information, and, if you wish, an image, please use this form.


Keep Up with Donald Trump's attacks on the press through the ACLU's running tab here.
Keep Up with mass shootings in a running database here.


Palm Coast Construction and Development Progress Reports
Here's a summary of the latest city developments as of Feb. 8, 2019, with a link to the full week in review here.
<![if !IE]><![endif]>


Cultural Coda
Joseph Marx: Trio-Phantasie (1914)
Previous Codas: