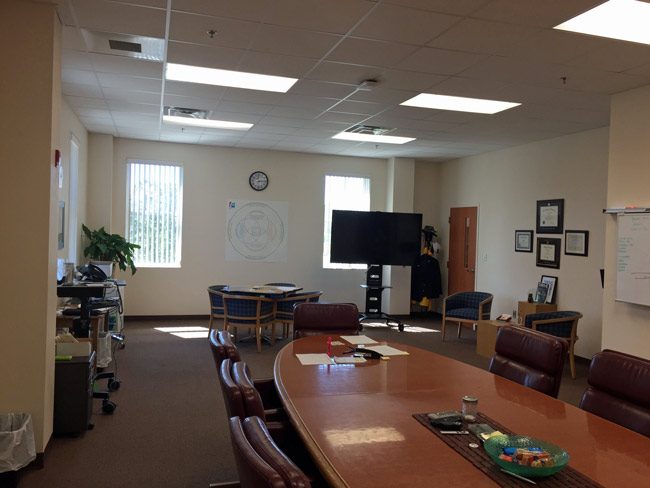 By the time a citizen's advisory board met Tuesday evening to draw up a shortlist of candidates for school superintendent, an already scant pool of applicants had become even shallower by almost a quarter: out of 41 applicants, two had withdrawn and six had not qualified for one reason or another. That left just 33 candidates.
The advisory committee, appointed by the school board, picked five names: One local, two regional, and two from Kentucky.
The shortlist consists of: Phyllis Edwards, most recently a superintendent at Decatur schools in Georgia, for a dozen years, after rising to assistant superintendent in Flagler County schools before her departure in 2003; Jeffrey Umbaugh, an assistant superintendent at Clay County schools; James Tager, the principal at Atlantic High School in Volusia County; Geneva Stark, a human resources administrator at Jefferson County schools in Kentucky–a district of 100,000 students that includes most of Louisville), and Ronnie Dotson, a superintendent at Carter County schools, also in Kentucky (though the district has just 4,900 students).
The school board takes up the names at a workshop on April 4, though the board won't select finalists until a special meeting the following week, on April 11, when it will also set an interviewing schedule, interview questions and devise a method for selecting the eventual superintendent.
Two candidates had withdrawn on Monday: Vernon Orndorff, who'd been Superintendent Jacob Oliva's deputy and had been a strong contender for the job, and Andrea Townsend, a superintendent at an 800-student district in Ohio. Orndorff withdrew to take a superintendent's job in Texas. The disqualified include Hannah Jaber, Linda Roeske, Eric Ely, Kim Eger, Kim Barham and, in a surprise, Todd Sparger, the principal at Spruce Creek High School.
Edwards (who has a website of her own) appears to be the front-runner for the job not just because of her connections to the school district, which nevertheless carry the double edge of a long local history, but because of the way she took the teetering City Schools Decatur school district in 2003 and turned it around, almost doubling enrollment (from 2,500 to a record 4,300), stanching a substantial migration of students to private schools, and reorganizing its elementary schools into academies. Her resignation in 2015 was her choice, prompted by a desire to return to Palm Coast, where she and her husband Stephen bought a house in the L Section.
Edwards had a long tenure in Flagler schools, marred only by a sexual harassment suit she filed against Donn Kaupke, a superintendent in the 1990s who, among other controversies, had the inapt distinction of once forbidding Rosa Parks from speaking to Flagler County students. (The district settled the suit with Edwards for $100,000 in 1998.) Edwards also enjoyed unusual popularity for an administrator: when Kaupke had suspended her for two weeks after her secretary was alleged to have used her work computer for personal business, more than 100 people filled a school board meeting (at the old school board office on State Road 100, where 100 people could barely fit in the room) and demanded redress. (Edwards, against her lawyer's advice, had opted not to fight the suspension.)
James Tager spent 22 years teaching before becoming a middle and high school principal in new Smyrna Beach, and for two years between 2013 and 2015, serving as director of the district's K-12 curriculum and deputy superintendent for Superintendent Margaret Smith. In 2015 he took the principal's job at Atlantic High School. "Atlantic's overall graduation rate increased 14.3 percent from 2015 to 2016," he wrote in his cover letter, "an overall graduation rate of 83.8 percent after just one year of utilizing focused strategies targeting academic growth for all students." The rate for every ethnic or racial group of students improved, numbers that are certain to catch school board members' attention in Flagler.
Jeffrey Umbaugh lists his title on his job application with Flagler as Assistant Superintendent for Instruction, and his supervisor as Superintendent Charlie Van Zant. In fact, both items are outdated, and were outdated even by the time Umbaugh submitted his application to the district. Terri Stahlman is the person who now holds the title Umbaugh had listed as his. Asked, when reached by phone this evening, why the application didn't reflect reality as it was when he applied, he said: "It's a good question, I wasn't trying to obfuscate anything, that was my resume and I was updating it and turning it in." Umbaugh explained that he'd signed a contract as assistant superintendent previously but was "being phased out of that role and being placed now at a junior high, helping with their school improvement efforts." The school is Wilkinson Junior High.
The superintendent is elected in Clay County. Addison Davis defeated Van Zant in his bid for a second term, his first having been marred by controversies and leading to his 13-point defeat in the primary against Addison. Van Zant is among the applicants for the superintendent job in Flagler, but did not make the shortlist. Umbaugh himself was reassigned by Davis, who became his supervisor in November. "I cleared up any questions that the screening committee had," Umbaugh said. "They knew and they understood that I was being phased out by the new superintendent."
Ronnie Dotson has been the superintendent of Carter County schools in rural northeast Kentucky since 2011. The district was named a "District of Distinction" by the state last year, reflecting some of Dotson's reforms and sharp improvements since he took over. He highlighted some of those improvements in his application, among them a significant improvement in standardized testing results over five years. "Thanks to the district['s] exponential turn-around in the five years Dotson has been in charge, he said they [sic.] are taking visitors from other school systems almost every day to local schools and talk to teachers about new methods of teaching," a Kentucky paper, the Journal-Times, reported last month. The district has about 4,800 students. Based on his application, Dotson has had three jobs: middle school teacher for 10 years, elementary school principal for 15 years (his school was recognized as a National Blue Ribbon School of Excellence), then superintendent. He considers the success of public education as an institution to be "essential to the future of our society," according to his cover letter.
Geneva Stark started her current job as human resources administrator for the very large Jefferson Public Schools district less than a year ago, after participating in a superintendent fellowship for a year. Before that, she'd been the district's human resources coordinator for almost 11 years, after being a high school principal for seven years, and an assistant principal and teacher before that. "At this stage in my career," Stark wrote in her cover letter, "I seek to couple my varied professional experiences with the expertise I have developed and refined by responding to an ethnically and culturally diverse community. Strongly committed to a 'student first' philosophy in all decisions and will be a strong communicator: speaking, listening and writing for Flager County Public Schools [sic.]."

Applicants for Flagler County School Superintendent, 2017
Applicant

Current Location

Current Title

Employer

Martha Adams
Miami, Fla.
Exceptional Education Teacher.
Devon Aire K-8 Center, Fla.
Wayne Alexander
Old Lyme, Conn.
Director of Alternative Education
/Asst. Director of Adult Education
Bridgeport, Conn., Public Schools
Audie Ash
Perry, Fla.
High School Principal
Taylor County Schools, Fla.
Steve Benton

Cottondale, Fla.
Not employed. Retired as Superintendent of Jackson County Schools, 2012
Not employed.
George Bohatch
Fort Myers, Fla.
Director of Student Services
Lee County Schools, Fla.
Jon Bonneville
Lakeville, Minn.
Elementary school principal
Burnsville Eagan Savage School
District, Minn.
Kim Braham
[Did not qualify]
Dublin, Ga.
Assistant Superintendent
Twiggs County Public Schools (1,500 students).
Nick Campagna
Old Lyme, Conn.
Administrative Internship
Bloomfield Public
Schools, Conn.
Amanda Cerda
Port Orange, Fla.
Elementary School Teacher
Volusia County Schools.
Vincent Cotter
Bradenton, Fla.
Education Consultant.
Exemplary Schools Organization
(self-founded).
Michael Dodge
Port Orange, Fla.
Not employed. Retired Superintendent from Dundee Community Schools, Mich. in 2016 (1,700 students)
Not employed.
Ronnie Dotson
Grayson, Ky.
Superintendent
Carter County Schools (4,900 students)
Phyllis Edwards
Palm Coast, Fla.
Not employed.
Not employed.
Kim Eger
[Did not qualify]
Peoria, Ariz.
Special Ed. Teacher, Exceptional Student Services
Dysart Unified School District
, Ariz.
Eric Ely
[Did not qualify]
Concord, N.C.
High School Math Teacher
Not specified.
Kara Gann
Alpharetta, Ga.
Manager
Schoology
Thomas Gay
Port St. Lucie, Fla.

Senior Education Manager
GEMS Education, Dubai, United Arab Emirates (for-profit network).
Daniel Gilbertson
Dryden, Mich.
Director of Innovative Education and Strategic Partnerships
Madison District Public Schools, Mich.
Kenneth Green
Antioch, Tenn.
Self-employed consultant (former Assistant Commissioner, Tennessee Dept. of Education)
None.
Christopher Hammill
Fort Gratiot, Mich.
Senior Vice President of Operations.
Accel Schools (for-profit charter school network).
Yolanda Heidelberg
Arlington, Tenn.
Elementary School Principal
Shelby County Schools, Tenn.

Hannah Jaber
[Did not qualify]
Dearborn Heights, Mich.
Director
Widening Advancements for Youth, Detroit.
Noelle Jacquelin
Cape May Court House, N.J.

Adjunct Professor
Rowan University.
Constance Jones
Pueblo, Colo.
Not employed.
Resigned as superintendent of an 18,000-student district in 2016.
Timothy Kuehl
North Liberty, Iowa
Superintendent
Clear Creek-Amana School District, Iowa (1,900 students).
Jeffrey McCartney
Beecher, Ill.
Superintendent
Beecher School District
, Ill. (1,000 students)
Ray Mondragon
San Francisco, Calif.
Deputy Chief of Early Learning
Oakland Unified School District, Calif.
Mary Murray
Tampa
Course Mentor
Western Governors University.
Vernon Orndorff [Withdrawn]
Palm Coast, Fla.
Executive Director of Leadership
Development

Flagler County Schools.
Ryan Place
New Bedford, Mass.
Director of Special Education
Global Learning Charter Public School.
Linda Roeske
[Did not qualify]
Pueblo, Colo.
Secondary Mathematics and Digital Specialist
District 60 Pueblo City Schools.

Jason Spencer
Oxford, Fla.
High School Principal
The Villages Charter School.
Todd Sprager
[Did not qualify]
Port Orange, Fla.
Spruce Creek High School Principal.
Volusia County Schools
Geneva A. Stark
Mt. Washington, Ky.
District Human Resouce
Administrator.
Jefferson County Public Schools, Ky.
James Stroder
Emigrant, Mont.
Superintendent
Gardiner School District, Mont. (200 students).

James Tager
Port Orange, Fla.
High School Principal, Atlantic High School
Volusia County Schools.
Andrea Townsend
[Withdrew]
New Bremen, Ohio
Superintendent
New Bremen Local Schools, Ohio (800 students).
Jeffrey Umbaugh
Middleburg, Fla.
Assistant Superintendent for Instruction.
Clay County Schools.
Charlie Van Zant Jr.
Keystone Heights

Deputy Commander.
Florida Army National Guard.

Gerald Wilson
Berlin, Md.
Not employed.
None.
Scott Woolstenhulme
Idaho Falls, Idaho
Assistant Superintendent
Bonneville Joint School District 93, Idaho. (12,000 students)

Note: the application packages were provided by the Flagler County school district, which illegally redacted the contact information for most of the candidates' references. We have asked the district to provide compliant copies of the shortlisted candidates' applications.