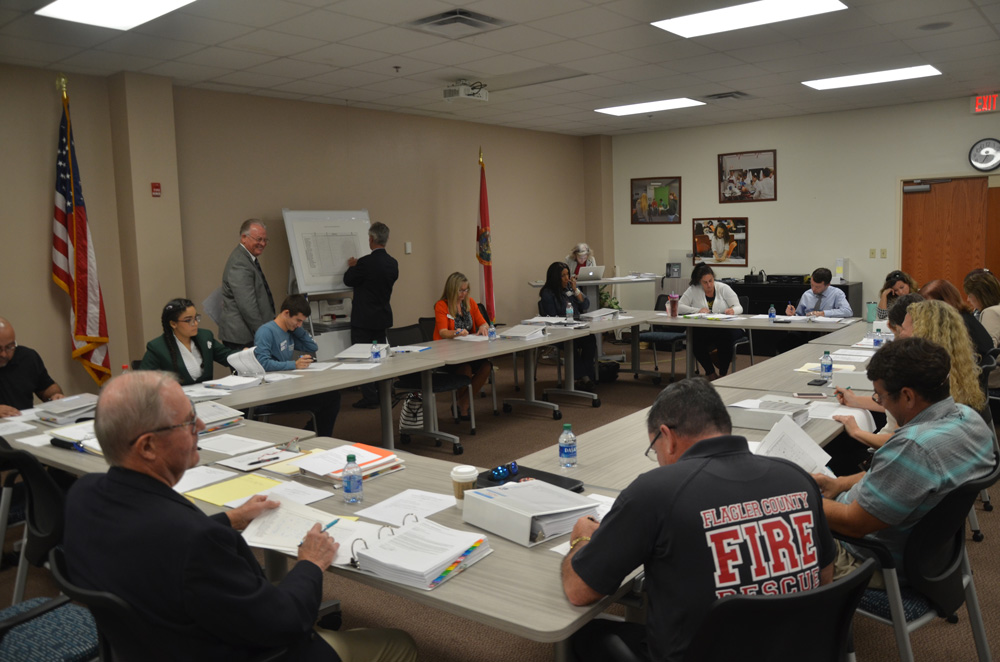 In the closest thing to a primary for Flagler County superintendent, Vernon Orndorff, Cathy Mittelstadt, Earl Johnson and Colleen Conklin were the big winners Tuesday evening, based on the choices of the 20 members of the Flagler County School Board-appointed Citizens Advisory Committee.
The committee is responsible for providing a list of superintendent preferences from the 31 remaining applicants (three have dropped out). The list is non-binding, but carries significant weight: the school board in the past has stuck to those lists, out of which it has narrowed its own choices to the few candidates it elected to interview.
Orndorff, a former top district administrator who was essentially former Superintendent Jacob Oliva's right-hand man, got 14 votes, as did Cathy Mittelstadt, a deputy superintendent in St. Johns County. Earl Johnson, who is now filling Orndorff's role at the right-hand side of current Superintendent Jim Tager, got 12 votes. And School Board member Colleen Conklin got 10.
The only other candidate to clear the 50 percent mark in votes from committee members was Janet Womack, an education and leadership consultant in Texas. (See the image below, of the chart showing how each committee member voted.)
The committee agreed to send those five names, along with four others that did not clear the 50 percent threshold: Ron Wagner, an associate superintendent in Minnesota, Erick Jackson, a high school principal in Sarasota, Jeff Reaves, the principal at Matanzas High School, and Matthew Lutz, an assistant superintendent in North Carolina. Each of those four got eight votes.
The candidates closest to that group got six votes and less, so the committee decided to stick with the first nine names. Just four of the names forwarded to the school board coincided with the list of candidates recommended by the Exceptional Student Education Parent Advisory Council, which conducted its own, more searching process, using written interviews to guide its choices: Lutz, Womack, Mittelstadt and Wagner. Three years ago, a similar committee forwarded five names to the school board.
The committee finished its work in just two meetings, having met the first time last week. The first meeting was only procedural: the participants hadn't yet received the binder full of candidate applications. Presumably, they did their homework between the two meetings, though some committee members appeared to be picking their choices during Tuesday's meeting, on the fly. Both meetings, which were open to the public but barely attended, took place at the Government Services Building in Bunnell, this evening's meeting breaking up at 7:30 p.m.
The heart of the 90-minute meeting wasn't the voting and tallying, which was really filling in blanks that committee members had mostly prepared ahead of time, but a 45-minute segment when many committee members spoke their mind, for or against, certain candidates. However forcefully, every committee member who spoke did so with utter respect and deference to the rest, while the Florida School Board Association's Bill Vogel and John Reichert–two of the three consultants the school board hired to shepherd the district through the process–very light-handedly and light-heartedly maintained easy control of the proceedings: School Board Attorney Kristy Gavin was present at her table in the corner but never had to intervene. It was an example of a citizen-centered volunteer committee where civility, intelligence and strong opinions managed to coexist with remarkable harmony.
Those strong opinions had a serrated edge at times, as when–no surprise–Jearlyn Dennie first spoke of her reaction to Orndorff ("I was not impressed"), especially after calling five people she said had worked with him, "and I got one positive out of five calls." The criticism was a surprise to many around the table, though one other member was curious about why Orndorff had withdrawn his application for superintendent three years ago.
Another member reminded her that the board at the time was keen on having someone with superintendent experience: that was not exactly true, especially since the board ended up hiring Tager, whose experience as superintendent had been brief and only as an interim. Rather, Orndorff withdrew after two board members attempted to hire him and skip a further search, but failed. Orndorff saw the writing on the wall, and opted out. But he is now applying out of a sense that support for him has grown: he needs only one additional vote to make it in, if his two previous votes are not past their expiration mark.
And a few members of the committee this evening did not want Dennie's impression to permeate the room. "I have heard many high accolades" about Orndorff, the banker and the chamber of commerce's Garry Lubi said. "My experience with Vernon was always top notch and first class all the way." Kaiti Hansen, the county's teacher union president, echoed the assessment, while Jill Woolbright, a recently retired teacher, union member and current candidate for school board, cited Orndorff's recommendation letter from Sen. Travis Hutson as reflecting unique "caliber."
There was perhaps some overarching structure to Dennie's criticism of Orndorff: it was yin to her yan for Earl Johnson. "I've had in the past some previous issues with him," Dennie said of Johnson. She said she was intent on not letting that count against him. She investigated. "He blew me away and I was very surprised because I went in with a bias." Other than the actual votes, no one else spoke of Johnson.
Mittelstadt got a few comments in her favor ahead of her votes matching Orndorff's. Amy Fulmer, the Flagler Auditorium director, alone spoke for the arts and for a candidate who could perhaps break from the norms locally. "I want to open out to how do they do things in other parts of the state," Fulmer said. "We kind of do our Flagler way, and we do it well," she said, but other ideas could be enriching too.
Hansen reserved her strongest words for Reaves, the Matanzas principal trying to make the jump to superintendent. She said he's done a "fabulous " job as a principal, but has "zero experience" with district-level issues.
The committee then turned to tallying up its votes.

How the committee members voted (click on the image for larger view):
Note: the candidates are identified only by numbers in the chart; the corresponding names are in the table below the image, along with links to the candidates' application packages.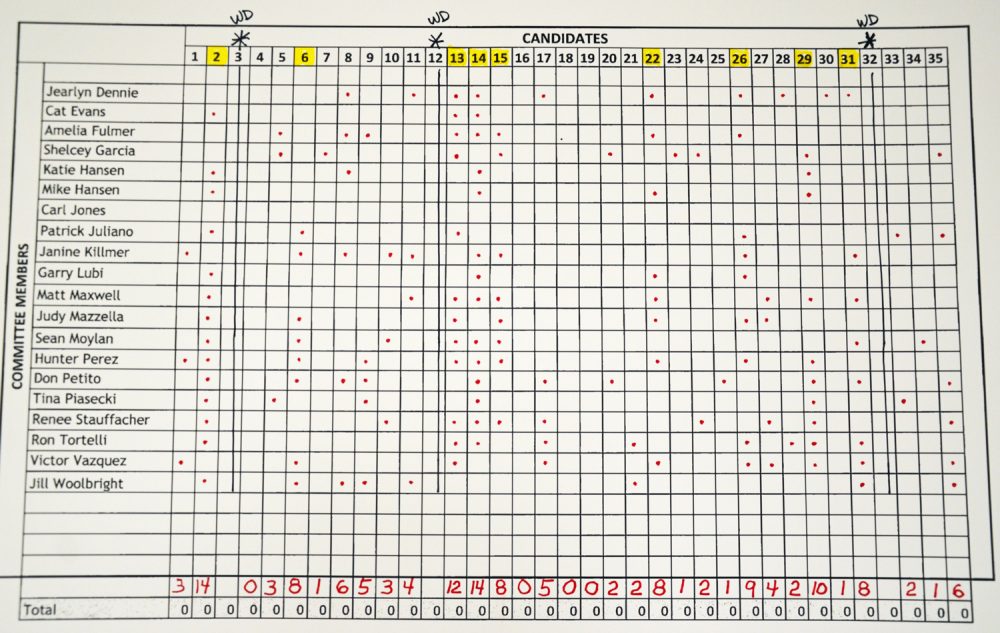 Flagler County School Superintendent Candidates, 2020
| Candidate Number(*) | The Candidates | Location | Last Position |
| --- | --- | --- | --- |
| 10 | Wayne Alexander | Old Lyme, Conn. | Assistant Principal |
| 27 | Jeffrey Alstadt | Crescent City, Ill. | District Administrator, Randall School District, Wis. (K-8) |
| 8 | Raymond L. Bryant, Jr. | Locust Grove, Ga. | Consultant |
| 23 | Sean Chance | Pembroke Pines, Fla. | Administrator, Pembroke Pines Charter Schools |
| 12 | George J. Chidiac [Withdrew] | Bayville, N.J. | Superintendent (2,000 students) |
| 30 | Peri-Anne Chobot | Elkridge, Md. | Prep School Principal |
| 29 | Colleen Conklin | Flagler Beach | Flagler County School Board member, Executive Director of Embry-Riddle Gaetz Aerospace Institute |
| 28 | Kim Eger | Peoria, Ariz. | Education Superintendent for Arizona Juvenile Corrections |
| 24 | Curtis Ellis | Palm Coast | Principal, Putnam Academy of Arts and Science |
| 4 | Andrei E. Ghelman | Naples, Fla. | Adjunct Professor, FGCU |
| 21 | Terence N. Hayes | Madisonville, Ky. | Retired Superintendent |
| 15 | Eric T. Jackson | Sarasota, Fla. | High School Principal |
| 13 | Earl Johnson | Palm Coast | Leadership and Operations Director, Flagler Schools |
| 5 | Matthew T. Liberatore | Chicago | Director of Professional Learning and Student Services |
| 31 | Matthew Lutz | Kill Devil Hills, N.C. | Assistant Superintendent (4,300 students) |
| 32 | Erin McMahon [Withdrew] | East Falmouth, Mass. | Adjunct Professor |
| 14 | Cathy Mittelstadt | Palm Coast | Deputy Superintendent, St. Johns County Schools |
| 16 | Carl E. Moore | New Smyrna Beach | Chemistry, AP Teacher, Father Lopez High School |
| 3 | Terry L. Nelson [Withdrew] | Sparta, Ga. | Former Administrator |
| 18 | Yaw L. Obeng | Burlington, Vt. | Superintendent (4,000 students) |
| 2 | Vernon R. Orndorff | Waxahachie, Texas | Superintendent, Milford District (200 students) |
| 1 | Anthony D. Pack | Warner Robins, Ga. | Regional Education Administrator |
| 33 | Nigel Pillay | St. Augustine | Elementary School Principal |
| 19 | Michael G. Raso | Davenport, Iowa | Superintendent (5,000 students) |
| 22 | Jeff Reaves | Edgewater, Fla. | Principal, Matanzas High School |
| 35 | Randy Shearouse | Springfield, Ga. | Superintendent (12,000 students) |
| 9 | David M. Schmittou | Grand Blanc, Mich. | District Curriculum Director |
| 7 | Eric T. Stair | loomsburg, Pa. | High School Principal |
| 20 | Bruce Thomas | Akron, Ohio | Superintendent of 3 Charter Schools (580 students) |
| 17 | Nicolas Dusan Wade | Bolingbrook, Ill. | Superintendent (3,000 students) |
| 6 | Ron Wagner | Brooklyn Park, Minn. | Associate Superintendent |
| 34 | Tenille Wallace | Flagler Beach | Elementary School Principal |
| 11 | Jeff Williamson | Show Low, Ariz. | Superintendent, Bureau of Indian Education |
| 25 | Michael Winters | Sun City, Ariz. | District Administrator, Madison District Schools (6,000 students) |
| 26 | Janet Womack | Prosper, Texas | Consultant |
Candidates submitted resumes to the Flagler County school district, whose staff redacted certain information before making the resumes public. There were 21 applicants through Jan. 30. On Jan. 31, the last day of the application window, several additional applicants filed, but not immediately uploaded to the district's website. Those were added here on Feb. 3.
(*) The school board assigned a candidate number to each applicant to facilitate the selection process and blindly determine the order of interviews when that time comes.