For the past couple of years I've been collecting arrest reports on the sort of cases that waste cops' time and taxpayers' dollars, make a mockery of our judicial system, embarrass—or should embarrass—any reasonable lawyer, judge and state attorney dealing with them, and most of all, unjustly screw with people's lives like few perversions of the legal system right now.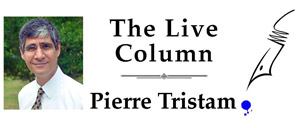 I'm referring to stupid pot busts: people arrested for possessing less than 20 grams of marijuana, or what may amount to a couple of joints.
We get them with depressing regularity here. The depressing part isn't the fact that people are smoking weed, an act demonstrably less harmful than a glass of wine, far less addictive than Xanax and less lethal than burnt toast. It's the fact that our local police chiefs still haven't told their troops to exercise their better judgment, and focus on actual crimes that harm the community, not police-state crusades left over from Richard Nixon's dark ages. Miami-Dade just this week started considering reducing pot possession to a civil citation punishable by a $100 fine, nothing more. It's nothing new. President Carter, the last president to propose more drug sense than czars, pitched the same idea to Congress in 1977. A year later the idea was dead as Carter got clobbered with idiotic criticism of White House staffers toking it up: another stupid pot bust.
I don't write about those reports I've been gathering, because they're not news. They're a racket. They show our police forces and too often the media at their worst, especially when the two sides conspire to play up the latest idiotic busts with the same sort of camera-whoring fanfare that Polk County Sheriff Grady Judd exhibits every time he arrests a pervert. There's a place for reporting on drug problems, but primarily as a public health matter, as with alcoholism and tobacco addiction—legal products that individually claim more lives and demolish more families than any illegal drug out there, from pot to heroin to crack. There ought to be no place for reporting on pot arrests, grow houses included, except to show the imbecility of it all. (And I may just devote a new series to these stupid pot busts.)
But I was in court Thursday monitoring a series of pre-trails, and this case was too much to let pass. Circuit Judge J. David Walsh had spent hours listening to cases involving wife-shooters, stranglers, child abusers, child rapists, the European Village shooter and a guy accused of conspiring to commit murder. And here comes poor Harry—I'm changing his name, because there's no reason to drag him through more muck—a 34-year-old Palm Coast resident accused of what? Possession of less than 20 grams of weed. Plus that ultimate bogus charge, "possession of drug paraphernalia."
Here's a guy who hasn't had so much as a traffic ticket in this town, ever, who has the misfortune of driving through Bunnell with a headlight out, giving a cop cause to pull him over.  The cop smelled pot. At first Harry said he didn't smoke, but then the cop told him, disturbingly, that he had probable cause to search his car on mere suspicion. You'd think Harry was an ISIS suspect on the road to Damascus.
Before long Harry was owning up to his miserable little joint and getting slapped with two misdemeanor charges. Harry has two jobs, one of them at Palm Coast Data—where it's probably difficult for anyone to work without a good stash of reefers for sanity—and here he was having to shell out a couple of weeks' pay in court and attorney costs, and still plead no contest. He got 12 months' probation and 25 hours of community service. If that weren't loony enough, he has the right to buy out those hours at $10 an hour, or the cost of one fat joint for each hour. I felt like starting a collection to buy out his hours and get him enough weed to last him through the 2016 election.
And Harry still has to conduct a substance abuse evaluation and follow whatever recommended treatment that segment of the racket hands down, when the only thing stoned in this charade is the judicial system. All this as Harry was shuffled into the same docket with the child rapists and the stranglers, when he would have been more fairly classified, if at all, with the red-light-runners and litterers in county court.  But that's just it: disproportion is essential to the racket, which defies sober justice.
I have great respect for Judge Walsh. I love to watch him work. He'd remind me of Solomon, if I'd lived that long. But I have to think he is inwardly laughing hysterically at these pot sentences he's having to hand down, or crying just as hysterically the second he goes in chambers. Anything in between would suggest acceptance or resignation, or worse, endorsement of a system that reeks of cruel and unusual. The only thing more disheartening is that this state is flirting with legalizing medical marijuana only, as if that alone would treat the sickness.
It won't. As long as smoking pot under any circumstance is considered illegal, the malady is Florida law, and the sickos are its executioners.

Pierre Tristam is FlaglerLive's editor. Reach him by email here or follow him on Twitter @PierreTristam. A version of this piece aired on WNZF.