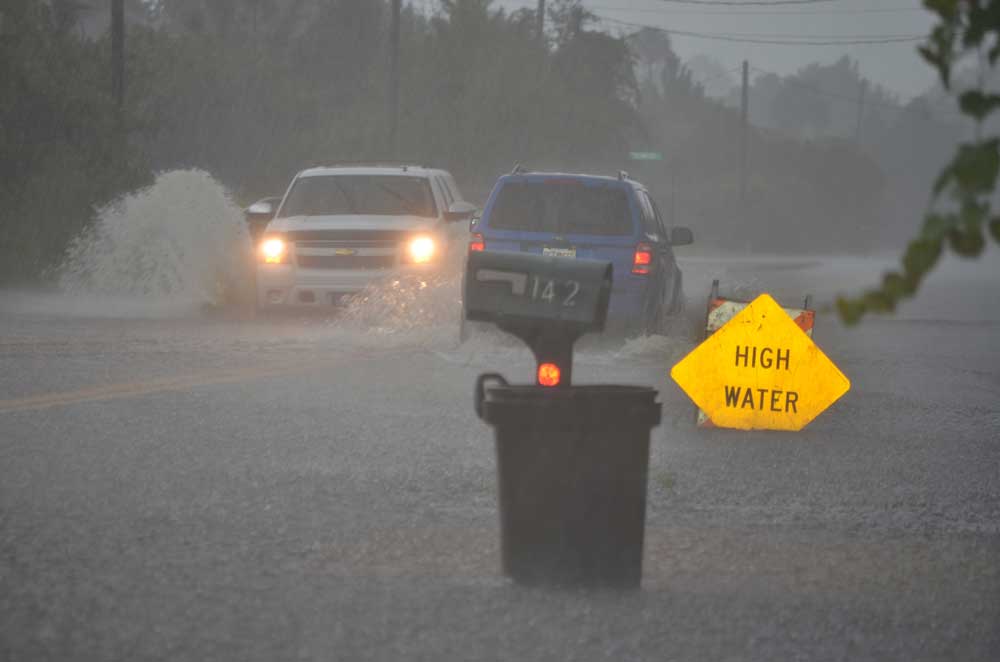 A divided Palm Coast City Council this morning adopted a stormwater fee increase of residents' monthly bill from $22.27 currently to $39.10 by 2028, or 76 percent.
It is less than the 102 percent increase that the city's stormwater department and a city consultant sought. It will still add up to nearly $500 a year in stormwater fees for single-family households by 2028, when city taxes are not that much higher for some.




The stormwater rate is increasing in part because the city has annually cut a portion of property tax that has been allocated to stormwater revenue. In other words, the higher stormwater fee is subsidizing a lower property tax. (Council member Ed Danko referred to the stormwater fee as a "tax," as it essentially is: while some residents do not pay it, because they live in subdivisions that operate their own stormwater system, the overwhelming majority of residents and businesses do.)
The 3-2 vote followed a motion by Council member Theresa Pontieri that includes a condition: stormwater fee increases between 2028 and 2033 will be limited to each year's inflation rate.
Pontieri was insistent on that condition because since 2012, the council has raised the stormwater fee sharply every five years–or faster, in this year's case–each time claiming that the city needed to do so, or else it would fall behind with catastrophic results.
In 2012, the stormwater fee was $8 a month. The council increased it to $11.65 a month, a 46 percent increase, with no additional increases. In 2018, the council approved a five-year plan to increase it incrementally to $23.95 a month, what would have been a 105 percent increase. The last increment was to kick in on Oct. 1.




The resolution the council approved today overrides that increase with a much steeper one, taking the current rate of $22.27 to $28.34 come Oct. 1, a 27 percent increase. It will be the single-sharpest increase in the next five years. In 2024, the rate will increase 16 percent, to $32.87, then 10 percent, to $36.16, then by 6 and 2 percent in the last two years of the cycle. Starting in 2028, the rate will increase at whatever rate the CPI, or consumer price index, stands the previous June.
"I just want there to be some assurity to our residents that they're not going to look at another increase like this come 2028," Pontieri said.
Council members Pontieri, Nick Klufas and Mayor David Alfin voted for the increase. Danko and Cathy Heighter voted against.
"My feeling is, this is such a massive increase in five years, I'd like to see us cut it in half," Danko said with some bluster, blaming cost increases on "sleepy Joe." Other than cutting the rate in half, Danko offered no explanation on how that would be achieved, in the context of the city's needs, even though the administration had made clear that the needs ahead are not quite optional. Cote described some recent infrastructure failures, such as the one that closed Florida Park Drive for months, as an example.
Alfin hunted for a consensus among all five council members, and at one point seemed amenable to cutting the increases in half, or limiting them immediately to cost of living increases. But Construction and Stormwater Director Carl Cote and City Manager Denise Bevan quickly dissuaded him. Bevan explained that the city operates its capital improvements in five-year and 10-year spans. Cote said that limiting increases to inflation would continue what the city is doing now. "It could be a lot less if you attach it only to CPI," and could hamper the ability to take out loans, new staffing would be cut, as would new equipment purchases, Cote said. "You basically have what you have today."




"Why don't we postpone this for a year and bring this back in a year," Danko said.
"Because they work on five year plans," Alfin said.
"The old Soviet Union worked on a five-year plan and that didn't work too well, did it," Danko said.
"I'm an engineer, and in engineering five-year plans are very common and have nothing to do with that kind of reference," Alfin corrected. (In fact, even Ronald Reagan and George W. Bush had five-year plans, the latter greatly successful, as routinely do federal agencies).
The vote today is the culmination of a series of workshops through which Cote and Murray Hamilton of of Raftelis Financial Consultants outlined various options for the council to tackle a long inventory of stormwater infrastructure improvements around the city–improvements that never cease to lengthen a list that before the last 10 years had not been the priority it has been since. The stormwater system is a complex network of 1,222 miles of swales, 58 miles of freshwater canals, 177 miles of ditches and 14 major flood-control structures such as weirs, among other systems, that keep water flowing from yards and streets to swales to canals to the sea. The system has been remarkably efficient despite the increasing intensity of storms and downpours in the past decade, preventing any home flooding in the city.




The council over the last few weeks' discussions considered shifting the cost of mowing swales in front of vacant lots to lot owners. Under such a proposal, those who fail to do so would be cited by code enforcement. But the council has not yet made a decision on that possibility. (See: "Owners of 10,000 Vacant Lots in Palm Coast May Soon Be Responsible for Mowing Rights of Way." An earlier version of this article incorrectly stated that the proposal was enacted by the resolution approved on Tuesday.)
The rate increase drew only two public speakers, neither of them opposed to the increase.
Left unspoken in the weeks of discussions about the rising burdens on municipal infrastructure are the effects of climate change–rising seas, which affect the city's canal structure, and intensifying rain events, which affect the overall stormwater system. The stormwater fee's rise, in a sense, includes the unspecified cost of climate change, with which local governments are now routinely contending–through beach-erosion and renourishment costs, stormwater costs, road-repair costs, even sun-protection costs, and so on.