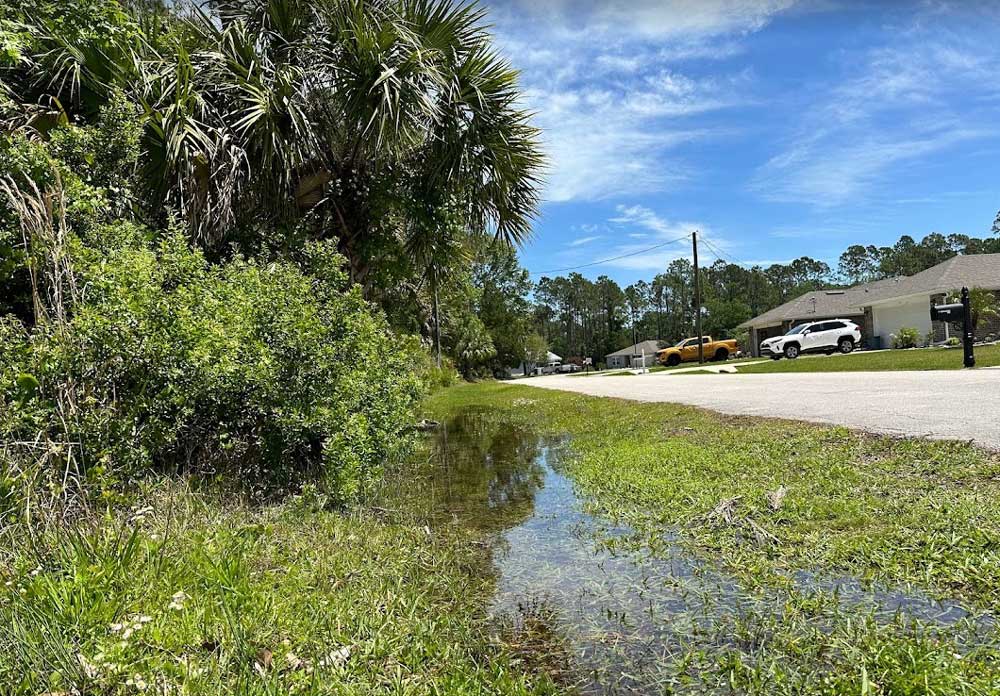 Palm Coast government's quarter-century-old practice of mowing the rights of way in front of vacant lots mostly at its own expense may be about to end. The Palm Coast City Council today agrees that the responsibility should shift to the property owners.
Under a proposed model that will be presented to the council soon, property owners will have a choice. They could either assume the responsibility and cost of the mowing themselves, or they could pay the city a fee to do it. The fee would have to be determined.




The mowing of rights of way is essential to the city's stormwater system, which is furrowed by swales. Swales serve as soaking sponges for excess water, slowly seeping runoffs into the ground and down to the aquifer. Overgrown swales impede the process, cause water to back up onto neighboring swales or flood properties and streets. So swale maintenance is essential. Homeowners and tenants at developed properties are responsible for mowing their own grass and the rights of way in front of their property. Owners of vacant lots are not.
The council is looking to end the practice of what it considers to be a free service to property owners because it is part of a larger reconfiguration of the city's stormwater fees. The current fee is $22.27 a month for a typical single family house. It's almost double what it was in 2018. But it's still not nearly enough to pay for the city's mounting backlog of stormwater infrastructure repairs and the increasing pressures on its swale crews to rebuild and maintain the network.
In February, a stormwater study pointed to fees that could possibly reach $542 a year per property owner by 2027. The cost could be higher than what some property owners pay in city property taxes. Council members were taken aback. They have been looking for ways to ease such a steep increase. One of those ways is to reduce the city's cost of mowing vacant lots' rights of way, a responsibility shouldered by the city's public works department.
There's a caveat, as the city's Carl Cote, director of the stormwater engineering department, cautioned: "The existing lot owners are paying 74 percent of that stormwater fee," he said of owners of vacant lots, "and they may claim that they're paying for maintenance to the stormwater system because we do maintain improved lots by [cleaning] up pipes under driveways and things like that of the maintained lot, there may be some argument there."




City Council member Ed Danko says the threat of legal action should not stop the city: "For anyone to come in and say I'm going to sue the city because you're overcharging me for mowing this lot," he said, "most people aren't going to make that kind of effort or spend that kind of money. We may get one case. And my feeling is, we shouldn't be afraid to go to court if we're right. We shouldn't hide because they may sue us."
There are 10,072 vacant parcels in the city. They're diminishing by the day as they get developed. Once the property is developed and a certificate of occupancy is issued, then the responsibility for mowing rights of way shifts to the new owner, or tenant.
"These lots should be maintained by the owners and if they're not maintaining them, code enforcement needs to penalize them in the same way that they would other lot owners," Council member Theresa Pontieri said, with a caution about the legalities of the method through which the lot owners would pay.
Changing methods is not as simple as a council vote. The city would have to change the city's ordinance to reflect the new responsibility. All lots would have to maintain right-of-way areas adjacent to their properties. If the property owner doesn't assume the responsibility, code enforcement would issue fines–and mow. The city would have more authority to penalize vacant property owners than it would homesteaded property owners.




"It's a little bit different on vacant lots because vacant lots don't have the homestead exemption," Neysa Borkert, the city attorney, said. "So the city could place a lien on that property and subsequently foreclose on that lien because it's not a homesteaded property. So there is a little more teeth there than with a homesteaded property, where you can't foreclose on the lien and you have to wait until it's sold, and then you have to wait to see if there's any money left over to to pay that."
The city could also do a special assessment–a special tax or fee. But the city would have to hire a consultant to figure out what the assessments should be, based on vacant lots' frontage.
Danko, Pontieri and Council member Cathy Heighter are more interested in going the route of code enforcement, precluding the imposition of a fee. In other words, extend current rules to all property owners. Code enforcement currently keeps an eye on lawns around the city. When a property owner hasn't mowed in a few weeks, a warning–which the city calls a "courtesy notice"–is posted on the owner's garage door. The notices get more stern from there, with fines kicking in, then a summoning before the city's code enforcement board.
"To me it seems like we're going to be spending a lot of time and possibly taxpayer dollars trying to recover or trying to impose a fee on lots that are getting littler by the year, or fewer I should say," Pontieri said, "rather than saying Look, you're the homeowner, you need to maintain your lot. If you don't, we're going to fine you because it's not homesteaded, we will enforce the lien accordingly if you don't pay it. So I think going the route of making the homeowner or the property owner maintain the property and then using code enforcement to enforce is the better."
Mayor David Alfin is concerned about the number of lots that would require attention: "I'm just again putting myself in the shoes of code enforcement," he said. "I'm thinking you need a small army" to keep an eye on 10,000 lots. But, he added, "That may be the right way to go. I just have to I have to digest it."




Danko doesn't oppose the code enforcement approach, but he wants an added option: property owners should have the ability to pay the city to do the job.
"If it was just code enforcement, we'll find ourselves sending out a lot of notices because you can't put them on the lot," Danko said. "You're going to have to mail them to Connecticut or California or wherever they're going to have time to reply." Most people, he said, would be happy to pay the city $40 or $60 a year not to deal with the hassle.
Borkert summed it up as a hybrid approach. Alfin said there is an existing model at Grand Haven, though the comparison has limits: most property owners at Grand Haven are in their homes. (When Danko described the hybrid approach as a "three-legged stool," gently ribbing the mayor, Alfin immediately reacted: "I'm not going there," a wink to the minor fiasco last August, when Alfin used the cartoon character Garfield, propped up on a three-legged stool, to defend higher taxes as a way to pay for the city's quality of life.)
The council tasked City Manager Denise Bevan with working up the details of that hybrid approach before the council makes a decision.