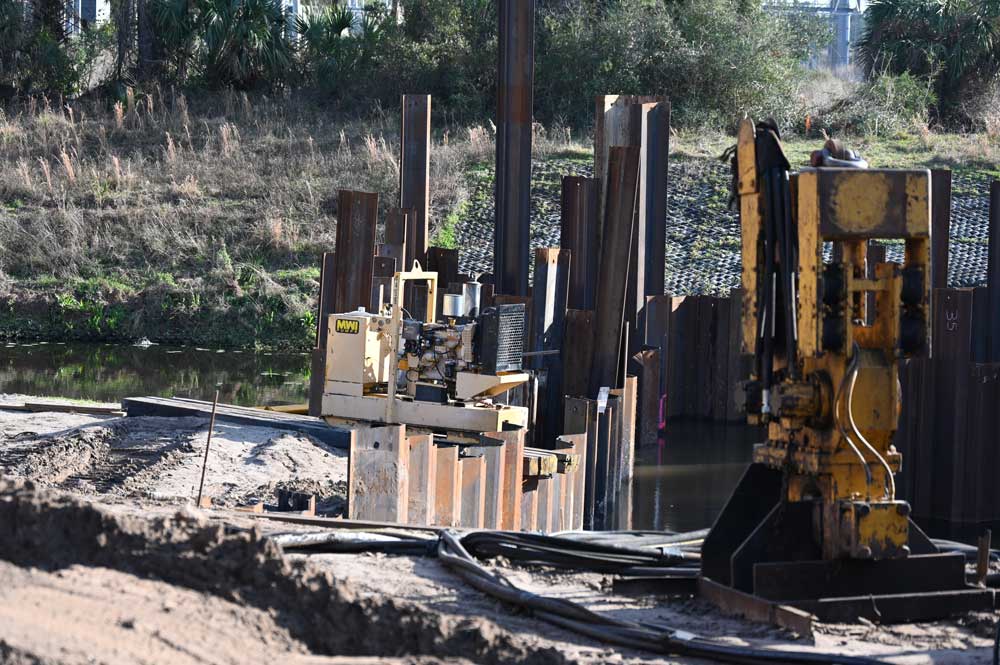 A consultant Palm Coast government hired to analyze its stormwater fee system is recommending that this year's monthly fee of $22.27 be increased to $45.16 over the next four years, a 102 percent increase.
That translates to what will add up to an annualized increase of $275 by 2024, for a total annual stormwater bill of $542, or more than what some homesteaded residents pay in property taxes. The current annual bill is $267.
Palm Coast City council members are uncomfortable with, but not necessarily opposed to, the increase. They are very supportive of the city's stormwater system and crews, which have combined to keep the city remarkably free of home-invading floods despite Hurricane Ian's near-historic drenching and other significant weather events. But they are asking for further analyses of the numbers, and are still exploring less expensive options.
The consultants, Henry Thomas and Murray Hamilton of Raftelis Financial Consultants, also offered up an option that would raise rates to $40.48 a month by 2027 (an annualized increase of $218, for an annual bill of $486), and a lesser option that would raise the monthly rate to $34.73 (an annualized increase of $150, for an annual bill of $417).
Doing nothing is not an option, so a steep raise is ahead anyway. Or rather: steeper rate increases are ahead, because Palm Coast residents have already been paying steeper rates every year since 2018.




In 2012, Palm Coast residents were paying a stormwater fee of $8 a month ($96 a year). That year, the council approved raising that to $11.65. It was not enough to pay for a significant rebuilding of the city's aging stormwater infrastructure.
Six years later, in 2018, the council approved more than doubling that rate by 2024, to $23.95. It is currently $22.27, but will go to $23.95 later this year.
The steep increases are necessary for a variety of factors, the consultants said, among them inflation–even though starting in 2024, when the current increases were set to end, they were due to be replaced by increases indexed to inflation. The consultants, however, displayed an inaccurate graph showing flat revenue from 2024 on. It was not the only inaccuracy, or dissimulation, in their presentation.
The consultants' report indicates that revenue in 2022 was $0.7 million "under plan." What the study does not say, and what the council did not hear, is that the portion of the city's property tax devoted to the stormwater system has been decreasing steadily since 2018 in such a way as to keep flat whatever revenue is generated from that source (about half a million dollars), with the rising stormnwater fee picking up the slack.




Specifically: "The Stormwater capital millage rate will decrease from 0.0848 to 0.0716," the current city budget notes. That's a loss of $101,065 in revenue generated this year through the property tax. It doesn't seem like much. But had the rate not declined since 2018, it would have generated $842,000 this year alone, more than making up for the dollars "under plan."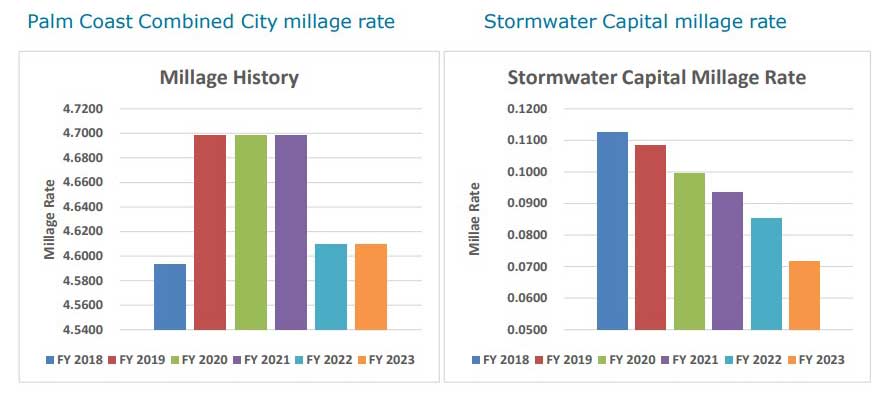 In essence, the city has been creating an illusion of lower property taxes by steadily shifting the burden from the millage rate to the fee, which it doesn't call a "tax." The revenue generated from the property tax would not be nearly so sufficient to address the city's stormwater needs without the fee, or without increases in the fee. But the projected increases would not have been as steep had the city not shifted the funding source.
The new rate study goes on to project that annual maintenance expenses and capital improvements will increase from approximately $5.1 million this year to $8 million a year from 2024 through 2027. During that period, the study projects a need for $55.6 million in maintenance and capital projects, including the increasing cost of additional employees adding up to $3.1 million a year. The fund would take out a loan of $38 million during that period, and pay for $40.7 million in projects.
The driving force behind the steepest proposed increase in the fee is the city's hope of more aggressively addressing swale maintenance and other types of maintenance. But that added cost would not affect the city's overall stormwater system: it would not make it better. It would be more of an aesthetic improvement, as Carl Cote, director of the stormwater engineering department, said.
That option, Cote said, "is more about level of service, getting to the work orders quicker, addressing homeowners' complaints at a much faster response time. But it really doesn't have a major impact in the function of the stormwater system. It's more of a level of service aesthetic issue."




In other words, the highest fee structure would lessen the number of complaints council members deal with.
"The number one complaint I get is swales, and it's something we need to get caught up on and get ahead of," Council member Ed Danko said. Some of those complaints reflect a misunderstanding of how swales work: standing water is not a bad thing, as some residents think. The swales are there both to channel excess water and to let some water percolate down to the aquifer.
Residents aren't familiar with the system's intricacies–with weirs, canal mechanics, culvert pipes or ditches. They're very familiar with their swale. That's what they complain about, a lot. Residents are responsible for maintaining their swale, including the pipe beneath the driveway, though the city will help if residents can't handle that part.
The city has been providing what it describes as an "enhanced level of service" for maintenance of swales, including reconstruction of 30 miles of swales per year, with just two swale crews. There's a backlog. "But we are not only just keeping up, but we are getting through our backlog," Donald Schrager, Palm Coast's deputy director of stormwater engineering, said. The goal is to eliminate the backlog over the next five to 10 years. "We'd like to complete the transition from being reactive operation to being preventative and eventually a predictive based operation."
Schrager described a "massive" stormwater system of 1,200 miles of swales, 3,000 pipes, 177 miles of ditches, 1,100 residential or commercial work requests per year, and a lot more. All of which "takes a small army of people and equipment to maintain the system and keep it functioning," Schrager said. The stormwater division has 59 employees.
Some of the city's ditches "have not been touched in 40 years," Cote said. Some of the city's infrastructure is in critical need of repair or replacement, but can't be addressed with current revenue levels.
The council didn't question the logic behind the consultants' numbers. But Danko and Council member Theresa Pontieri (later joined by Cathy Heighter and Nick Flukas) want a breakdown of the cost of adding additional city crews versus contracting them out to provide the additional level of service the costliest option requires. They also want the administration to estimate what fee could be charged owners of Palm Coast's 10,000-odd vacant lots. The city already bills those owners an annual maintenance fee. Many simply don't pay, Cote said.
Mayor David Alfin was concerned about the repetitive increases residents have been paying. But when he asked "how much has the average rate changed in the last three years," the consultants couldn't answer. Cote eventually provided a breakdown of the annual increases. Simply averaging out the increases since the last rate jump, the monthly rate has increased on average $2 every year since 2018, or $24 a year.




The average annual increase each of the next four years would be $69 if the city were to adopt the steepest recommendation.
Alfin was interested in exploring state grants that will be devoted to cities whose infrastructure is aging out, but the consultants cautioned that those may not be a certainty to base a budget on. They also devoted a segment of their presentation on the additional loan the city's stormwater fund would have to take out to underwrite coming projects. As of last September, the city owed $17 million in loans to its stormwater fund. The stormwater fund is usually a $15 million a year operation.
Clearly, Alfin was not alone in looking for a way not to go with the steepest option, as when Pontieri asked whether going with the middle option would risk causing "ultimate failure down the road." It would not, Cote told her.
A leery council made no decision, nor did it give its administration direction beyond those requests for clarifications.

stormwater-cost-study-increases-2023

Reader Interactions