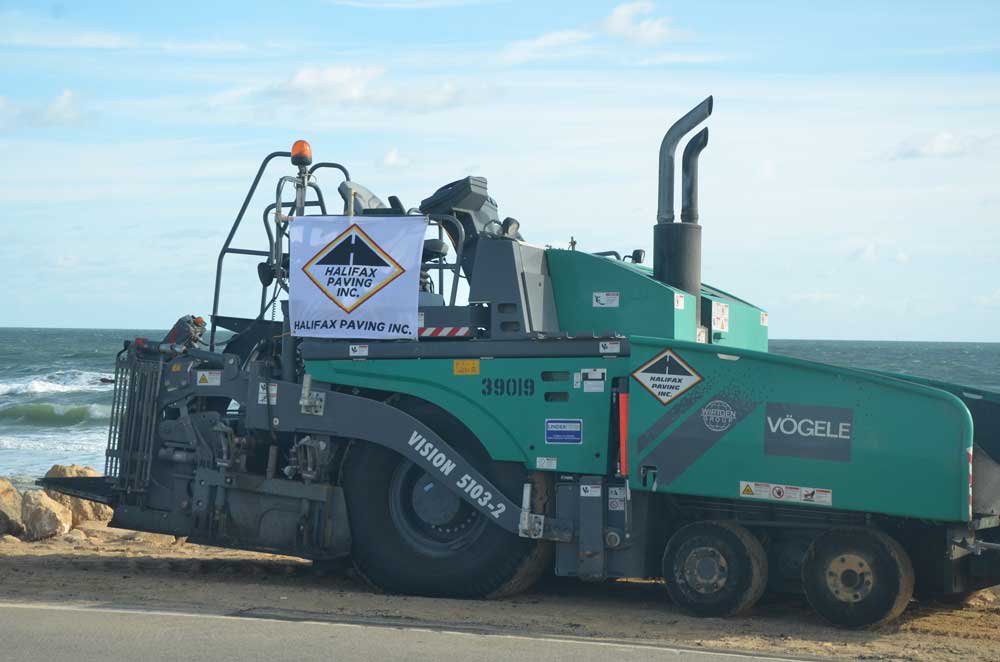 In 2012 and 2018 the Palm Coast City Council considered adding new taxes on residents' and businesses' utility bills: the Electric Franchise Fee, which would add between 3 and 6 perdent to costs, and the Public Service tax, which could add up to 10 percent to bills. In 2012, the council even voted to approve those taxes, calling them fees, if only as a replacement for the stormwater fee.




Residents rebelled. The council within two weeks reversed its vote in 2012 as 100 people jammed its chamber to cry foul. In 2018 it never got as far as a vote before opposition killed the proposal.
The franchise fee and public service tax proposals are back yet again, this time as one way to pay for a $52 million road resurfacing program over the next five years. Now as then, the council members are discussing the possibility as if the taxes were not taxes, but mere "fees," and as if they would somehow be less of a burden on residents than if the property tax were raised. Council members are also suggesting that the county could raise the sales surtax from 7 to 7.5 percent–just two years after Palm Coast Councilman Ed Danko, and a stunning lack of transparency and public involvement on the county's part, were instrumental in defeating just such a possibility.
The new tax proposals (not including the sales tax: that was a council proposal) were part of a presentation by the city's stormwater and engineering director, Carl Cote, who provided a sobering assessment of the city's slowly deteriorating road network. There's no question that the city's road system is in dire need of attention. None of the council members disagree. The question is how to pay for it all.
"The city roadway network health is on a steep decline. Without significant additional funding the roadway network is going to deteriorate quickly," Cote said. "It's hard for people to visualize and understand the forecast. If we don't do something now we're going to have a big problem in five years. So that's what we're really trying to make a statement on today."
The city has 542 miles of roads, or 1,200 lane miles, valued at $850 million based on 2021 estimates. Local roads account for 78 percent of those totals.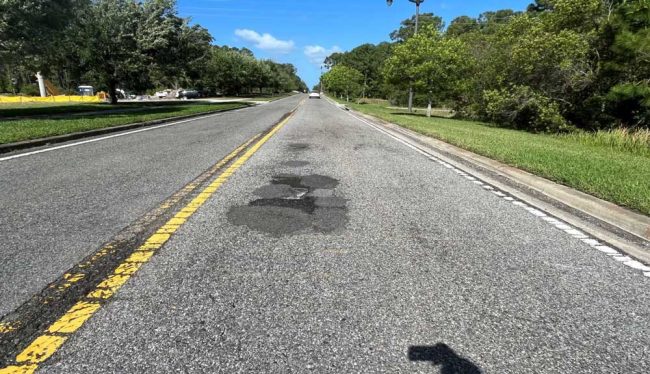 In 2017, it cost  about $50,000 per lane mile, or $100,000 per mile, for a typical two-lane Palm Coast street–what would have cost $60 million to pave the city. There are other ways to extend street life, such as "microsurfacing," which applies a protective coating to the road surface for a quarter of the cost. The council was big on that approach at the time.




On Tuesday, Cote spoke negatively of it, saying there's not enough analysis of its value, and " based on the current information that we've collected from those other agencies, it becomes a wash. So you can do something on the roadway with one of those types of treatments. And yeah it may get you a three-year delay. It extends for three years. So say you need to resurface it in 15 years, well now you get to resurface it in 18, but in the middle, you're spending some dollars. So those three years you're getting is is a wash in the long run." The approach might work on fully built out neighborhoods, but not in neighborhoods with a lot of construction, with trucks quickly damaging microsurfacing.
In 2017, the council approved a $210,000 contract with  Transmap Corp., a Columbus, Ohio-based consultant that analyzed the city's streets by sending vehicles that have 4,000-point lasers sweeping pavement and picking out every crack, even those invisible to the human eye. The analysis determined whether the problem was at the surface or at the base of the road, mapping out what to do next.
Street quality is rated on a 0-100 Pavement Condition Index scale (PCI), with 86 to 100 being good, 71 to 85 being satisfactory, 56 to 70 being fair, and so on, and with 0 to 25 being either seriously damaged or failed.
The average index in Florida is 75. In Palm Coast in 2017 it was 79. That put the council at ease, at the time. The average index was down to 75 by 2021. "The average PCI drop we saw from the last four years was 4.2, a significant drop," Cote said. "The PCI drop we can expect for the next four years if we just maintain our current revenue and budget will be a nine point drop."
In Palm Coast, two-third of the road system is good or satisfactory. No roads are in serious or failed conditions. But 32 percent of the roads are in the 56-70 range, or in fair condition, with 3 percent of roads in poor or very poor condition. Matanzas Woods Parkway, for example, is at 47: it's in poor condition. Cote flashed a picture: the pavement looked more like stretches of Ohio roads in late winter, when ice has cracked its ravages, than the smooth black-cat-like coating of, say, recently repaved Belle Terre Parkway.




"Matanzas is basically falling apart, that's going to require a half a mile of rebuilding," Cote said, preparing the council for a contract about to be presented to them to do that job, regardless of other long-term issues. Council member Nick Klufas asked Cote whether relatively recent construction along Matanzas Woods Parkway, such as the completion of an interchange there and more recent construction contributed to the deterioration., Cote was inconclusive on that score.
Royal Palms Parkway is at a 53, its creviced stretches crisscrossing the yellow center lines and looking like invitations to potholes. Drivers along the easternmost stretch of Royal Palms, along Town center, have experienced those pot holes full bore. The city filled them in in recent weeks, but not always effectively. Cote made no mention of the culprit behind the Royal Palms Parkway potholes: the city's ongoing, $1.5 million heavy re-construction of a weir there.
The city's pothole work orders have zoomed up from one in 2019 to 64 in 2020 to 175 in 2021, and 122 so far this year.
Residential roadways are doing better, but in  few places–not many–not by much. "As a roadway condition declined we have seen an increase in citizen complaints as well, and that takes time from city staff to then going out and having to respond to those complaints," Cote said, "more staff time from Public Works having to make repairs takes them away from performing other maintenance and Public Works tasks. This will just continue to increase over time as a road values go down."




The city is spending $2.2 million this year on road resurfacing. Cote said it needs $12.2 million a year to maintain the current level of service. "This budget need today is at a critical point," Cote said. "If we push this funding down the road, that roadway deterioration accelerates and a milling resurfacing project today will become potentially a full depth repair down the road." In other words, if the $2.2 million-a-year level were maintained, it would create a $52 million backlog of necessary work over the next five years. "So spending money and maintenance now is a good investment to avoid even more expensive repairs in the future," Cote said.
"That number is so big that we can't leave any stone unturned and we have to make sure that we have looked at every possible opportunity there," Mayor David Alfin said. "I don't think City Council has the expertise to do that. So we're going to lean on staff to help us come up with that menu of possibilities if we can on on how to you know help us through this."
But city staff had done just that: it laid out the three options. It was now up to the council to decide which of the three, or what blend of the three–or what cuts in other areas of the budget–to put in effect.
How did the city maintain its streets previously? The county had a half-cent sales surtax in effect from 2003 to 2012. A portion of that revenue went to Palm Coast. The city used the revenue to resurface 65 miles of road a year, for 10 years. Then the sales tax as structured at the time expired. The city has resurfaced only 20 lane miles of road on average per year since.
There is more to the story about that sales tax revenue than Cote told the council.
The half-penny sales tax revenue had been secured for 10 years through a voter referendum in 2003. The money was split by population: cities got 72 percent of the revenue. The county got 28 percent. In 2012, the county, led by Administrator Craig Coffey at the time, wanted to change that split to 55-45, with the county getting 45 percent of the revenue.  The reason: he wanted more money to build a new jail, which in any case serviced mostly city residents. That significantly lowered Palm Coast's share (at the time, Palm Coast lost $500,000 a year. The annual loss has accrued higher since.)




The cities made clear that they would not support that split in a referendum. So the county unilaterally voted to adopt it anyway, by vote of the commission instead of going to a referendum, which they thought would fail. (See: "Snubbing Voters, Lame-Duck County Enacts 20-Year Sales Tax While Slashing Cities' Shares.") That tax structure is in effect through 2033. (Only one commissioner voted against the unilateral measure: Milissa Holland, who foresaw exactly what did happen–less revenue for cities, poorer relations with them, and an unnecessarily larger jail.)
That created another problem: local governments could bond the revenue only if the tax was approved by referendum. If the tax was approved by commission majority only, governments could not borrow against it. They could only pay as they went. So Palm Coast lost both a chunk of revenue and bonding capacity.
That was the original impetus for the Palm Coast City Council to explore utility taxes as a new source of revenue.
Currently the city funds its street-paving program through the local option sales tax of 6 cents per gallon sold in Flagler County, split between the county and the cities. The city also gets a share of state sales tax revenue. It isn't clear why the city is not using revenue from the county sales surtax, which it still receives. Nor is the city dedicating any property tax revenue to resurfacing, as it once did. The city had previously dedicated property tax revenue to capital improvements. But Cote said "revenue for resurfacing is only going to go down in the future."
Now the utility tax options are back: an electrical franchise fee can be added to electricity bills, ranging from 3 to 6 percent. A public service utility tax of up to 10 percent can be imposed on water and power bills. Or else the council could raise the property tax.
"I know that chief is in the back of the room and can respond to me at the dais within seven minutes if my heart starts to palpitate after I try to digest these numbers," Alfin said, reflecting the size of the ask.




"This is not the time in our economy for us to be putting fees on electrical bills or utilities, but we do need to step forward and take some more action on this," Danko said. "We need to look at our must-haves and our wants. Roads are a must have, just like police and fire, water. But there's things that are not must-haves, and I think we're going to have to make some difficult, hard choices this year, because we have to come up with the money that you need to keep our roads good. I don't think we have a choice."
Council member Theresa Pontieri was more amenable to the franchise fee or the public service tax by way of diversifying the revenue base–and keeping property taxes from rising. "If we're able to impose a franchise fee or a public service–or I'm sorry, the utility tax, that could help with the ad-valorem monies that we're having to charge our homeowners, is that accurate?" Pontieri said. "So if we bring in monies from other sources, we have the option of not of perhaps being able to help with the ad valorem."
Cote cautioned: "It's not a true offset because these franchise fees and utility tax are going to have a much smaller year-to-year increase and your property tax is going to have a larger year-to-year increase." He also cautioned against shifting existing property tax revenue to resurfacing, as opposed to raising property tax revenue to account for it: "If you tried to use existing millage, you're taking it away from some other program or level of service. So it's not like there's money sitting out there."
"What we really need to do is make sure that we're bringing in revenues that are going to be consistent, being that we have to consistently repair roads," Pontieri said. "That's why we don't use loans to do things like this long term, because this is going to be a long term requirement. That's going to require a long term funding source." She urged the administration to look at the franchise fee, the public service tax and the county's sales surtax as options.
In June 2021 the county attempted to raise the sales surtax by half a cent, rather than restore the old split in revenue. Danko said "the county didn't have the nerve to go forward." That wasn't quite it: the county sought the cities' support, with little input from the public. (See: "How Flagler County's Drunken-Sailor, All-Republican Commissioners Tried to Con You Into a Higher Tax.") It was Danko at the time who railed loudest against the county's attempt, which derailed.




Now, Alfin spoke more favorably of a half-cent option, with no mention of restoring the old split. "There are many different pieces here that will need to come together for a program that would encompass a couple of years going forward," Alfin said. "It's not all going to happen in this one budget cycle, that's just unrealistic and not practical." He put a priority on keeping the burden off the "backs of our taxpayers as we possibly can."
But one way or the other, no matter how the council members were couching it–by way of fees or sales taxes–taxpayers will pay, and likely will do so more regressively, if the city adopts fee or sales tax structures, than they would if the revenue were drawn from property taxes..
The council's decision was to direct its administration–its finance director especially–to return on May 23 with an outline of how each tax or fee proposal would affect residents, what sort of revenue it would generate, and what off-setting options the council may have.

street-paving-palm-coast