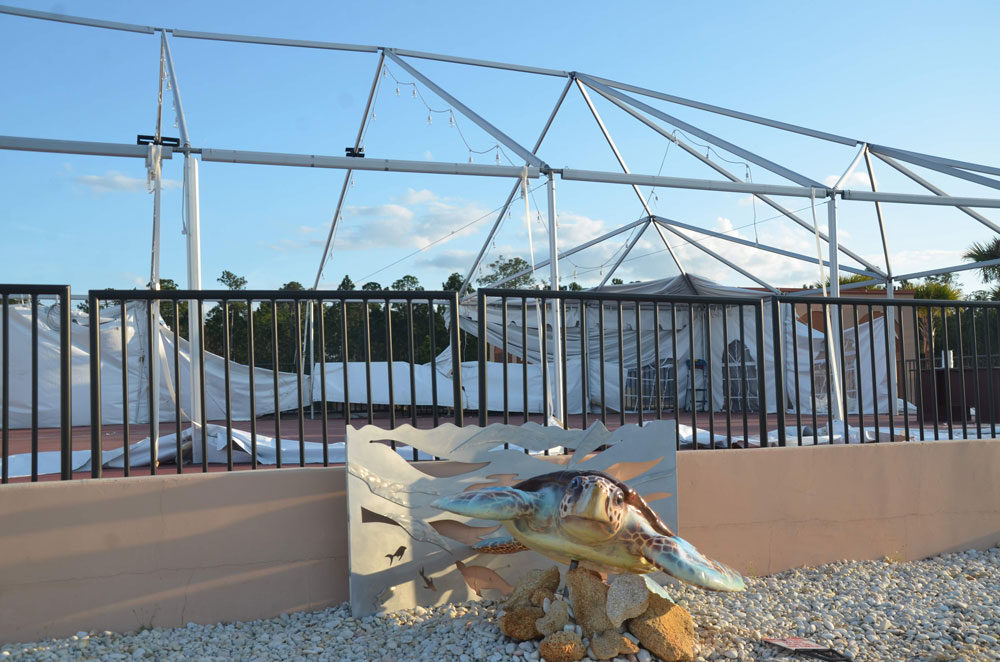 The consultant Palm Coast government hired to map out how best to develop the city's Arts District in Town Center is recommending building a $73 million (not including debt interest), 76,000 square foot multipurpose entertainment and conference center not focused exclusively on arts and culture.
The facility would serve local residents, tourists, trade shows, music and the arts, sports, and, in the consultant's view–a very rosy view–ramp up to 230 events a year by year five, with annual attendance exceeding 100,000.
The venue would by far be the most expensive city facility ever built–more expensive than City Hall, the Community Center, the last two renovations of Holland Park and the ongoing expansion of the tennis center and Lehigh Trail combined. The consultant's presentation was a bit like the scene in "Big" where Tom Hanks's character, a 13 year old in an adult's body, conceives of fabulous toys for a toy company, but without the first realistic concept of cost–for the manufacturer or the consumer.
But if successful, the events venue would also transform the city's role in arts, culture and special events, from peripheral coordinator to central driver and promoter, with economic development an overriding objective. It would also potentially redefine the city as a regional destination for culture and business.
Johnson presented the idea to the Palm Coast City Council on Tuesday. The plan was as expensive as it was fuzzy, as was its proposed location, though Johnson said the city could put a roof on the existing space of the Palm Coast Arts Foundation on Central Avenue (for $1.56 million) and build from there.




The plan also projects operating deficits of over $200,000 a year the first four years, and over $100,000, or close to that, over the next six.
While parks and recreation facilities operating at a deficit are not foreign to Palm Coast–it operated the golf club at Palm Harbor and its tennis center off Belle Terre Parkway that way for over a decade), it would be surprising if the city were to embrace a venture with built-in deficits from the start. Private funding for such a venture is just as unlikely: the city would have to play the lead role. That, anyway, is how the project is being pitched.
If the city were to take that approach, it would be at somewhat of a variance from the performing arts venue the Palm Coast Arts Foundation and other arts groups had in mind for the area. Johnson is seeing the Auditorium as the venue for the finer performing arts, though that stage rarely features classical music or jazz acts. But the project would also be the most substantive step the city would take in the physical–not just conceptual–development of the arts district it has been touting for four years.
That term–"arts district"–may have to be amended if the plans Johnson is proposing go forward.
Despite the big costs and the deficit projections, idea drew enthusiastic support even from Council member Ed Danko, who likes to suggest that he'd commit hara-kiri by anti-freeze rather than raise taxes. "I see a lot of potential with this and I know it's a lot of dollars we're going to have to spend or find," he said, "but I think this is really worth pursuing."




Council member Cathy Heighter called it "amazing" and likened it to the vibe she knew in new York City. "If not now, when?" she said, feeling assured that "if you build it, they will come." Council member Nick Klufas was no less effusive.
"I share in the exuberance and enthusiasm for this. I think it has potential to be awesome and I'm looking forward to what you guys can do with it," Council member Theresa Pontieri said. "Obviously the financial aspect is concerning." But she said while the facility itself would not be profitable, its value would be in "what it will do economically for the rest of our city." She was curious about when the plan could start (in about a year).
"It's evident that there is lots of love in the air today, on Valentine's Day as we talk about this incredible concept, theme and initiative," Mayor David Alfin said. (The workshop was on Tuesday.) He said the initiative will be more "fully digested" as the city begins to grapple with its goals next. But he posed a few more questions to the consultant, vetting the potential venue's capabilities, and seeking examples of the sort of events that could fit there.
He was also concerned about the finances of the project, and wondered about partnerships with the universities already in town, along with other Town center players. "I think it's critically important," Alfin said. "It's been my experience since I went to school so many years ago, that the arts and cultural activity on campus or near campus is an incredibly important part of a student's future and the universities or colleges success."
Alfin said "we would need to advertise such a magnificent venue so that people all over the planet would know about it."




Johnson framed the project as an economic driver, projecting (without supporting evidence) up to 200 indirect jobs from a venue that would itself employ only up to 10 people. He also projected that the facility's events would generate 18,000 hotel rooms booked the first year alone, rising to 24,000 by year 10.
"You get to play in two games with the type of facility we recommend you get to play in the performing arts," Charles Johnson of Chicago-based Johnson Consulting told the council, "and then the meetings and conference market" like the Ocean Center in Daytona Beach. That dual purpose is "very important in our judgment and it's appropriate for this market because you're new to the both flavors of the industry."
The "Multi Purpose Event Center" would have a stage on one end of the building for the arts, banquets and social events, plus meeting rooms and support spaces, including a full-service kitchen.
As an example, he spoke of how Tuscaloosa, Ala., built a downtown amphitheater and a conference center that doubles up as an entertainment venue with a breezeway and a children's museum and a children's theater. "That's kind of the vision that we see here," he said.
Johnson grew up in Orlando and has a home in New Smyrna Beach, so he's not as distant as his company's headquarters would suggest. He spoke of the many cultural facilities in larger cities that have played a role in defining those cities' trajectories. It is a propitious time to do likewise in Palm Coast: "This market is strong," Johnson said. "Tax collections are up at the state level, at the county level and at the city level. We're seeing that across the board in Florida."
The Palm Coast market could combine live entertainment and meeting space (think conferences, in a city and county that has no conference center). "If you can build the right product and finance it operating effectively," Johnson said, it would complement existing venues like the Auditorium. But even the hotels' conference spaces are small. "We see an opportunity to complement the hotels, to complement the community by adding their living room to this marketplace," Johnson said, starting with a product that "lifts the market and changes the dynamics in Town Center today."




"I think the next step here will be assigning some working capital to continue advancing this project," Johnson said. The $73 million price tag is high, he acknowledged–it is more than three times as high as the recently completed Sheriff's Operations center in Bunnell–but "I view this as you would build a library or you build something along those lines." He suggested that the city should take advantage of its own representative as the Speaker of the House (Rep. Paul Renner), tapping him for dollars.
Well into his presentation, Johnson spoke the make-or-break words: "The key here is really identifying the funding resource base," he said. He was fuzziest on that count, simply enumerating the usual suspects–the community, Town Center's enterprise zone, the county, grants, foundations–as possible funding sources, and calling it a "heavy lift." He left it to the council to figure out both finances and "site selection." He said the project would be done in phases, but it wasn't clear what those phases would consist of other than first putting a roof on the arts foundation's venue.
When Milissa Holland was mayor, she was considering appropriating a part of Town center's tax revenue, which is restricted to Town center, to the arts. But that idea died after she left.
The Palm Coast Arts District roughly follows a large part of the Town center boundaries, excluding apartment complexes and the shopping and restaurant zones along State Road 100. Lauren Johnston, the assistant city manager, described it as "a place for social gathering and artistic expression [that] will provide a destination for locals and tourists alike and will continue to revitalize the innovation district and Town Center." The city sees the arts district as an economic engine.




The city has also partnered with an organization called United We Art, which gathers all the major performing arts groups in town, plus business and government leaders. But so far the district, like Pirandello's characters, has been more like imagined ideas in search of a stage, though the city has organized a few events, notably the first Chalk Art and Fall festival and a separate annual arts festival.
"The overall objective is really to help this community service residents most importantly, but also to attract economic development," Johnson said. The problem is that in palm Coast, people leave to slake their thirst for the arts elsewhere. That's going to have to change.
The discussion item was a rare occasion at the council for culture and the arts to be championed for more than the reading of a proclamation or a passing mention of a recent event by a speaker or a council member at the end of a meeting. It was also testament to a council that, since Holland's day, has taken the arts more seriously than the city had historically.
Several arts and culture leaders spoke to the council at Tuesday's meeting, but, notably, they did so before Johnson's presentation.
"Our residents consider this their gathering place their hub and their downtown," said Sam Perkovich, president of the Palm Coast Arts Foundation and the owner of Parkside Realty, one of the earlier businesses to take root in Town Center. She drew a picture for the council of what Town Center could be. "Imagine coffee shops, sidewalk cafes, ethnic delis, maybe imagined pastry shops, health food stores, and ice cream parlors. Imagine artists galleries, bars, nightclubs, restaurants, maybe a late night something to go to in Palm Coast. Or maybe you can even imagine small conventions, conferences, weddings, galas, lectures, and maybe you can imagine seminars."
She then spoke of the value of a performance venue, and cited the foundation's current facility at 1500 Central Avenue as a "beginning of that dream," challenging the council to "do something no other city council has done: Come on, take action be the city council that brings the arts and culture to our burgeoning city."
There may have been a time years ago when Perkovich's words might have been taken as a challenge to the Flagler Auditorium, a competitive side-swipe to the already-established, 1,000-seat performing arts venue on the campus of Flagler Palm Coast High School.




Not anymore. Amelia Fulmer, the director of the auditorium, dispelled any such intimations. "We need a place for our children to perform. Yes, we have the Flagger Auditorium," Fulmer said, "but my phone rings every day and I have to say no, there's not enough space anymore. The community center is full. We have to think about the future. We have beautiful parks, beautiful recreation. I'm just so excited to hear the presentation today and to see what you will do for this future of our city in the arts.
There were other voices, among them Garry Lubi, a banker who heads the annual Palm Coast Sing festival, John Sbordone, a 20-year resident who once led the Little Theatre at Palm Coast and for the past 13 years has led City Repertory Theatre with Diane Ellertsen. CRT for three seasons produced Shakespeare in the Park at the Palm Coast Arts Foundation's big tent–until the tent blew off.
"That space in Town Center with a permanent roof on it can be the center of so many things and is the first step in our project to build an art center at Town Center," Sbordone said. "We need that roof. We need it now. And why we need it now is because we have the best time that we are collaborating together." He's seen come and go in 20 years, he said, implying that this should not be an occasion to let a foundational project slip by yet again.
Lubi placed the issue in terms of economic development, and encouraged the council to "take that next step forward."
"Each of you has the opportunity to take a step toward creating something great, something exciting for the city of Palm Coast that enhances the vibrancy and quality of life of our special city," Jay Shear, co-chair of the recently created Flagler County Cultural Council.
Chelsea Barney Herbert, a 38-year-old business owner and product of Bunnell Elementary, Buddy Taylor Middle School, Flagler Palm Coast High School, and Daytona State College, is envisioning a children's museum that can serve as "a place for science, technology, engineering, arts and mathematics. A place that exposes exposes children to careers in our community, inspires them to innovate. And to create a common area for community events, homeschool groups, school field trips, and instructional classes and outdoor area featuring the nature and beauty of our community." It would include a "pint-size version of our community" where children could preview their future lives on a smaller scale.
The arts leaders' comments were distinctly focused on culture first, an approach Johnson's plan would temper.
"Music leads the way, the arts lead the way," Fulmer had said, describing the range, from toddler to retirees, who form the Auditorium's audiences. "Why? Because arts and culture, even though it's a big fancy word, it really just means creative community building, building things that people in our community can come and be together and be stronger in our community–not to drive to St. Augustine and not to drive to Orlando. They're not going to make community connections there."
Reader Interactions