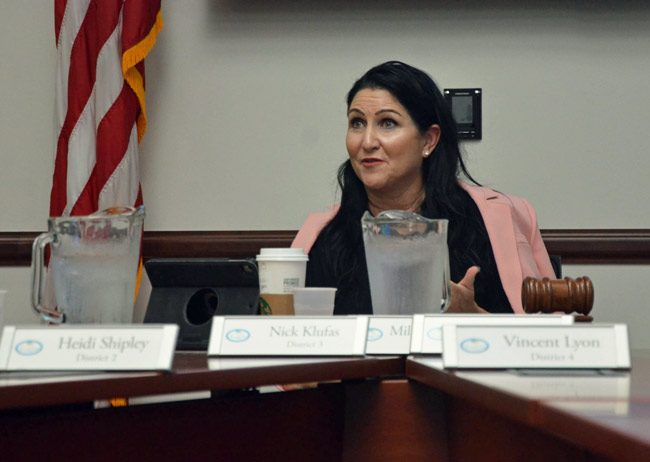 Out of nowhere and in two blinks of an eye, the Palm Coast City Council is about to ram through a large tax increase on residents and businesses with hardly any discussion, no hearings, no public education.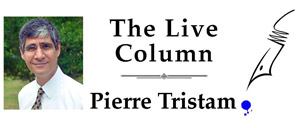 You'd think Jim Landon was back from the departed. But no. Welcome to Prometheus Unbound, Milissa Holland edition. The mayor wants to light a fire under Palm Coast's long-moribund rear. Good for her. But she is overreaching, this time with more recklessness than audacity. She's losing sight of ends and means and making us pay. Bad for us.
The council on Tuesday is planning to impose a new public service electric tax (council members aren't interested in a franchise fee even though it's also on the agenda), the kind of tax residents struck down with fury six years ago. What would be a historic tax increase would not be in exchange of lowering the property tax or any other tax or fee. This would be an entirely new and additional tax, precisely to continue to keep the property tax as deceptively low as it's been.
Holland is pushing the initiative. What she wants to pay for isn't fluff. The city needs a new public works facility and it needs to pave roads. There's supposedly not enough money for either.
But there are serious problems with the proposal, starting with the reason why there's no money. Perhaps it's unfair to blame the existing council for past sins, but if taxpayers are being asked to pay for those past sins–and they are–it's not at all unfair to blame today's council for its current path if the council can more intelligently and compassionately help taxpayers avoid the pain rather than inflict it.
Just four years ago the city manager and the council claimed they could build a $10 million city hall without raising taxes, because they had the money. They lied, of course. They knew the public works facility needed help: this isn't a problem that sprang up on them overnight. The facility has been shoddy for years. If they didn't know, they were irresponsibly blind–or deaf to their employees–which adds up to the same thing. They also knew roads need help. Governments know exactly when and where roads begin to fail. They wasted the money on a luxury for themselves anyway. Now they're raising taxes. (And yes, building fund money used for city hall construction could not be used elsewhere, but that was just 10 percent of the total.)
Email Your Council Members:
---
They spent nearly $5 million to renovate Holland Park and $8 million to build the palatial Community Center, again knowing where more pressing needs were. Those three projects combined add up to $23 million, well above the sum they want for public works. Add to that the million dollar here and the million dollar there wasted on that foot path through the F Section, on stupid parasols at public parks, on luxury lights and bathrooms at Indian Trails Sports Complex, on unnecessarily transforming parts of Whiteview Parkway into a linear park, on yet another $4 million splashy "phase" to Holland Park, and we're talking rolls of dough. Even more if you add the millions wasted on other members-only luxuries like the tennis center and the Palm Harbor Golf Course. So let's not pretend they didn't have the money then, or would have needed to raise taxes now. That would be another lie.
Parks and community centers aren't luxuries, you say? Well, Holland is claiming that the public works facility needs critical attention as a matter of safety for employees–and spoke at last week's workshop of the risk of an accident that could cause serious harm. If that's the case, and there's no reason to doubt it, that was just as true two, four, six years ago, and nobody was going to die or be hurt if the community center and Holland park projects were delayed to address public works first. But Holland Park and the community center provide excellent PR backdrops to a city addicted to "branding" and marketing. Public works does not.
---
A suspicious hurry to sneak through a historic tax increase that would hurt poorer residents most.
---
All that is assuming the public works facility and roads need the amounts of money the city claims it needs to spend on either. Two years ago when the council toured the public works facility on U.S. 1 (as I did) the city manager pegged the cost of an upgrade there at $6 million. Then he hired a consultant, who raised the amount to between $15 and $20 million. Last week the figure jumped to $21.5 million. Are these people wanting to build gold-plated hangars or a public works facility? And if this facility has been neglected for years, you want to tell me that its fix needs to be decided at all costs next Tuesday? Is that a straight face or a Halloween mask I see pretending seriousness?
As for roads, the city gets nearly $2 million in revenue from the local-option fuel tax, $750,000 in state-revenue sharing and nearly $3 million from the small-county surtax, or $5.75 million a year it can spend on roads. Its 2017-18 capital improvement plan reasonably planned on $2 million a year on street maintenance and paving through 2023. Yet by last week the city's figures for road maintenance, just like those of the public works facility, had jumped to $2.5 million next year and a steady rise to $3.9 million by 2023. Why the change?
All this is beginning to look suspiciously like a tax creating its own needs rather than needs driving a tax, sneaked through with inexplicable if not telling hurry. The proof is in the council's own ignorance of how much money the public works facility will actually cost, and how much fluidity there is in street-improvement needs. It's also before the council considered other revenue sources, such as a fire-assessment tax, which, unlike the electric tax, would be paid by all property owners in the city, including those who own empty lots, not just homeowners and businesses, and so would generate money from a much broader base. Why would the council be looking to protect those empty-lot owners from paying their share?
Yet the council is scheduled for its first reading–first of two votes–on the public service electric tax Tuesday, just seven days after first discussing the proposal. It is planning to set a tax rate and revenue goals before knowing what it actually needs for public works and what it really needs for roads that can't be covered by existing revenue, or the rearranging of certain priorities like those listed above.
A few years ago the school board sought a half-penny sales surtax to pay for technology in schools. I remember how the board held a series of public meetings, publicizing its intent all over the place to educate the public, and how School Board member Andy Dance stood at street corners with signs, campaigning for the tax under a blazing sun. The measure passed. In this case, even though the proposed tax will impose a heavier burden on residents and businesses (unlike the sales tax, the electric tax burden isn't shared with visitors) Palm Coast council members don't have to win voters' approval. So they're not bothering with anything like an education campaign, let alone an attempt to gauge public sentiment. Have they lost their minds? No. They're being quite strategic about this, cynically so. But they are losing respect, because their contempt for the public they're serving is showing: three of them don't face voters for another two years, two others will be off the council the meeting after the tax vote's second reading. Not quite a midnight levy, but close.
Now consider what the real shock of that public service electric tax increase will be. Even if the city goes with a lower tax rate of 7 percent, it'll add $76 a year to the average electric bill ($35 or so less if the first 500 kilowatt hours are exempt). Maybe that's not much on its own. But that's in addition to how the city just raised water and sewer rates 21 percent (adding $163 to the annual bill) and more than doubled stormwater rates by 2024 (from $11.65 to $30, an increase that'll add $220 to the annual bill). All those are no different than tax increases. Combine them all, and the annual increases alone of those three bills–not the bills just the increases–add up to an annual extra $459. That's well above what the average homeowner pays in Palm Coast property taxes to the city (assuming the median home is valued around $175,000).
And that's insane, no matter what the needed construction ahead.
Those are regressive taxes, hurting most those who can afford them least–retirees, poorer residents and that working class the council claims to want to support. Council member Bob Cuff was the only one to make the point, repeatedly so, though I didn't hear him outright oppose the tax. The mayor says auditors keep telling the city it needs to "diversify" its tax base. I read those annual reports. They don't go into public policy nor is it their place to do so: we don't elect auditors. We pay them to make sure the books aren't cooked.
Holland says she wants big box stores to pay that sort of tax. That's great. But not at the price of socking it to thousands of others who can't pay, and not when there are fairer ways to raise money, starting with the property tax, which big box stores also pay, without a homestead exemption, or a universal fire-service tax. Not that the council is interested in debating the matter with residents.
Yet here we are barreling toward a first reading of an ordinance to impose the tax next Tuesday, less than a month before two new council members are elected, before the public has even had a chance to weigh in. It's arrogant, it's shoddy tax policy and it enshrines the lies of the last several years that Palm Coast could spend money on luxuries to its heart's content without raising taxes.
No wonder we have tea parties. At this rate, we should all man the barricades.

Pierre Tristam is FlaglerLive's editor. Reach him by email here or follow him @PierreTristam. A version of this piece aired on WNZF.