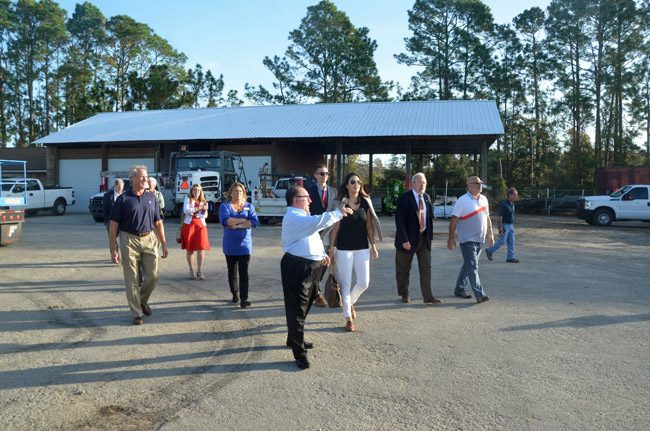 Palm Coast City Council members this evening are expected to approve an $89,000 contract with a Jacksonville firm that will analyze how and where to expand and modernize the city's public works facility on U.S. 1. That initial contract is only a small step in a much larger plan—a five-year, nearly $6 million reconstruction of that public works facility.
Spending the money there means it'll be subtracted from more visible capital improvements around the city, such as roads, trails, parks and the like. But council members, all of whom visited the public works facility last week, find improvements there essential, and if anything, say the five-year plan is too drawn out.
"To me it's ridiculous that we don't actually move forward and spend the money doing it," Palm Coast Mayor Milissa Holland said. When she asked members of the council if there were objections to the project being in the five-year capital spending plan, she heard none. "We all see the need for it immediately, if not sooner. We can talk about what that looks like moving forward."
"Will this make us faster, stronger, better?" Council member Nick Klufas asked. City Manager Jim Landon said there are no specific measures for that, at least not now. But Klufas was interested in those metrics. He did not appear opposed to the project, however.
"If you approve this contract, yes, you are giving us the green light to move forward with this multi-year project," Landon said.
The facility is located along Wellfield Grade, on the west side of U.S. 1 not far north of Palm Coast Parkway. It's not readily visible to the public. The city likes it that way: it's a place of work, but not a public place.
"You all represent the community very well, I must say, because most of the community doesn't know where public works, is," Landon told council members last week, shortly after they had all returned from their excursion to the site. Klufas had mistaken another location for the public works site, and sought directions from Holland, then Landon, by phone, before making it to Wellfield Grade. "And for those of you that had a tough time finding it this morning," Landon continued, "you weren't the only ones, the others just happened to ask earlier as to how to get there. The point being that most people see our crews out, but they really don't know where they call home, and that's OK."
Public works occupies 7 acres of the 10-acre property along U.S. 1. The three unused acres are to its south. Those acres are just beginning to see some activity, with public works crews straining for more space. There's also a 5-acre parcel to the north of the property, across Wellfield Grade, that's also city-owned.
---
The hub that keeps Palm Coast's infrastructure functioning needs its own reinvention.
---
The city acquired the facility from county government in 1999, when Palm Coast incorporated. It's not been much improved since. That's where the city stores and maintains its road equipment, paving and construction equipment, traffic signals, mowers, stormwater drainage equipment, and other hardware typical of public works. It's where even fire trucks are maintained and repaired. It's where the innumerable crews that run all those operations are based, too—34 parks and landscape equipment operators, 20 stormwater equipment operators, 32 streets-equipment operators, and so on. Some 220 "light" trucks and vehicles are parked there, as 79 mowers and 352 pieces of heavy equipment, large trucks, backhoes and so on, and 700 pieces of hand-held equipment such as chainsaws and weed-whackers.
As council members discovered firsthand, walking the grounds, some buildings are better than others. Some of the administrative staff works out of a trailer—ironically, the sort of construction not allowed in the city. Storage is limited, some of it dependent on aged wooden structures. There are training and meeting rooms, but the size is limiting. Same with parking: there are four designated parking spaces but 104 employees. It's not that there isn't space for that overflow—there is, but it's more makeshift than paved. The department wants to improve all that, and add such things as an emergency shelter, as when there's a major storm and critically needed employees need to be sheltered.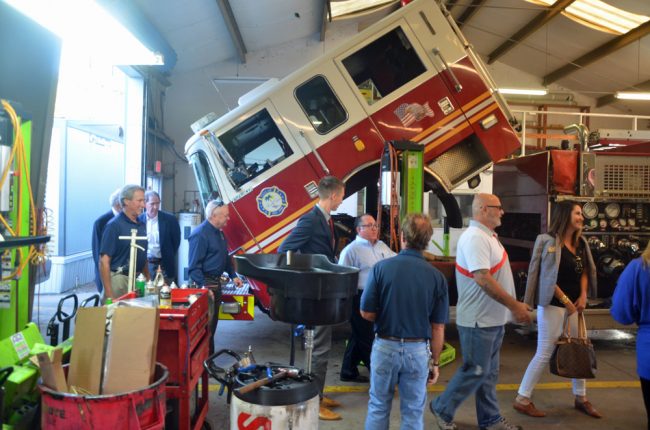 After a weeding process that looked at various firms, the city administration picked Jacksonville-based Bergmann Associates on a proposed $89,000 contract to analyze the facility, speak with workers, and come up with a plan on how to reinvent it. That's the contract council members would be approving this evening.
A Bergmann Associates official said its consultants have worked on 235 similar projects, and currently have St. Johns County Public Works under construction.
"Our Team has also found that the most effective way of creating this participatory environment is through the on-site session," the Bergmann Associates work proposal states, "an intensive, week-long session in which we gather together at the project site or at a facility as close to Palm Coast and users as possible, to actively study, plan, and design the project. The on-site process is a way to consolidate into one or more work sessions what normally takes weeks, or even months, to accomplish. It is also an excellent vehicle to bring together the Team members in one location to brainstorm ideas. The process is focused upon balance, so that solutions represent equal input from Palm Coast, the user, our planners, designers, and other key participants."
The sum total is called a "master plan" in the lingo of government projects.
"We don't want to build bays just to build bays, we want to continue with a system of rotation where we're utilizing the facilities to meet our needs today, and then sort of grow as we need it," Holland said.
"That's what the master plan will identify," Nestor Abreu, who oversees public works and who guided council members through their tour, said. "They will design it so that you can grow."
The master plan would then be integrated with the city's long-term capital improvement plan. The projected price tag: $200,000 in fiscal year 2020, which would cover the cost of designing the improvements, and $2.7 million in construction costs in 2021 and again in 2022. That, anyway, is what the current five-year plan calls for.
The only objection to the approach, among council members, was its long range.
"I just want to be careful we don't come with something that has a very high price tag and takes many years," Council member Steven Nobile said. "It seems essential that we have some changes out there, and we don't want to say, well, because of the cost of this master plan, it's going to take us out about six years to complete." He added: "I was out there today and it seems like God was there at the last hurricane that that thing is still there, most of it anyway, and I don't know, it might rain tomorrow and the whole thing might go that's it, I'm done."


The Public Works Master Plan Proposal.
<![if !IE]><![endif]>