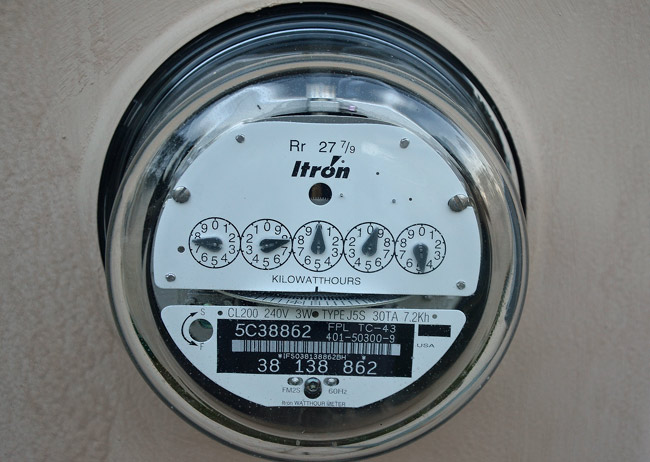 Palm Coast residents: chances are you'll be looking at a new tax or two come fall. Look for them on your electric bill. They'll be wrapped in a bit of lingo: "Utility franchise tax," or "public service tax," or both. They'll likely average $6 to $8 per home per month, and quite a bit more for more power-hungry businesses. The property tax rate might go up some as well. In exchange, the city will eliminate the $8-a-month stormwater fee (or tax, as most residents see it) currently on water bills. And the city promises to spend $7.5 million a year on its stormwater system regardless—just as it promised 10 years ago to spend all the revenue it generated from its share of the half-cent sales surtax on resurfacing roads.
The Palm Coast City Council agreed to go down the route of new taxes in a meeting Tuesday because it has little choice: Like its infrastructure, Palm Coast's method of paying for the upkeep of its infrastructure—its swales, its culverts, its bridges—is crumbling. Its "stormwater fee" is no longer tenable. After imposing it for years, the city now concedes it to be unfair, helped in good measure by its auditors, who point out that the revenue the fee is generating is not enough to cover costs. For the past three years, the city has been maintaining that infrastructure in large part on borrowed money, literally. It cannot borrow its way to repairs anymore.
The half-cent sales tax that's paid for road improvements for 10 years, and is increasingly used to pay for stormwater system improvements, expires this year. Its renewal is in jeopardy, or may not generate the amounts it once did, now that the county is looking to reformulate the way the money from that sales tax is split. Palm Coast's share would be reduced. But the city's infrastructure continues to crumble.
"Now we're stuck with, if you're going to maintain the system, it's going to cost money. How are you going to get the money: that's what we're here to talk about—options," Palm Coast Mayor Jon Netts said at the beginning of the council's discussion.
The council has spent the last several months learning about the mess of its infrastructure, and the mess of its stormwater fee structure. A lot of commercial properties saw their bills go down, residential properties saw their bills go up, exemptions kept numerous property owners from paying  (government properties, for example, including schools, agricultural properties and properties in bankruptcy are exempt). The inequities exposed the city to potentially costly lawsuits. "If you were to implement the final product, you would have some people paying a small amount of money, other people paying obscenely large amounts of money, some people paying nothing, some people who'd never paid anything, now paying," Netts said.
The ledger isn't a bright spot, either. Two years ago, the city took in $6.5 million in stormwater fees. Last year it took in $5.8 million. This year's projection is $4.9 million—nowhere near the needs of the stormwater system. To compensate for the shortages, the city took out $9.2 million in loans between 2010 and 2011. This year, the city is also using $2.6 million in revenue from its share of the half-cent sales tax and revenue from the property tax toward stormwater improvements. Those improvements are costing roughly $7.5 million a year. Put simply, the city doesn't have enough money to keep those improvements going.
"Let's call it what it is, and that is, in order to maintain the system you're going to have to charge a tax to maintain the system," Landon said. And the city is looking for an annual $4.9 million through that new tax.
Landon is proposing a 6 percent electric franchise fee and a 2 percent public service tax, both of which would appear on electric bills. The combination would cost the average residential electricity customer between $6 and $8 a month, and yield $4.7 million in revenue for the city. More specifically: the average bill for a home in Palm Coast, according to FP&L, is $106. The 6 percent would apply to that $106. The usage part of the bill is $66, so the 2 percent charge would apply to that $66, for a total of $7.68 in additional taxes—as opposed to the $8 stormwater fee on the water bill, resulting in a modest annual decline of about $4. "So you're basically shifting the bill from your water bill to your electric bill," Landon said.
The franchise fee can be raised up to 10 percent. So can the public service tax.
The franchise fee is the cost to the utility to use the city's public right of ways. Most cities levy that fee, or tax, otherwise the utility is using those rights of way for free. Then again, every penny of the franchise tax is passed on to the consumer. It's a fairer alternative than the property tax, Landon argued, if the revenue is used to pay for stormwater improvements.
"Mr. Landon, it won't be near as unpopular as a utility franchise fee," council member Bill McGuire warned. "When we tell the voters that we're going to put a surtax on your FPL bill, there will be rioting in the streets."
"Well, there hasn't been in any of the thousands of other communities that do it," Netts said.
"I don't know of any city that doesn't have a franchise agreement with a utility company," Landon said.
"Bill," Netts told McGuire, "you're absolutely right, this is totally unpopular with everybody, and this is not a popularity contest. We're charged with maintaining the safety and integrity of the city. We all agree we've got to maintain the system. What's the best, fairest—not the most popular—what's the best, fairest, most equitable way of doing it in terms of long-term sustainability."
"I agree with you, your honor," McGuire said, "it's not a popularity contest, but we do represent the will of the people," McGuire said, "and the will of the people as it speaks to me says, the electric franchise fee would not be popular. Does that mean we can't make it happen?"
McGuire and council members Jason DeLorenzo and Frank Meeker were in agreement with the new franchise fee, but not the additional 2 percent tax. They favored raising the property tax to make up the difference. Landon warned the property tax increase would be "significant." Netts and Landon kept pressing for the additional public service tax, at least in a nominal amount—even if it were to be a quarter percent initially. "What this is doing is giving you a whole lot of flexibility come budget time," Landon said.
That's what the council will be voting on later this month: a pair of ordinances that establish both utility and franchise taxes, leaving it to another day to decide what the tax rates on either will be, and what the property tax rate will have to be as a consequence.
"The variables are," Netts said, "we don't know what's going to happen with the half-cent sales tax, we don't know where the property values are going to be set by the property appraiser. I would prefer that we keep as much flexibility as possible."