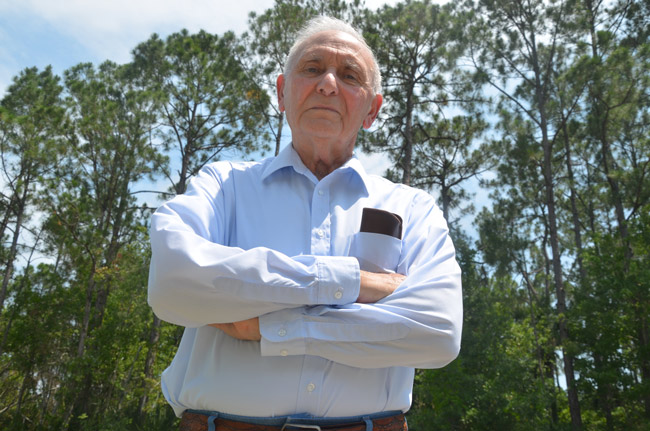 Vince Liguori is not happy. A decade and a half ago, when he was among the leaders of Palm Coast's Home Rule Coalition—a paving stone toward the city's incorporation—he'd made a public promise: the city would never levy utility fees or taxes. Earlier this month, the Palm Coast City Council voted unanimously to do just that: impose a 6 percent "utility franchise fee," essentially, a 6 percent tax on electricity bills, and seal the arrangement with a 30-year agreement with Florida Power and Light, which provides all the city's electricity. The council rejected a proposal to also levy a separate 2 percent utility tax.
Members of the council–including Mayor Jon Netts and Frank Meeker–had in the past made similar pledges against utility fees or taxes. Meeker now says: "Things change," a line Liguori calls "arrogant."
Liguori, a member of the local tea party's executive committee and an influential behind-the-scenes broker on local issues, is mounting an offensive against the city council's proposal that will culminate Tuesday evening. Liguori himself will appear before the council to make an extended counter-proposal of his own. He sent an outline of the proposal to council members (see the full memo below). He's also, along with Tom Lawrence, who chairs the local tea party, urging numerous people to turn out at Tuesday evening's meeting (at 6:30 p.m. at the Palm Coast Community Center) to make their presence felt and heard.
Liguori isn't disputing the city's claim that it needs $7.5 million a year to spend on infrastructure improvements, particularly its stormwater system, which is badly decayed. He is disputing the way the city is going about generating that $7.5 million: taxing electricity has nothing to do with stormwater, he says.
The 6 percent utility fee is new. It would cost the average homeowner between $6 and $7 a month. But most homeowners would also be getting a tax cut of $8 a month, because the city is eliminating that $8-a-month stormwater fee that appears on the majority of Palm Coast water customers' bills.
Among the wrinkles that anger opponents of the plan: Many customers (including a large segment of Grand Haven, the gated community, and big commercial concerns) currently don't pay the stormwater fee because they have their own stormwater system. But they would all have to pay the utility fee regardless, netting the city what's likely to be  an overall profit, when compared to the current plan. The city justifies the switch by citing the inequities in place right now, with the existing stormwater fee system.
"We paid a lot of money to a group of consultants to try to come up with a plan to meet those legal standards to make the stormwater fee legal," William Reischmann, the city's attorney, said. "That is becoming extremely difficult, if not impossible." So the city opted to drop the stormwater fee altogether and replace it. Liguori says the city spent about $93,000 on consultant fees only to drop the stormwater plan it came up with a year ago, and he notes that innumerable Florida cities have stormwater fees on the books. Palm Coast shouldn't drop the system.
Rather, Liguori says, it should support a plan to renew the half-cent sales tax that expires at the end of the year (the city has been at loggerheads with the county over that renewal, because the county wants a larger share of the revenue). The city, Liguori says, should urge the county to add an additional half cent sales tax—bringing the total sales tax to 7.5 percent, up from its current 7 percent. The city should actually increase the stormwater fee. And it should levy a 0.5-cent additional gas tax.
"I do realize that some of these options may not be doable, however, my goal is to retain      the integrity of our current stormwater fee configuration and to eliminate the deficit," Liguori said in his memo.
Liguori met with council member Jason DeLorenzo about it late last week, while council member Bill McGuire was planning to meet with City Manager Jim Landon and Finance Director Cghris Quinn to discuss the proposal.
DeLorenzo was intrigued, but, after the meeting with Liguori—and Lawrence—was unsure about the feasibility of the proposal. "There's a lot of ideas but if it's not legally defensible, none of them are worth it," DeLorenzo said. "Just because he says they're legal doesn't make them legal."
The council is prepared for a possible onslaught Tuesday evening.
"The objections that I hear the most are that, gee, electricity has nothing to do with stormwater, and you're going to make my electric bill go up to fix the stormwater infrastructure, and people that don't use any electricity are going to go scott-free," McGuire said during a council workshop last week.
"And 7 percent on my bag of crackerjacks has nothing to do with stormwater either," Mayor Jon Netts said, "but we do fund stormwater partially out of our sales tax."
The council's recurring question was this: Is a 6 percent fee necessary right now, and should that agreement with FPL stretch over 30 years? Landon said yes to both, with a little odd logic thrown into his argument.
"The going rate in Florida is 6 percent. You can set that at something different," Landon said. "In my opinion, you set it at zero and find your stormwater some other way, but you still need to have an agreement with FP&L that allows them to use the right of ways. Then in 30 years, versus 10 or 20, obviously it's high, high capital expenditure for them for installing the lines and getting electricity to homes and businesses. If you think that you are wanting to kick FP&L out of right of way earlier, then it would make sense to do a shorter term. That's why the 30 years—it's hard to imagine you would not want electrical lines. It's not exclusive. Somebody else could come in and do electricity too. But the fee is, really, it's how much city council wants to charge for the use of the right of way."
But FPL has been providing electricity to Palm Coast all along without a franchise fee in place. And the electricity market in Florida is not deregulated. In other words, it's not as simple as another electricity company coming in and providing electricity, as Landon claims: the industry is regulated, down to its rates, by the Florida Public Service Commission.
The council's other goal was verbalized by McGuire: "The questions that I get are questions born out of ignorance. How many people come to a city council meeting? I mean, the people that call me never come. All they know about is what they read in the News-Journal, the News-Journal or on FlaglerLive." His suggestion: advertise the city's plan clearly and broadly.
"And I think inherent in your comments and your observations," Nedds added, "is the fact that we need to make a definitive pledge to our residents. We did it 10 years ago with the road resurfacing program. We didn't tell you which road necessarily, but we told you this is how we're spending the money."
"It's more than just a pledge by us. It's a legal obligation," Reischmann, the attorney, said.