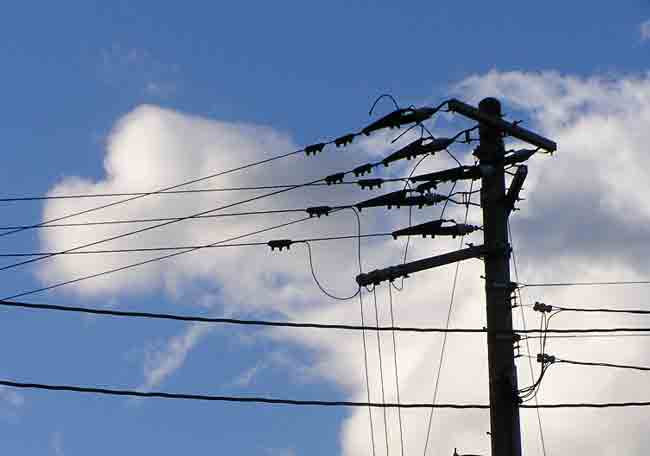 Facing more than 100 people at public meeting last year, Palm Coast City Manager Jim Landon said that those who make noise and show up at council meetings in large numbers usually get their way. This evening, he was proven right by an angry display of intimidation and decibels from opponents of a proposed utility tax.
The Palm Coast City Council just two weeks ago, facing a largely empty chamber, had voted unanimously to impose the new tax–or "utility franchise fee"–and to eliminate an existing stormwater fee most residents pay on their water bill. The council reversed course tonight after hearing anger, ridicule and threats of political retaliation at the polls: the proposal died as four of the five members of the council (Mayor Jon Netts was the exception) unashamedly flip-flopped.
"I've had my butt handed to me before it's not a new experience. I'm an ex-Marine, and I'm married, so," council member Bill McGuire said with characteristic humor. But he warned: "Whether this council is here or you replace us with another council, these problems aren't going away."
McGuire is in favor of reworking the existing stormwater ordinance and using property tax to supplement the pot if necessary, to meet the city's $7.5 million pledge for annual infrastructure repairs. Council members Frank Meeker and Jason DeLorenzo similarly realigned themselves.
"It's pretty clear to me that the current stormwater ordinance," council member Frank Meeker said, "is not workable." But nor was he happy with the proposed utility fee. Rather than dropping the stormwater fee, he wants it refined (though the administration had spent about a year and a half doing just that, with his support). And, in a direct slap at the administration's integrity, Meker said he wasn't "comfortable" with the dollar estimates the city staff was presenting, when calculating average residents' costs. He proposed attaching a formal economic impact statement to future proposals, though every staff presentation had included just such statements, without the jargon. (In governments small and large, the administrative staff is often the scapegoat when politicians are forced publicly to retreat.) Meeker returned to the issue at the end of the meeting, and said he would bring up the matter in a future workshop.
"From the beginning, I've always felt a little queazy about the electric charge," council member Bill Lewis said, rewriting his own recent history on the issue.
The campaign to force the council to reverse course was brutally effective–not because the opposition made a rational and legally defensible case necessarily (there were no clear and tested proposals other than rearranging existing deck chairs), but because it marshaled a blend of sensationalism and intimidation to great effect against a council made up of two impressionable rookies (McGuire and DeLorenzo), an uncertain veteran (Lewis) and a lame duck hoping to be a county commissioner by fall (Meeker), and doing what he can to seduce voters, not alienate them. Nevertheless, this may be the council's sharpest flip-flop in the city's history–from a 5-0 vote for an ordinance to the ordinance's ignoble death tonight.
"I heard nothing but doom and gloom from here," Richard Adams, a Palm Coast resident said, pointing to the council. "I've heard the word tax so many times tonight I'm ready to catch a bus and get out of town." He urged the council not to "tax us out of existence," and reminded the panel, by pointing at Landon, that only last year the city manager was proposing to build a city hall with $10 million in available money.
Tom Lawrence, the chairman of the local tea party and a resident of Grand Haven–most of whose residents do not not pay the stormwater fee to the city because the development has its own system–urged against the imposition of the utility tax (which Grand Haven residents would pay). Rather, he told the council, the city should research the 154 Florida cities that have stormwater fees, and fine-tune Palm Coast's existing stormwater ordinance accordingly. Especially when the alternative would appear to "penalize businesses," Lawrence said.
"I hope you understand the anger and frustration of these people. It isn't directed at you," Linda Hansen told the council, after outlining other cities' fees and contrasting those costs with Palm Coast's projections, which she said won't be as low as the city claims–and would force more people to leave town, creating additional vacancies. Several speakers ridiculed the city's estimate that "average" customers would pay about $6.30 a month as a result of the franchise fee.
Others followed, including Vince  Liguori, who's led this latest battle against the utility tax and spoke, as he often does, with fervor verging on anger. He also made a political threat: if the city imposes a utility tax, he would vote against the coming request to renew a sales tax, which the city (and the county) needs. Liguori's vote, because of his association with the local tea party, speaks for that of many others in that group. His was not the only angry or similarly threatening voice council members heard. One resident, citing Wisconsin's vote today, even raised the specter of a recall. And Joe Cunane, the frequent candidate for mayor, ended his latest appearance with this: "They say elephants have good memories. Try irate citizens."
Only one of the 15 people who appeared before the council was supportive of its proposal.
The administration had come prepared for the public onslaught with a series of presentations, each offered up by a top staff member, Landon among them. What the administration likely wasn't prepared for was the council's desertion.
"It's not very often the city manager recommends eliminating a major revenue source," City Manager Jim Landon had begun, before the public comment period, as if briefly making believe that he was about to repeal his recommendation to impose a new utility tax. He wasn't: he quickly specified that he was referring to the repeal of the stormwater fee, the $8-a-month levy that appears on most water customers' bills, but that, according to the manager, has been a legal problem for the city despite spending several years and almost $100,000 (on consultants), and a new ordinance, to resolve the issues. The issues were not resolved.
Landon summarized the history of the city's stormwater system going back to its days as an ITT development, summing up its latest incarnation as unfair. "There has to be a very specific relationship between the fee and the service received," by law, Landon said: in many cases, landowners may claim that that relationship does not exist, giving them room either to refuse to pay the fee or to challenge it in court. Many, in fact, aren't paying the fee, Landon said.
So the administration devised a replacement for the revenue, diversifying its source to include sales tax and property tax revenue, which aren't enough to cover costs. Enter the utility franchise fee, or tax, a proposed 6 percent levy that would appear on electric customers' bills. The city claims the average resident will pay no more than $6 to $7 a month, but that's based on a conservative estimate of electricity consumption.
The fee would be part of a series of sources that would add up to $7.5 million in annual revenue to improve the city's decrepit infrastructure, particularly its stormwater infrastructure.
About $1.5 million a year of that is required just to service three debts taken out over the years to take care for that same infrastructure. The debt is a main reason why the city cannot be iffy with its revenue sources. Auditors made that clear to the city. Lenders want governments to have dedicated funding sources for debt, which ensures repayment. The alternative is government's equivalent of broken knee caps: a downgraded credit rating. Chris Quinn, the city's finance director, went through various scenarios laying out costs to homeowners.
The administration's recommendation, however, was what it has been for weeks, and what the council had embraced: eliminate the stormwater fee, impose the new utility franchise fee (or tax, to those who pay it), and mix it with sales tax and property tax revenue. Then came the protesters.