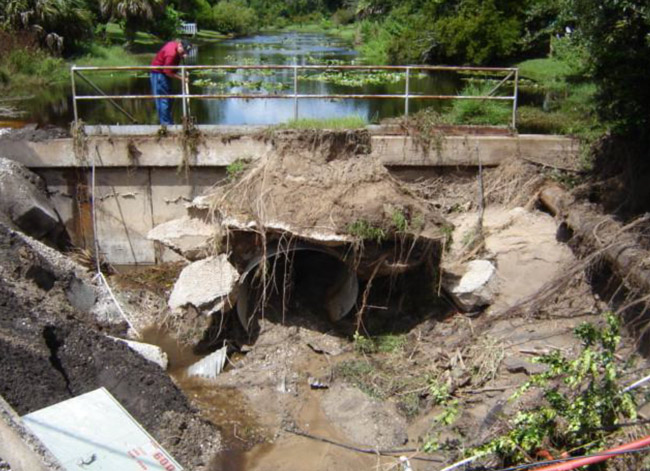 By definition, stormwater is mucky. So is its infrastructure. So is the way to pay for that infrastructure. For over a year, the Palm Coast City Council and its administration have been wrestling with that question: how to pay for the stormwater system fairly, without generating budget deficits, lawsuits or refunds to customers, such as the tens of thousands of dollars that the city refunded to big businesses like Target and Walmart, if only to preempt lawsuits. Those businesses thought the city's previous formula was unfair. City leaders have yet to find an answer that sticks.
They're trying again. Tuesday, the city council spent two hours discussing the latest plan on coming up with $7.5 million a year, without drawing any of the money from property taxes.
Spoiler: the overwhelming majority of Palm Coast residents—property owners of single-family homes, rental units or businesses—will be paying more.
The current stormwater fee, which appears on your water bill, is $8 a month. It's going up to at least $11.65. Commercial and other properties will pay more, or less, depending on their square footage and their designation. Properties with an agricultural exemption, for example, may not be charged a stormwater fee, by state law.
That new fee should not be a surprise: the council approved it when it approved its budget for the current year, which began on Oct. 1. But they didn't want the new fee to kick in until a consultant working on a comprehensive stormwater solution was ready to submit recommendations. That's what took place today: the consultant—Maitland-based Public Resources Management Group—presented its findings. And the council agreed to let the new stormwater fee kick in.
The city is three months into it budget year. It had scheduled stormwater projects based on a fee of $11.65, which it has not been collecting. In other words, the stormwater budget is running at a deficit. That deficit must be plugged as soon as possible.
A few months ago the administration proposed paying for the whole system by way of the property tax, or through an electric utility tax. The council liked the idea. Then residents jammed the council chambers and protested. The council, in one of its sharpest turnarounds in memory, reversed itself. But the administration still had to come up with a fair way to pay for a system that is currently paid for, in part, by loans. Lenders are not kind to anyone who doesn't pay up, or doesn't have an assured source of funding.
That explains the urgency of the council's action. But the council has yet to settle on a permanent solution. That's what it discussed today, after a very long, very complicated, and at times conflicting presentation by its consultant—conflicting, only because the consultant wanted to lay out every possible permutation, each with its own alternatives, so the council could make up its mind.
"We're all going to have to come to a judgment about which ones are the fairest ones, and we've got our recommendation, but I wanted to calculate these alternatives for you," PRMG's Henry Thomas said.
"The bottom line is," Mayor Jon Netts said, "no matter which of those alternatives we pick, when you plug it in, you're going to generate the revenues necessary. So that is not an issue. The issue for city council is what's going to be the fairest and most equitable, and maybe the easiest to administer."
For council members, it was too much to take in at one time. They've given themselves until February to decide, pending yet more details to come from the administration. But it isn't just the budget clock that's ticking. So is the clock on the city's infrastructure, which may be likened more to a time bomb.
"This is a very large, complicated issue," Jim Landon, the city manager, said. "We have miles and miles of swales, ditches, canals, it is a system that was built by ITT with a 30 to 50 year lifespan, and we're between 30 and 50 years, and much of it has lived its useful life." He cited examples and pointed at familiar images of failed infrastructure, such as the breakdown of a Florida Park Drive culvert in 2010. "When you have a structure that looks like that, it's going to blow," Landon said.
Even the sort of routine, rain-soaked storms that blow through the area are taking the infrastructure to such a point that sooner or later, its weakest links will fail. The Florida Park Drive crossing's emergency repairs cost $666,000, or twice what the planned construction of the culvert had been.
"In essence, what they have presented to you is two alternatives," Landon said after the consultants' briefing. "If you want to charge everybody within the city, you have to do a different method, and then that's where alternatives four, five and six come in. But if you want to just charge people within the service area, then leave it alone. That's what we're doing today. Really, the question is, if you broaden this out to include everybody, you have to change the methodology, and they gave you three alternatives. If you don't want to charge everybody, then leave it alone. That's probably the simplest way I could put it."
Based on today's discussion—which was done in the absence of council member Bill McGuire, who was in St. Louis on family business until this afternoon—the council is leaning toward an alternative (Alternative four, in the consultants' sum-up) that would spread the costs more evenly, with vacant lands seeing the steepest proportional cost increase, but existing residents seeing a considerable increase as well. No one would be spared. The council is also considering a more complicated hybrid model that would attenuate some of the proposed changes in that fourth alternative.
"This is not nearly enough time for me to fully understand the ramifications of it," Netts said. "Tuesday we're going to have a resolution to go to $11.65. It'll pass or it won't pass. If it doesn't pass, then we're going to come back and you'll tell me what budget you're going to cut out of our budget." He was referring to the administration's infrastructure-improvement list, which Netts does not favor cutting. "Assuming that it passes on Tuesday, we start collecting $11.65, and then council can review the options of alternatives four, five or six, versus  not changing at all, and or simply allocating more ad valorem [or property] taxes."
He added: "I can guarantee no matter what council does, there's going to be some segment of our population unhappy."
One of them might be council member Jason DeLorenzo, who is opposed to charging vacant properties, if the council veers toward some of the proposed alternatives. "We can't have 12, 13-acre parcels that pay 3, 4, $5,000 a year when their tax bill is $200 or $300," DeLorenzo said. "I mean, that doesn't make any sense. The property isn't worth what we're charging them to keep it."

Palm Coast's stormwater alternatives: December 2012