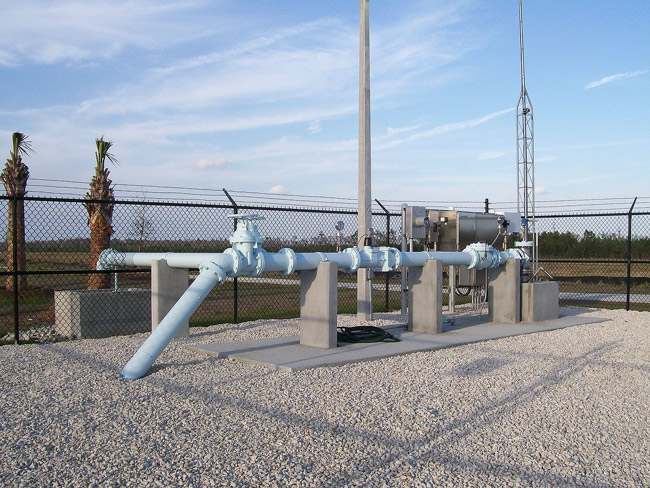 In brief: Overeager to get going on a $2.6 million wellfield project during the boom years, Palm Coast never secured an agreement between a land company and FPL to power the wells. When talks broke down between the companies, Palm Coast decided to pay an extra $500,000 to power the wells with a different contractor, a cost it will pass down to rate-payers, even though the need for the water is non-existent.



Palm Coast's administration says it learned enough from the blunder not to do it again. But also that in this case, it couldn't have done it any other way. The contradiction was never resolved, even after some questioning by some city council members this week. As a result, water rate payers in Palm Coast will eventually pay just under $500,000 in extra costs, over coming years.
The cost will be amortized in their water bills, but could have been avoided, had the city been more careful about the way it went about a $2.6 million installation of 12 well fields west of the city that may not even be needed for years.
A project Born of the Boom
That project began in 2006, at the height of the city's growth. The 12 well fields were to produce enough raw water to double the city's Water Treatment Plant No. 3's production to 3 million gallons of water per day. That doubling is not needed at the moment, and at the current pace of growth, it won't be needed for many years yet: Three years ago, the average water demand in the city was 6.9 million gallons per day. In the last week of September, it was 7 million gallons, according to Richard Adams, the city's public works director.
But the well project went ahead, in anticipation of what the city sees as inevitable growth down the line (and it did so even as the city was also pouring several million dollars in what proved to be another development cul-de-sac: a regional desalination plant.) The 12 wells were drilled at the end of 2006. They are now 85 percent complete. They are located on land owned by Rayonier, the timbering company. Rayonier deeded the actual locations of the wellheads to the city.
To power the well fields, the city needed an electrical distribution system. To make that possible, Florida Power & Light would have had to extend lines to the wells. When the city signed its agreement with Rayonier, it presumed in that agreement that Rayonier would work with FPL to settle any right of way and liability issues. Under what was nothing but an assumption, the city separately signed an agreement with FPL to provide electricity to its well field, for $421,243. The agreement was executed in September 2010 absent an agreement between FPL and Rayonier. The check was cut, and FPL was paid.
That was a mistake.
FPL and Rayonier never worked out their issues, which came down to this: neither side wanted to assume liability if anything went wrong with the powerlines.
Liability Fears
"Everybody wanted to be completely held harmless from the other," Palm Coast Mayor Jon Netts said. "FPL said we want no liability, and Rayonier said we want no liability. Nobody wants any liability and that's where the issue breaks down."
FPL responded through spokesman Dave McDermitt with the following statement on Oct. 8: "In 2010, Florida Power & Light Company reached agreement with the City of Palm Coast to construct a local power line to provide service to the city's new well fields. The project required an easement agreement across property owned by Rayonier; however, the company declined to agree to FPL's standard distribution easement. FPL looks forward to providing electric service to the well fields via new distribution facilities owned by the city." (Rayonier was also contacted but did not respond.)
The city had to seek a reimbursement check from FPL, which it got. Rather than seek a solution between the two companies, which Steve Flanagan, Palm Coast's utilities development manager, and Jim Landon, the city's manager, said was tried, the city decided to go off on its own and have its own electrical distribution system built, and do from scratch, expensively, what FPL was in place to have done and maintained for less.
To do that, Palm Coast had to contract with a design company—CPH Engineers—for $130,000. It had to contract with C&C Powerlines for $733,000. And it still has to pay FPL an estimated $50,000 connection fee, and an undetermined amount of money to a powerline-maintenance contractor, yet to be hired. When that contract amount is tabulated, the difference between what Palm Coast would have paid FPL for the distribution project and what it's ending up paying for it now is over half a million dollars.
"It's a substantial amount of money that this disagreement and lack of FP&L and Rayonier working together to get us what we needed out there will have cost the city to make this system functional," Flanagan said.
Palm Coast went ahead with the alternate plan even though by then the city had stopped growing, and water needs were nowhere near those projected when the project started in 2006.
Lessons Learned?
Council member Bill Lewis asked Flanagan if there was any way Rayonier could reduce the costs to the city. Not likely, Flanagan said, "other than just asking them for the damages, and I don't believe that in any way they will entertain that."
"Are we going to try?"  Lewis asked.
"We can ask the question but I don't believe that it has any value, to be honest with you," Flanagan said.
"What are the alternatives? Before we spend three quarters of a million dollars, what else have we explored?" McGuire asked, referring to the $733,400 contract the administration was asking the council to approve on Tuesday, for just the powerline contract—not the rest of the additional costs.
But other than spending time trying to get Rayonier and FPL to agree, nothing was done.
"Have we learned from this process and is there a way we can protect ourselves with our easement agreements?" council member Jason DeLorenzo asked, citing the city's right to use the easements. "Could we have started with language that would have allowed a sub like FPL to use the rights?"
"We put into that agreement with FP&L language that said that we needed Rayonier and FPL to work together on providing for that easement," Flanagan said. "Now, next time, instead of maybe hoping for that language to have worked out, maybe we'll use much stronger language, or we'll get that as part of the agreement set up."
McGuire pressed: "Should we have even put a shovel in the ground unless everything was agreed to beforehand? I mean, to embark upon a $2 million project hoping that something will happen is, you now, dangerous ground to walk on. And if we had to do it over again, what would we have done differently?"
"I'm not sure there's an answer to that question," Mayor Netts said. And there wasn't one given by the administration.
Passing It Down to Customers
But Landon tried to put a brighter interpretation on the stumble: "Rayonier gave us these well sites at no cost. As far as learning, we will next time either buy them and get everything we need, it was like it was a gift but it wasn't the complete gift that we needed, therefore it cost us additional with construction," he said, though he claimed buying the easements outright would have pushed the cost to $1 million.
"So the actual end result is the ratepayers in Palm Coast has a reduced price overall," Landon continued, using a remarkable sleight of words to describe what will be a net increased cost for ratepayers. The "reduction" he claims is from the imagined higher cost of easement acquisitions—as opposed to what council members had wondered: whether a better agreement with FPL and Rayonier could have been achieved, avoiding the half-million cost to Palm Coast.
Landon conceded as much: "Could it have been reduced further if Rayonier and FPL agreed, and we had language in there that said Thou shalt provide easement subject to agreed upon language that they never agreed upon? Yes. Will we remember this? If you recall when this first came up about a year ago, I reminded city council that Rayonier will be here in the future, this is an area that has additional growth potential, we will need additional well sites out there, and we will definitely learn from this and we will have a different approach in our dealings with them next time. We thought we got an excellent deal, and that excellent deal turned out to be a good deal, but it is more costly than we expected because of this conflict between Rayonier and FPL."
A few people questioned the council over the intricate project, compelling the council and Landon to clarify two issues: the liability FPL and Rayonier did not want does now shift to Palm Coast, though liability is limited by state law, because of sovereign immunity extended local and state governments.  And as for who will bear the extra cost" "Primarily the rate-payer pays for it over time," Landon said, as part of the overall cost of the project. Impact fees will carry some of the burden, but only a small portion.
After posing only a few questions and accepting the hit as unavoidable, the city council approved the $733,400 contract with C&C Powerlines unanimously.