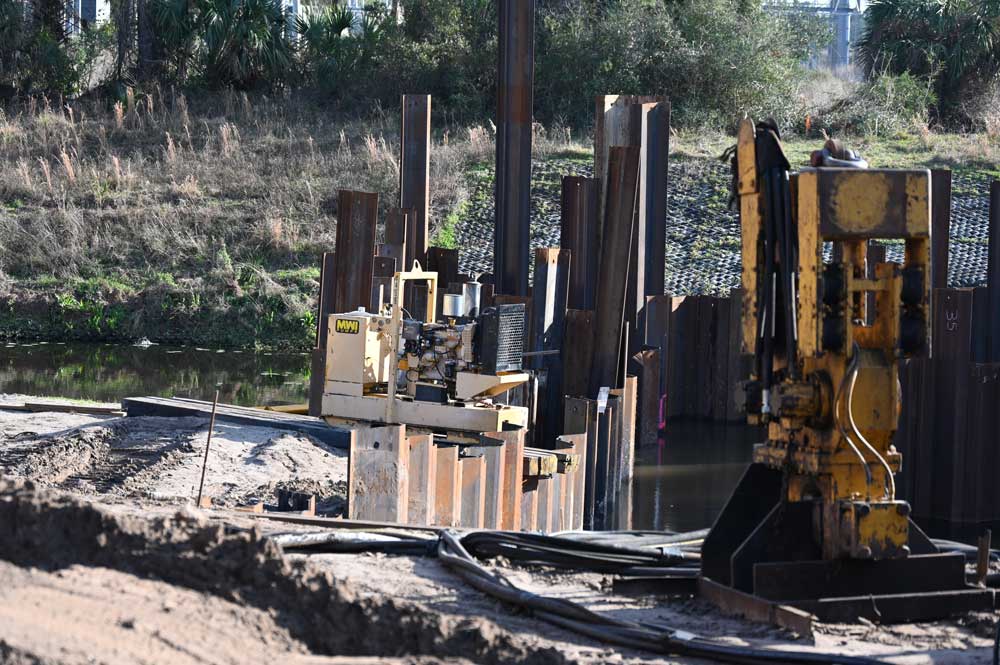 The consultant Palm Coast government hired to analyze the city's stormwater system's needs is proposing a 102 percent increase in homeowners' stormwater rates over the next four years, from the current rate of $22.27 to $45.16, what would equate to an annual bill of $542–more than what some homeowners pay in city property taxes.
The plan also foresee a huge expansion of the city's stormwater operation as a business within a business, taking over work currently contracted out, adding costs, personnel, responsibilities and debt.




The City Council is willing to approve a substantial rate increase, but not as much as the one proposed, or at least not on that accelerated schedule. "We're uncomfortable with the magnitude of the percent increases," Mayor David Alfin said.
The council would prefer stretching out the increases over more years, rather than in just four, or offsetting at least some of the increases with a reduction in property taxes, or, the one point they all agreed on Tuesday, eliminating some of the more expensive components of the plan, including adding some of the in-house crews, at least for now. Council members are leaving the door open for reintroducing those components in later years.
Council members were told by their administration that they have to adopt a plan at least 90 days before October 1, the date the new fiscal year kicks in, and that the plan should include some rate increases. That appears to be inaccurate. They were never told that, even without council action, an increase is scheduled anyway: the city is at the tail end of a five-year rate increase it adopted in 2018, the last time it doubled stormwater rates.
Nick Klufas, the only council member who was on the council in 2018–and voted for that plan–was absent during Tuesday's meeting.




The city had previously conducted a stormwater fee study in 2018, when it resulted in a 47 percent increase in fees spread over the next five years, including the current one. The monthly stormwater fee was $11.65 in 2018. The fifth year of that five-year plan kicks in on Oct. 1, with the rate going up to $23.95, a 7.5 percent increase–more than the projected rate of inflation.
neither the consultants nor the administration's Carl Cote, the director of stormwater and engineering, told the council that that increase is on the books. Rather, while the consultant at one point vaguely alluded to the coming increase, both pressed for the new plan, which would pre-empt the scheduled increase with a steeper one, for 2023-24, of between 21.5 percent and 51 percent (or a monthly fee of $27.07 to $33.64, depending on the council's approach).
It is based on that plan that the council gave its administration direction on Tuesday. The council wants the administration to come back with a plan that scales back some of the proposed increases, at least for next year, while the council is challenging itself to find ways to offset some of the increase with a decrease in the property tax rate.
The study was the work of Henry Thomas and Murray Hamilton of Raftelis Financial Consultants, and was presented by Hamilton, with Cote at his side.




According to the consultant, total stormwater revenue in 2022 was $700,000 short of what the system needs. That's the case again this year, he said. That includes $800,000 in right-of-way mowing costs, which means if that cost was no longer shouldered by the city, the operating deficit would be erased. Mowing amounts to $1.20 to $1.25 in monthly charges per home, assuming all properties are paying it. In the same meeting, the council agreed to shift that cost to the owners of vacant lots.
Based on the city's calculations, the stormwater system's maintenance alone, costing $5.1 million this year, will rise to $8 million a year from 2024 through 2027. The city is planning to build a Maintenance Operations Center for $11.1 million. It is accruing $2.5 million a year from stormwater fees to that end. At no point in the discussion was that plan considered optional.
The city's consultant outlined five options–notably identified as "priorities," not as options–ranked in a way that would accumulate costs as each subsequent priority would incorporate the costs of the previous one. They are as follows:




Paying for ongoing maintenance of $56 million through 2027 (which includes setting aside $2.5 million a year for that new building and a $2.8 million loan for vehicles and equipment purchases). Personnel costs would increase by $2.2 million per year, with the addition of one ditch crew and one freshwater canal dredging crew.
paying for $41 million in capital improvements, including expanding canal capacity, freshwater dredging, pipe replacement, and so on. (It assumes a new loan of $38.1 million, which would have to be service from stormwater fees).
Adding in-house crews to repair or maintain freshwater canals and weirs, some of which are new, not needing maintenance, some of which are older; making city crews available to work 246 days a year for cross-city improvements and weir sites mowed twice as often. Personnel costs would increase half a million dollars a year. "So we're providing jobs, it looks like," Alfin said, in addition to improving maintenance. The city would have to buy $270,000 worth of vehicles and equipment.
Adding in-house crews for concrete and road-asphalt projects, and adding to existing crews that maintain swales. The study projects reducing the amount of time the city would have to wait to complete work on projects: a 6.75-day wait on asphalt projects and a 10.2 day wait on concrete projects. It's not clear why such waits, which are not unusual or even long, would be burdensome for the city. On the other hand, in-house crews would be available 246 days a year, increasing work availability by 122 days, but also increasing costs: nearly half a million dollars in vehicles and equipment, $400,000 in additional personnel costs, all in addition to the previous priorities' costs. (The current cost of contracted services: $375,000 a year). The city is especially behind on pipe replacement.
Add in-house swale maintenance crews and staffing. This priority, which Cote described as more "aesthetic" than essential, would incorporate the four previous ones, bringing total new vehicle and equipment costs to $6.9 million and $5.1 million in additional personnel costs. The city would have two additional swale crews, one additional vacuum-truck crew for cleaning swale pipes, and two other additional crews for different operations.




The presentation included the brief flashing of a graph showing "projected revenues at existing rates." The graph was misleading, if not dishonest: it shows flat revenue at just under $16 million a year through 2027. That's simply not true, as Murray himself had said minutes earlier: the city has built in an 8.2 percent increase in 2023, a 7.5 percent increase in 2024, and annual inflation increases after that. The graph ignores the study's own projections. A different slide showed a slight increase in current funding, but by including only a 2 percent cost of living adjustment per year. That's not unreasonable–pre-pandemic inflation had some years of zero increases–and the Congressional Budget Office projects a return to 2 percent, but only by 2027.
"We believe that city council should consider adopting the proposed stormwater rates under priority five, which would become effective on October 1 2023, and then each October 1 thereafter. Beyond 2027, the annual index would be applied with a minimum adjustment of not less than 2 percent per year," Hamilton said.
"So, significant increases that we are presenting to the public," Alfin said.
Other council members in one degree or another were not willing to go that far, with Ed Danko willing to adopt only option one for now, and Pontieri willing to go as far as option four, but option five was a wier too far.
"It's great if we bring a lot of stuff in house and we're able to provide better services and more control and get things done. However, I'm not willing to do that for a 50 percent increase to our taxpayers in a four year period," Danko said. It is, in fact, a 102 percent increase, as the city's consultant had noted to Danko moments earlier. "Nobody gets a [102 percent] increase in their social security checks or their paychecks or the rate of return on their investments. This to me seems unacceptable. And I can't go along with this based on this amount unless somebody convinces me that we're going to be saving an awful lot of money during that period of time. And rolling back our taxes, just to give relief to another tax we're putting over here is completely unacceptable to me."
Danko said removing some of the additional crews for swale maintenance could reduce costs.




Pontieri took a more expansive view. "In doing this, are we making an investment in kind of avoiding some pretty expensive, unforeseen or I guess catastrophes down the road that can cost our taxpayers a lot," she asked Cote–a question to which she already knew the answer: the city's consultant, fronting the administration's wishes, had already answered it, as did Cote again: "It's a lot more costly to go ahead and repair a pipe failure than it is to line those pipes or to to stay ahead of it," he said.
Pontieri then seemed to channel the words former Mayor Milissa Holland used in 2018 when she successfully pushed for a doubling of the stormwater rates back then. "I don't want our our residents to have to pay more money each month. But the fact of the matter is, this is an investment," Pontieri said. "This isn't something that we're saying okay, we need to fix issues right now with these monies. This is investing in the future of the health of our city going forward." In return, she wants clearer accountability from city staff.
Holland had said it "provides for us to not only accelerate the program, but do it in a way which is much more methodical or strategic in enhancing our infrastructure." But she was not aware it could double again five years hence. Rather, the city manager at the time said it would position the city to be ahead of the curve. Now, Cote was saying the doubling was necessary "to stay ahead of it."
Alfin was supportive of the plan in the main. "If we look at inflation, which is where, at 6 to 10 percent, the increase here kind of mirrors what inflation is," Alfin said. "I don't the press and the media to exaggerate the percentages here." But it was Alfin who was exaggerating inflation numbers and misrepresenting the proposed increase: He said the proposal's net annual increase under the steepest option averaged out to 9 percent. It does not. It averages out to 25.5 percent (as the consultant corrected him). And the rate of inflation never reached 10 percent: it peaked at 8.7 percent last year, and is falling: today, the Commerce Department announced it was down to 5 percent and cooling.




When Alfin asked for a comparison of proposed rates with cities of Palm Coast's size, City Manager Denise Bevan downplayed the approach. "It's very challenging to compare us to St. Augustine versus another municipality of our similar size," she said. "But we're happy to keep any direction that council has and execute that." She also noted that flood-control initiatives help keep homeowners' flood-insurance rates lower.
"With that uniqueness, we still have to be considerate of what the the rate is, because people are paying it," Alfin said. "But it is important for everyone to know that that this is a unique system."
The immediate direction, as summed up by Alfin, was to enable at least the first four option in the coming year, not the fifth, while looking to the city budget for property tax offsets. But the direction lacked specificity, leaving it to the administration to translate it into an updated proposal. That will be presented to the council at a subsequent workshop.
On Tuesday, the chamber was almost empty during the entire discussion, as residents are still largely unaware of the rate increases in the works.
While willing to go with most of the proposal, Pontieri asked that it includes a measure of accountability, to the extent that the council could measure what it's paying for and see the return on investment.
To a large extent, that evidence is no mystery, though the city achieved it with a significantly smaller operation than it is asking for: Homes have almost never flooded during severe storm events in Palm Coast's nearly quarter-century history–not since some homes flooded slightly along Bird of Paradise Drive during Hurricane Gabrielle in 2001. The year of the three hurricanes–2004–caused no homes to flood, nor did Hurricanes Matthew, Irma Ian and Nicole since.

stormwater-cost-increase