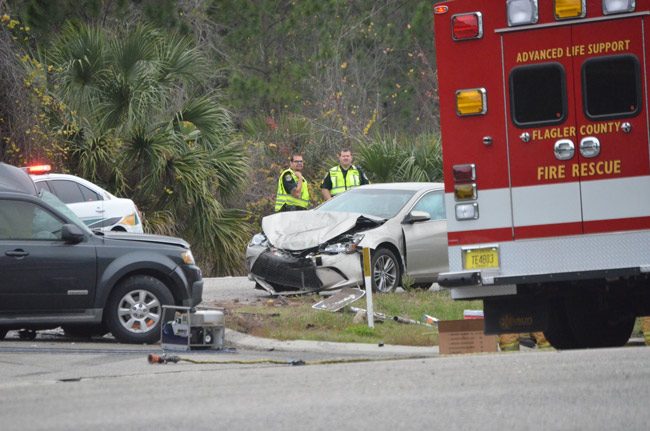 The State Transportation Department expects to receive bids from contractors in August and begin building a two-lane roundabout at the crash-prone intersection of U.S. 1 and Old Dixie Highway, Steve Olson, a department spokesperson, said. Two more roundabouts are in the design phase: one for Matanzas Woods Parkway and U.S. 1, and one for State Road 11 and County Road 304, at the southern end of the county.
The projects are intended to reduce lethal crashes. The U.S, 1-Old Dixie intersection claimed six lives in two crashes just last year, and two additional fatalities going back to 2011. Half the 23 crashes between 2011 and 2015 were left-turn and angle collisions, according to a transportation department feasibility study (see below).
Roundabouts, according to the U.S. Department of Transportation, "provide substantial safety and operational benefits compared to other intersection types, most notably a reduction in severe crashes." The federal agency says severe crashes drop 82 percent when a four-way intersection with two stop signs are replaced by a roundabout. (The U.S. 1 intersection at Old Dixie is a three-way intersection with one stop sign.) Severe crashes drop 78 percent when a signalized intersection is turned into a roundabout, the agency states. Opponents of roundabouts claim that while the number of lethal traffic crashes decrease, other types of crashes increase. That's incorrect, according to the federal transportation department, which claims that overall crash numbers fall on average 35 percent at roundabouts, compared with signalized or stop-type intersections.
The numbers vary depending on the type of roundabout, since two-lane roundabouts such as the one planned for U.S. 1 are different from one-lane roundabouts. (About a quarter of roundabouts in the country are two-lane roundabouts. Most are one-lane. A comparative few are three-lane.) Numerous studies in the United States and abroad, however, consistently show that roundabouts are significantly safer than signalized or Stop-type intersections.
---
Specific to the U.S. 1-Old Dixie intersection, the transportation department, according to the feasibility study, expects that the total number of crashes per year seen there will fall by 19 percent, but that fatal crashes would fall by 68 percent. The majority of crashes would cause property damage only, not injuries. The potential for high-speed crashes would be reduced in line with a speed limit–currently 65–going down to 30 on the U.S. 1 approach to the roundabout. The intersection sees about 14,000 vehicles a day pass through.
"The installation of a roundabout at this location is expected to mitigate high severity crashes such as angle crashes," the study concluded. "The reduced speeds through the intersection at a roundabout are expected to reduce the potential for injuries or fatalities should a crash occur. The roundabout would also remove the high-speed horizontal curve through the intersection which would reduce the potential for loss-of-control crashes."
But the study also notes: "While total crashes are expected to be reduced with implementation of a roundabout, multilane configurations are expected to result in a more modest reduction in total crashes than might be achieved with single-lane configurations. Since a primary benefit of the roundabout is reducing the potential for injury/fatal crashes, the number [property damage-only] crashes has the potential to go up slightly."
Nevertheless, the planned roundabout at U.S. 1 and Old Dixie has generated intense opposition from Flagler County residents and the Flagler County Commission. Residents spoke their opposition at a public hearing near the intersection in January (on a day that saw a severe crash at the intersection). Sheriff Rick Staly on two occasions asked the transportation department to opt for a traffic light, but stopped short of second-guessing the department about its ultimate choice, saying he would leave that decision to engineers.
The County Commission was not so deferential. County Commission Chairman Greg Hansen in late March, writing on behalf of the County Commission, sent a letter to Mike Dew, secretary of the Florida Department of Transportation, urging him to en planning and construction of the roundabouts at Old Dixie and on Route 11.
"We appreciate your willingness to address the safety of the roadways," Hansen wrote, "however, we ask that you reconsider your approach to addressing the traffic situations" at the two intersections. "We request traffic lights be considered as an alternate solution to reduce traffic accidents and loss of lives." Hansen cited the higher speed limits on the roads and their connections to county roads as justifying traffic lights, which he said "would make for a much smoother traffic flow, serve as a traffic calming devise [sic.] and would not introduce multiple traffic movements creating congestion associated with all the vehicles intersecting within the roundabout."
The transportation department in its advocacy of roundabouts uses very similar language: roundabouts are a calming device, they are more aesthetically pleasing than traffic-light intersections and easier to maintain, they help increase rather than reduce traffic flow–stopping at a red light is essentially eliminated–help diminish congestion rather than cause it, and improve fuel efficiency.
Craig Coffey, the county administrator, said the county tried to get Palm Coast government to sign on to the request to the state to oppose the planned roundabout at U.S. 1 and Matanzas Parkway as well. The city declined. A spokesperson for Palm Coast was asked in Palm Coast was in support of the roundabout. The spokesperson said today that " We have taken the position that it's FDOT's project." (Palm Coast is not unfamiliar with roundabouts: it has them in Town Center, and was planning to alter them, but not remove them.)
"It's our roads, we have a right to talk about what intersects with our roads," Coffey said, noting that while local residents could be educated about the use of roundabouts over time, the county gets a lot of visitors, and has a lot of seniors: both groups could take less well to roundabouts.
At this point, Coffey said, "it's going to take the governor or the legislative delegation to help us stop it." He said the county may yet have other options, such as declining to provide right-of-way for the roundabout projects, if necessary.
Based on the transportation department';s timelines, the roundabout at U.S. 1 and Matanzas Woods is currently in design, and would let out contracts in May 2019, with a public hearing planned either next month or in June. As for the roundabout at State Road 11 and County Road 304, it's in the early design phase, with contracts expected to be let in March 2022.

DOT Feasibility Study for Roundabout at US1 and Old Dixie (2017)